Welcome to another round of the Canadian bloggers Christmas home tour! This yearly hop is a great way to take the pulse of what's going on in Canadian home decor, and catch-up on some faves, all the while discovering some new faces. My retro inspired Christmas home tour, is but one of many, so make sure you check out the others.
Catch up on this year's tours with our seasonal black entryway makeover, my warm and colourful home office makeover, or our retro and colourful living room.
Check out last year's Colourful & Eclectic Home Tour, or last year's Colourful & Retro Christmas Tablescape, my Retro White Tree from our PMQ. 
As with all guests, I'm ready to greet ya on the front porch – leopard print coat and all – with gifts and sled in hand. How else would I set the tone for the my hostess skills!?
Our entryway is a narrow, but functional space, and I still haven't quite figured it out. We need a console table and seating, but I haven't found anything I love yet, so in the meantime I've got a stool, a mini tree, and our lovely wall sconces, done up with wreaths and purple bows. Classic, simple, colourful, and reminiscent of Mrs. Maisel's apartment.
From there, you can move onwards into the dining room which is straight down the hall. I've shared a bit of it before, done up with the forest of ceramic Christmas trees. Although not all of them were mine, done up on a regular Christmas day it looks something like this – cocktail glasses, santa hats, and all!
The Colourful & MCM Christmas dining room
You'll recognize my DIY Bottle Bags, as well as the wonky but darling DIY Striped Candles. The rest of the bar situation is classic, colourful, retro and oh so inspired. The blue foo figurines, the pink record player, and all the ornament garlands just add to it.
Seen from another angle, the dining room has got our lovely Rice Curry (Behr Paint) accent walls, and our Retro Pink Christmas Tree. 
All I need at this point is a silver aluminum one, and I will be in retro Christmas heaven! In the meantime, my pink and white ones are PERFECT.
My retro & colourful Christmas living room
From the dining room you go up two stairs and into the living room. I've just unveiled the Christmas decor in this space. So if you want to take a deeper dive on my retro & colourful Christmas living room, make sure you check it out!
I love how all the balls look like shinny vintage shiny brites in the context of the white tree. I'm still on the hunt for some, but I never seem to have the right timing when thrifting them. So, if you see a box of them for a good price, holler at yo girl.
Bruce is all about comfort these days, especially since I made him spend a few nights at the kennel. He'll be fine, I'm sure. The rest of my Christmas decor in the living room is somewhat restrained – maybe it's because with all the space, I don't feel the need to smother everything in as much stuff as I can to make an impact.
I promise, I'm not minimal, just feeling out the new house.
My comfy & colourful Christmas home office
The last space that I've done in the new house, is the home office. It's a wood panelled space near the front of the house, that reads as warm, cozy, and comfortable. Most importantly, the throwback vibes are to die for and I can't believe it took me this long to put it together.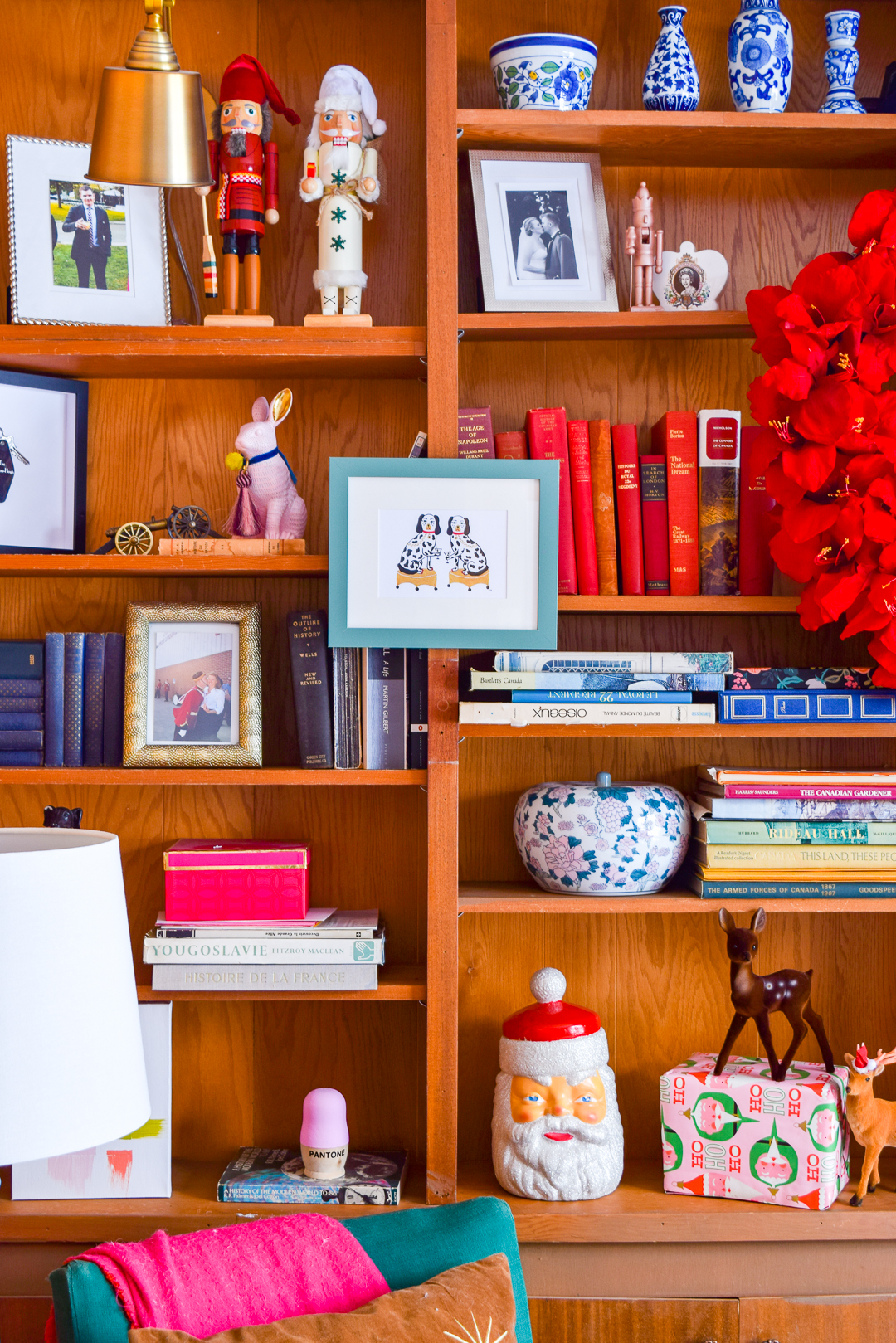 And that's it! That's all I've got this year. Make sure you circle back throughout the year as I continue to update the house, and make sure you follow along on IG!
Catch Christmas in the studio with my Luxurious Christmas Dinner, or my Gift Wrap Party, or my last minute holiday entertaining scenarios.
Click on the links below from Tuesday – Friday this week to get beautiful Christmas decor inspiration from my Canadian blogging friends.
Monday
Home Made Lovely | The Creek Line House | Lemon Thistle | Love Create Celebrate | So Much Better With Age
Tuesday
Woman in Real Life | Clean and Scentsible | A Pop of Pretty | Making it in the Mountains | The Learner Observer
Wednesday
PMQ for Two | Joy in Our Home | Amidst the Chaos | One House 2 Barns | The Dreamhouse Project
Thursday
The DIY Mommy | Life is a Party | Satori Design for Living | Rambling Renovators | This Mamas Dance
Friday
Fynes Designs | A Pretty Life | Emmett's ABCs | Harlow & Thistle | Northern Style Exposure