Since the Christmas tour season has officially begun, I'm taking you back into our mid mod living room for a retro & colourful Christmas living room tour! I've got the tree up, the ornaments out, and am showing an odd amount of restraint this year when it comes to accessorizing. Maybe it's because we have the same amount of stuff, just more space! You be the judge.
While we're here, I'd like to thank Jennifer from Dimples and Tangles for hosting the It's A Colorful Life blog hop, and for including me! Make sure you check out Monica Wants It and Effortless Style, who are also up today!
Decorating a Colourful Living Room
That's right, we've still got that awful dusty rose carpet, but hey! I can only move so fast when it comes to redoing the entire house. So bear with me! As you enter the living room, you're greeted not only by the carpet, and stunning white Christmas tree, but also by the wallpaper and bold colours of my decor. It's a colourful life around here, what can I say.
You'll recognize my DIY Christmas tree skirt, but also a few well wrapped gifts from my Gift Wrapping Party! A few have made it home, and are nestled under three.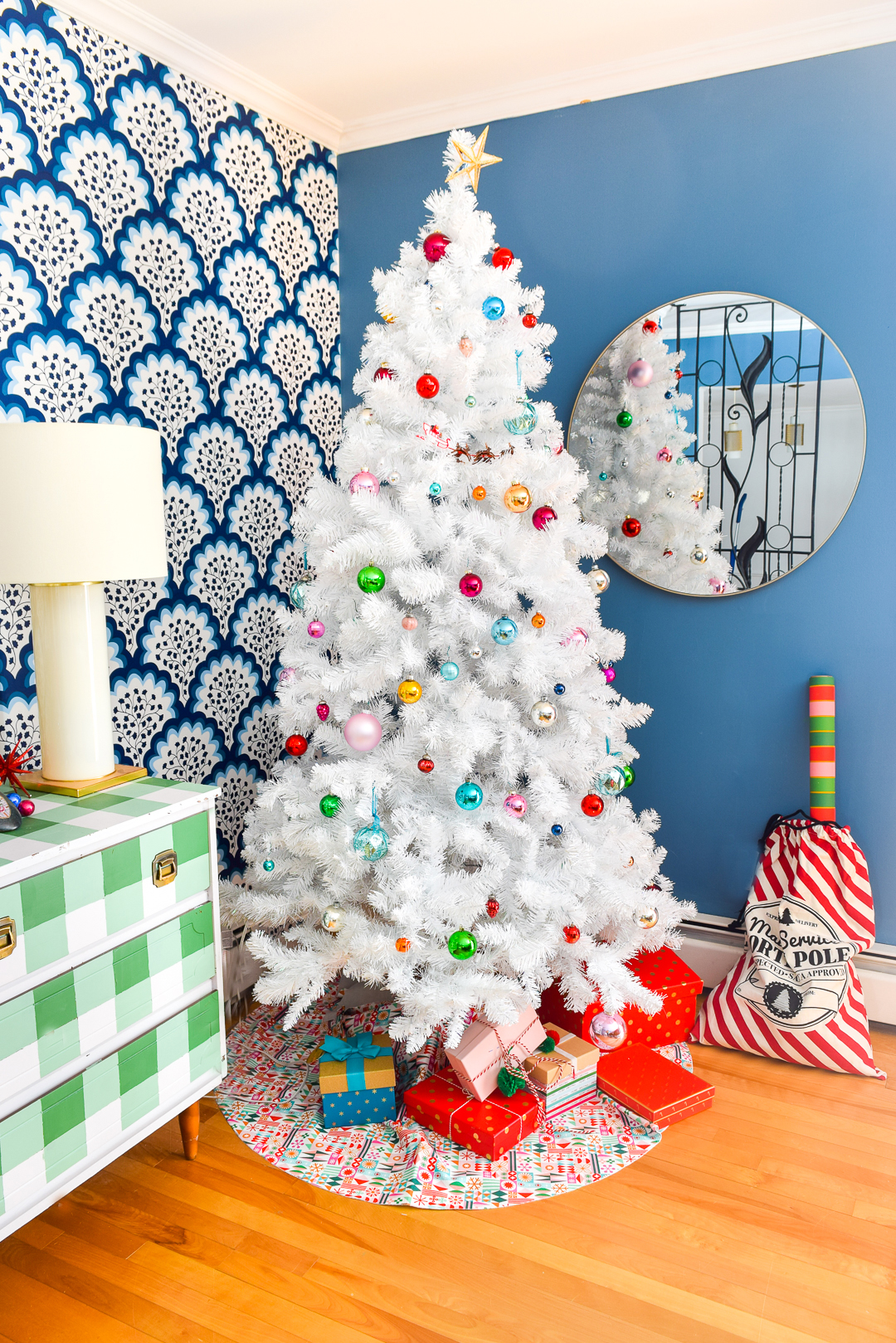 This year's living room tree is white, with colourful ornament balls. I've decided to leave the other ornaments for another time, and just enjoy their colourful, circular, simplicity. They look almost space age, against the beautiful scalloped wallpaper, set in and amongst the white and iridescent branches of the tree.
As a sentimental touch though, I've added a small Santa and his sleigh to the mix. He stands out on his merry way across the known universe of my decor.
Creating a Retro Vibe With Ornaments
The dresser got a few season additions as well. Instead of hanging all of my ornaments, I'm displaying some of them. Having cute little ceramic boxes, dishes and bowls helps that, but when in doubt, a small wire ornament hanger will save them from rolling all around.
This year I'm playing around with scale, and am using size to bring a little variety to the simple ball ornament.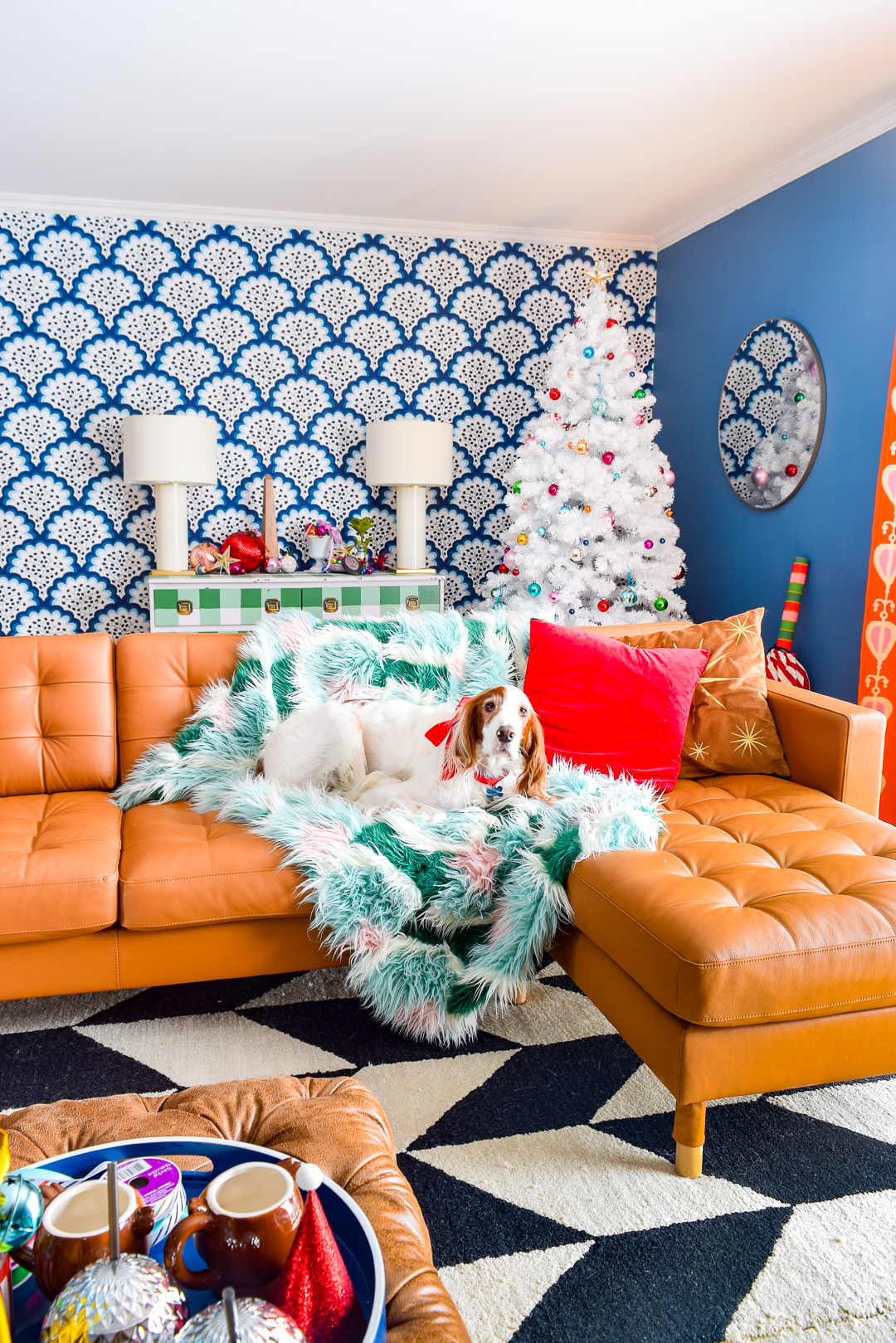 Bruce — as always — is a staple in any living room decor feature. He's always around, always adorable, and more than willing to cooperate by wearing a big red bow.
Although I must say, he looks a little sanguine here, but that's maybe because I wouldn't throw his ball while taking photos. Poor guy!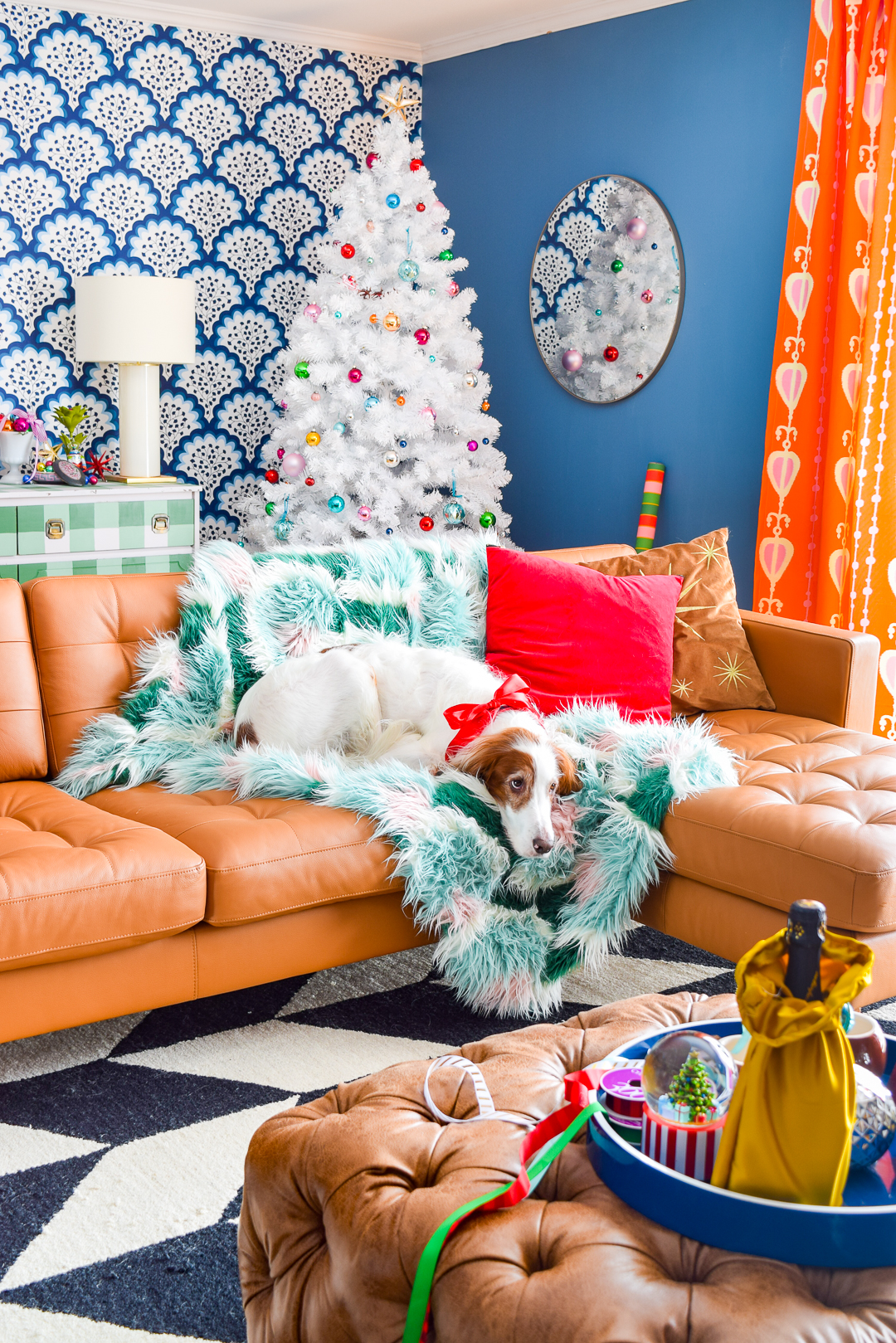 Our leather ottoman is the perfect place to stack extra ribbon, reindeer mugs, and a snow globe or two. What do you think? What would you / do you keep on your coffee table this time of year?
An Eclectic & Colourful Christmas Mantel
My actual mantel is pretty sparse actually. I've added in my bottle brush tree collection, and then added a few ornaments and Santa hats where needed. I like to think that the strength of the existing styling and art, is enough to hold the space.
Unlike our last home, the existing character comes from the features, and not just the decor.
And thank you for continuing to bear with me while I learn how to photograph this space (and the house in general). With each new home, comes new angles, new lighting issues, light surprises, and a steep learning curve. So thanks! Appreciate the styling though, it's the lest you can do.
Check out my Upcycled Holiday Bar Cabinet
Speaking of which, can we talk about my star socks?! How amazing are they. I've been hankering for a pair for a while, and finally got them. I figured I'd test them out with this outfit, and I'm kind of in love.
Well folks, thanks for visiting and taking a tour through the living room with me! Tomorrow I'll be sharing more peeks of our home, including our entryway and parts of the kitchen! Because we only just moved into this house, I haven't got it all done up yet, but I know you've loved seeing each space revealed as we go.
And now, go check out the others!
Thursday, December 6