I'm ready for a vacation! From September till pretty much now, I have worked 7 days a week. It's the season, it's the house, it's me — and I am ready for the holidays to begin! I've still got some stuff to do before I consider myself "on vacation" but we're excited for our Christmas getaway once the time is right.
*Boho Luxe Home sponsored this post, but all thoughts are my own.  Thank you for supporting the brands that make PMQ for two possible.
Do you ever find some accounts on Instagram and think "hey! I like what they've got." ? I do, it happens all the time. So when I stumbled across Boho Luxe Home's account, I did some poking around and quickly fell in love with their luxe boho pieces. The real stuff is on the site, but their IG showcases a little bit of what they're got.
They've got some lovely items in their online store including giant tassels (with brass caps), pillows, wallpaper, art, and travel bags. P.S They're currently 40% off
So when they asked me if I'd like to test drive something, I jumped at the opportunity to try out a Shibori Travel Bag. If you've been following along on Instagram, you know that I've been travelling quite a bit this fall, and was even in Toronto two weekends ago for my sister's bridal shower.
I've got a lovely hard case wheely carry-on, but that's more for airports and connecting flights. I like to have something in my arsenal for car trips, that can be tucked into corners and will look chic in whatever room I wind up in.
I was curious to see how much I could fit inside the Shibori Travel Bag, so I pulled everything I'd need for a fun winter weekend getaway (since we've got a few of those planned before the holiday season in over).
I've got a dress + heels, PJs + slippers, and a day outfit (different than the one I'd be wearing to travel in), plus all the essentials (and toiletries bag). OH and I got a gift, as well as a Christmas stocking in there too. This bag is roomy y'all.
I also tried to pack a blanket, because hey – it's been cold around here lately. Wouldn't you?
You guys are also getting a peek at what our master bedroom looks like (instead of the view from bed each morning as the pets clamour for food).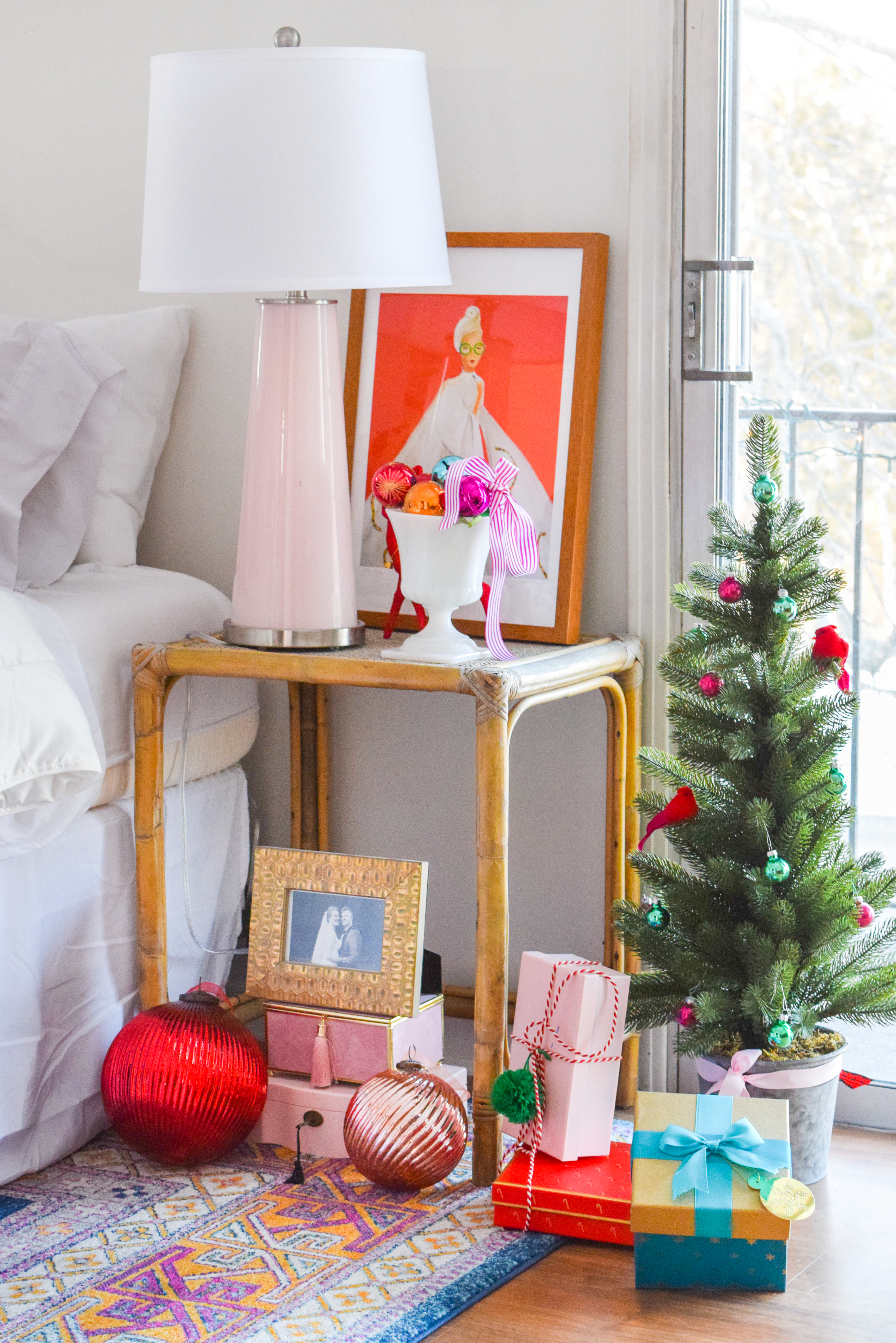 Tell me about Christmas plans! When are you on vacation? Where are you going? Do you have luggage?