Mary had a little lamb, and she was actually a June Bug! This year I'm showcasing a few easy to make Mommy & Me Costume ideas – because what mom has oodles of time on her hands? Our first one is a shepherdess and a little lamb. Why? Because what baby doesn't look adorable as a lamb! I found everything I needed on Amazon, and customized the look with Rit Dye's Dye More for synthetics.
Check out last year's plus-size Halloween costume ideas
*Rit Dye sponsored this post, but all thoughts are my own. Thank you for supporting the brands that make PMQ for two possible.
Mommy & Me Costumes
Like I mentioned above, I'm trying to keep it simple this year, and the costume ideas I'm testing out are all things that can be bought online (or in store) and easily customized.
A good Mommy & Me Costume is a two part (maybe 3 part if you count dad) costume concept, so I've looked to costumes I wanted to try, and found a matching idea for June (or vice versa). In this case, I wanted June to be a little lamb, and what goes with a lamb? A shepherdess!
Little Lamb & Shepherdess Costume
To put this look together you'll need: a lamb costume, a white apron (to dye), a white bonnet (also to dye), and a white full skirt dress (I didn't dye mine, but you could!). You'll also need dye! I love Rit Dye's solutions because the colors are always so vibrant and so strong, and they last wash after wash.
Check out our custom dyed baby onesies
Because the items I chose are mostly synthetic, I tried Rit's DyeMore for Synthetics.
Dyeing Synthetic Fabric
This is actually not like dying regular fabric (mainly cotton). I followed the instructions on the site to a T in order to get the best color results possible, and I even did sample pieces to see which color I liked best. I tested: Daffodil Yellow, Super Pink, and Kentucky Sky.
I chose white garments to achieve true color "If the garment you are dyeing is white or off white, then you should be able to achieve true color."
Stovetop Dyeing
To quote from the Rit Dye website "Due to the complexity of dyeing synthetics, you must use the stovetop method to maintain an almost boiling temperature for the duration of your dyeing (200 F° or greater)."
The Rit Dye site also recommends these two precautionary steps when dying:
Cover work area around stove with plastic table cover or newspaper and have paper towels handy to protect against any possible spills.
Wear rubber gloves to protect hands from getting stained and to insulate them when working with hot water.
Dyeing Swatches
And because stovetop dyeing is new to me, and because I've never dyed synthetics before, I did some test swatches. Fibres take colors differently, and I wasn't sure about the exact color I wanted to use yet.
Dye Solution Prep
Rit Dye says it best, so I've got their stovetop dying instructions here:
"Fill a stainless steel pot with enough water for the fabric to move freely. We recommend using three gallons of water for every pound of fabric. Add 1 teaspoon of dish detergent to help promote level dyeing."
"Cover pot and heat water on stove top to just below boiling (200 F° or greater). When water begins to simmer, add well-shaken dye and mix well."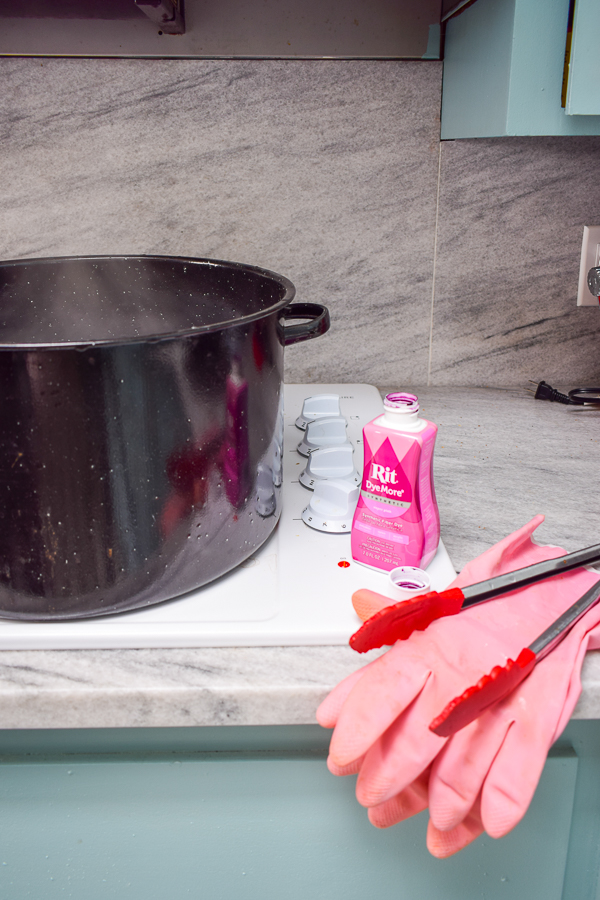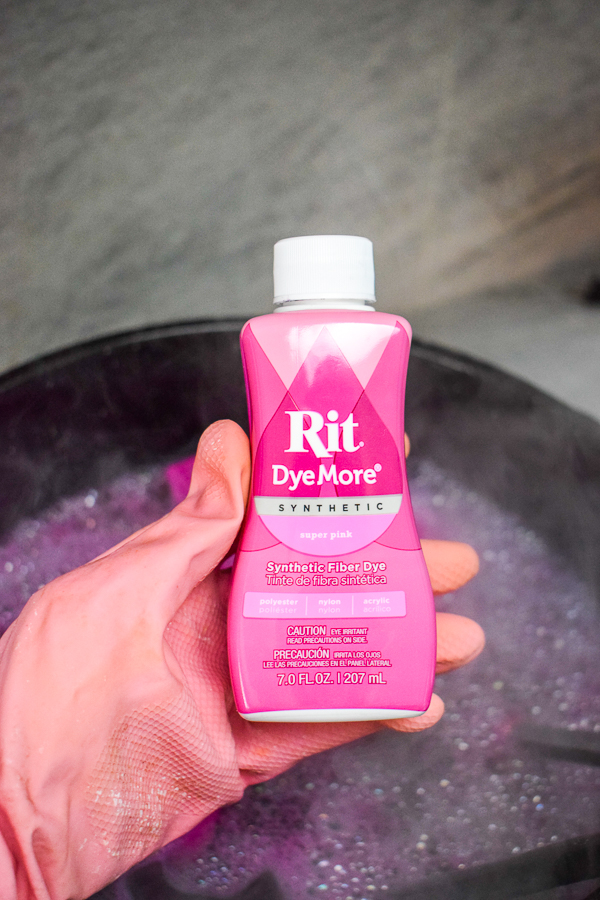 Dyeing the item
"Wet the item you are going to be dyeing and add it to the dye bath. Keep temperature at a low simmer for the duration of your dyeing. Stir slowly and continuously. The first 10 minutes are the most critical. Stirring helps to ensure an even color with no splotches."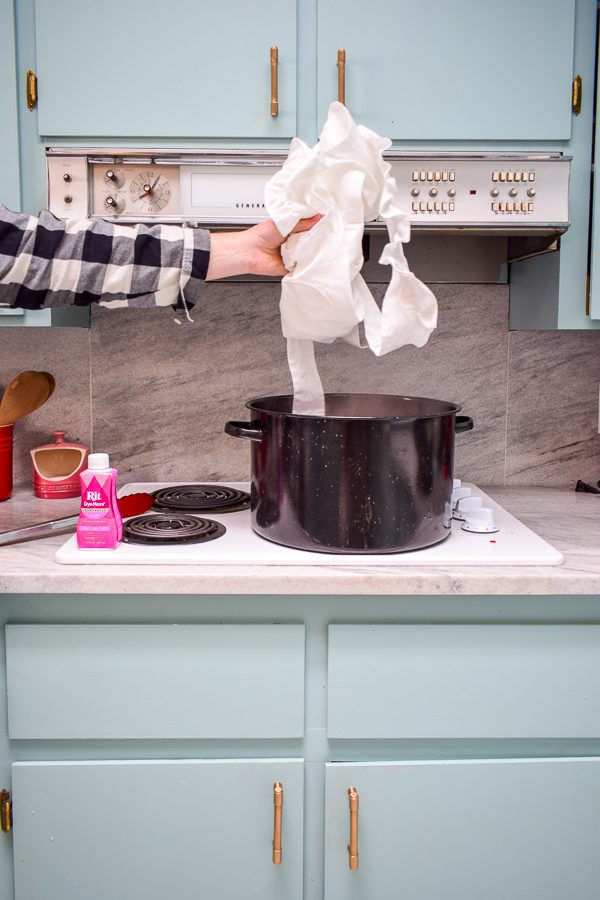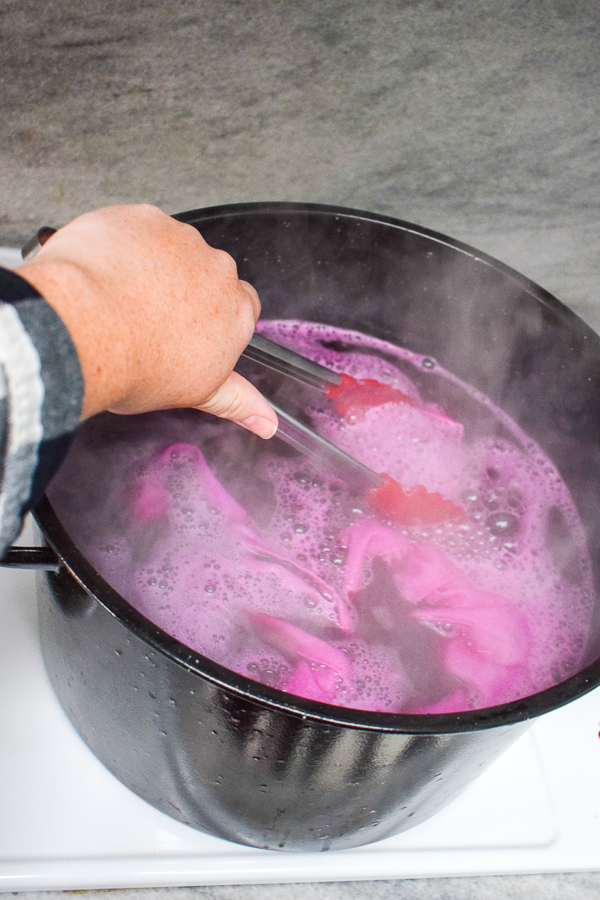 "When desired color is achieved, remove from dyebath. Fabric will look darker when wet and will dry lighter. Squeeze out excess dye. Rinse in warm water and then gradually cool water until rinse water begins to run clear. Wash in warm water with a mild detergent, rinse and dry."
Shepherdess & Little Lamb Costume
Easy peasy! Took a little bit of prep, but the process itself is super easy. As you can see, the outcome is delightful. I dyed the apron and the bonnet using Rit's Super Pink, and left the apron in for longer then the bonnet – hence the different shades of pink.