It's time for a week 3-4 update on the One Room Challenge front. You may have noticed that I missed last week's update on the blog, but I definitely did not miss it on Instagram. I spent last week sharing sneak peeks of my attempt at a coffee table, and then I stopped once I failed at it completely. Thankfully I managed to get some Behr paint on the walls, and unroll the carpets, so there have been victories! If you're curious, read on. Don't forget to see what the other participants are up to!
But first, catch up with the before  & the plans for our colourful retro living room
*Behr sponsored this post, but all thoughts are my own. Thank you for supporting the brands that make PMQ for two possible.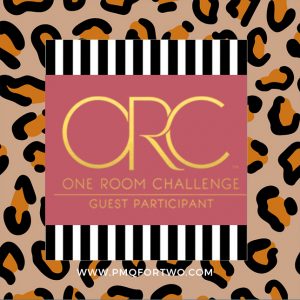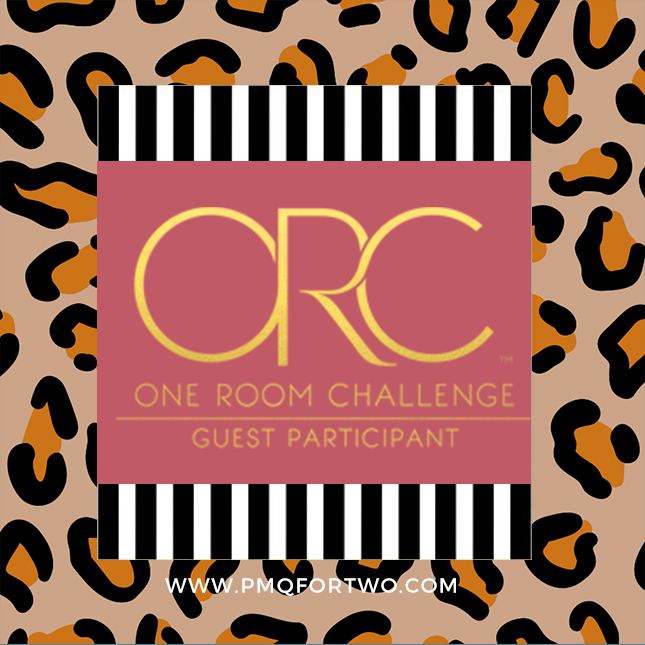 My Pinterest Fail
Last week I had planned to share the tutorial for my new Louis Vuitton steamer trunk coffee table. I bought a stencil, found a trunk, and carved out the time to paint on the pattern. It was gonna be amazing, I was totally stoked, and then I actually started the project and everything fell apart.
I don't know why I thought this time would be different, but stencils and I never work out. I have yet to make one clean and easily repeatable. It's the worst.
So after a few rounds with the stencil, I decided to use my Cricut to cut vinyl stencils. That worked out well until I put an entire series on crooked, and then I got frazzled. See, the contrast between the stencil and the vinyl stencil was too stark because of the difference in the lines. Short of scraping off the paint from stencils, I tried to salvage the whole situation by using more paint to do giant graffiti swirls.
This all had mixed results, and I'm still not sure if I love it. Only time will tell, and in the meantime I totally missed last week's update because I was busy dealing with the craft fail, and the subsequent blow to my ego. #Pinterestfail
Painting The Walls in Blueprint
Over Canadian Thanksgiving I took down all the wallpaper in the living room. It was high quality stuff, it came down with ease. I did not however, enjoy discovering a colony of black mold above the sliding door to our balcony. It looked old, and it was the kind of problem that was likely addressed when they replaced the roof on the house 2 years ago. No one knew it was there because it was under the wallpaper though.
I had to abate the mold, get rid of the rotten drywall, and re-plaster the whole area before I could paint. This was not sexy, not fun, and something I did late at night after a long day of work. I took a few photos, but mainly just so that I could have a record. They are definitely not something I want to share.
I was dying to get past the mold debacle, so that I could paint! See, I've been sitting on a few cans of paint from Behr and have been dying to get them on the walls. If you read my post outlining the colour palette for the house, you'll know that I planned to use Blueprint S470-5 (the colour of the year!) in our living room. I even confirmed it in the post with my plans for the space.
I got the paint on the walls in no time flat thanks to the HomeRight PaintStick EZ-Twist. I don't know why I didn't get one before! It made late night painting super easy, and for that I am eternally grateful. I'll have more info about it on my stories this weekend, along with a demonstration. I'll have TONS of pictures of the wall colour in the reveal, but in the meantime you'll have to catch glimpses of it on Instagram in my stories!
Choosing Wallpaper to Accent Blueprint
Blueprint looks AMAZING on our walls, except the living room is really dark this time of year. So in addition to the stunning wall colour, I decided to buy some wallpaper to create an accent wall. I was really sold on it when I saw the bunnies in the plans Modsy did for me, but Dan was not sold on the bunnies. After much debate (between Dan, my wallet, and I) I settled on a pattern that I think will bring a really playful element to the space.
It's called Angelina (in Navy) from Hygge & West, and I'm having it installed this morning. You read that right, I am not playing around with 400$ worth of wallpaper, so you better believe I'm paying someone else to put it without making mistakes.
To-do list for a a Mid Mod Eclectic Living Room
I've got a lot of stuff in the mail on its way to me, so until it gets here I have nothing else to report. There's one more week to get everything done before I have to shoot the reveal, so here's an update on everything:
Buy/instal 10×14 rug to replace the existing rug – DONE
Paint & apply wallpaper – DONE
Upcycle navy blue steamer trunk as coffee table – FAIL
Lighting: floor lamps, table lamps, wall sconces – ORDERED! Gotta go pick 'em up and have them installed
Build/Buy console table or cabinet to place on the wall behind the couch – DONE
Find art for the space – DONE
Hang curtains + soft furnishing – ORDERED
As you can see, I am waiting on a few elements to arrive, and without them I'm at a standstill. I think this space is going to come together at the last minute, so make sure you're following along for then.