It's not secret that our retro fixer upper has some quirks, and our front door from the outside, is one of them. It's not original to the house, and is of questionable taste. I've been debating painting it since the day we moved in, and a classic & colourful holiday porch makeover with Behr is the kick in the pants I needed!
Check out last year's Christmas porch
*Behr sponsored this post, but all thoughts are my own. Thank you for supporting the brands that make PMQ for two possible.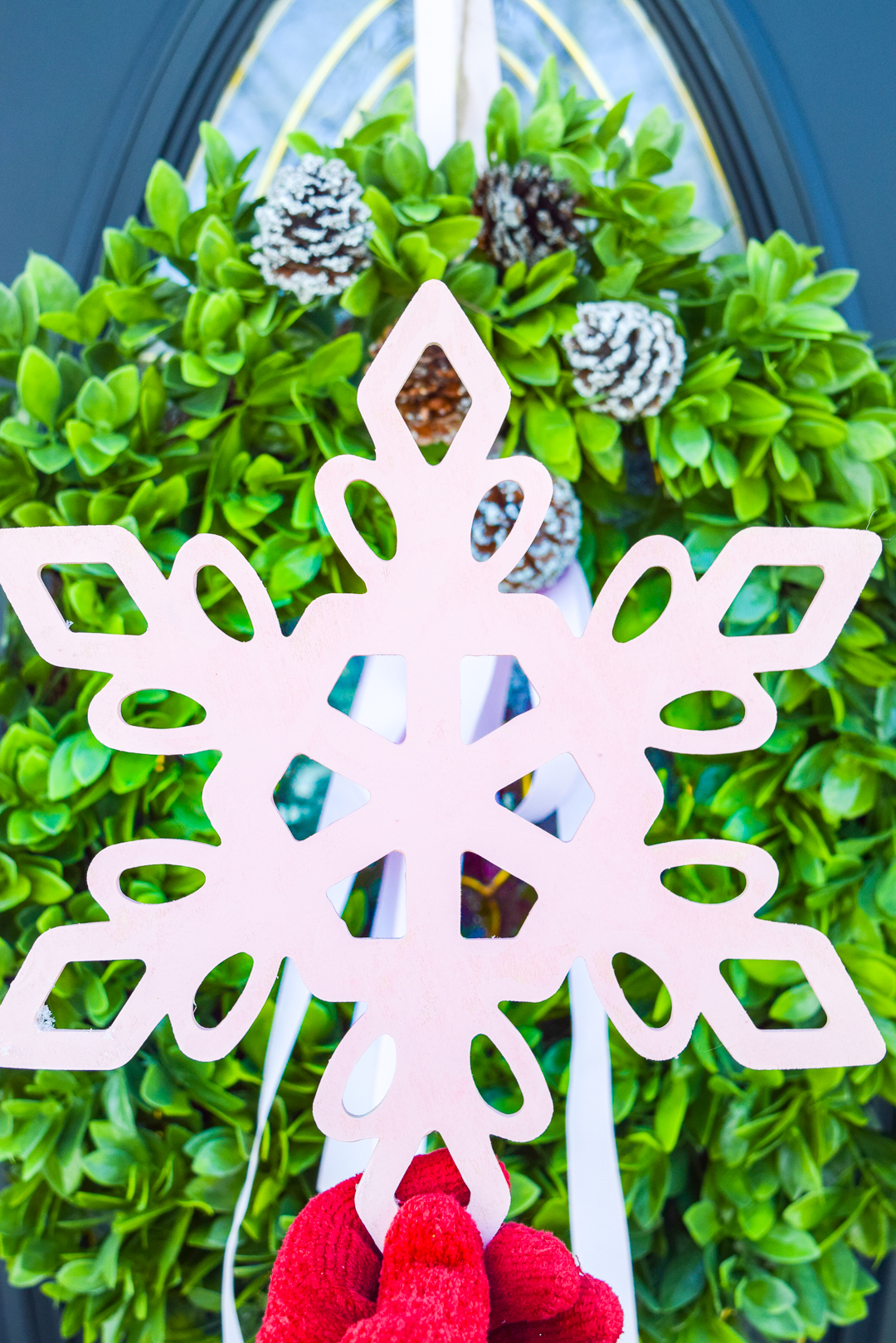 Painting Our Door Black for Christmas
This all started when I first painted out shutters a glossy black. They were a horrible rust red, and the white door (with it's lead panelled glass insert) wasn't doing anything to up the cool factor. Just in case you needed convincing, here's a before photo of the door. Brace yourself!
While not the absolute worst, the white was just b.a.d. Time for some paint! Behr's line of outdoor Marquee paints to be specific. I chose Limousine Leather MQ5-05 because of its underlying warmth. A lot of blacks read very cold, but I find the warmer undertones complimentary to the black shutters and mailbox.
Creating Colourful Window Boxes for the Holidays
Because no front porch is complete without a greenery element of some kind, I added window boxes and filled them with greenery, ornaments, and some painted snowflakes that will stay topical way . past Christmas.
I used Behr's line of colourful outdoor paints to give some dollar store wood snowflakes a makeover. I used Torch Red MQ4-35, Candy Drop MQ4-01 & Delicate Blush 150e-1. The colour palette is warm, totally me, and works with our existing striped boxwood planter.
I love the Marquee collection of paints because of the richness of the tones. I'm sure you've noticed the displays in Home Depot, but the Marquee ones are always my fave. I'm always so tempted by the colours, but some of them are too much for an entire room, so using them on a smaller scale project like this is perfect.
The finished product is actually quite striking! The reds and pinks really pop with the blues, against the greenery in the window baskets.  And because these were painted using Behr's outdoor paints, they'll last through many snowstorms and even be usable again next year.
While I did get the front door, and door casing painted black, my next step (once spring comes) is to sand the window casings down and paint them in a matching black! The Behr line of outdoor paints stand-up so beautifully to the elements, so it will be nice to give the windows a fresh start.
Classic & Colourful Holiday Porch Makeover
I don't know about you, but I could not be any happier with how it all turned out. Between the sexy black door, and the colourful seasonal planters, we're in business! Not only that, but the snowflakes can be used elsewhere in our winter decor after the fact, and the black door will look amazing year round.
For the wreath, I went classic with boxwood! And I added pink ribbon with frosted pinecones for extra seasonal cheer. I had an extra snowflake kicking around, so I painted it with Delicate Blush 150e-1 to use as door swag., but it may find its way to the boxwood planter instead.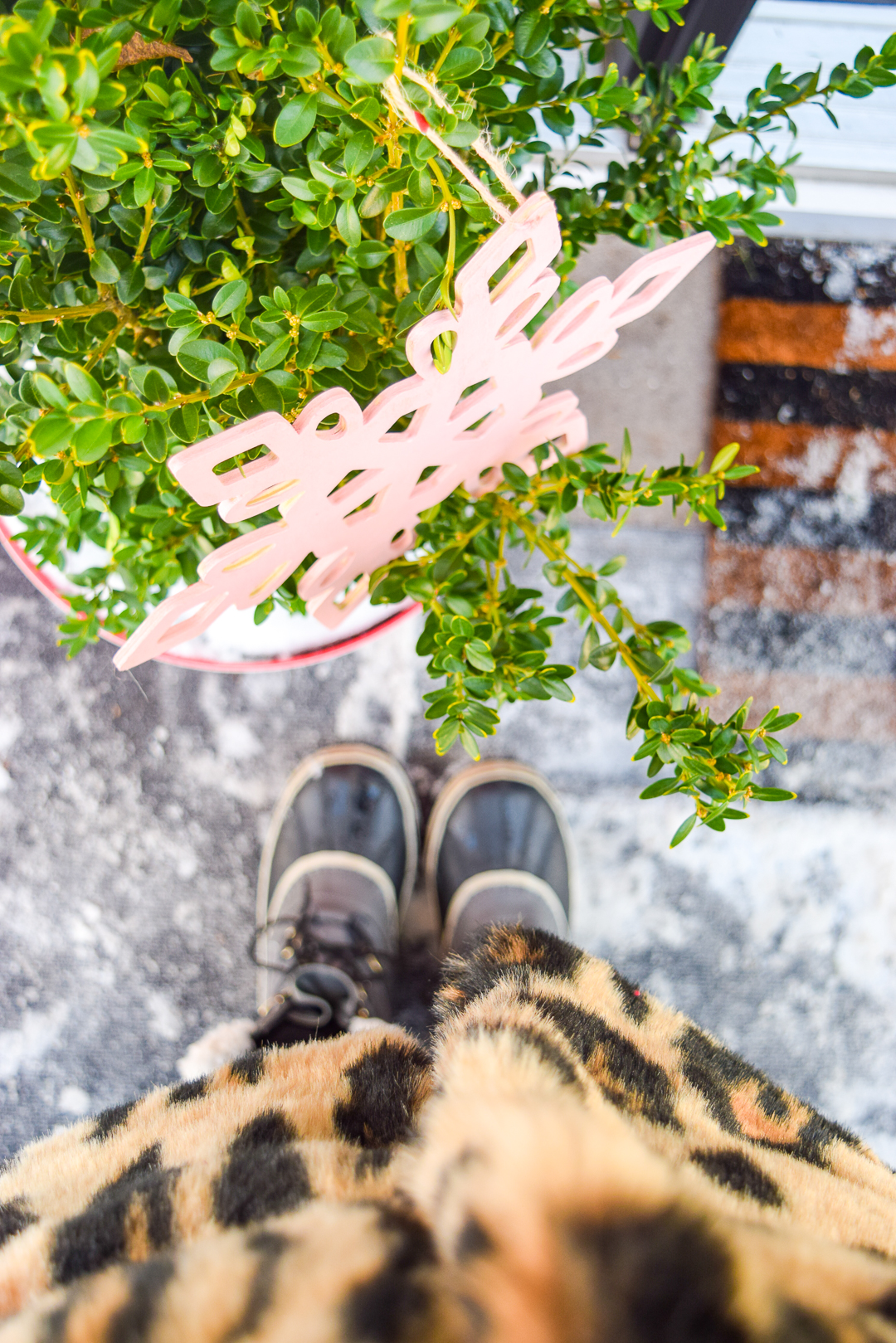 The brass door handle and lock even look better against the black. I've been threatening to buy a new door since September, but with this paint job I think it can stay a little longer.
And there you have it! Our classic & colourful holiday porch makeover with the help of Behr paint! Proving once again that paint is the most multi faceted crafting & decor option out there!
Check out my other Behr projects