Now that everyone is in full on party mode, I think we can all agree that some cheekyness is in order. How about some DIY Christmas Party Awards? You know, for "best ugly Christmas sweater" or "furthest distance travelled," "best Christmas Karaoke," "best wrapped gift," and "best Christmas cookie." That's just the list I started with, but you can make an award for anything that feels right for the squad. You just need the right paints to get started!
Throw a Gift Wrapping Party, Prep for Last Minute Guests, Host THE Best Christmas Party 
and
Check out my DIY Painted Christmas Village, my Painted Advent Calendar, my Colourful Painted Nutcrackers and Painted Floral Ornaments.
*DecoArt sponsored this post, but all thoughts are my own. Thank you for supporting the brands that make PMQ for two possible.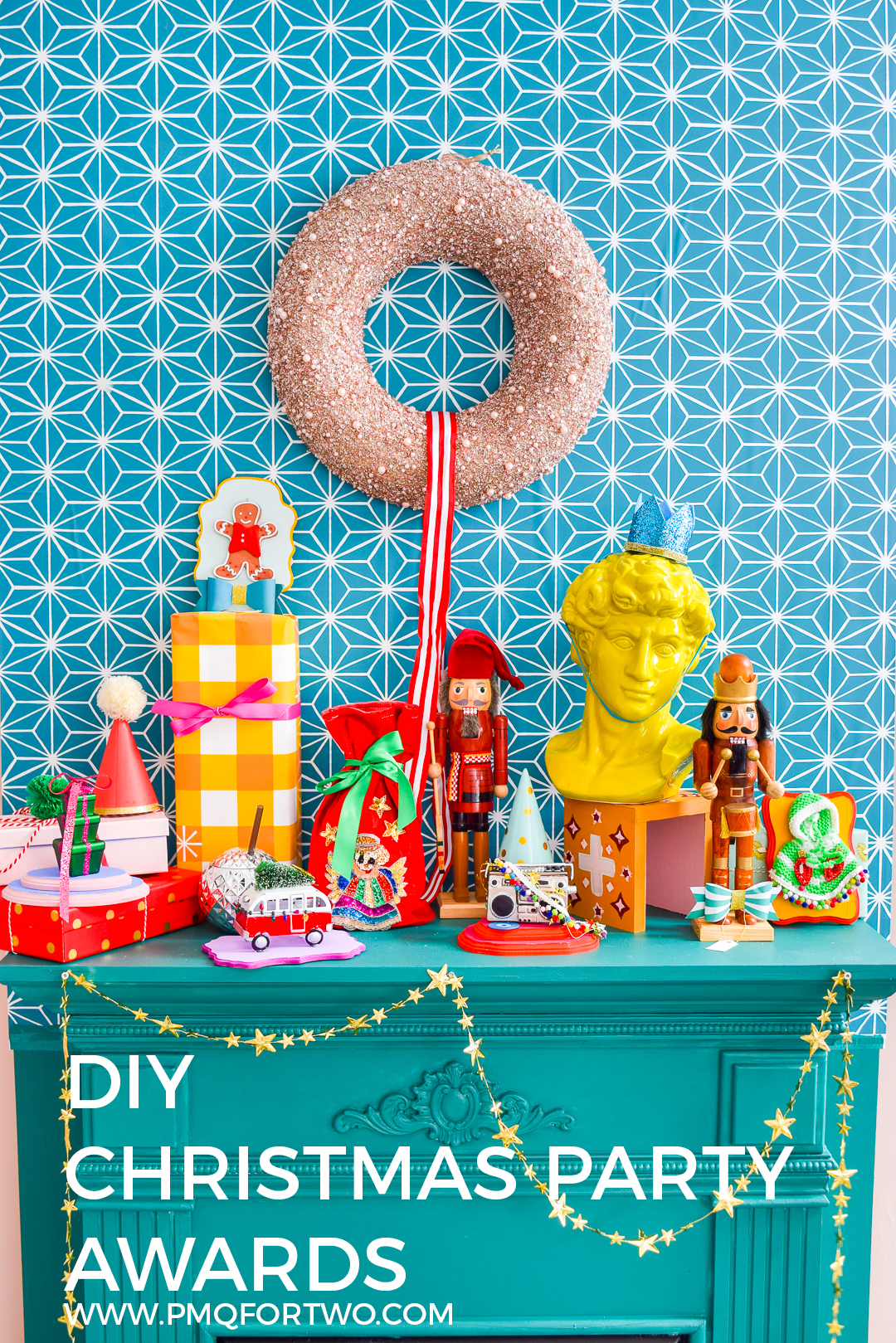 DIY Christmas Party Awards
With all the themed Christmas parties out there, it's hard to believe there aren't any trophies for all the pageantry that goes into them! Until now that is – these DIY Christmas Party Awards are exactly what you need to spice things up at your next gathering.
I dug through my ornament collection for the the most appropriate ones, and then turned to my acrylic paints for more inspiration.
How to DIY Christmas Party Awards
So these are actually super simple to make, and you can get everything at the craft store. You'll need decorative wood plaques (these were 2-4$ each at Michael's, depending on the size), ornaments that exemplify the award you want to give (a gingerbread cookie, boombox, wrapped gift, ugly sweater etc.), and colourful Americana Acrylics to really jazz up your awards.
Also, you may be wondering why I flip the bottles upside down for these photos – it's so that I can better see the colour! The little dot on top of the bottles is fine, but I find the bottom really shows the colour in whatever light you're using.
I found it easier to pick my colours for the awards once I had the ornament/totem in mind. As is my usual, I chose a limited palette of contrasting and complimentary colours, and just varied the shades.
Painting your Christmas Awards
From there, start painting your wood bases! I did the surface in one colour, and used another for the trim. When I layered the plaques, it made for a really interesting effect. Make sure you paint them on their own before assembling them – it makes for cleaner paint lines.
*The following product links contain affiliate links. Thank you for supporting the brands that make PMQ for two possible. For my full policies click // here //
For these awards I used these colours from the DecoArt Americana Acrylics collection:
Scarlet & Razzleberry for the Best Christmas Karaoke award
Blush Pink & Periwinkle for the Best Wrapped Gift award
Lilac Meadow & Magenta for the Furthest Distance Travelled award
Mustard seed & Refreshing for the Best Christmas Cookie award
Scarlet & Mustard Seed for the Ugliest Christmas Sweater award
Assembling Your Awards
Once all the plaques and trims are painted, using wood glue, it's time to assemble them! I do not recommend using nails or screws, since you'd then have to plug those holes (sand and paint again). Wood glue is the answer here!
Once that's done, using your hot glue gun, add the ornaments to the plaques. I do not recommend wood glue for this part, because you're bonding plastic/glass to wood, so you need the appropriate fixative.
If you want, you can add labels to the plaques, but I think they speak for themselves (especially if you've chosen your ornament well), and it looks cleaner.
Giving Out Your DIY Christmas Party Awards
Ok so now that you've painted and assembled your DIY Christmas Party Awards, it's time to give them out! Like I mentioned in the intro, I made an award for the "Ugliest Christmas Sweater", one for the "Best Gingerbread Cookie," one for the "Furthest Distance Travelled," one for the "Prettiest Gift Wrap" — and finally, one for the best rendition of Christmas in Hollis by Run DMC.
This little boom box is one of my faves! Christmas karaoke is definitely a thing, and going beyond the Bing Crosby classics puts a smile on my face faster than cookies!
Speaking of which, cookies are an art form — especially during the holidays— and you absolutely need to reward the best baker in the bunch.
If your boo doesn't pull a full on Mrs. America and #werk the scene when you hand her any of the awards, is she even a member of the squad? These are the questions of our time.
This little hideous piece of crocheted goodness came in a grab bag of doll clothes at Value Village, and then I added trim and appliques to really embellish.
The little VW bus with a Christmas tree should go to the person who flew across the country for the holidays, or who drove through 2 snow storms to get there on time. You should give that person a hug and strong drink.
Last but not least, the best wrapped gift should go to the would be Martha Stewart – you know, the woman who hosts gift wrapping parties (aka me).
Check out my DIY Painted Christmas Village, my Painted Advent Calendar, my Colourful Painted Nutcrackers and Painted Floral Ornaments.