Every year we host a large get together an invite all our friends for some eggnog and good cheer. This year, we won't be hosting quite as big a gathering. Instead we'll be hosting some close friends for drunk Christmas carols. If you're not familiar with that one, you spike the nog and sing at the top of your lungs in an off-key tone. It's delightful, and doesn't actually require you to go outside and go door-to-door. Whether you're hosting your own version of drunk Christmas carols, or a classic Christmas party, I've distilled my years of hostess knowledge into a few key points to help get you through the season.
*Afloral sponsored this post, but all thoughts are my own.  Thank you for supporting the brands that make PMQ for two possible.
1.Deck the halls, and not just with boughs of holly. I've upped our Christmas decor game this year. Not only because we have an ever refining palette and taste for decor, but because we have less space so I have to make every inch count! You can see my Colourful & Eclectic Holiday Mantel // here // The key to my Christmas party decor is making it about vignettes.
Your holiday decor on the whole should be unified and cohesive and really be about the big picture. But since so much of the stuff involved in a Christmas party is there just for the party i.e the food, I try to focus on creating vignettes that will last once the food and drinks are gone, but that will also shine regardless of how many people are packed-around the food table and the bar. This year I focused on the bar cart, the sideboard, and the dining room table. The decor isn't overwhelming or invasive, but a few well-chosen pieces from Afloral really did the job.
2. Greet your guests with a drink! It's nice to have your coat and gloves whisked away while you hand them a drink. Nothing puts me more at ease than being offered a cocktail or glass of wine within minutes of walking through the door, so I like to return the favour. This year I'm thinking of spiked eggnog with crushed candy cane rims. If you're looking for something a little less holiday-chic, consider a vodka cranberry! You can see my "holiday" version // here //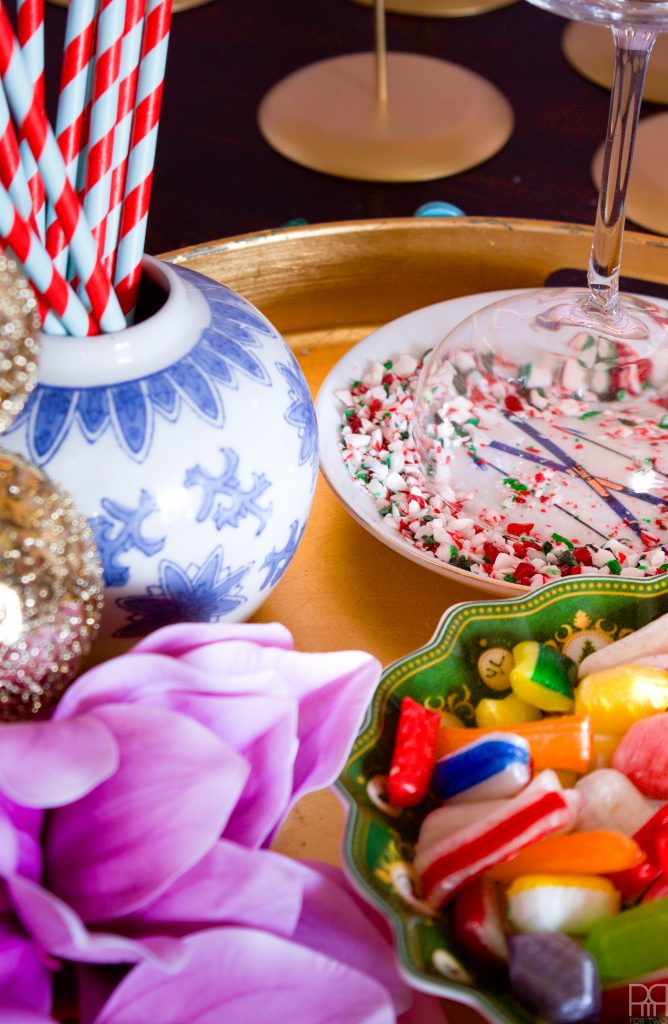 3. When I was younger I found a copy of The Preppy Handbook in my parents' basement. It was a nod to 1980s and 1990s affluent people who came from long lineage and had names like Muffy and Kit. It was totally a tongue-in-cheel approach, and a delight to read. One piece of "knowledge" that definitely stuck with me was "Always over-stock the bar and don't over-purchase on the food." In other words, don't run out of alcohol, and be selective with food.
Seasonally I do a stock-up on all the things that go into our bar like standard bar rail spirits (Vodka, Gin, Rum, Rye Whiskey), and then grab a few specialty pieces. I'm still loving our rose gin from this summer, and with the addition of all the bourbons from my Caramel Bourbon Cider // here //, we're pretty well stocked! Whatever you do, don't forget the rum for the eggnog or the Baileys!
Do you love the atomic starburst ornament as much as me? You can make your own // here //
Can we talk about these purple magnolias for a second? They're part of the soft-touch collection from AFloral.com. They're soft and pliable. Unlike silk flowers, theyfeel like the real deal. You can find more of them // here // For the bar cart, I wanted to create an impact with a one-vase arrangement and these magnolias in the green vase // here // really do it for me. I added some ornaments in complimentary colours to really make them pop and give them the Christmassy feel.
4. While I think having a stocked bar is the primary concern for any get-together this holiday season – I mean, wasn't 2016 one giant trash fire? who doesn't need a drink – I think having a light spread of cookies, sweets, and nuts is a good option. We usually do a baked brie or two, and have tons of cheeses and charcuterie, but that rarely agrees with DH and I the next day. This year we're keeping it light! I even added some Turkish Delights!
I've accumulated a pretty darn cute set of Christmas plates and bowls over the years. None of them are alike, and I love that I get to mix and match them to make it all work. BUT, when it comes to jars and vases on a food buffet, I like a bit more cohesion – it's usually how I keep utensils, straws and stirrers corralled. When I spotted these beautiful blush mercury glass votives I had to have them! I've got them displaying candy canes and a few other things. You can grab some from Afloral.com // here //
This swanky CHEERS neon light is a DIY! You can find the whole project // here //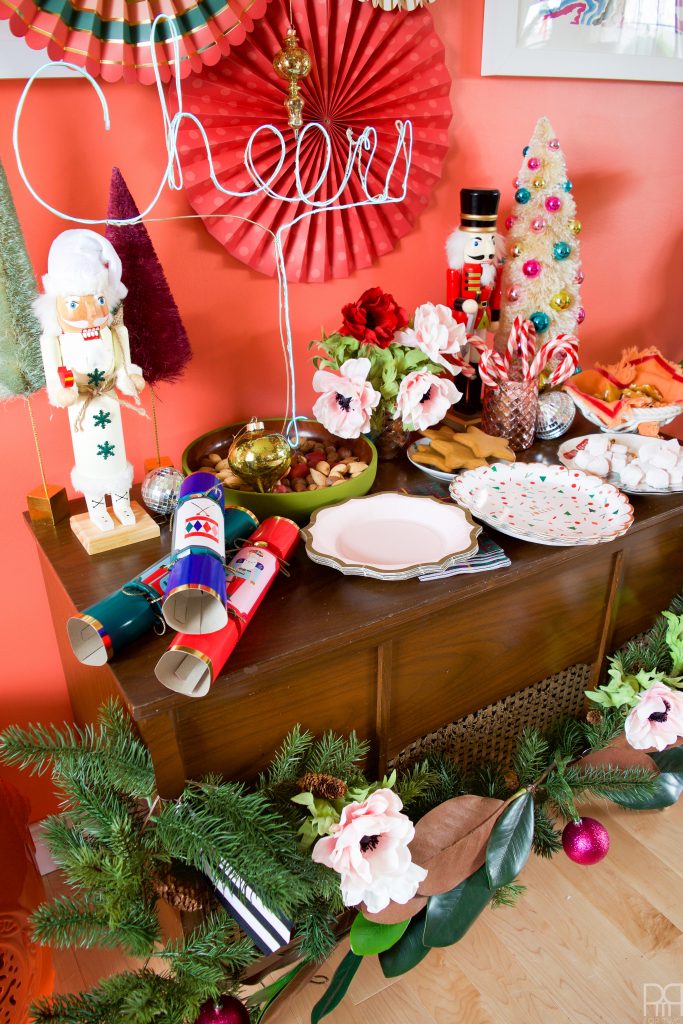 I dressed-up the front of our sideboard – which by now has been scratched to shreds by the cats – with a large bough that was augmented by beautiful magnolia leaves, and pink and white anemones. They really compliment the wood tones and the pine, while breathing a fresh life into the concept of the Christmas bough. You can buy the magnolia leaves  // here // and the anemones  // here //
5. Singing carols is our main event, I always have a back-up; A game that is easy to pick-up, and something that can be played despite the amount of people involved. I mention this because not all games scale well. We have our old faithful in Cards Against Humanity, but I've always got an actual deck of cards or two kicking around just in case.
Do you like my spray-painted punch bowl? What about using gift tags to help identify the decanters?
6. I know I've talked about the bar quite a bit, but having a Designated Driver system is key to enjoying the holiday season. DH and I take turns, or plan on taking a taxi, or staying the night. I wouldn't dare risk my life, my husband's life, or the life of those on the road, and you shouldn't either. A lot of cities have DD programs so make sure you take advantage!
These candle holders are perfect – I've got 12 to help me display my ridiculous collection of coloured tapers and pillars. They make quite the statement. You can purchase them in sets of 3 // here //
And there you have it! As long as the tunes are good and the nog is fresh, you should be in for one heck of a party!