It's time to get spooky y'all! Spooky I tell you! I love Halloween (as you all know) and I wanted to try my hand at setting an All Hallows' Eve tablescape, so I invited a bunch of other super talented bloggers to join me. You can catch all their links here and at the bottom. I set my table in un-characteristic monochromatic tones for once, and kinda dig it. I think this is the only time of year I can get away with black and white, so don't expect it again anytime soon.
Semigloss Design // Domicile 37 // Dimples and Tangles // House by Hoff // Up to Date Interiors // Iris Nacole // French & French Interior Design
I partnered with Afloral for all my faux floral needs, and Fabric.com for my table linens. You can catch the Spooky Halloween Linen DIYs // here //
*Fabric.com & Afloral sponsored this post, but all thoughts are my own. Thank you for supporting the brands that make PMQ for two possible.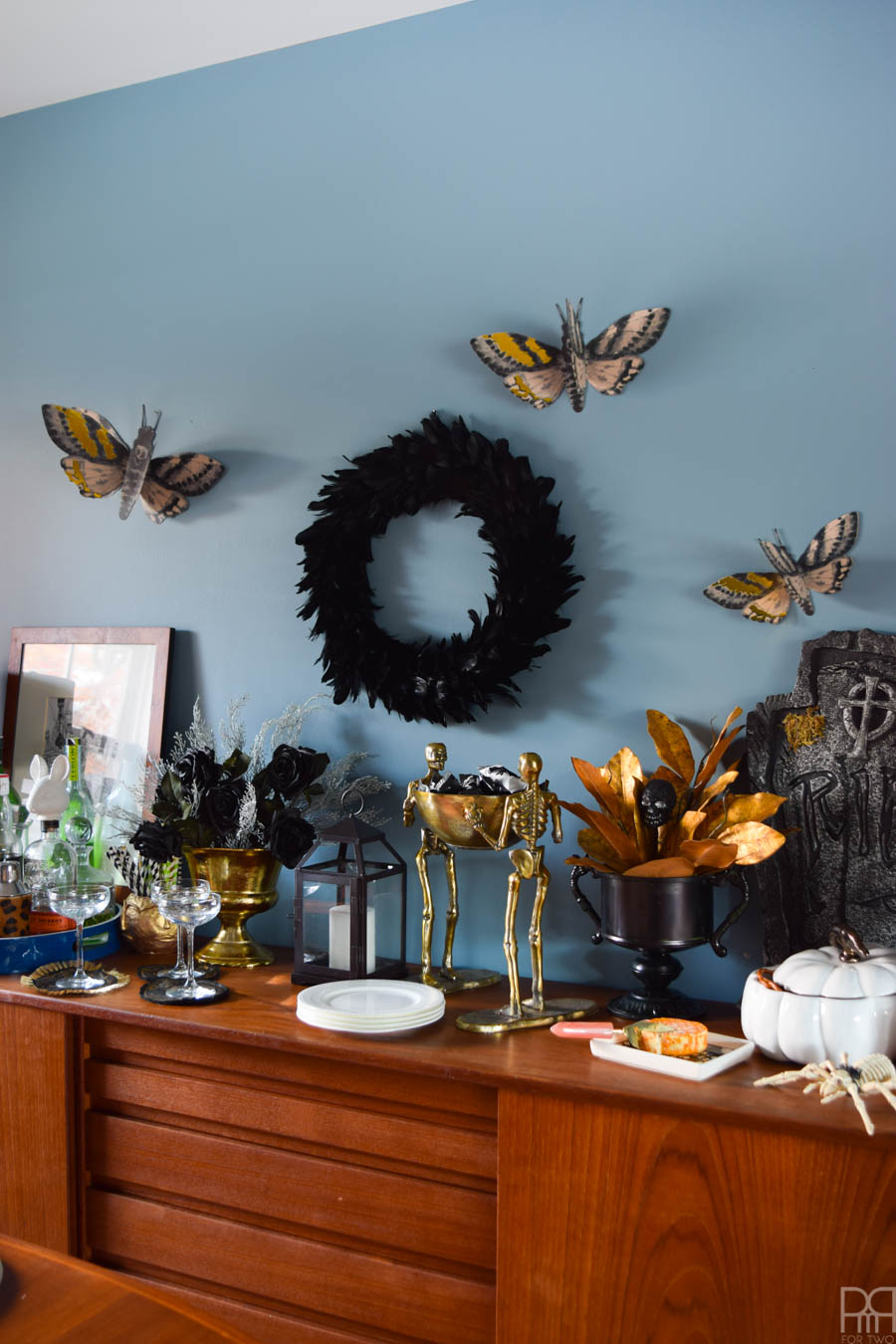 Okay, so let's talk details here. I went for a paper table runner which is actually a whole bunch of fancy paper doily-like sheets that Afloral has started selling. I can't get enough of them, they're fantastic! Expect to see them again and again and again. You can grab your own // here //
I've been thinking about all hallows' eve florals for a while now. I had originally planned on something with lots of purples as well as blacks, but when it came time to actually put everything together I was feeling just the black and gold.
I found some really cool black urns on their site // here // and instead of anchoring the tablescape with 2 of them, I created two different arrangements and placed one on the table and the other on the sideboard, but I'll have more on those later.
OK so the Headless Horseman is the coolest thing on the internet and they only took me 15 minutes or so to assemble. It's a printable piece from this store on Etsy // here //. You print them on card stock and assemble at your will. I wanted them for my tablescape because I knew they would add the perfect amount of colour to my All Hallows' Eve theme.
They're articulated, so each one looks slightly different, but that's more to do with me having fun than anything. I'm going to have to find a way to store them safely until next year.
Those giant moth butterfly things are from the Martha Stewart Halloween collection // here // and they're FAB! They're dimensional, and easy to instal. This is another one I hope to save for next year.
The wreath is from our local Value Village, but I know you can find them essentially everywhere. Birds of a feather, right?
Here's another fun little station I'm testing out for the upcoming holiday season — a cooler stand! I've got the big bucket for ages, and the stool was purchased last spring as part of the One Room Challenge from HomeSense. I sewed that bar towel using an amazing print from Fabric.com // here //, and I'll have all the details next week.
Teak isn't super cool with water and moisture, so I figured it was best to put a giant bucket of ice and water on a separate pedestal 😉
This sideboard was made entertaining. It's SO long, so I can have my cocktail station at one end, and snacks at the other, with space in between!  I've added some seasonal touches like the flower arrangement, the animal heads, and these coasters (tutorial to come!) made with this print // here //.
On the other end of the sideboard we've got my pumpkin tureens full of snacks, a ouija board cheese plate that I snagged at Homesense, and of course a toomb stone. I've never been one for this kind of thing, but with the tablescape it all felt right. The two skeletons holding a giant bowl of candy is my personal favourite though. I'm going to move it around for the various events we've got between now and then.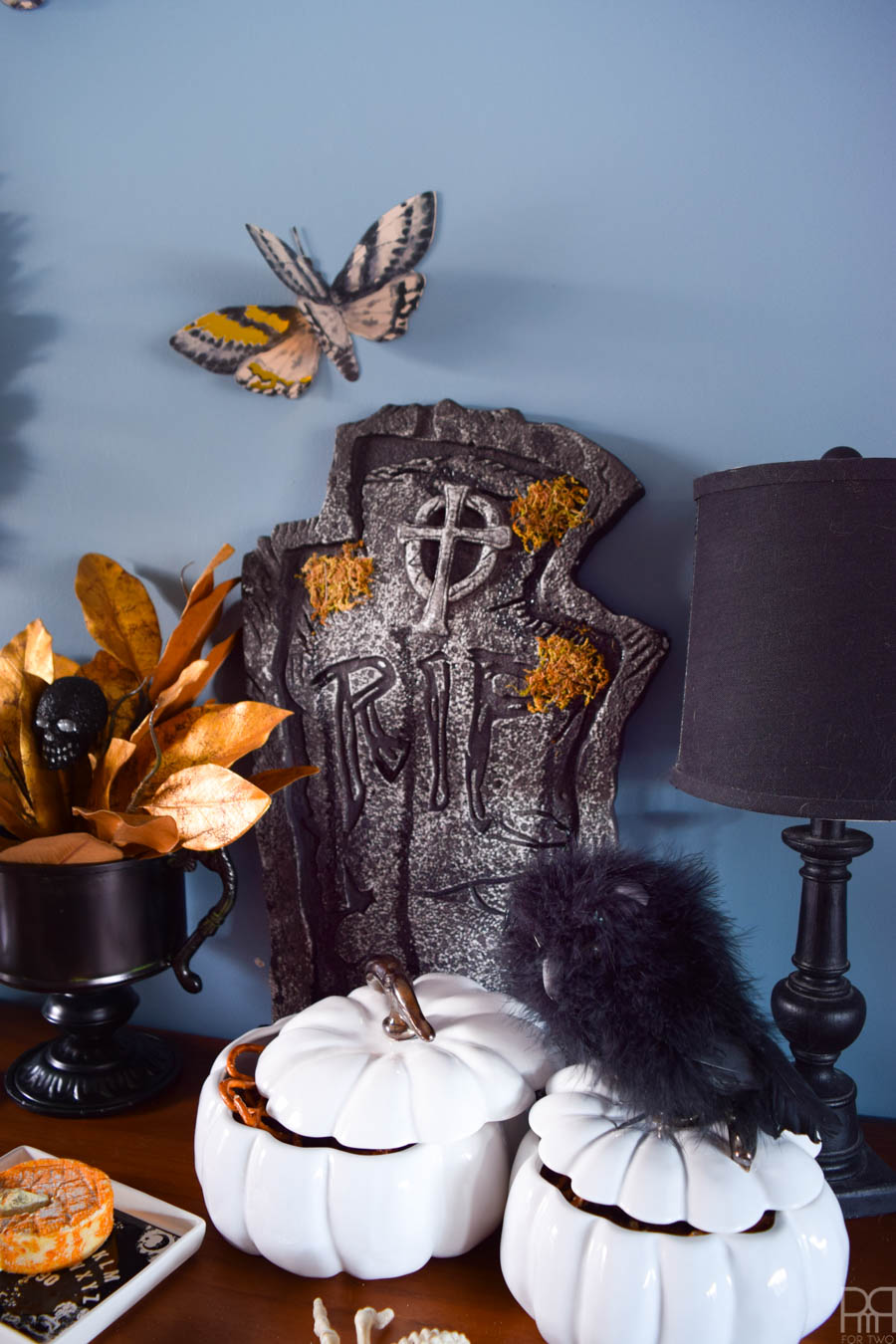 And that's it folks! What did you think of my All Hallows' Eve tablescape? this one was a bit of a leap for me, so I'd to hear what you thought.
Don't forget to go visit all my friends and fellow bloggers to see what they've done!
Semigloss Design // Domicile 37 // Dimples and Tangles // House by Hoff // Up to Date Interiors // Iris Nacole // French & French Interior Design