I have found the home decor tool to end all home decor tools – real to life digital renderings and visual planning through Modsy. (I've got a discount code further down!) I first heard about them when looking for a tool to use with my occasional home decor clients, and loved using the service so much that I wanted to try it for myself. See, we've finally got a guest room again but it has to do double duty as a study, and the layout is curious enough that I wanted to see what they would suggest for furniture placement.
* Modsy sponsored this post, but all thoughts are my own. Thank you for supporting the brands that make PMQ for two possible.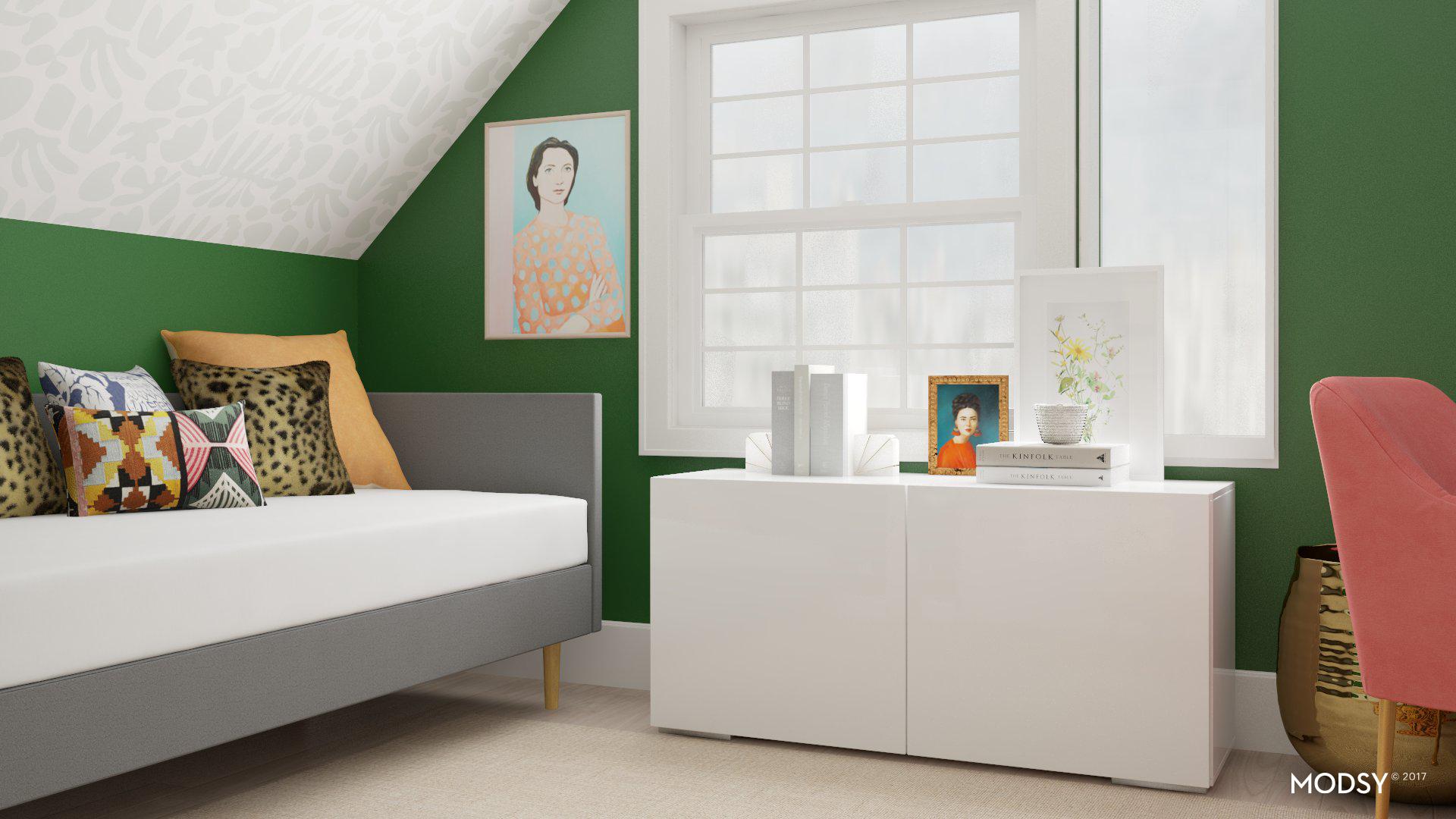 You'll know the "guest room" as the space that was previously known as The Green Grotto // here //, but when we opened Blush & Brass Studios // here // we moved all of that out and now we have a space to work with.  I don't know about you, but when putting a room together I need to see how everything fits in 3D, and my 2D polyvore boards just weren't cutting it anymore.
What I love about Modsy is that it brings the magic of Sketchup and interior design software together in a user friendly platform. It's the perfect tool and I wish I had discovered it earlier.

How it works (in a nutshell): you send them photos of your space and they give you options on how it can be configured and styled.
You need to do a bit of prep work before getting to the point of a rendering, but it's nothing you can't do in 5 mins.
To get started, you'll need 8 photos of the space, a floor plan (I drew mine on the back of a note pad), and the links to any furniture pieces you want to keep in the space. If you have any furniture you want to keep in the space it can create replicas of those items so that you can see them in the space.  If the pieces aren't online, you can send photos and they'll create that rendering for extra charge.
We're lucky enough to be working around a few key pieces like the Sundy Mid Century Daybed that we snagged on Wayfair.
You also get to specify your home decor style, the brands you like, and the purpose of the room (office, bedroom, living room, dining room etc). They really take a lot into account when putting together your boards, so all kinds of things are taken into account.
Within 7-10 days they'll send you two versions of your space, and from there you can customize them. I even had a version created with wallpaper! How fun is that?!
The lovely people at Modsy have been so generous as to offer 20% for any of you who want to try! Use the code: PMQ20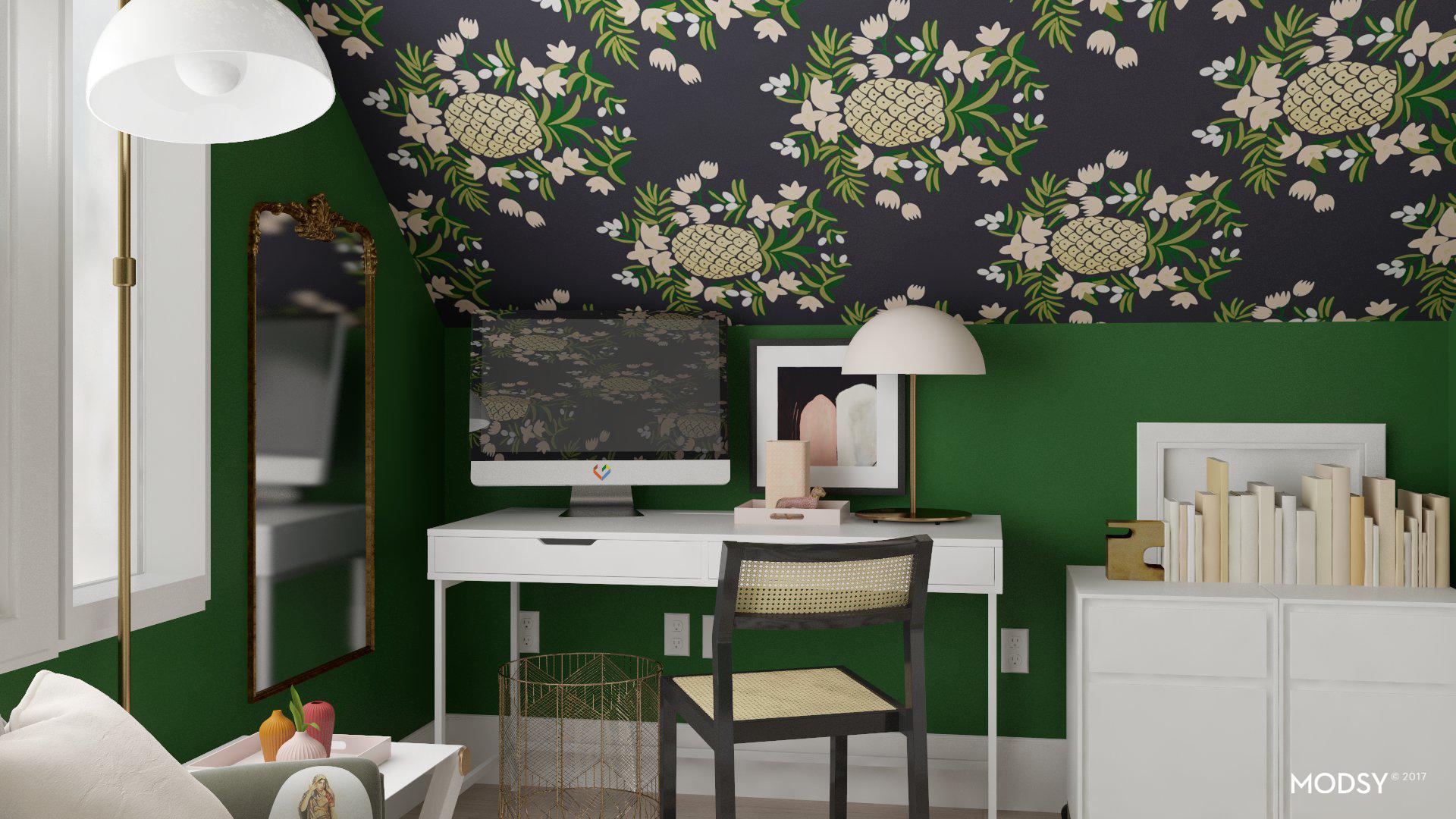 The first two renderings were for spaces that I tweaked after seeing the initial boards, but I wanted to share the initial boards with you guys so that you can see how close they were with their designs!
I really like how light and bright this board is. It feels so clean well thought-out, but I need a bit more colour. I also need it to flow into the rest of the house, so some pops of pattern were in order. For the record, I would definitely live in this space though.

This next board is super colourful, but I wasn't loving the textile choices. I also needed more colour and pattern. I just wish I could get the tiger rug for my own home! I can't seem to find any budget friendly versions though.
Well, I'll keep you guys posted on the process! I've already got a lot of the moving parts in place, and I'll begin to roll out the reno in March 🙂 Let me know in the comments which is your favourite design!