What do you do in the middle of winter? Probably lots of outdoor sports and activities right? That's cool, that's not my jam. I am the chalet and après ski kinda girl. Can you picture me lounging in a beautiful lodge near the fire surrounded by furs and cognacs? Good, me too. With all this cold weather I've had the itch to put together a bar scene worthy of the glam après ski bar of my dreams, and you're all invited.
I've got some follow up posts with a recipe for the delicious spicy hot chocolate and homemade marshmallows, as well as a DIY for all the cute popsicle ski crafts, so you'll have to circle back for those.
Since this is also a blog hop, I invite you all to go see what Jewelled Interiors, Up To Date Interiors & Semigloss Design have done for their take on the Après Ski theme.

When I think of the best events there's always a well stocked bar, a place to sit, colourful and vibrant decor, and excellent company. While I didn't think making popsicle people was the best idea, I think I hit the nail on the head with 3/4.
I think my DIY decanter tassels are adorable, and very luxe. They're perfect for a glam setting like this. You can catch that DIY // here //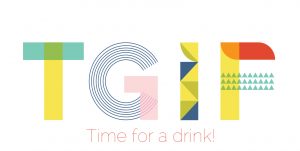 Maple Whisky Milkshake // Blackberry Mint Julep // Chocolate & Coffee Icecubes // Spicy Pomegranate Margarita // Cocktail Freezies // Honey Peach Moscow Mule // London Lemonade // Bacon & Green Bean Ceasar // The Pink Pearl // Gingerbread Vodka Moscow Mule
The glassware and a lot of the table top stuff are finds from Homesense. These tall glasses are part of the Ralph Lauren lines they occasionally get, and I think their fluted nature is perfect for a champagne glass alternative.
Remember the fur coat I thrifted this summer? Well, I would of course wear it to a glam Glam Après Ski Bar situation, and I would hope you would do the same.
This spicy hot chocolate was the perfect pairing after a day of work. The big fluffy marshmallows are home-made, and they are the honest to god best thing I've ever tasted. LOVE. Circle back next week for the recipe.
While fresh fruit and citrus aren't usually associated with a Glam Après Ski Bar, they should be. They're a hard thing to find this time of year, plus they make the perfect garnish for a cocktail right? Grand Marnier was onto something // here //