We have been planning a summer road trip since January. Dan and I haven't taken a proper summer vacation together in a while, so it was high time we plan something en couple. We could have gone down to visit family or we could try a coastal road trip – those were our two options The maritimes are already plenty close, but we felt like we needed something just a bit further. When looking at a map with CFB gage town in the middle you see a good chunk of east coast of the U.S. and it's all relatively accessible by car. I noticed that Martha's Vineyard was within a day's comfortable drive from us, so I started looking into it, and the Ford Flex.
Catch PART 2 – The City // here // 
We could rent an Airbnb, load-up the car, bring the dog and head off towards the cape! I would be able to live my best life surrounded the sea, opulence and good eats, all in the company of the man I love. The only problem was that we didn't actually have a vehicle to bring everything we needed. Once we got down the nitty gritty details of the trip, it looked like we'd do a few nights on the island and then head down to Ontario to visit family, so we were essentially packing for two different vacations plus the dog. Anyone else who's done that knows that it's not easy to fit all that into a small sedan and then drive about 50 hours.
We've had two vehicles for a few years now, but our SUV is on its last legs and we're probably going to have to get rid of it this week. As I explained in my post "Gone Fishing" // here // Ford Canada had agreed to let us test drive the Ford Flex during our trip so that we might get a feel for it. After all, we need a vehicle than can tow us and our stuff whenever we travel, not to mention handle all the in-town errands I run.
*Ford Canada sponsored this post, but all thoughts are my own. Thank you for supporting the brands that make PMQ for two possible.
Martha's Vineyard is about 8hrs away by car from CFB Gagetown. We crossed into the U.S. in Houlton, ME and drove down along the coast during the eclipse. We weren't in the path of totality so I couldn't get any cool photos, but it certainly made for an interesting drive.
The Ford Flex is big enough that we were able to lay everything-out in the trunk and collapse the back row for more storage. There's nothing I hate more than when everything is pilled high in the trunk and you can't see out the window.  We did not have that problem with the Flex and Bruce even has his own designated space within the car. His bed fit perfectly across the second row of seats so he had the entire area to himself. His favourite space was right in the middle with his front paws on the middle console so that he could be near us though.
The dash computer was one of the niftiest features in the Ford Flex. It allowed us to switch back and forth between our devices (for phone calls, music and podcast) with ease.  It also had custom climate control options (because I enjoy my side cold and Dan likes his a bit warmer) and the navigation system was the most impressive we've seen.
The nav's screen break-down when doing turns or getting on/off ramps was genius because it split the screen to show you a close-up of your maneuver, while keeping the other half of the screen trained on the big picture. I loved it!
After our 8hr journey we arrived in Woods Hole, MA were we had dinner at a cafe overlooking the port with live music. The streets were very narrow and there was quite a bit of traffic for a Monday evening. I had originally been concerned that the vehicle would be hard to maneuver in the small seaside-town, but with the rear camera and the parking assist it was a breeze.
Although the Ford Flex looks like and hard to drive, it actually proved itself quite the opposite. Don't discount the large windows and tight turning capability – it got me into many tight spaces.
To get to the Vineyard we had to take a ferry across. There's only one that will ferry vehicles so we dutifully lined-up ahead of schedule to catch our ride across to the island. While loading the Flex onto the ferry we had to pack all the cars tightly together and park between two large pillars. The ability to fold-in the mirrors at the flick of a switch made all that so much easier.
Bruce had never been on a boat, let alone a ferry, so he was a little queasy on the journey.
We got the island late in the evening and made our way to the Airbnb we had rented.
Brady's BnB in Oak Bluffs was the perfect place for us. It was in the thick of things on the island while being residential enough that it felt like a place of its own. The house was 2 houses back off the ocean and Oak Bluffs' public beaches so I was able to go for a few swims without walking too far.
One of the reasons I chose our Airbnb was the photos! I like to stay in cool and interesting places and Brady's was the embodiment of that. Nestled away in a New England seaside-town, this classic gingerbread house was decorated like an adobe in the American south-west. Full of photos, cactus, posters and art; the home told a story of an interesting life. We were able to enjoy cocktail hour with our host each day, and he divulged a few of the island's secrets.
Our room gave onto two small balconies, so at night we left the screen doors open and took advantage of the beautiful seaside breeze. In the morning it meant we woke to the sound of birdsong and waves crashing on the beach. Can't get much better than that!
Bruce made himself right at home too, and Brady loved Bruce. It was a match made in heaven and I even found the two of them hanging out on a few occasions.
We took our time exploring the island and visited all the corners, nooks and crannies that we could fin. From the beautiful salt boxes of Edgartown, to the private beaches in Lobsterville, the Gayhead Cliffs, downtown Oak Bluffs and the cafes of Vineyard Haven. We did it all!
I hope you had a chance to follow along on my Instagram stories were we had a much more vivid play-by-play of events.
Taking the ferry 527m across the bay to Chappaquidick Island for a quick tour of the island was a way to kill some time. Turns-out there is nothing for non-homeowners to do over there so after driving around we made our way back to the ferry only to wait an hour to get back over. Womp Womp.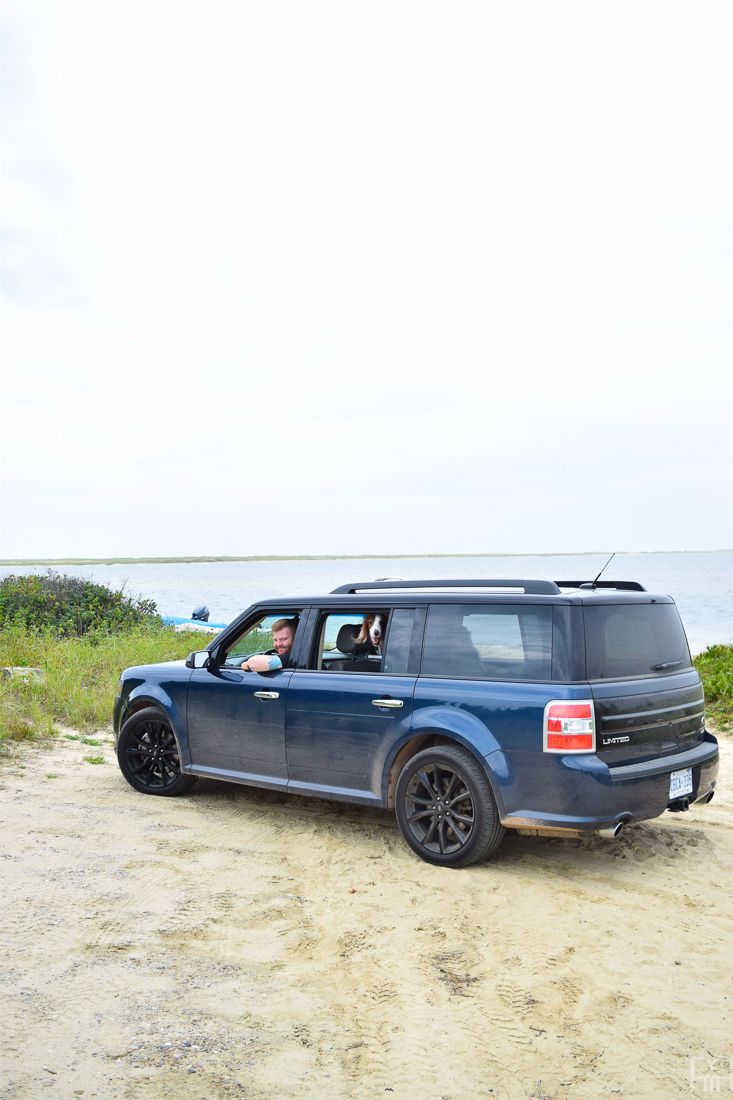 The cliffs at Gayhead are stunning. Thy look out over a lovely scene, and the lighthouse (newly restored) is the picture of Cape Cod living. We would have gone up to catch another view of the cliffs if we didn't have Bruce with us at the time. That's the trouble with travelling with pets in the summer, you can't really leave them anywhere.
Edgartown is quintessential Cape Cod living: hydrangea bushes, lots of sail boats, salt box homes and beautiful old vehicles. It was quite the contrast from all the brightly coloured homes near us in Oak Bluffs. I found my way into a few antique stores and had a hard time leaving a few treasures behind. Next time!
Lobsterville – out near Aquinah – had the prettiest beaches and there was hardly ever anyone there. In fact, the only other people we saw had dogs too! It was a hike to get there but the privacy was well worth it. Bruce drank far too much salt water (despite our best efforts) and was then sick all along one of the walking paths. I'm hoping he has finally learned his lesson vis-a-vis salt water.
It was mostly overcast during our stay in the vineyard, but on the last evening the clouds let the sun through long-enough for the most perfect sunset I've seen in a while.
Our last sunset on the island was nothing short of magical. It was the evening of our wedding anniversary so we indulged with a small desert and a drink off the tailgate of the Ford Flex. Sunset was also my youngest brother's favourite time of day, so it felt right that we should enjoy the last one before leaving.
I found all this awesome wicker picnic ware from HomeSense and have been dying for an occasion to use it. Tailgating out the back of the Ford Flex seemed the perfect opportunity to test it out.
Part 2 will be next week! And that will include city driving and the continued aftermath of my brother's death.
Although I don't think I would have naturally thought to take a vacation after my brother's passing, I'm sure glad I already had one planned. It did me some good to get out and go for a bit. I had a purpose and was in a completely new setting, so enjoying myself a little bit felt right.