It's here – my final Christmas Home Tour of the season. To say I am thankful to have reached this finish line would be an understatement. I hope you'll take the time to poke around between tours and see all my hard work, as well as that of all the other participants. This final tour is the perfect synthesis of my Colourful & Eclectic Christmas Home Tour
If you want to catch-up on those posts in their entirety you can view:
Thank you to Jess of Domicile 37 or hosting. If you're joining me from  Maker of Home,  Go Haus Go, Whimsical Blue Living, or FOXY OXIE – Welcome! My name is Ariel and I create bold, bright, colourful and eclectic home decor and DIYs. You can read more about me // here // and see more of my work // here //. I'd love you have you sign-up to my newsletter // here //
Our living room with its newly complete renter friendly built-ins  // here // is where we spend most of our time, so I opted for simple but impactful touches to help bring the season into our home. The large swooping boughs on our mantel are just the right amount of green.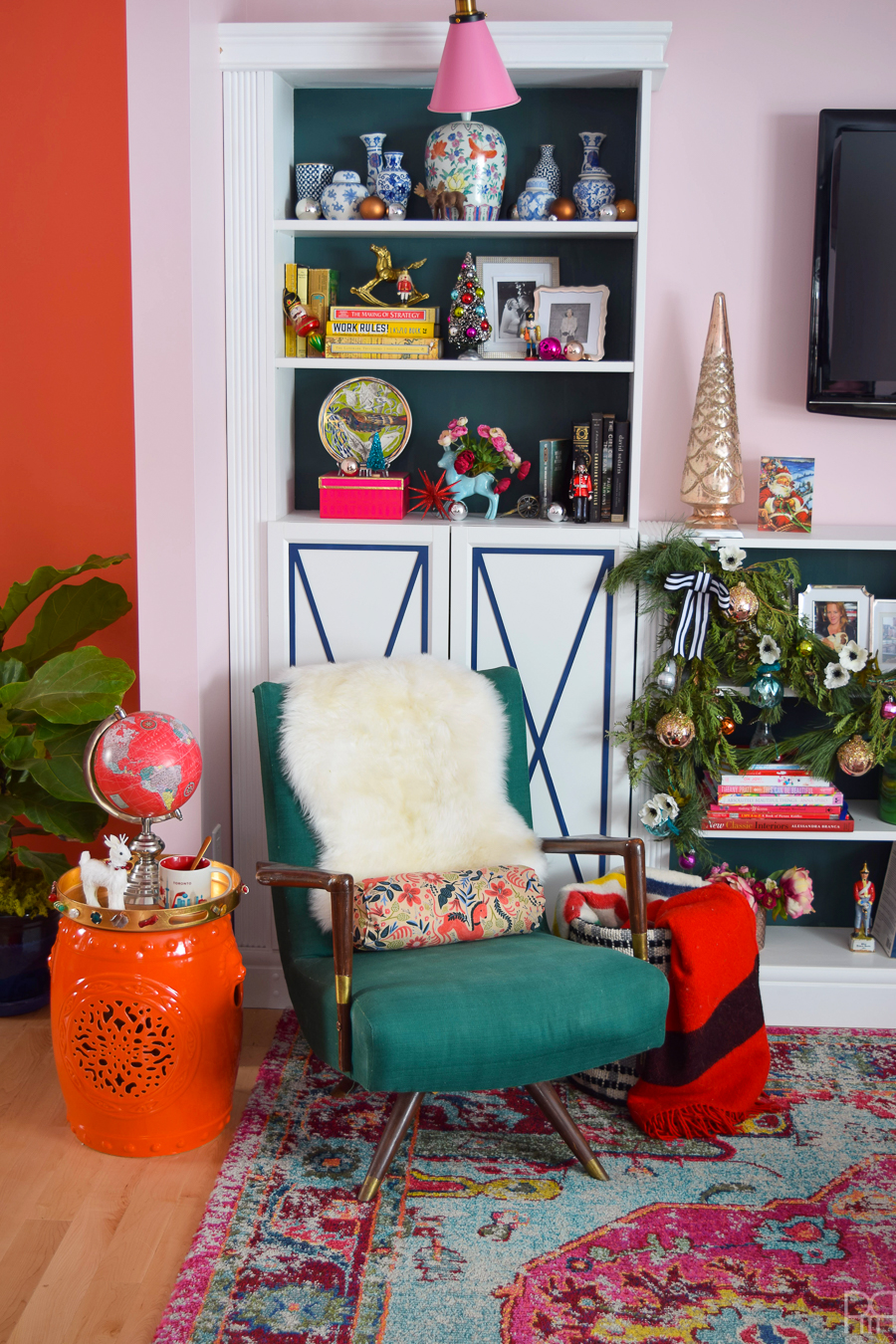 The orange garden stool migrates through the house, much like a bird. It started in the bathroom, then moved to the dining room, and is now hanging-out as a side-table for the swivelling green chair. Have you noticed the Rifle Paper adorned bolster?! That's right! It's RPCo. fabric!
Our bookshelves have baubles and ornaments of all kinds. The green backing really lets them stand-out in a big way. Can you tell I've got a thing for nutcrackers? To help keep the shelfies somewhat cohesive I've sprinkled ornament balls throughout in similar colours.
You'll find more baubles sprinkled throughout the house in expected ways. I've strung a few of them onto ribbons and added them to our hallway art. I don't photograph this space much because it's exceptionally hard to get right, but I think the few ornaments go a long way.
p.s that's Trinity College where I went to university for my undergrad!
That portrait of the boston terrier is one of my favourite thrifted finds. I have no clue whose dog that is, who drew it, or why prompted them to do so, but it's mine now. I found it at Vallue Village and loved it! It's imperfect and that's why I love it.
My Modern & Moody Fall Wreath // here // is just chilling on the doorknob to my office – a notoriously messy place.
Not wanting our living room's boughs to be the only ones in the house, I added another mixed bough to our staircase to the second floor. Sure, I'm all about the vignettes that create holiday decor in unexpected places, but that has excluded the bathrooms, bedroom, and my office. So the staircase is it as far as the second floor goes!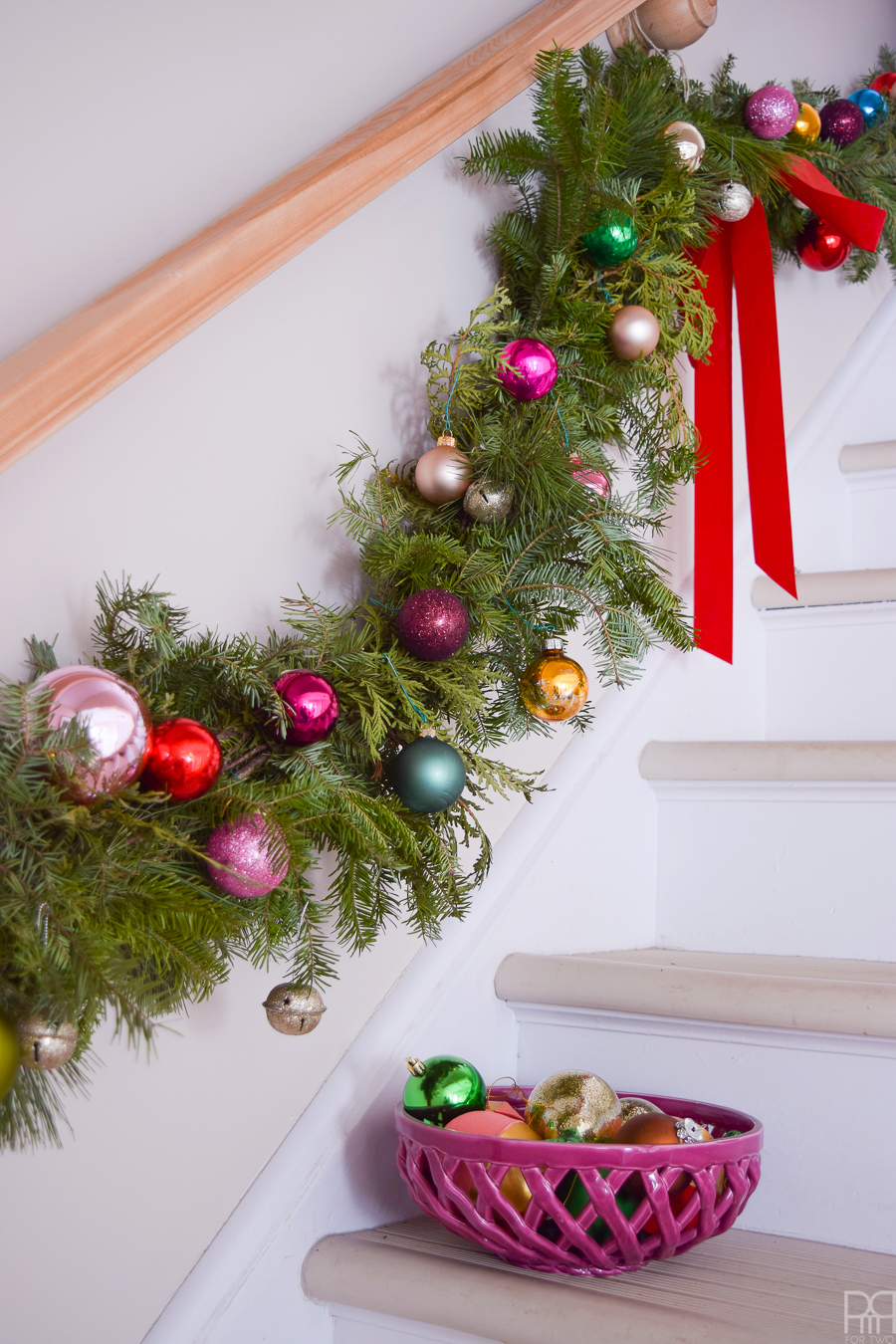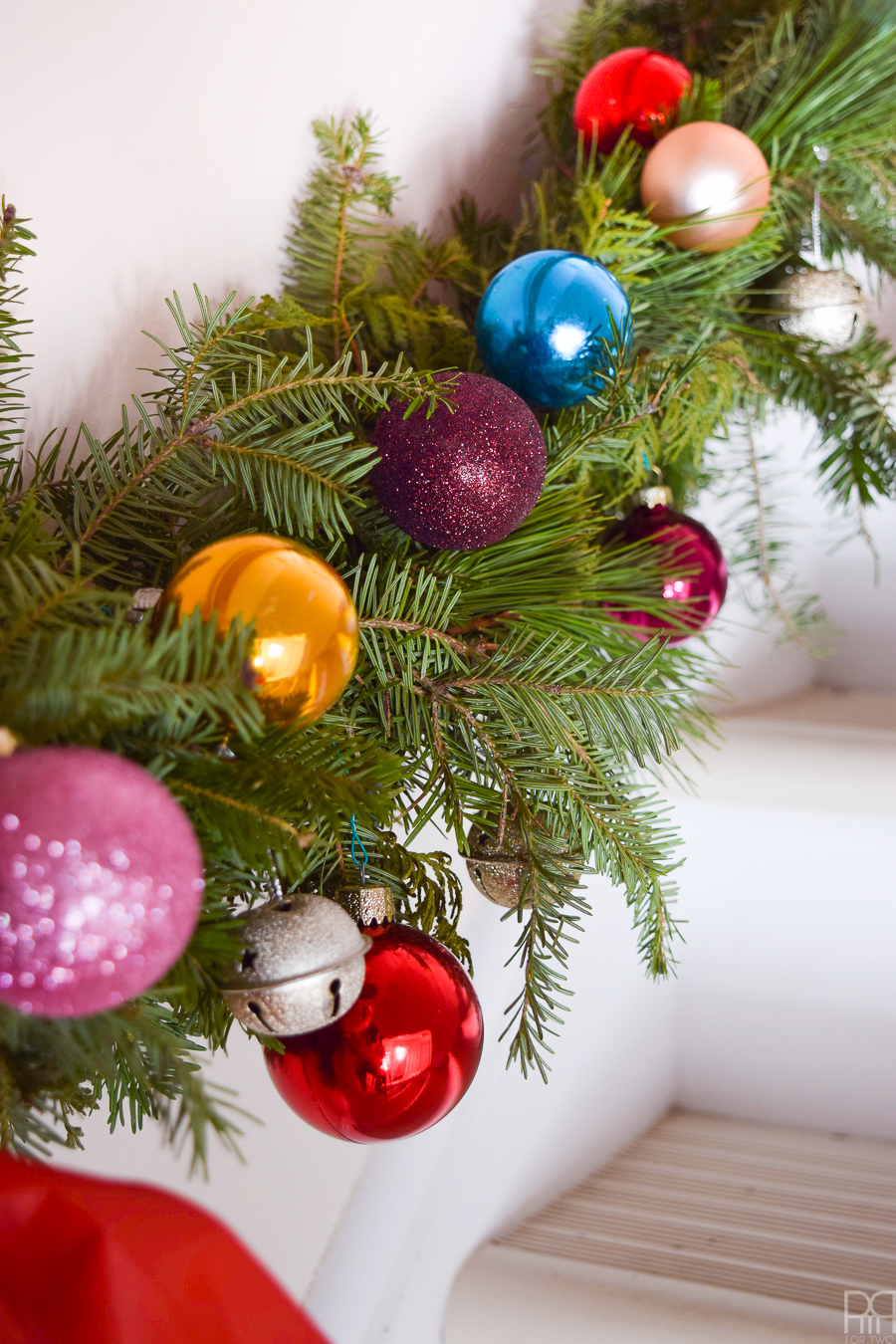 That godawful tred on the stairs is a fact of life in military housing. I'm thinking of running a runner down the stairs… we'll see. You see the twine holding the bough up? Sloppy. I thought about editing it out, but it would less authentic. So there… some twine.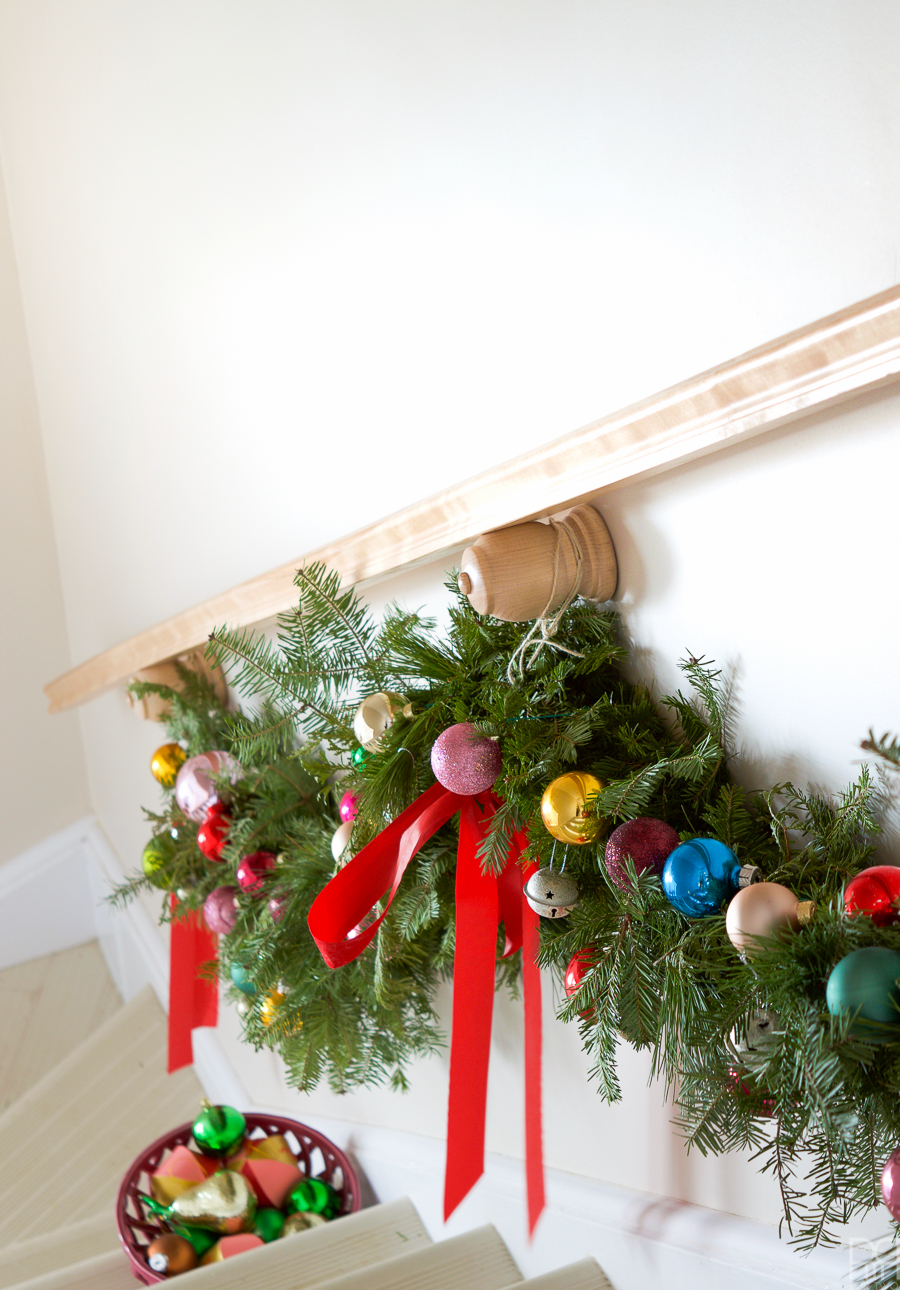 The dining room is an entirely different affair. I've now decorated for a dinner party and a party!
For a party I went with simple touches that would look good after the food was long gone. For more of the party decor click // here //
The tree is also in the dining room. We placed it so that we could see most of its decor while seated in the living room. So yes, it's far from us, but at the perfect distance for evening viewing. We're in cramped quarters in this PMQ, but we've made the most of it.
And there you have it – my Colourful & Eclectic Christmas Home Tour. I hope you'll take the time to poke around on other posts and see more of the decor on offer this season.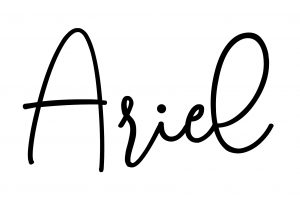 Please Note: Links to Home Tour are not live until day of tour
Monday
Bright Green Door // Michelle Matangi Home // Sharon Williams // CAD Interiors // Domicile 37
Tuesday
Casa Watkins Living // Maggie Overby Studios // House Homemade // French & French Interiors // Style Mutt Home
Wednesday
Up To Date Interiors // The Striped House // Designing Vibes // Iris Nacole // Fearfully & Wonderfully Made // Blue i Style
Thursday
PMQ for Two // Maker of Home // Go Haus Go // Whimsical Blue Living // FOXY OXIE
Friday
This is Our Bliss // Monica Wants It // Insieme House // Jest Cafe // The Gathered Home