For my final project with DecoArt as part of their 2017-2018 blogger squad, I give to you one of my favourite projects to date — DIY Malachite & Cheetah Decor. I brought this little piece of eclectic decor to life in the space of a day (+dry times) and absolutely loved that it all came together in my mind, while standing in the narrow isles at Michaels. Gotta love that creative spark eh? This project involves — you guessed it— paint pouring, but it's also got liquid gold and a cheetah, so I think we're good.
*DecoArt sponsored this post, but all thoughts are my own. Thank you for supporting the brands that make PMQ for two possible.
Did you catch my last paint pourring project where I made marbled colanders, perfect for summer? // Catch that post here //
Given the chance to try my hand at paint pouring again, I chose to go off-canvas a second time. It's not that I don't love the canvas art, it's just that I don't have a place to put it, and since I apply that rule to my shopping, I figured it was high-time I apply it to my crafting (even though I sorta was already)
*The following product links contain affiliate links. Thank you for supporting the brands that make PMQ for two possible. For my full policies click // here //
Materials for a DIY Malachite & Cheetah Decor
DecoArt Americana paints in: Black, Kelly Green, Holly Green, and Turf Green (from the Satin collection)
Plastic disposable cups for mixing
Enamel Gold
4 wood beads (circular or square, up to you)
1 plastic cheetah toy
1 wooden dowel (I legit used a BBQ skewer)
MinWax Wood Finishing Cloths (pick a colour!)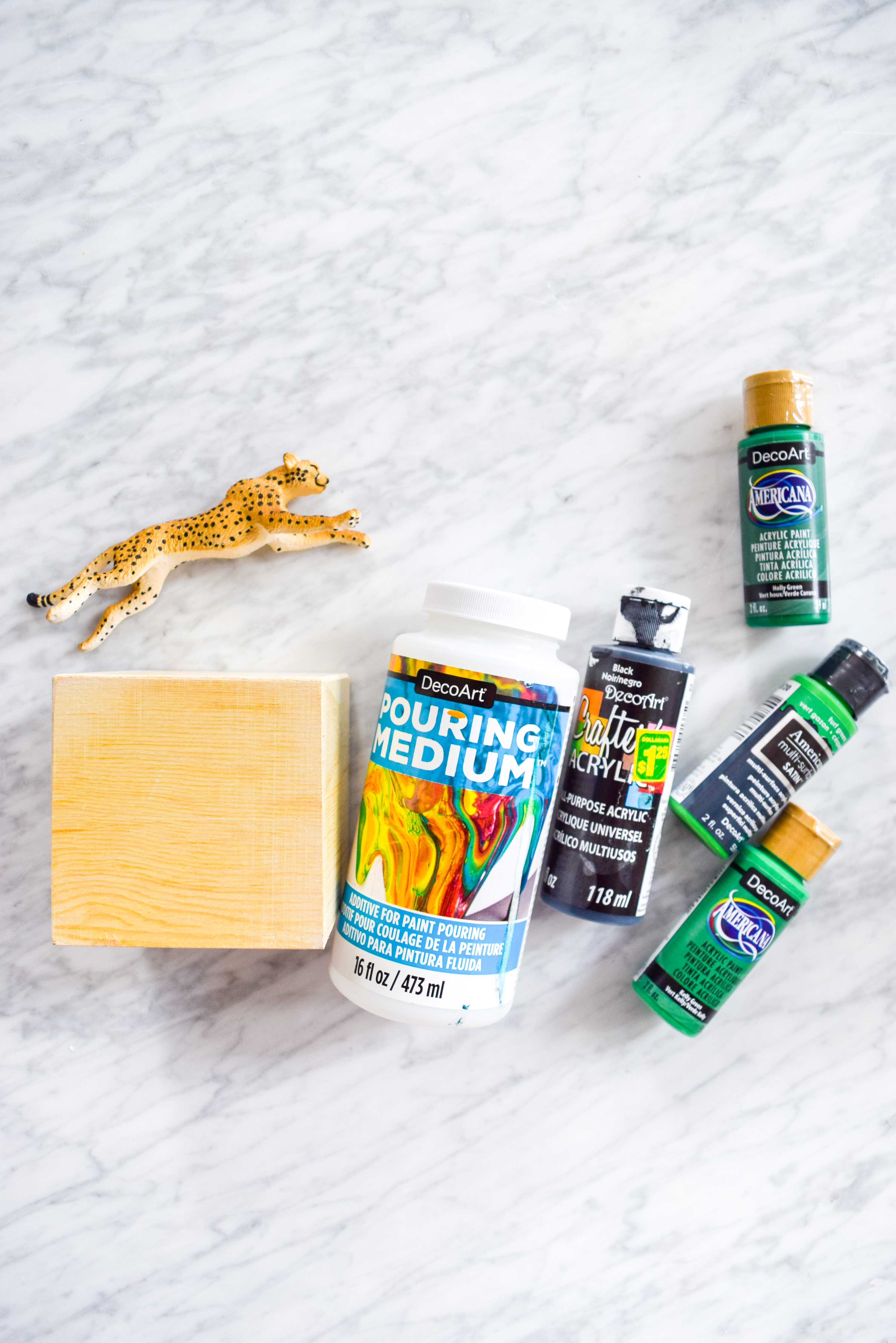 Step 1: Start by setting-up where you'll be pouring. I used a paint tray and an old glass jar. I placed the wood block on the jar, so that it wouldn't stick to the bottom of the tray, and so that the liquid could pool beneath it, and allow it to dry.
Step 2: I coated the block in a first mixture of Kelly Green and Pouring Medium (1 part of each). I wanted to make sure there was a good base before I started applying the faux malachite finish.
While I let it dry, I prepared the mix for the other colours.
Step 3: Time to mix each other colour with paint pouring medium (1 part each). You can't just mix them all in one big cup, because otherwise you'll blend the colours instead of giving them the marbled look.
Step 4: Once each mixture is ready, pour them one at a time, into the main cup. You do this by pouring them down the side of the cup so that they don't mix, rather, just sit together.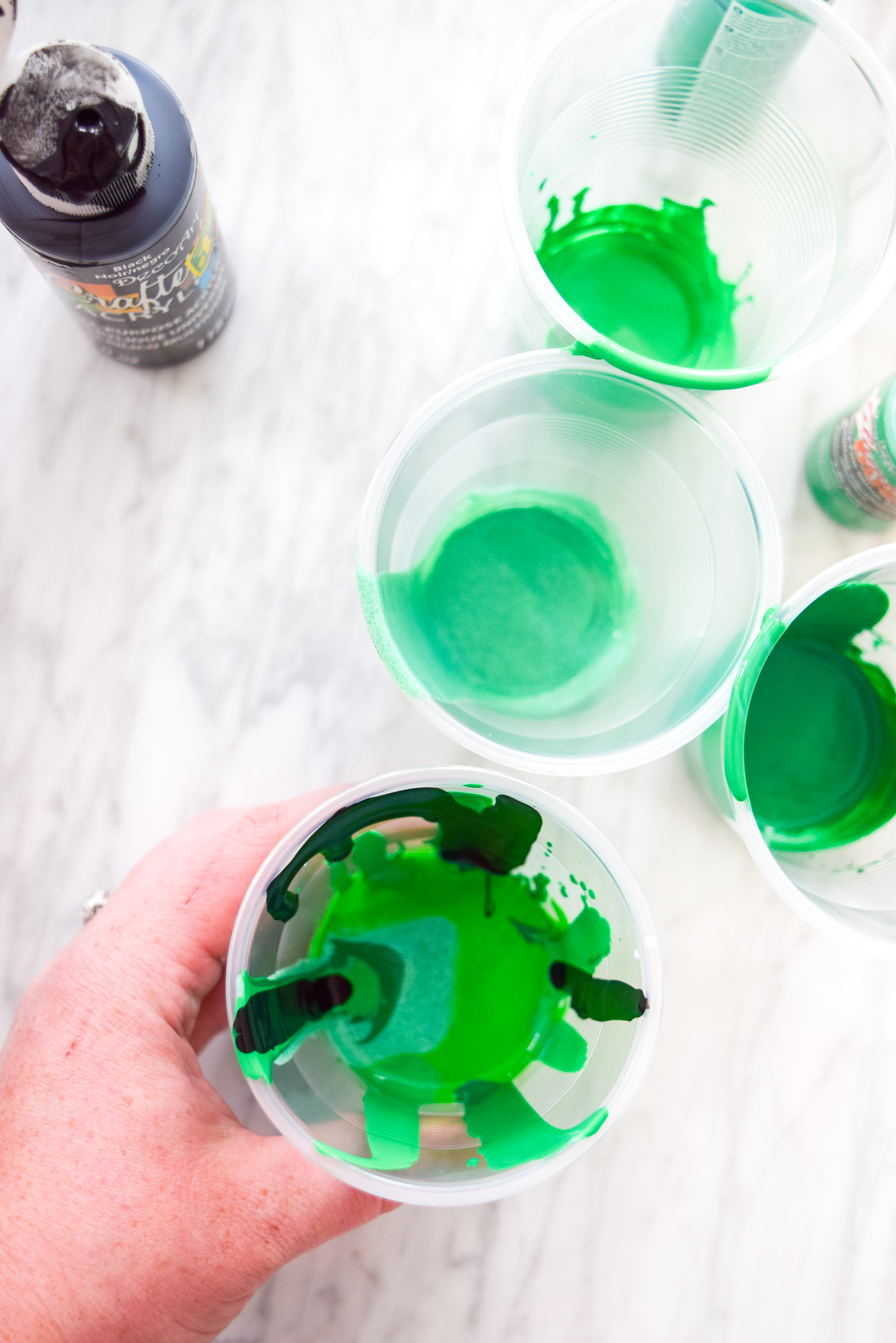 Step 5: Once you're satisfied with the number of colours and tones, it's time to pour or dump it on the block! I quickly flipped mine over onto the block, and then slowly lifted the cup, watching it all pool down the sides.
I used a straw to gently brush any extra paint over bald spots, and to ensure some even coverage. Be very careful in doing this, since you don't want to blend the paints. Conversely, you can gently blow through a straw to do that exact same thing.
While it dries, using a straw or a palette knife, slick away the beads of paint at the bottom, or be prepared to do that once it's dry.
Step 6: While the block dries overnight, prepare your cheetah! I drilled a hole small enough for a dowel to fit into his belly. I also stained the dowel using a stain cloth, just so that it wasn't un-treated.
Once the dowel is dry, using a hot glue gun, add a little dab of glue over the hole before inserting the dowel to dry.
Step 7: Once the base of the block is dry, apply the topcoat. It will similarly need to dry overnight, but if you start it early in the morning, it should be dry enough to dry a hole through in the afternoon. Apply it by directly pouring it over the block, make sure it gets complete coverage and isn't too thick of goopy. I used another straw to smooth it out and remove any excess.
Step 8: Once it's dry, drill a corresponding hole in the top of the block. Add a dab of hot glue and insert the dowel.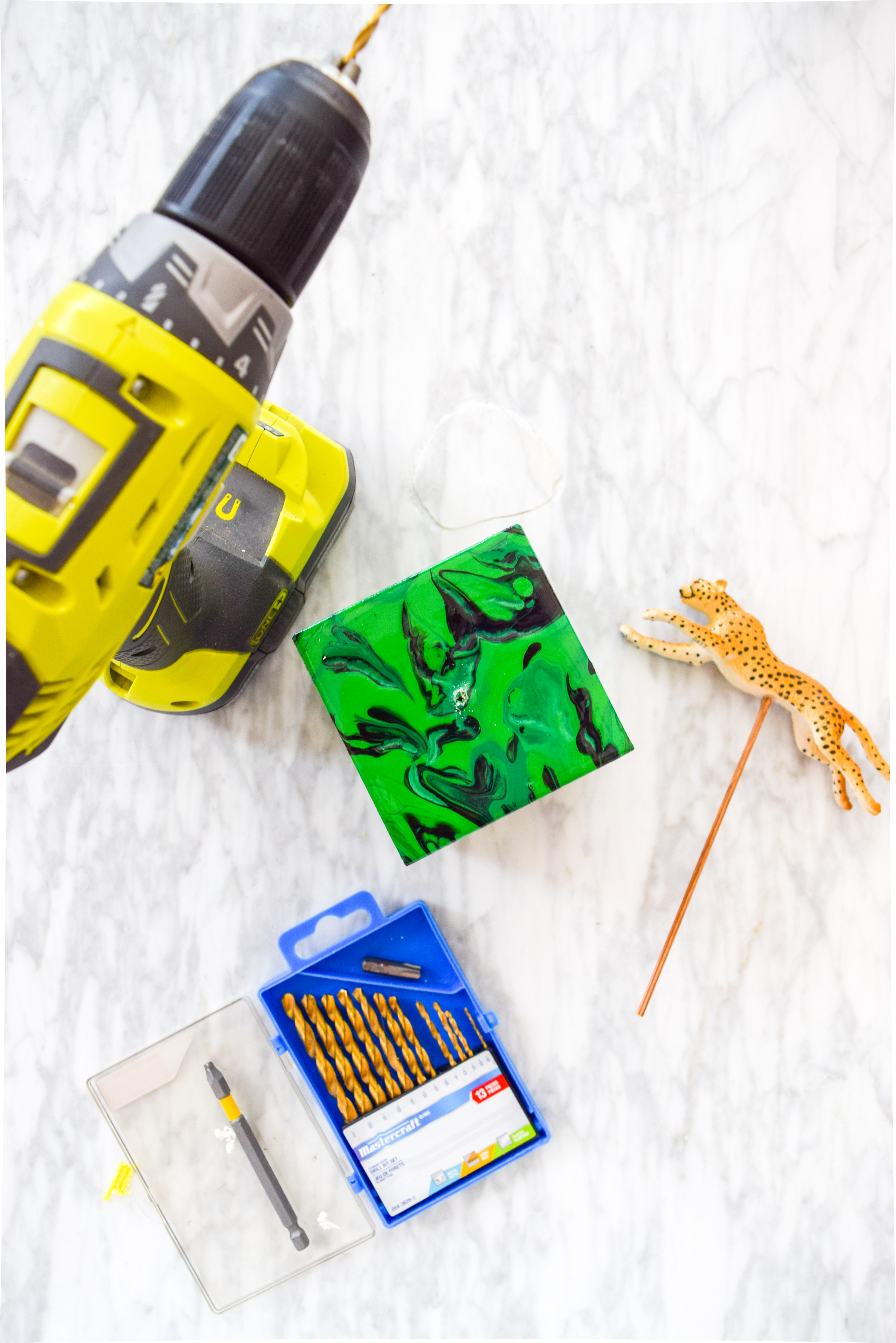 Step 9: In the meantime, using some liquid enamel gold (or gold paint), paint some feet for the block. You have the option of just skipping this part, but I think it's adds a little oomph to the DIY Malachite & Cheetah Decor, so I did it. Gotta be #extra. I just hot glued them to the bottom of the block once they were dry, and BOOM!