You guys, I did another thing. I made myself a Gucci Inspired Straw Clutch for the summer days ahead. If you're like me, you've seen these lovely clutches kicking around Michaels, and have been intrigued by them. I actually bought one back in January when they first hit stores, but I was waiting for seasonal appropriateness to do something with it, so here we are! On the verge of spring, and my Gucci Inspired Straw Clutch and I are ready for warm weather, patios, a maybe even a beach.
Check out my other Gucci Inspired project – DIY Gucci Tea Towels
Check out my other Woman Shops World DIYs: DIY Holly Golightly Sleep Masks // Tassel & Pom Pom Decanter Tags // Pineapple Wine Glass Charms 
*Woman Shops World sponsored this post, but all thoughts are my own. Thank you for supporting the brands that make PMQ for two possible.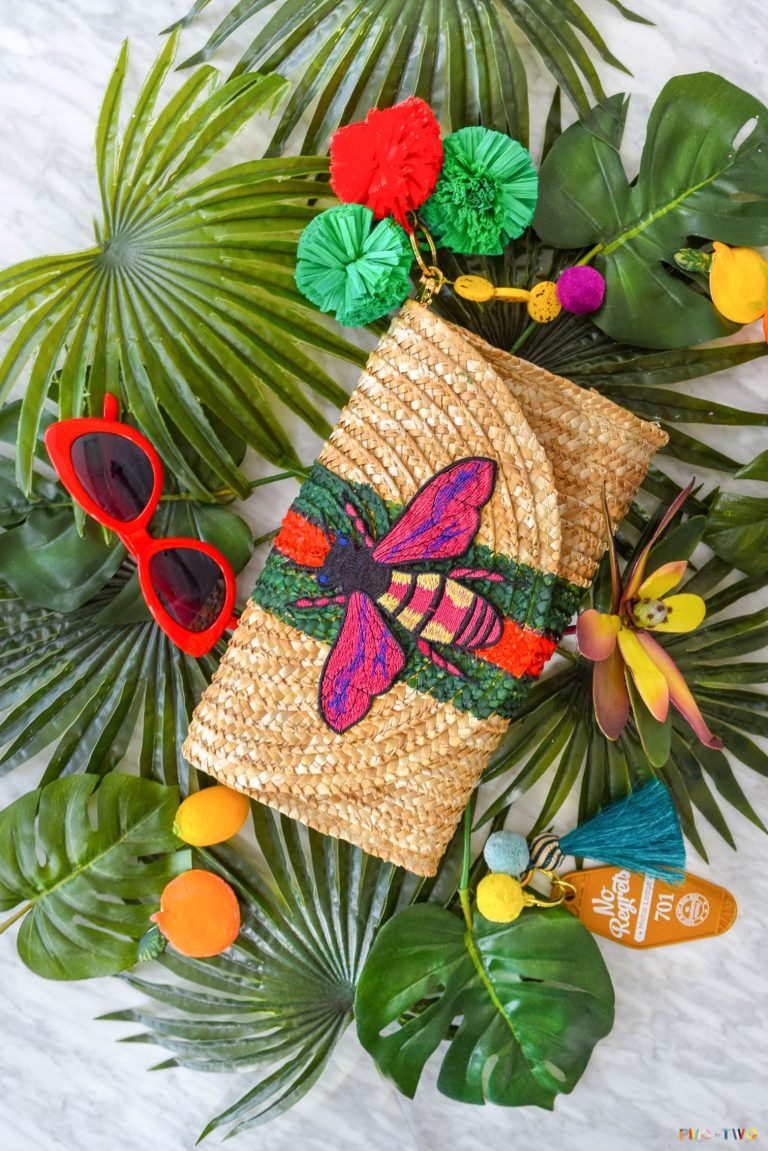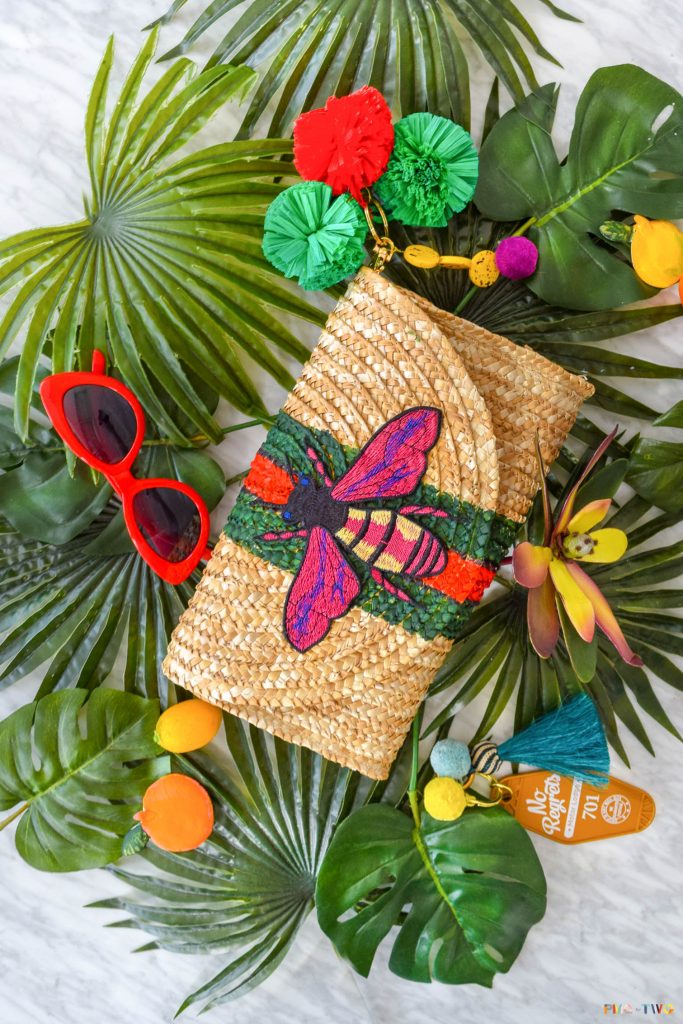 So this clutch can be snagged at Michaels, but the concept works with any straw or raffia beach bag. I think the raffia pom poms and fun keychain attached to the clutch are you as important though, and those are from Woman Shops World.
*The following product links contain affiliate links. Thank you for supporting the brands that make PMQ for two possible. For my full policies click // here //
Materials required for a Gucci Inspired Straw Clutch
Straw Clutch – I got mine at Michaels but you can buy this one // here //
Americana Decoart Paint in Brilliant Red, Black, and Evergreen
Iron-on Patch – I like this one // here //
Painter's Tape
Iron + ironing board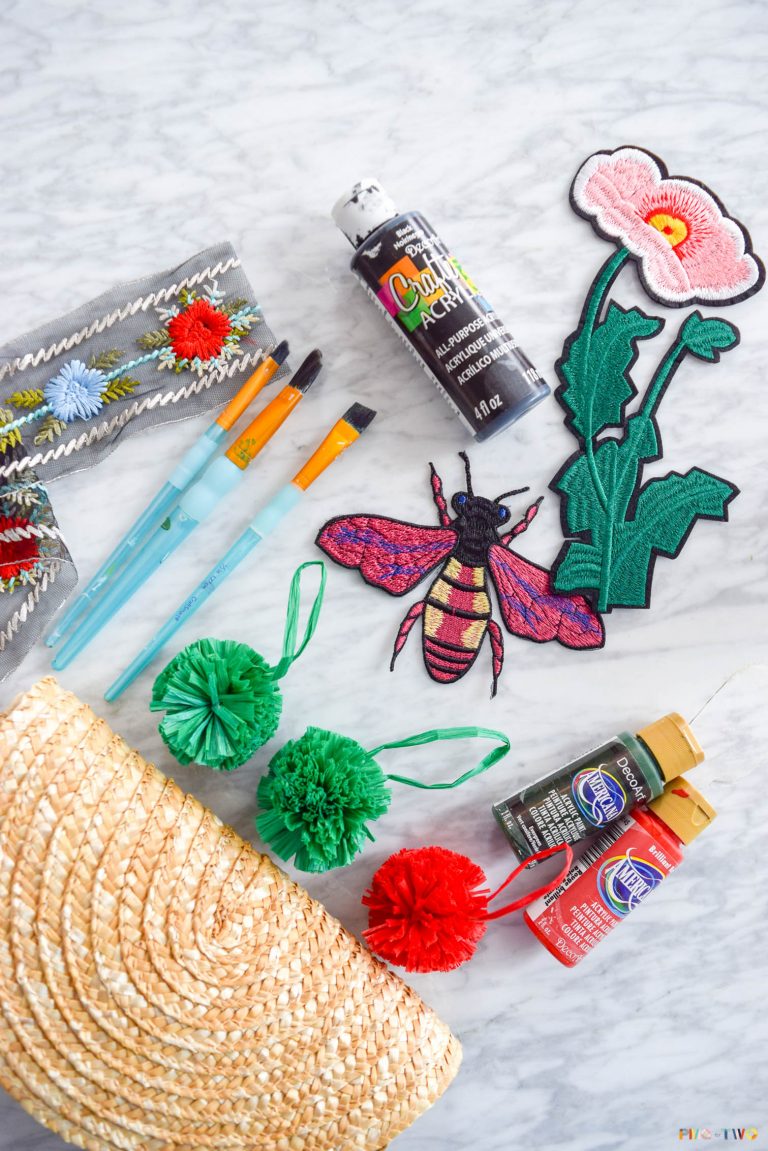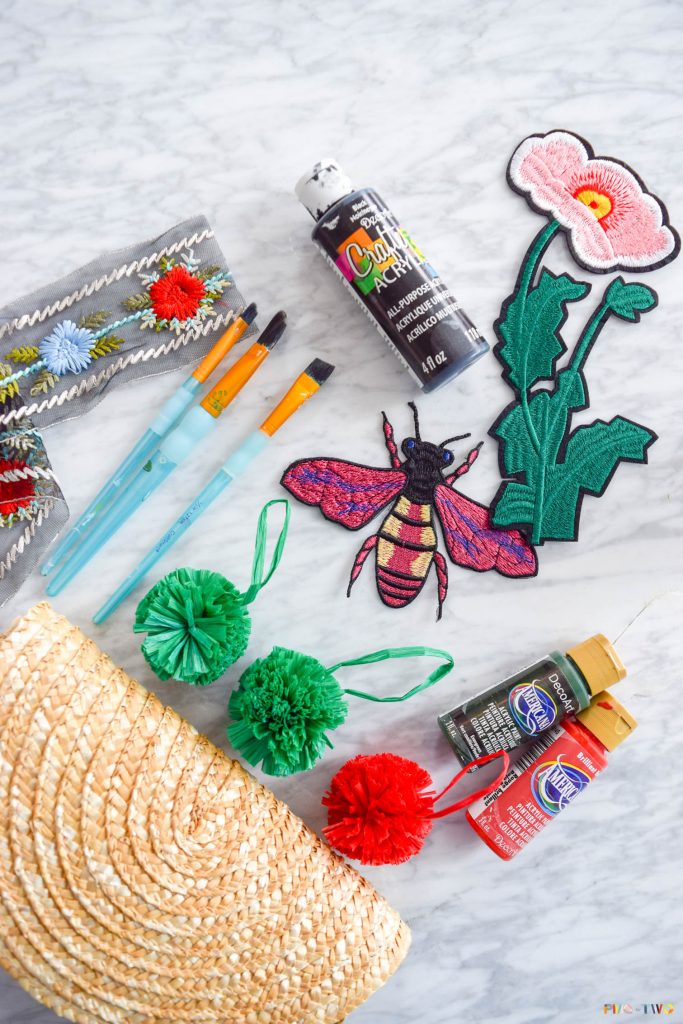 Step 1: Start by taping your clutch – you want 2 stripes with one stripe down the middle (to be painted later.)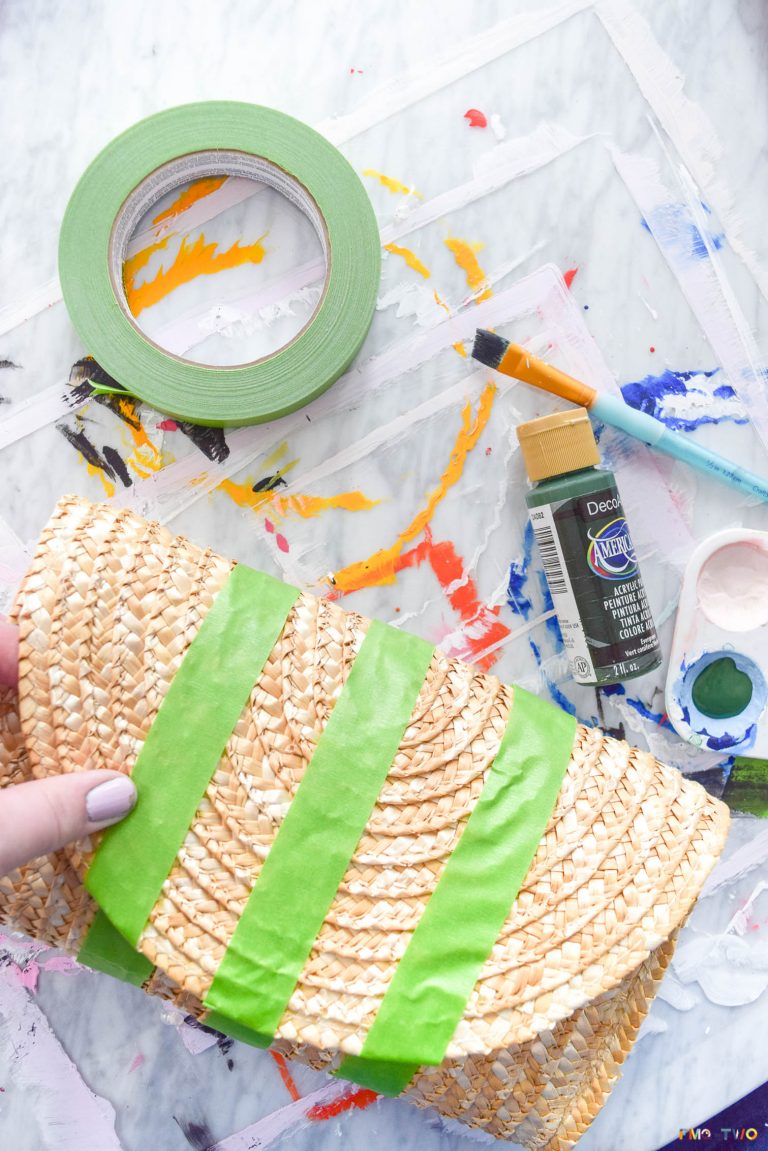 Step 2: Start by painting these stripes in DecoArt's Evergreen acrylic paint. It took me 3 coats to get solid coverage, because the straw is porous and I wanted thick colour.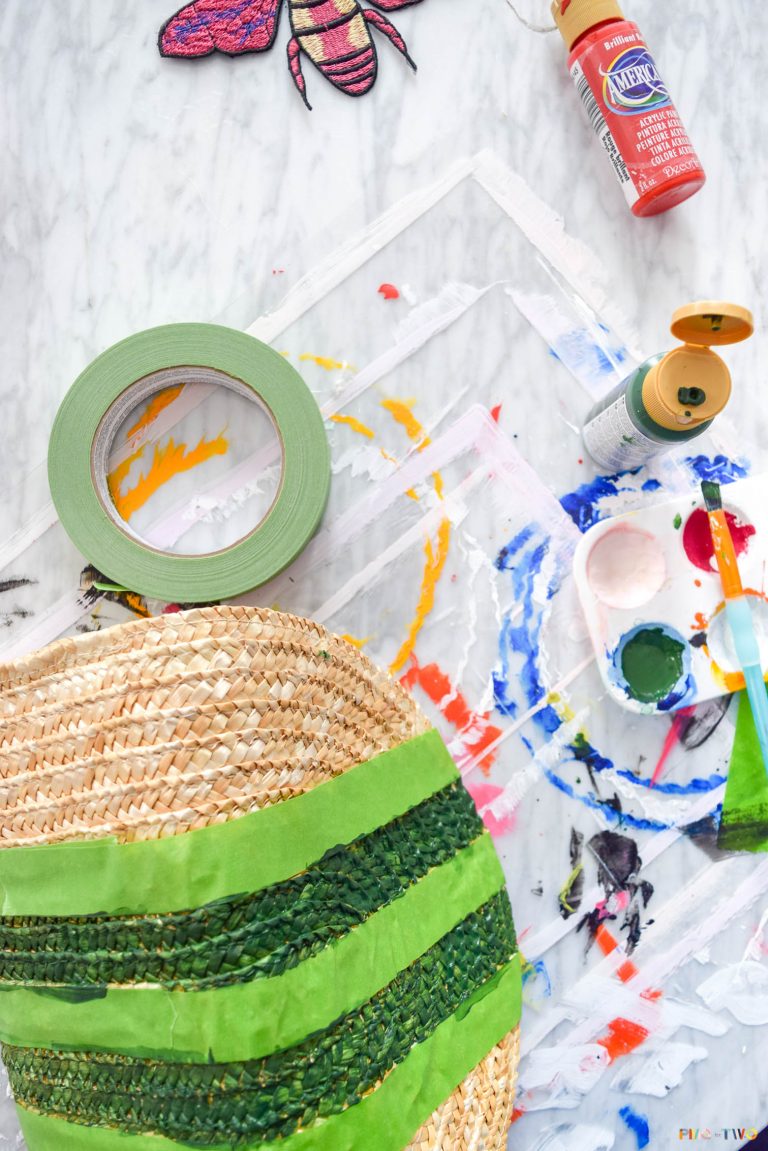 Step 3: Once the green is dry, remove the tape and paint the red stripe down the middle (between the two green stripes). I used Decoart's Brilliant Red to get the right shade.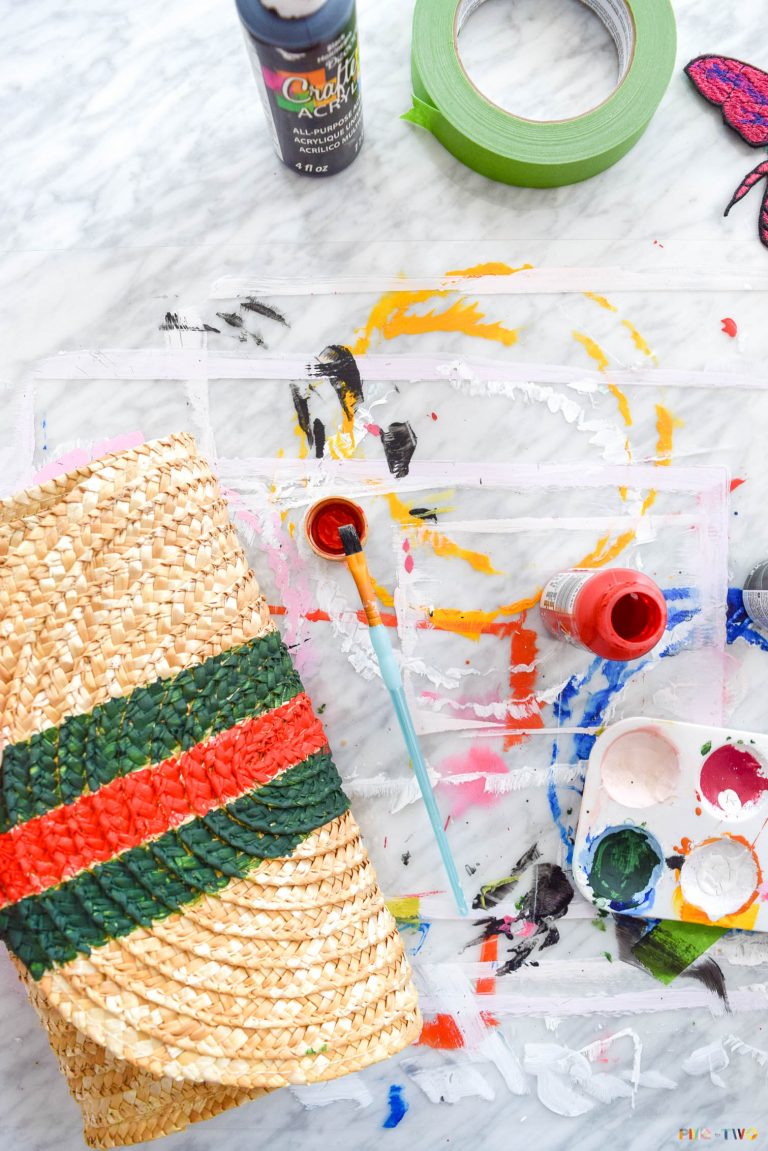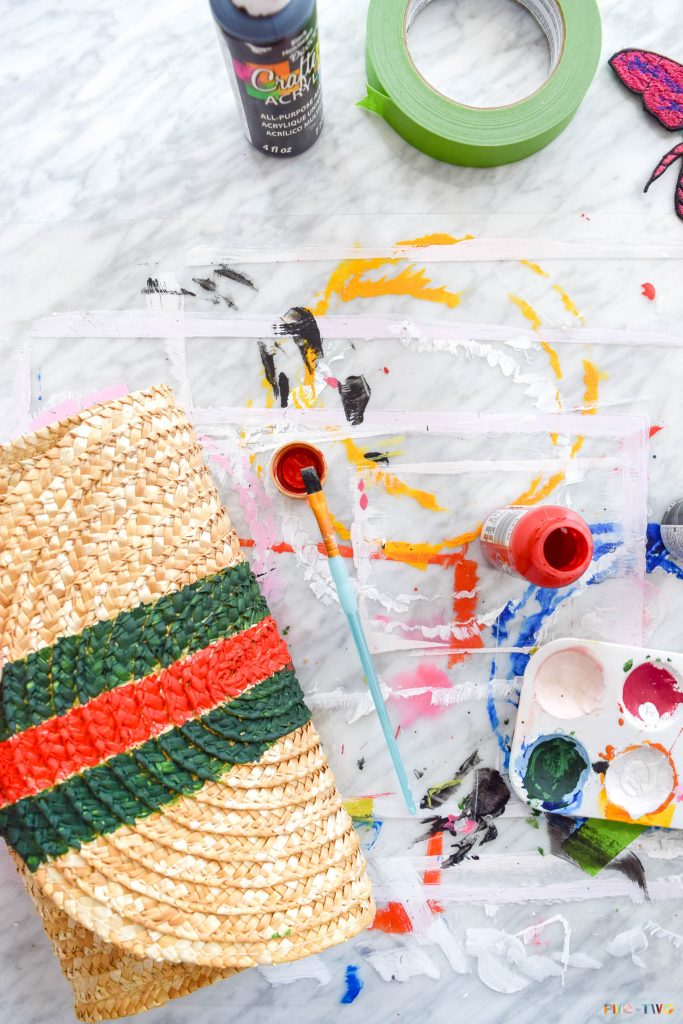 Step 4: Once the stripes are dry, use a finer tip paintbrush to apply two thing black stripes – one on each side of the red, next to the green. I used Decoart's classic Black.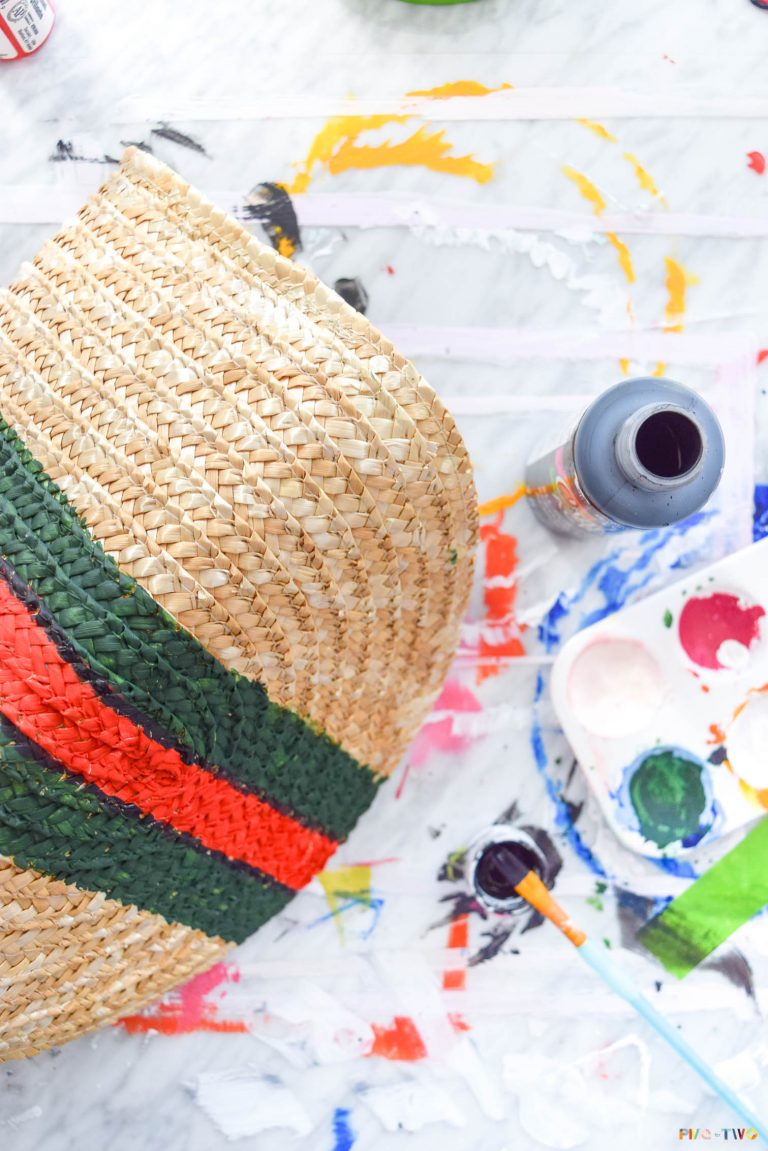 Step 5: While the remaining paint dries, start assembling a fun raffia and bead keychain bling.
Fun story, I fell in love with these raffia pom poms on Woman Shops World's site back in January, but had been keeping them, saving them for this project
I just made a simple loop using crafting wire and some pliers, and then threaded the looped pom poms through.
Step 6: Using bone beads, a pom pom, and some crafting wire, I created another element of the keychain.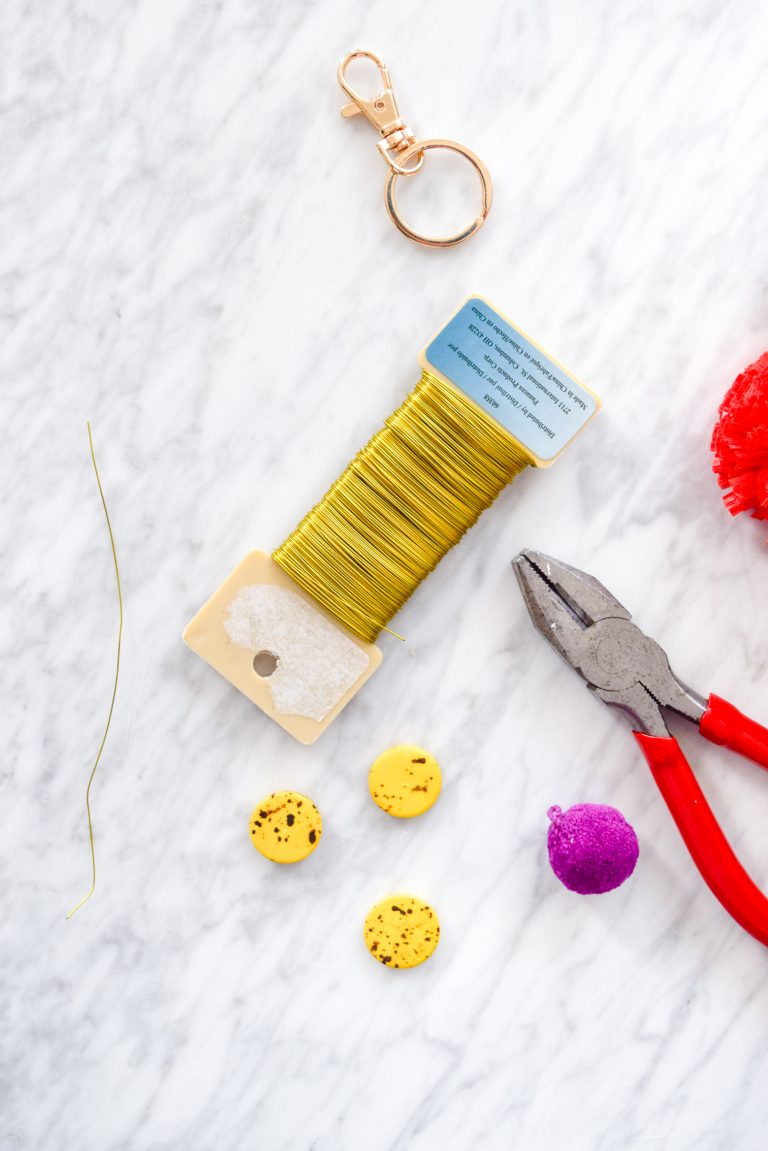 I started with a piece of wire and secured the base using a pom pom. I then added the beads, and closed it off by creating a loop around a keychain.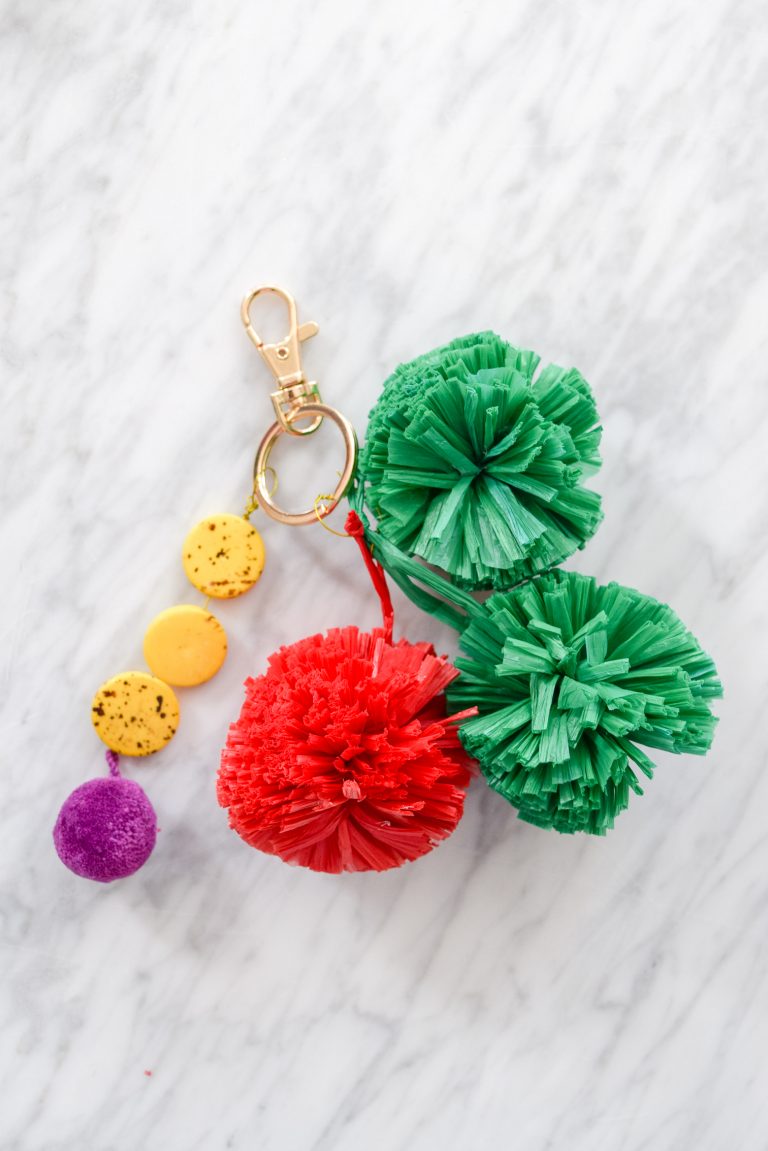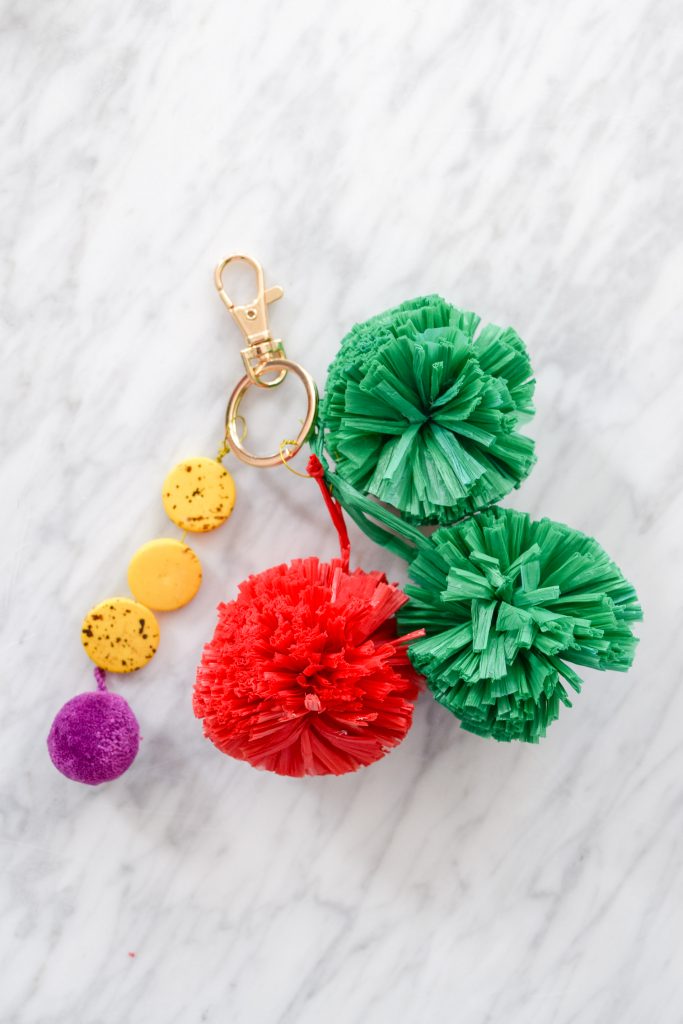 Step 7: Attach the keychain to the gucci inspired straw clutch, while the iron heats up.
Step 8: I used my iron on the hottest setting to apply my bee iron-on patch. I did it using the tip of the iron, because I didn't want the iron to touch the freshly dried paint of straw.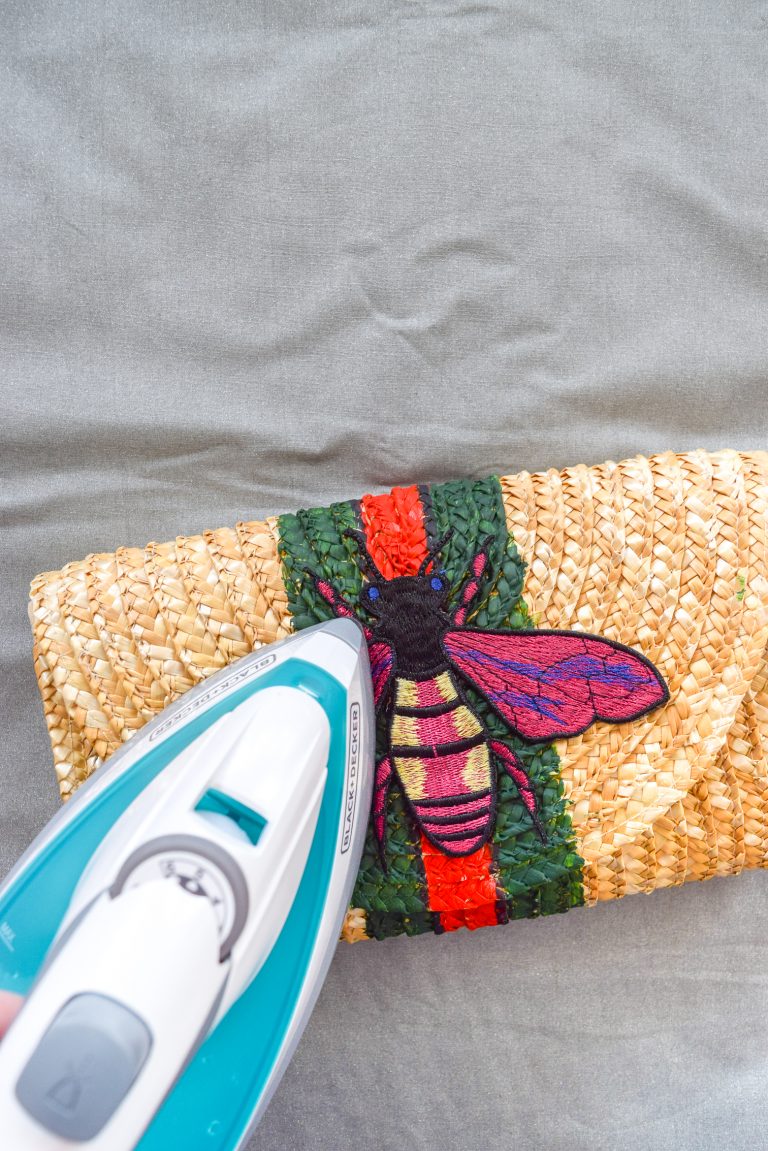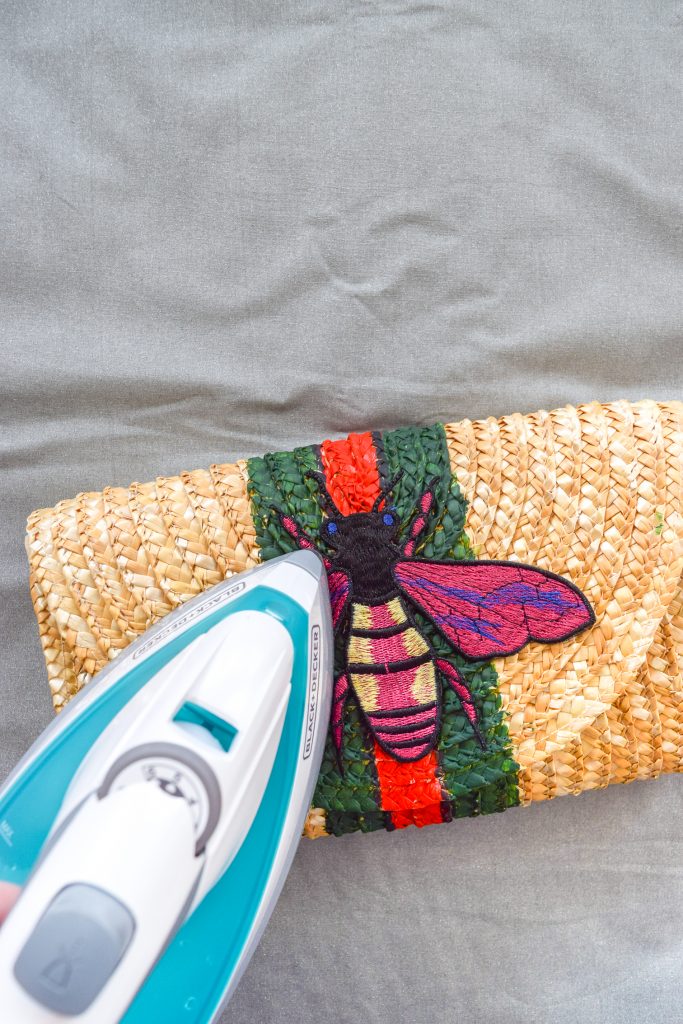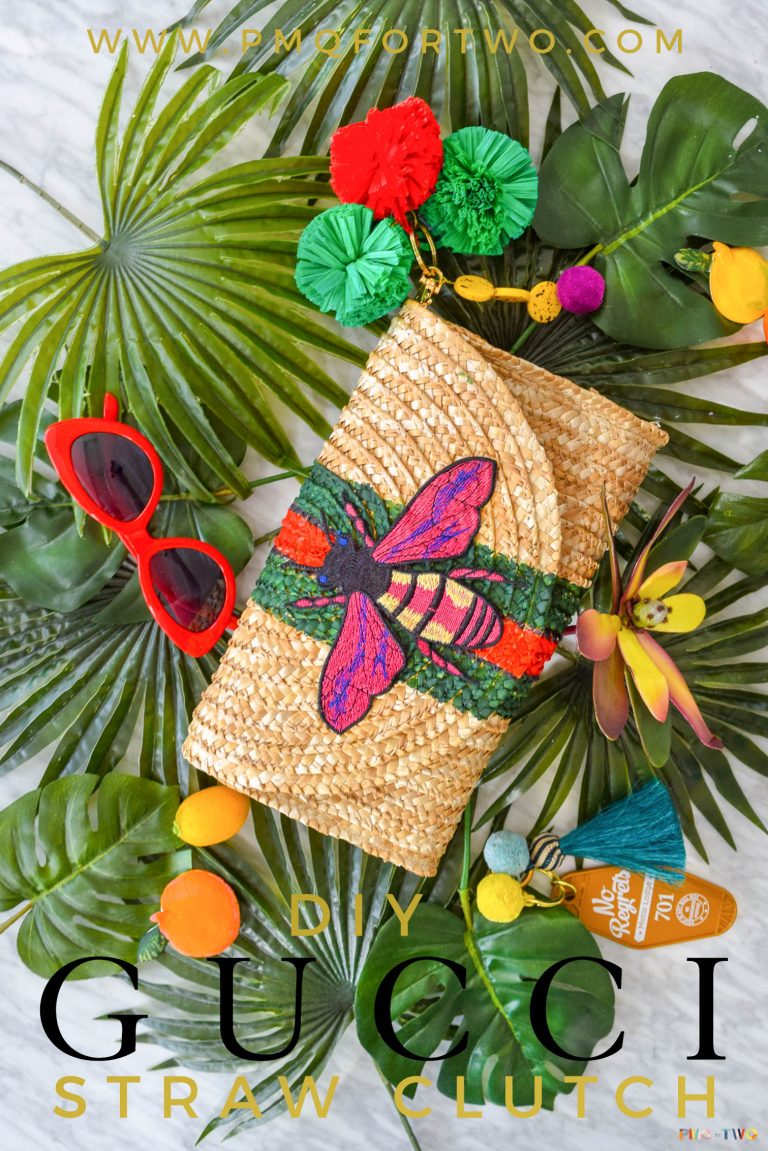 You KNOW that I used my extra little pom poms and fun tassels to zhush a retro motel keytag up. My Gucci inspired straw clutch cost me a grand total of about 20$, took less than an hour to make, and is going to be an absolute hit this summer. So what are you waiting for?
p.s check out my other Gucci Inspired project – DIY Gucci Tea Towels