I've got the Kentucky Derby on my mind! It will be the theme for our local baby shower, and I laid out a party decor scheme in my Wildflower Derby tablescape.  One crucial component of the Kentucky Derby are all the hair pieces! It's a time to make a statement with a large flower or hat. So I've whipped up some DIY Derby Day Hats & Fascinators, and they're good for a Derby party, or just a plain old party.
*Expo Trims sponsored this post, but all thoughts are my own. Thank you for supporting the brands that make PMQ for two possible.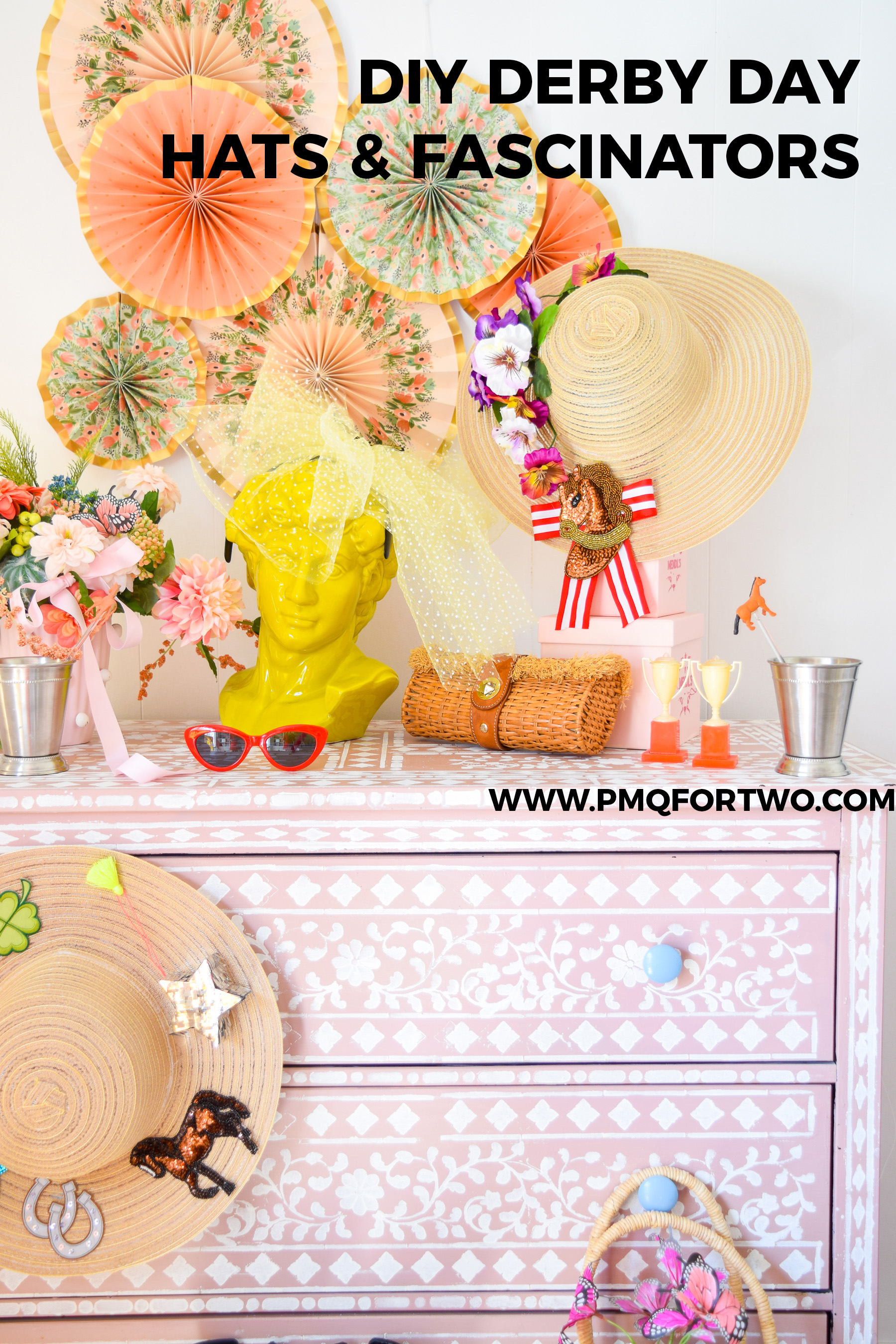 I've always loved the idea of a big fancy hat, or a head piece so extravagant that you cant leave the house for fear of it being blown away. Isabella Blow and Philip Treacy  come to mind, but since I don't have the talents of a milliner, so I've resorted to stunning appliques and ribbon to create mine.
Can you spot all the ones I made?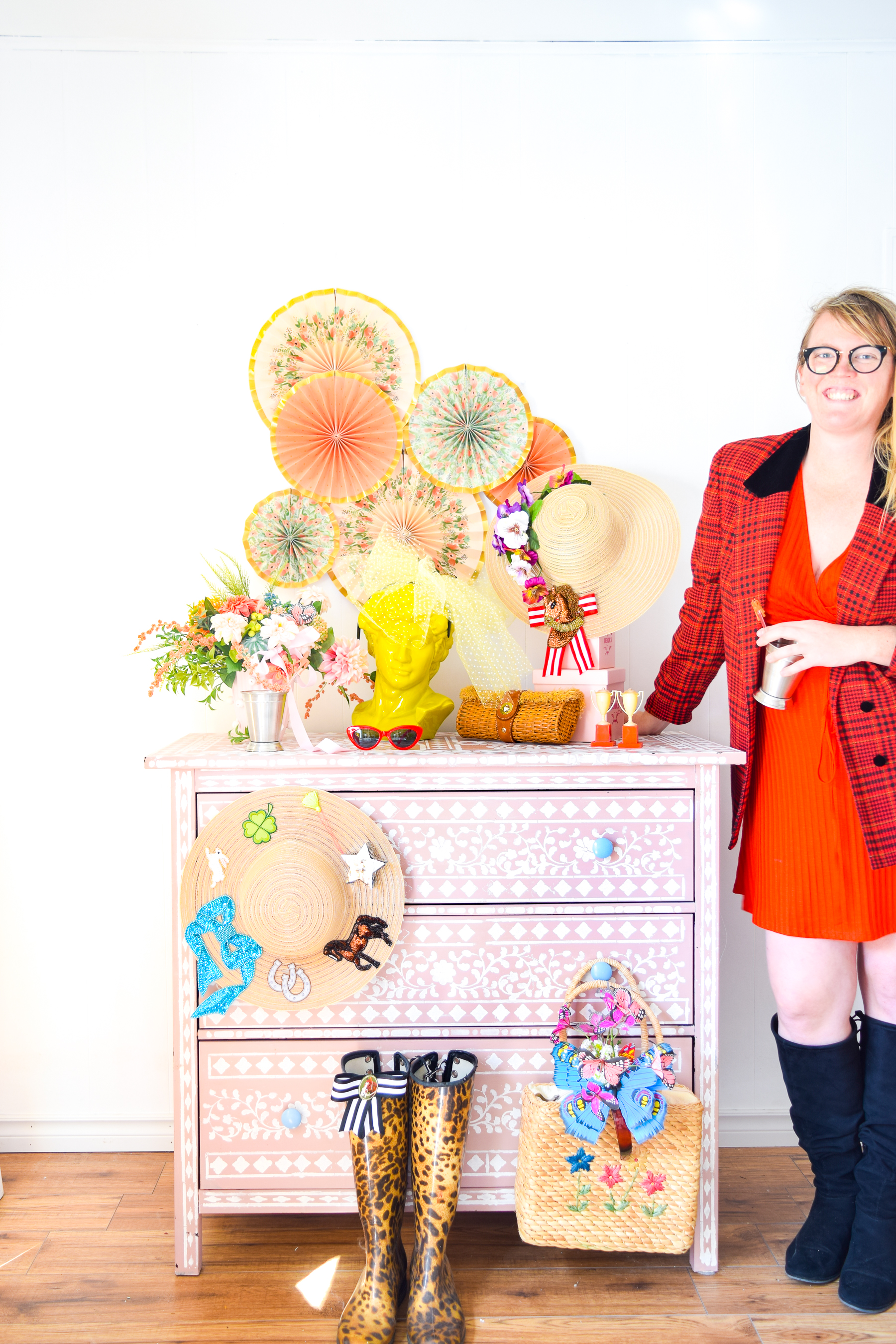 DIY Derby Day Hats & Fascinators
Like I mentioned, I kinda cheated to make mine, but you wouldn't know it looking at the end result! With a few basic straw hats, some tulle, ribbon, plain headbands, flower picks and more, I created unique pieces of wearable art.

I made two hats, and two fascinators, and a hair clip for good measure. Between these 5 pieces, you've got your pick of fun pieces.
DIY Derby Hats
I made two hats: my Lucky Charm, and First in Show. They're themed — in case you couldn't tell by their name — and are both super appropriate for a derby themed party, or a summer baby shower.
My Lucky Charm themed derby hat, is made with some truly lovely appliques, all of them, signs of good luck: a horseshoe (like this one), a four leaf clover, a lucky rabbit (not just foot), a shooting star (like this one), and of course a lucky prancing horse, and a great big bow.
I followed the instructions on the back of the cards that they come on, but you could also just use a hot glue gun and call it a day.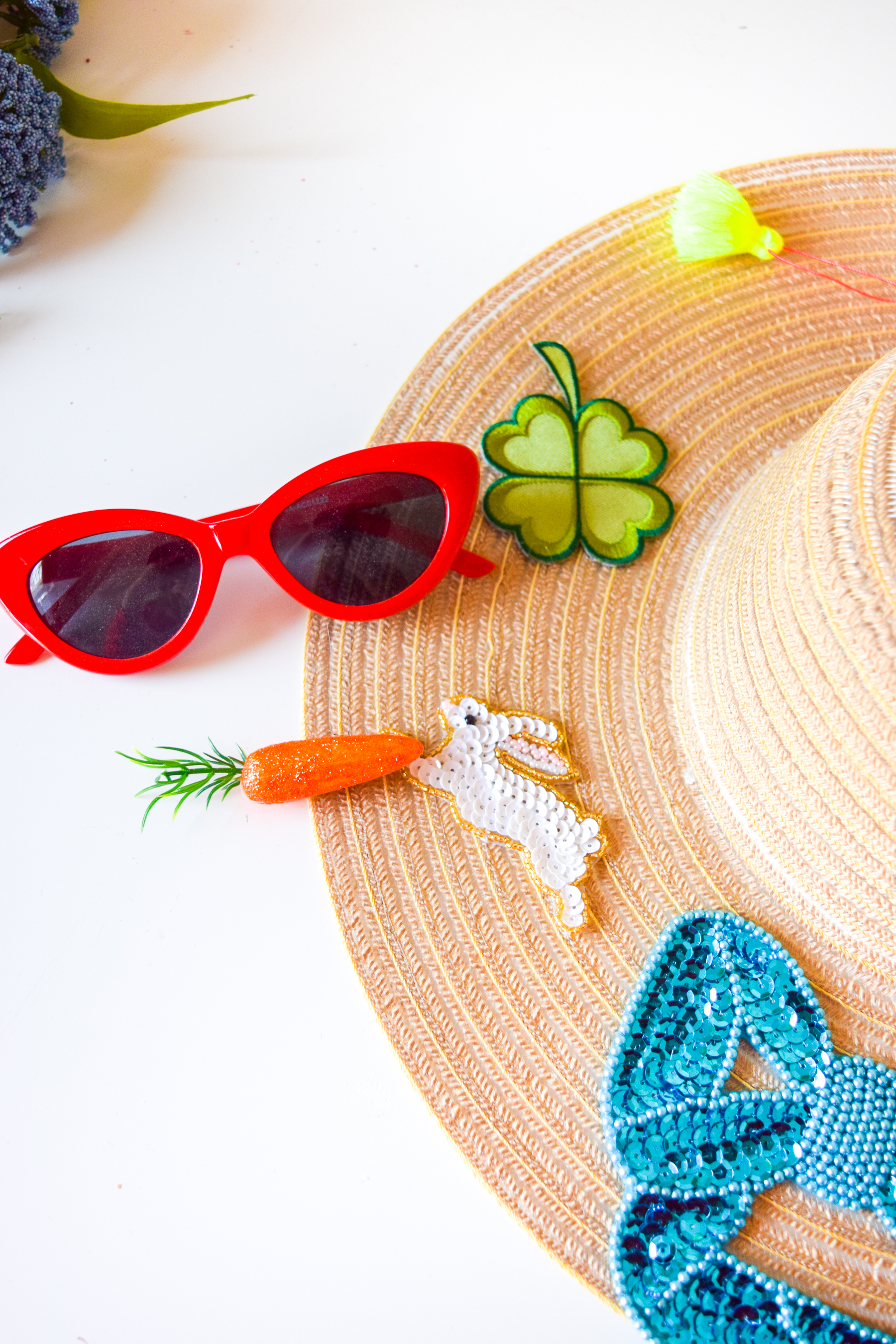 I think combining all the great lucky charms is a great way to bring a little luck to the big day (who will you bet on), and the sequins make it a glam option to wear with anything from a tea dress to a cocktail dress.
The first in show hat is done in a more traditional style with a floral crown (some lovely purple pansies), and a big horse ribbon style bow, with a large horse head applique.
I love how the red stripe and sequinned horse head interact with the soft petals of the flora element. It's not over the top, but it makes a statement none the less.
DIY Derby Fascinators
I had just as much fun making the fascinators, as I did the derby day hats. I mentioned this above, but I used simple plastic headbands (about 2″ wide) from the dollar store, since they gave me enough space to glue things to them.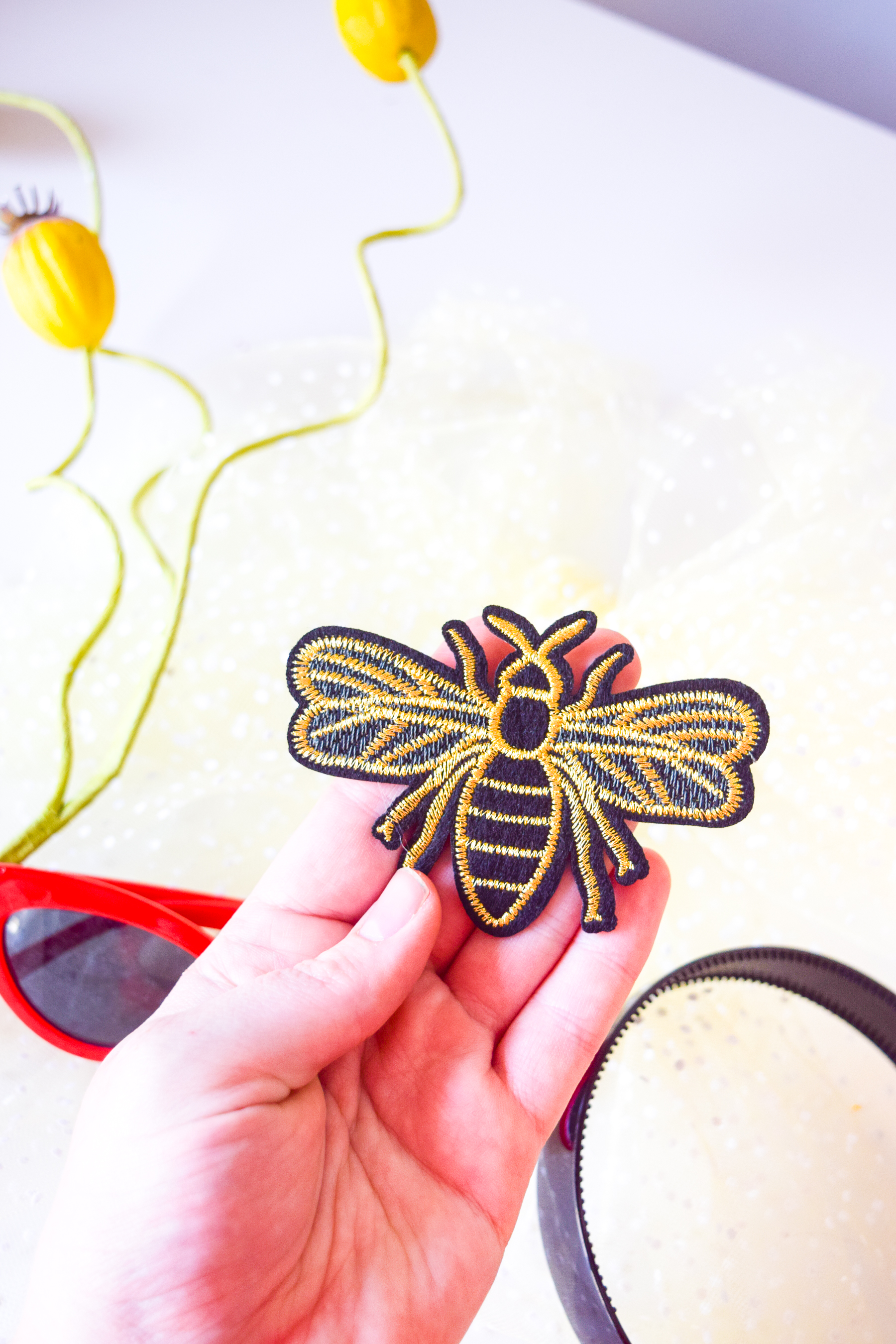 I made two: a Butterfly Nest, and a Bee Hive Bow. I used a stock of wire pick butterflies and some magnets for one, and a great big measure of polka dot tuille that I had picked up this winter, and some busy bee appliques.
I tied a great big bow around the headband, and glue on a bee. I then added the other ones inside the bow's tuille, to create the illusion of flying bees.
You can also see the lovely Butterfly Nest hanging off the straw bag, and then happily modeled here by my green bust, and me! (+ bump)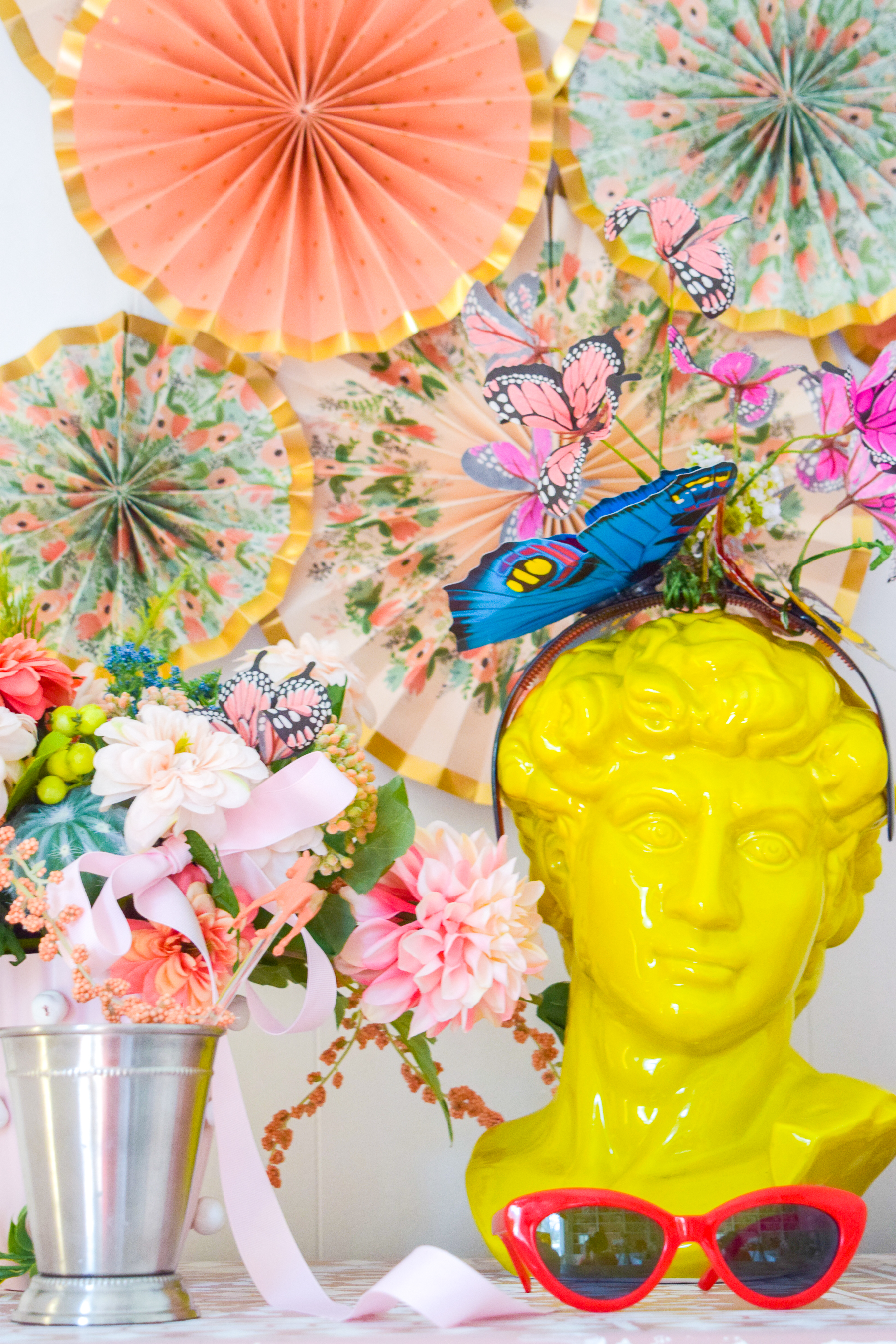 DIY Hair Clips
Last but not least, a horse ribbon inspired medallion hair clip — in case you don't feel like wearing a hat or a hair clip. They're the easiest to make, and only require 3 things: the hair clip base, striped ribbon, and these adorable little horse portraits.
I've added one to the front of my "riding boots" in anticipating of a stray lock of hair, not otherwise occupied by a fascinator or hat.
Wearing Your Party Hats & Fascinators
Hard work done, it's time to try them all on! I had quite a bit of fun trying them on to see how they looked. It's one thing to make them and hang them on a bust, and quite another to actually wear them yourself.