Ho ho ho! Santa wants more than just milk and cookies this year, he wants a fancy bottle of something something. What better way to give it to him, than in a handmade bag with fun sequin appliqués! These DIY Christmas wine bottle bags make great gifts, and are even better when there's something in them. Grab all the appliqués you need from Expo Trims while you still can! They've got an amazing selection.
Check out my other gift wrapping ideas: How to Throw a Gift Wrap party, DIY Painted Gift Wrap, and don't forget to check out my series on IGTV!
*Expo trims sponsored this post, but all thoughts are my own. Thank you for supporting the brands that make PMQ for two possible.
This all started back when I was looking through the Expo Trims site for my trick or treat bags, and I spent way too log looking at the appliqués on their site. I had planned to do an entire Christmas tree skirt with them, but then The House That Lars Built unveiled hers, and it didn't feel right to do it (it would look like I was copying – even though it had been planned for months).
SO I switched gears and decided to put a bunch of pretty fabrics to good use, and make Christmas wine bottle bags.
How To Make A Wine Bottle Bag
First, you need 8″ of any bolt of fabric to make 1, maybe 2 – depending on how wide the bolt is. You also need ribbon and appliqués.
I used the Stars (set of 4), Penguin on Skis, Joyful Angel, Christmas Light Bulbs (set of 4), Teddy Bears with Balls (set of 2).
I went to the fabric store, picked out my fave patterns and colours, and went from there.
From there, I used a champagne bottle to size out how much fabric I needed per bag. My bags ended up being 7″ wide by 15″ tall (to allow for a rolled hem). It was a simple sew (not worthy of a photo), but you can easily find a simple video tutorial for sewing a bag if you really need one
Like with all bags, don't forget to sew it inside out, so that your seams are hidden.
Take note, silkier fabrics (like the ones I hose) snagged a little while I sewed them. The red velvet did not though, so really, it depends on what you're using.
Adding Christmas Appliqués To Your Wine Bottle Bag
Now that the bags are sewn, the fun part comes! You have two options for adding the appliqués to the bags: glue or hand stitching. I was short on time, so I opted for fabric glue. But first, I test-drove the pairings to make sure I still loved my pairings.
How cute is this Penguin on Skis,?! I mean, honestly. Bing, bang, boom! These DIY Christmas Wine Bottle Bags came together so easily! And now, to fill them with tasty spirits for gifting.
DIY Christmas Wine Bottle Bags
As you can see, they fit right in with all my colourful Christmas gifts, and are a gift in and of themselves. If you're getting one of these from me this year, you better count yourself as a lucky person because there are only 4.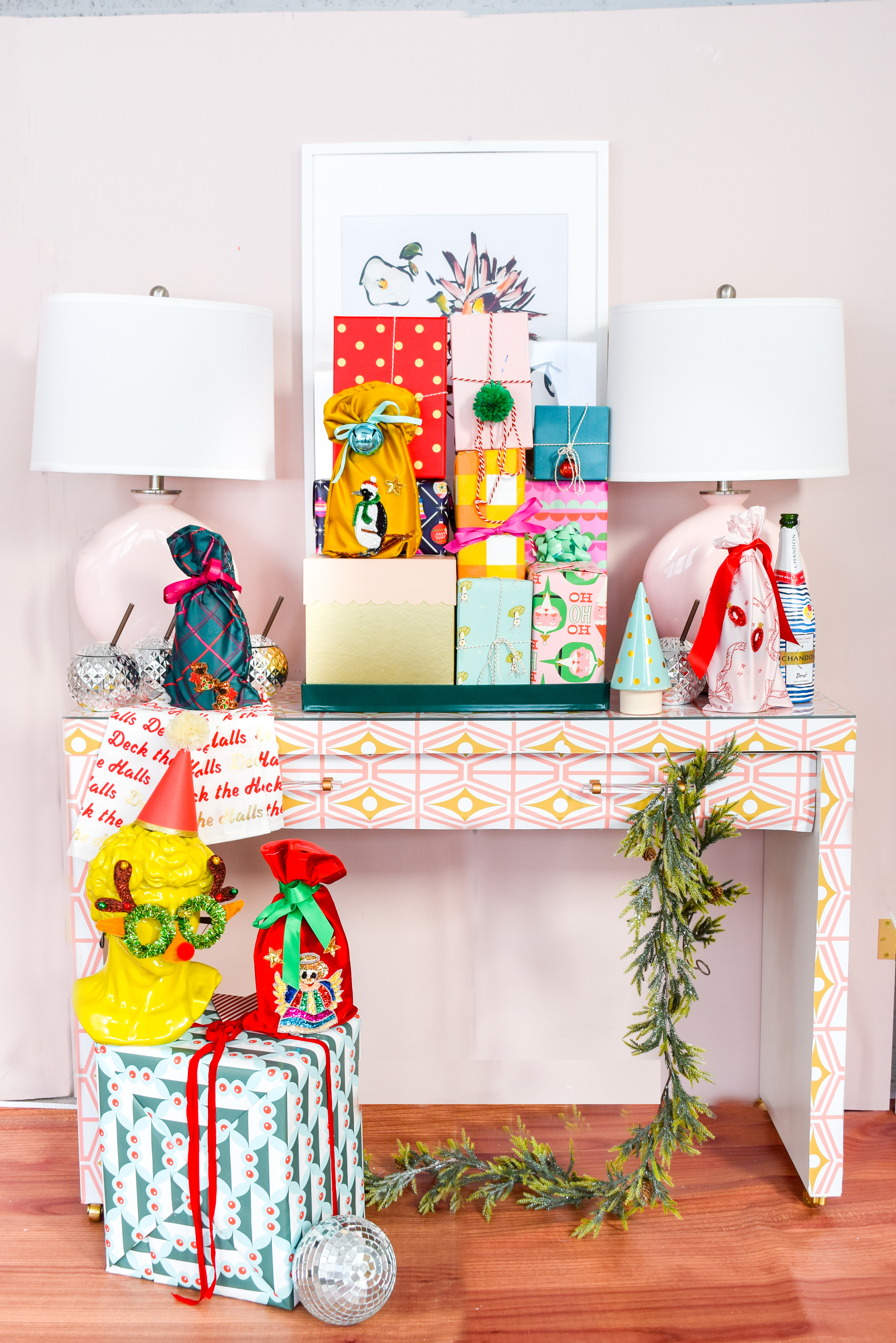 The Penguin on Skis, paired with mustard and light blue, is pretty much my fave of the bunch. The Joyful Angel, with the stars on red is also pretty amazing.
I think the little Christmas Light Bulbs are so much fun on their own, but on the red bow print they look extra cute!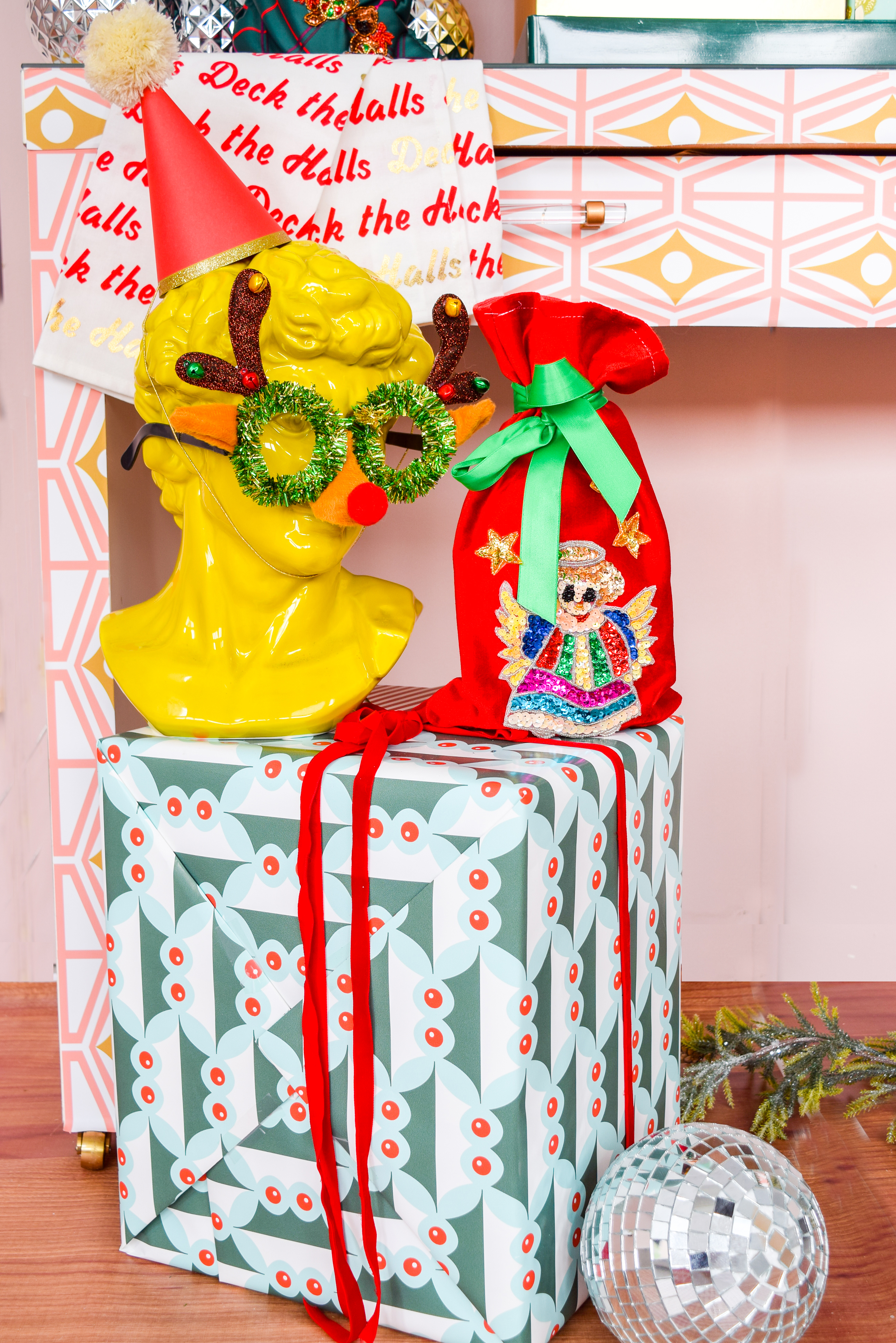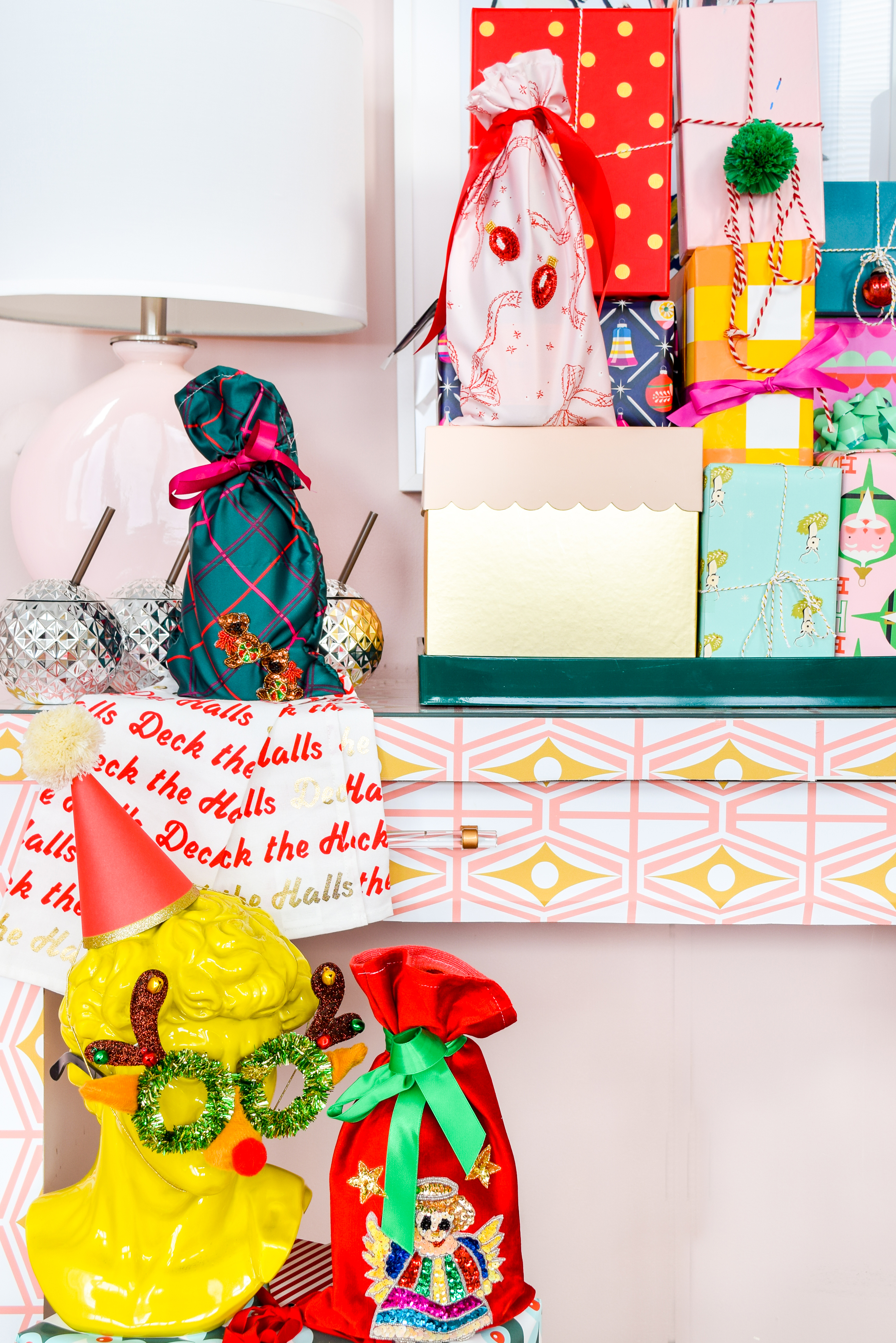 The funky green tartan was begging for something adorable, so I added two little Christmas teddy bears! Candy canes and all.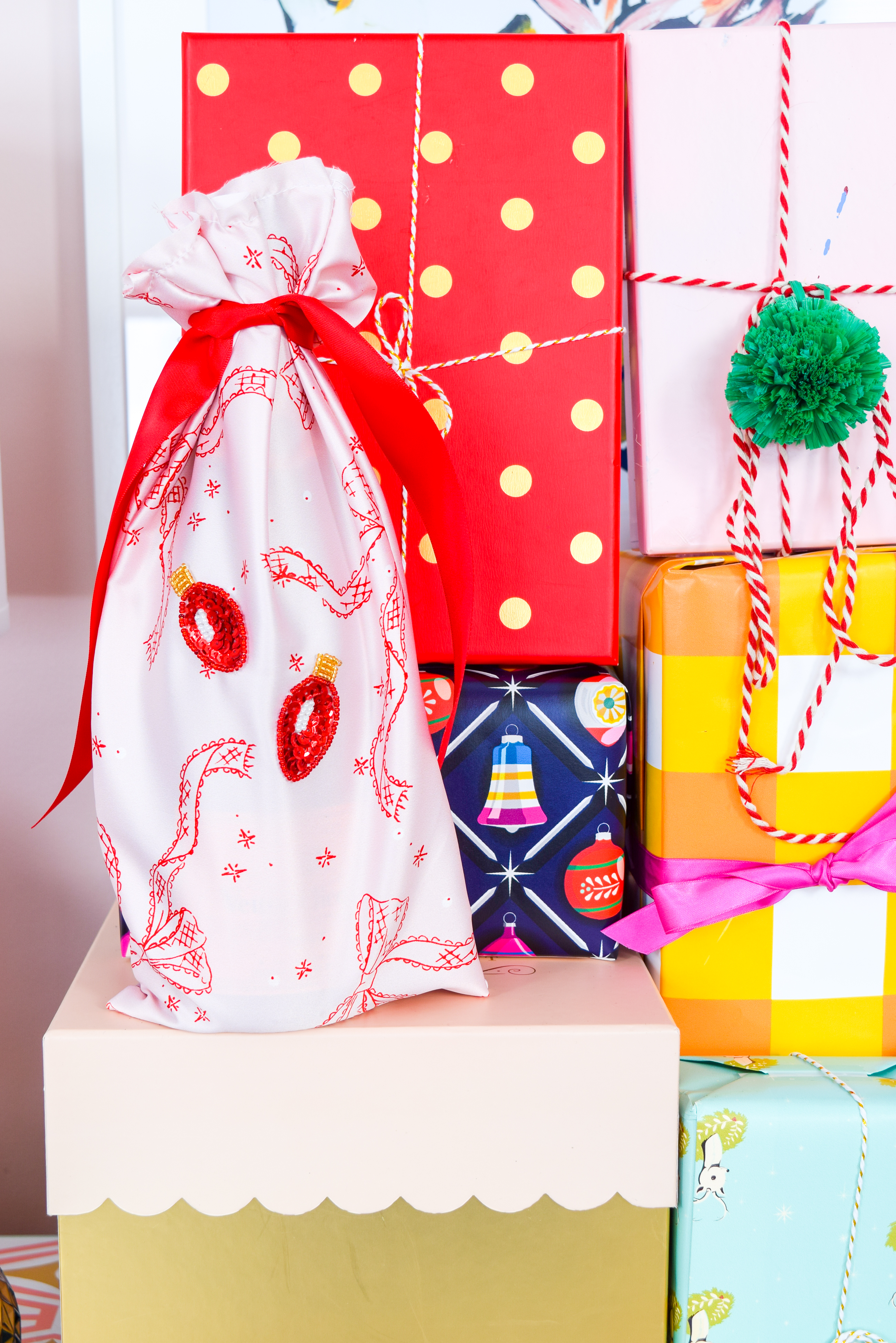 Which one would you want to receive? Which appliqués would you use for your bags? Tell me! Show me! I want to see!