*The following product links contain affiliate links. Thank you for supporting the brands that make PMQ for two possible. For my full policies click // here //
Back in August when I finally got my Cricut, I had been so so so excited to finally lay my hands on one. This was the crafting machine of my dreams: I could finally create my own stencils, get in on the vinyl game, and label everything I could think of! My dreams came true. Now, the acquisition of my Cricut did not come hastily or as an impulse. I had spent months debating it, and going back on forth on which model and whether or not I should just buy the Silhouette Cameo instead.
After all, I did want to be able to create my own files (which I had heard the Cameo was perfect for), and I wasn't exactly sure how to go about creating SVGs. I'm still not, but that's beside the point.
What I really needed was to see a comparison of both machines on the points I cared about.
*Cricut sponsored this post, but all thoughts are my own.  Thank you for supporting the brands that make PMQ for two possible.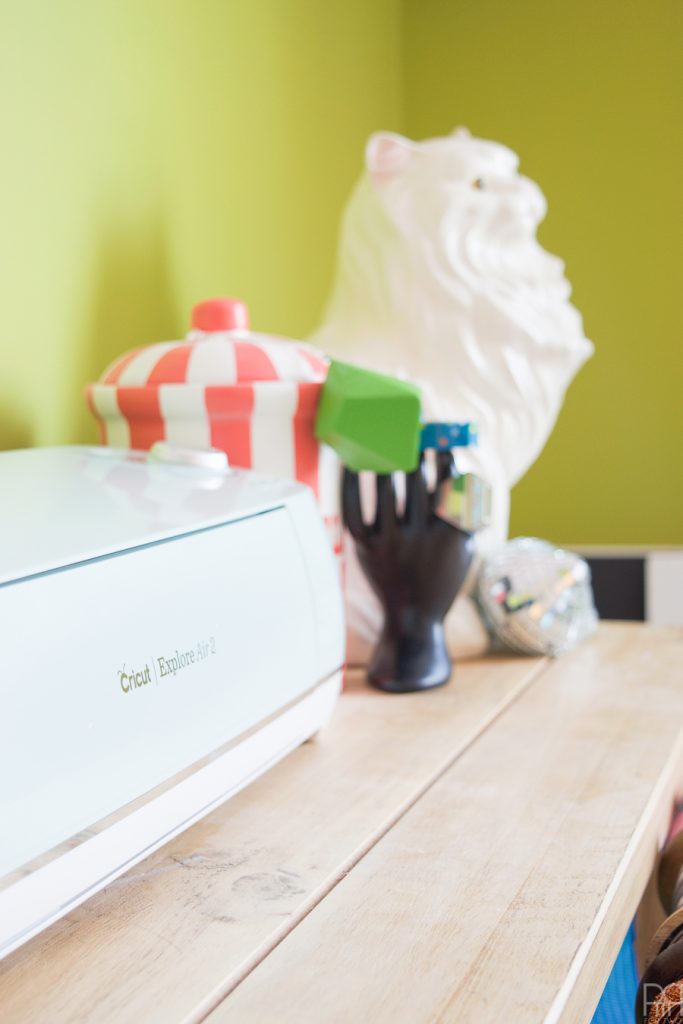 I needed a hard list of PROs and CONs that would tell me which machine I really needed and why. I found quite a few of them – which I've listed at the bottom – so when Cricut asked me to write my own comparison post I was giddy at the prospect of trying-out a Cameo for myself! Not only that, but they sent me an Air 2!
Below you'll find my points of comparison for two machines. These aren't  just any questions I pulled off a site, rather the ones I had asked myself when I was looking at buying one. This may not be the most technically exhaustive comparison, but it's a comparison on all the points that mattered to me, so maybe they'll matter to you.
NB I hated every minute of trying to use the Cameo. EVERY. MINUTE.
Oh, and if you want to win a Cricut Explore Air 2 cruise to the bottom! 
Cricut Explore Air 2 vs. Silhouette Cameo 3
Cost – Which one costs more?
The Cricut Explore Air™ 2 machine costs 249.99$ USD, but you can get the Cricut Explore Air™ 2 Mint Machine + EVERYTHING Starter Set for 329.99$ USD – this is the most current machine, and the one I'm test driving.
The Cricut Explore Air™ costs 179.99$ USD or the Cricut Explore Air™ Machine + EVERYTHING Starter Set for 259.99$ USD. This is what I started with, and loved it. It was just what I needed at the time.
The Silhouette Cameo 3 costs 249.99$USD and you can grab  the Silhouette CAMEO 3 Bluetooth Starter Bundle
 on amazon for 269.99$USD – about 70$ less than an Explore Air 2 starter kit.
–>The Silhouette takes it for overall price when comparing latest models, but Cricut allows you to purchase older generations at a better price (Cameo does not).
Files – Can I create my own files?
With the Explore Air and the Explore Air 2 you can create your own files to cut or print. I've just been uploading JPEGs that I make in Photoshop, or find online. You can also make them SVG files // here // so that no matter what size you create chose to work with your image, it will be clear.
You can also purchase ready-made files for printing or cutting from the Cricut Design Space // here //. You can also purchase a membership // here // to get access to all their files on a monthly basis. This is great if you see yourself using the pre-made files for things like birthday cards, tags, banners, kids parties and licensed images. Cricut also offers a free project every week // here //
The nice thing about the Cricut machines is that even with the Explore Air 2, you can still use your old cartridges if ever you bought one of the earlier generation Cricut machines.
I've created many files in the design space, my favourite being my Vinyl Otomi Chargers // here //
Similar to the Cricut machines, you can purchase or create your own files for the Silhouette Cameo in their design space // here //. I tried creating my own images, but it wouldn't recognize the JPEG files when I tried to upload them. For the record, the is not a drag and drop system, so if you hate having to retrace file pathways every time, this is not going to go well for you.
–> The Cricut wins when it comes to using my own files. This was totally unexpected for me as I had heard the Cameo was best for this.
Equipment – What do I need to cut something with it? 
The standard kit of things you need to do a job with Cricut involves a Cricut® Cutting Mat Variety 3 pack , Cricut® Tools Basic Set, and the blade which comes with the machine.
The standard kit is similar for Silhouette projects, although on some of them you don't even need a mat! That's pretty neat, since I've had a couple of my projects scaled-down in the design space because I didn't have the right sized mat.
–> Both starter kits are similar, except the Cricut tools have some really nifty pieces that are great for detail work. They also have loops through them, which makes it easy for me to store them on a giant ring.
Cutting – What can I cut?
The Cricut Explore Air will cut the following materials:
Paper – Standard, Cardstock, Vellum, Poster Board
Vinyl – Standard, Premium, Dry Erase, Chalkboard
Iron-On – Heat-Transfer Vinyl (HTV)
Craft Materials – Washi Tape, Craft Foam, Glitter Paper
Upcycled Materials – Chipboard, Cereal Boxes, Aluminum Cans
Fabric – Felt, Denim, Polyester, Burlap, Canvas
Plastic – Stencil, Window Acetate, Silicone
Thick Materials – Leather, Balsa Wood, Magnet Materials
For some of those you'll need the deep cut blade // here // and all need a strong grip mat // here // to get the job done, like with the felt I used for my advent calendar // here //
The Silhouette Cameo will cut the following materials:
Paper and card stock
Adhesive vinyl
Fabric
Heat transfer material
Rhinestone templates and specialty media.
–> I'd say both are evenly matched in terms of cutting. Maybe the Cameo has a slight lead when it comes to cleanliness of the cut, but since I don't do incredibly detailed cuts, this is of less importance to me.
Computer Interfaces – how do I transmit my image from my computer to the machine?
Both the Cricut and Silhouette machines use an online/app interface to create your projects.
Both are free to sign-up for, but with the Silhouette Studio you need to download software. With the Cricut Design Space // here // you can just use the web interface or download the app for your iPad // here //
vs.
Both machines come with 100 free files from their design spaces, and certain machines come with access to the full database of files.
However, as stated above, in practice I found it exceptionally convoluted trying to get my own files into the Silhouette Studio.
–> The Cricut Design Space wins hands down for ease of navigation. As far as user interfaces go, the Cricut Design Space is simple and effective. I like the grid as a visual representation of size, and like how simple the menu is.
Buying products – How easily can I find what I need locally?
Cricut has a wicked deal with Michaels, so I know I can always find what I'm looking for in a Michaels store in a pinch. I just wish I could use the Michaels coupons on those items!!!!
I think I've seen some Silhouette products in-store, but there are less of them, and it looks like you have to purchase specialty products online.
I can happily report that both Cricut vinyl // here // and Expressions Vinyl // here // work well in both machines, so when it comes to vinyl you're safe! If you look closely you'll actually see my hoard of vinyl in the magazine holders on the bottom shelf.
–> Cricut products are more readily available, and easier to find locally.
Storage – How easily can I store it?
Although neither should be moved around constantly, I'd say they're both a tie for portability. They both weigh a bit and you can purchase dust bags or bags for transporting them. I wouldn't go sticking them on floating shelves.
The Cameo is massive though, and the cover that flips up to reveal the motor needs quite a bit of clearance, so if you're working in tight quarters like I am, trying to find extra space sucks.
Fun fact, I flew from Atlanta to Fredericton with my Cricut in a dust bag inside my carry on! I ran through customs and from one end of the airport to another with that thing slung over my shoulder. I'm not sure I could have managed the same thing with the Cameo.
–> The Cricut takes up less real-estate on my table, which is ideal given how little space I have.
Repairs – What happens if I break it? or it breaks?
The Warranty for the Explore Air  machines is // here // and here is the warranty for the Silhouette Cameo // here //
Both also have FAQs and phone lines for customer support. There's nothing I hate more than not being able to contact a person when I'm frustrated and something is broken, that's how I descend into rage!!!
Conclusion
 I stand by my initial decision. This comparison really gave me the chance to test-out both, and while the Silhouette Cameo is technically proficient, it doesn't offer the same turn-key experience that a Cricut does. I'm a busy woman and time is money. I gave myself an hour to set-up and cut 3 different projects with each, because that's how long it too me with my first Cricut 9the Explore Air.
[clickToTweet tweet="The Explore Air 2 offers a turn-key experience that you don't find with the Cameo" quote="The Explore Air 2 offers a turn-key experience that you don't find with the Cameo"]
I barely got through one in that time frame with the Cameo, and I was set-up and working within minutes on the Air 2.
I'll definitely keep my Cameo around for some jobs – in fact, DH has been asking to use it for his war gaming (www.redoverblue.net) but I think it will be accumulating dust. I just don't do the highly technical jobs that would best serve the Cameo, or have hours to troubleshoot while I set it up; it's just not what I use my machines for.
p.s if you're wondering, that is absolutely painter's tape on my walls! You can find-out why // here //
p.p.s if you decide to buy a machine, there's free shipping at Cricut with code LOVESHIP
You can see all my Cricut posts right here: Vinyl Otomi Chargers // Witch Silhouettes // Poppy Shadow Box // Atomic Starburst Ornament // Felt Advent Calendar
If you're still unsure about which one to chose, check out these other posts from my fellow Cricut bloggers who did a comparison, or wrote about why they love their Cricut:
Comparing the Explore Air 2 & the Cameo 3 – PMQ for two
5 Reasons Why I Traded My Silhouette Cameo for The Cricut Explore Air – Tastefully Frugal
Why I replaced My Silhouette Cameo with a Cricut Explore Air – The Quiet Grove
Silhouette Cameo VS. Cricut Explore Air – It Happens In A Blink
Why I love my Cricut Explore – Crafting In The Rain
Why I Switched from a Silhouette to a Cricut Explore Air – Housewife Eclectic
Cricut vs. Silhouette: Why the Cricut Explore Continually Wins – Becoming Martha
Top 10 Reasons why I love my Cricut Explore – Brooklyn Berry Designs
Why I switched to the Cricut Explore – My Mommy Made Take
Now, if you want to win a Cricut Explore Air 2 of your own follow the rules on the rafflecopter below! The contest runs from January 18th to January 25th. The winner will be notified within 24hrs after the contest closes.