Y'all we are in the home stretch of this edition of the One Room Challenge. Nothing about this living room makeover has been straightforward: from the mold, to the shipping delays, to sh*tty lighting. BUT, things are taking shape and hopefully it will all pull together in time for a very lengthy shoot next week involving long exposures and bracketing (yay!). These colourful living room details are sure to peek your interest though, especially if you've been wondering where all the colour has been so far.
Catch the beginning, the plans for the colourful mid mod living room, and my paint + wallpaper choices & hurdles.
*Roostery sponsored this post, but all thoughts are my own. Thank you for supporting the brands that make PMQ for two possible.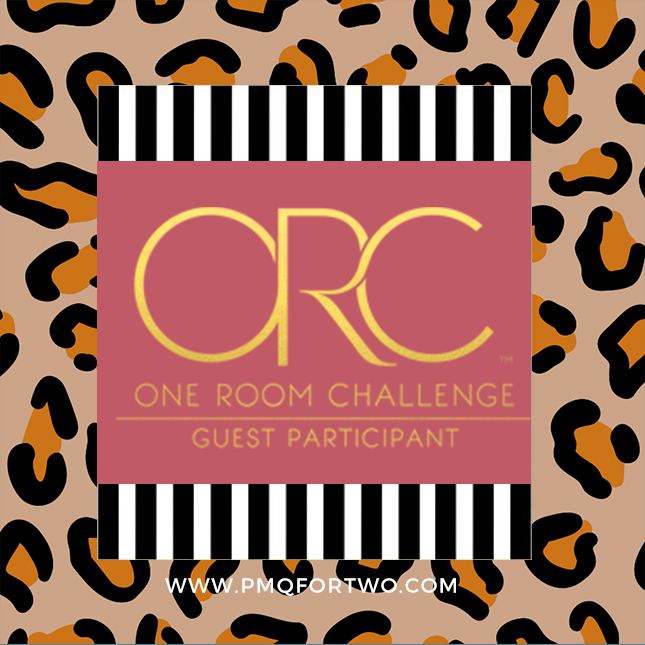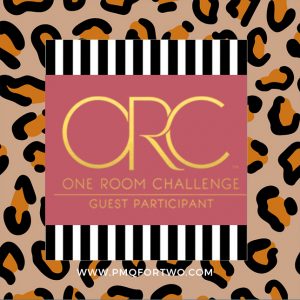 I absolutely love our wall colour (Behr's Blueprint S470-5), but it's just one colour – I need like the whole rainbow. I turned to soft furnishing (textiles etc.) to bring the colour here. The addition of the Angelina print from Hygge & West, brought fun colour variation and pattern to the room, but that's only part of the space. There are another 3 walls!
But since I still have boxes all around from the move, I've gotta get those outta here. The easiest way to do that? Unpack them – and all the goodies they hold! I feel like I haven't seen my stuff in ages, it's just been a few months though. I didn't unpack it after we moved since I knew we would be making over a lot of the spaces. No sense packing and unpacking.
Colourful furniture
It's no secret that I've got some amazing gold mid century velvet chairs. They're called The Dean from HomePop, and not only are they comfortable – they're colourful. Boots L-O-V-E-S them too, and can often be found sitting on one (or near one).
While perusing the HomePop site I also stumbled across the Large Square All Over, a lovely leather tufted ottoman. I knew it would be perfect for our coffee table solution, and the perfect place to rest a colourful tray with pretty little knick knacks.
I'm just playing around with styling here, so don't hold me to anything yet.
I've also got the amazing green buffalo plaid dresser that I painted last fall, and that's staying green for now, but it might get painted pink at the last minute. We'll see! I've got a red cabinet in the works, and once that gets into the space the green might be exactly what I need. We'll see!
Colourful Curtains
The real star of the colourful furnishing selections, are my new Roostery curtains. I spent WAY too long looking through the the amazing catalogue of patterns on Spoonflower before making my decision. Did you know that you can get any of the patterns available on Spoonflower, on any of the Roostery products?
That means that if you fall in love with any of the patterns from this massive curtain collection I was making, you can get yourself a pair. I got them in Cotton Canvas, and love them! No photos until the reveal next week, but they'll absolutely slip into my stories in the meantime.
Unexpected Details
Because nothing is final in these photos, I don't mind sharing some photos of pieces I've been secretly holding onto. This mask is such a fun addition (details to come), and the blue jar is a last minute thrift store find. The trunk (seen below) is not staying in the space, but I did feel like I owed it to myself to see what it looked like in the space. It's probably gonna get ditched in the garage though.