I'm giving this whole US Thanksgiving a solid try, and what better way to do that, then with a colorful thanksgiving kids table. I get to combine my love of colors and patterns, with tons of pumpkins, and my friends' adorable children. The second I told them they could draw on the placemats, their eyes grew to the size of saucers, and any kids you know will too.
Catch my Kate Spade Inspired Thanksgiving Tablescape
*Roostery sponsored this post, but all thoughts are my own. Thank you for supporting the brands that make PMQ for two possible.
Who here remembers getting "stuck" at the kids table? I do! And I remember it was always bland, uninviting, and consisted of various plastic cups and cutlery. How boring! When Spoonflower & Roostery challenged me to set a kids tablescape that I would want to sit at, I took them up wholeheartedly!
I knew that I wanted the kids to be able to draw on the placemats, because that's something I always loved doing (just not getting in trouble after the fact). So I found a place setting pattern in the Spoonflower marketplace that was pre-made with outlines for cutlery and plates. How perfect?!
Want to learn how to sew a Kids Apron with pockets? Catch my tutorial on Spoonflower
Choosing Colorful Patterns
Setting an adult's table is one thing, but setting a kids table is another thing entirely. Instead of going to my usual selection of patterns (can you imagine leopard print for a kids table?), I took a deep dive on Roostery's colourful selection of table linens.
I ordered a roll of gift wrap with place settings printed on them to create the placemats. I made sure to lay it out the night before to flatten it. I then cut along the dotted lines and set the table with a basket of crayons nearby.
Because this is a kids table, nothing should be too serious. So why not use adorable raccoon faces on mustard napkins? They're perfect for transitioning through the years as new kids join the table, and they bring a pop of colour that is never out of order.
For a table runner, I chose a shock of purple with vegetables and produce! It wouldn't be thanksgiving without a fall bounty, and while I didn't want a cornucopia on the table, I did think that putting the entire selection on display through a pattern. This Roostery made piece came ready to use, with beautiful stitching. What more could I ask for.
Creating a Kid Friendly Place Settings
When it came to the actual place setting though, I dusted off my chicken plates. Yes, I have a collection of chicken plates, and you should too. They are TOO funny, and perfectly appropriate for a kids table. Coupled with some kid friendly disposable cutlery and plastic cups, I'd say the scene was set for some good times.
I thought I'd serve up some crayons in a basket I had leftover from another tablescape. It made them easy to stack, easy for the kids to see where all the colours are, and easy for them to share.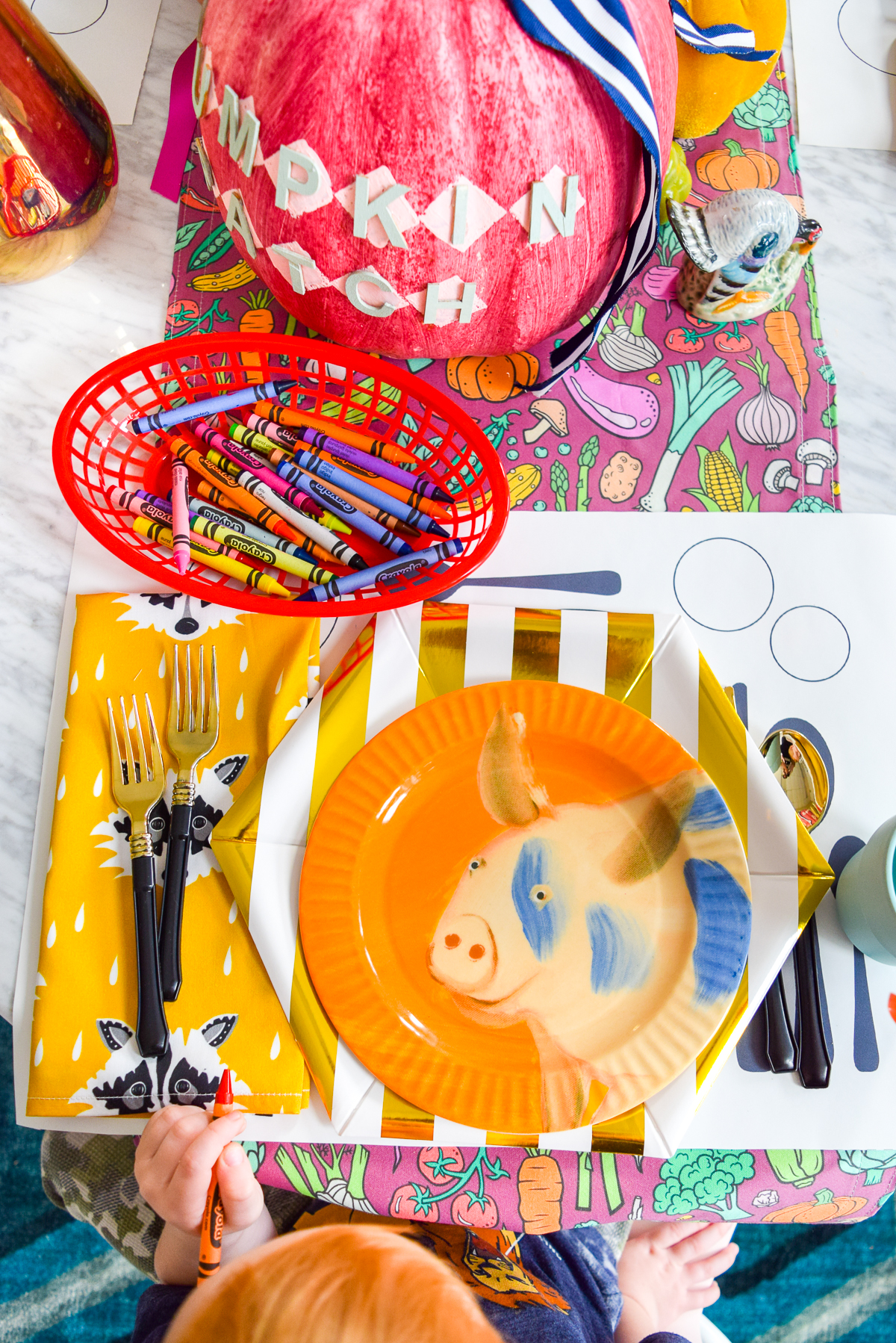 A Kid Friendly Centerpiece
Color wise, it also helped set the backdrop for my pumpkin patch. See, I've got a pumpkin problem, and always wind up with too many, so why not offload them onto the kids table where I know they'll be poked and prodded and maybe drawn on.
Dinner at the Kids Table
Now that the nuts and bolts are out of the way, I wanted to share some pics of how kids actually enjoyed the colorful tablescape. Without further ado, Hannah, Henry and Simon. Guess who is who!