This spring I was inspired by the Indian festival of Holi // here // which happens around the same time as Easter. I was watching an episode on the Netflix series "Tales by Light" which was recommended by my friend Becki from The UncommonLaw, when the photographer goes to India for Holi and is bombarded with bright colourful dies and contagious joy and celebration. It looked like the kind of party I'd want to go to. The bold colours, the splashy fashion in which it's dished-out, and the overall joy of the occasion pushed me to look for a way to incorporate it in my spring decor – enter, the tablecloth.
Guys, you've never seen a tablescape quite like this – from me at least. Or maybe it's what you always knew I was capable of, but either way, I finally took my photoshoots to the next level and rented a space! There's a lovely co-op in an old school on the other side of town with very reasonable rates for a big white room with tons of space. With this colourful & eclectic easter table decor, I had a certain scale in mind for framing the look at the DIY. I knew I couldn't pull back far enough with my camera in my PMQ, so if I wanted to go bigger and bolder I'd need a space to go with it.
*Krylon sponsored this post, but all thoughts are my own.  Thank you for supporting the brands that make PMQ for two possible.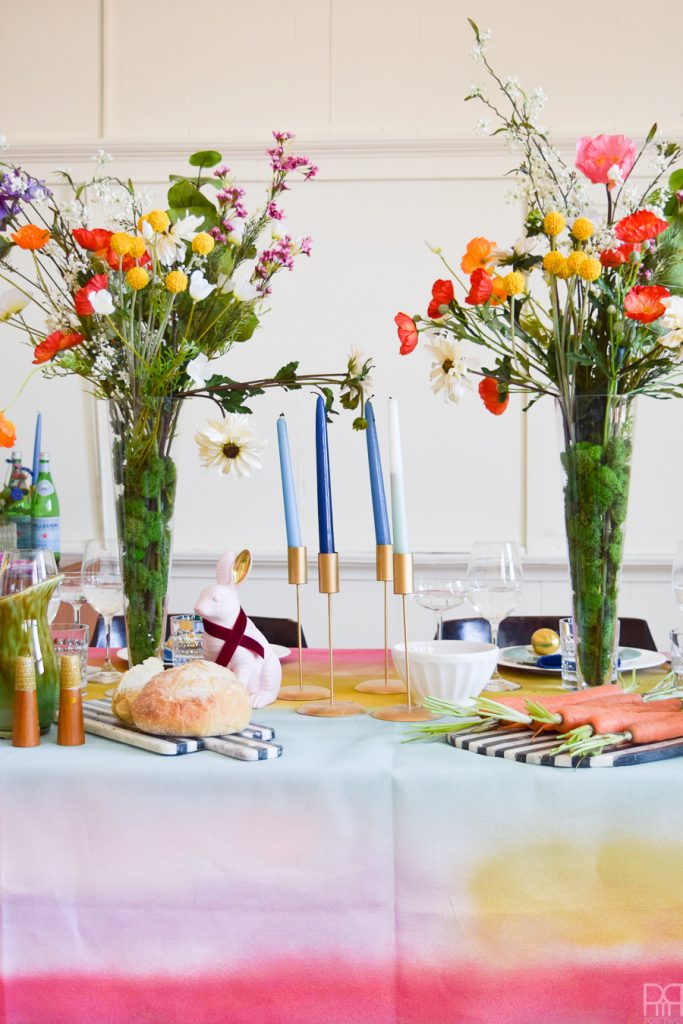 I was trying to think of a way to bring something Holi related into my spring decor, and then Chloe's Easter Tablescape blog hop came along, and I married the two concepts with the help of Krylon Spray Paint. You'll know that I frequently turn to spray paint for projects big and small, but partnering with them directly has been lovely. Not only did I have access to the entire category of colours – which can be hard to come by when you don't live in a major city – but I was able to let my colour wings stretch a bit!
You can view last year's DIY Spray-Paint Coral // here //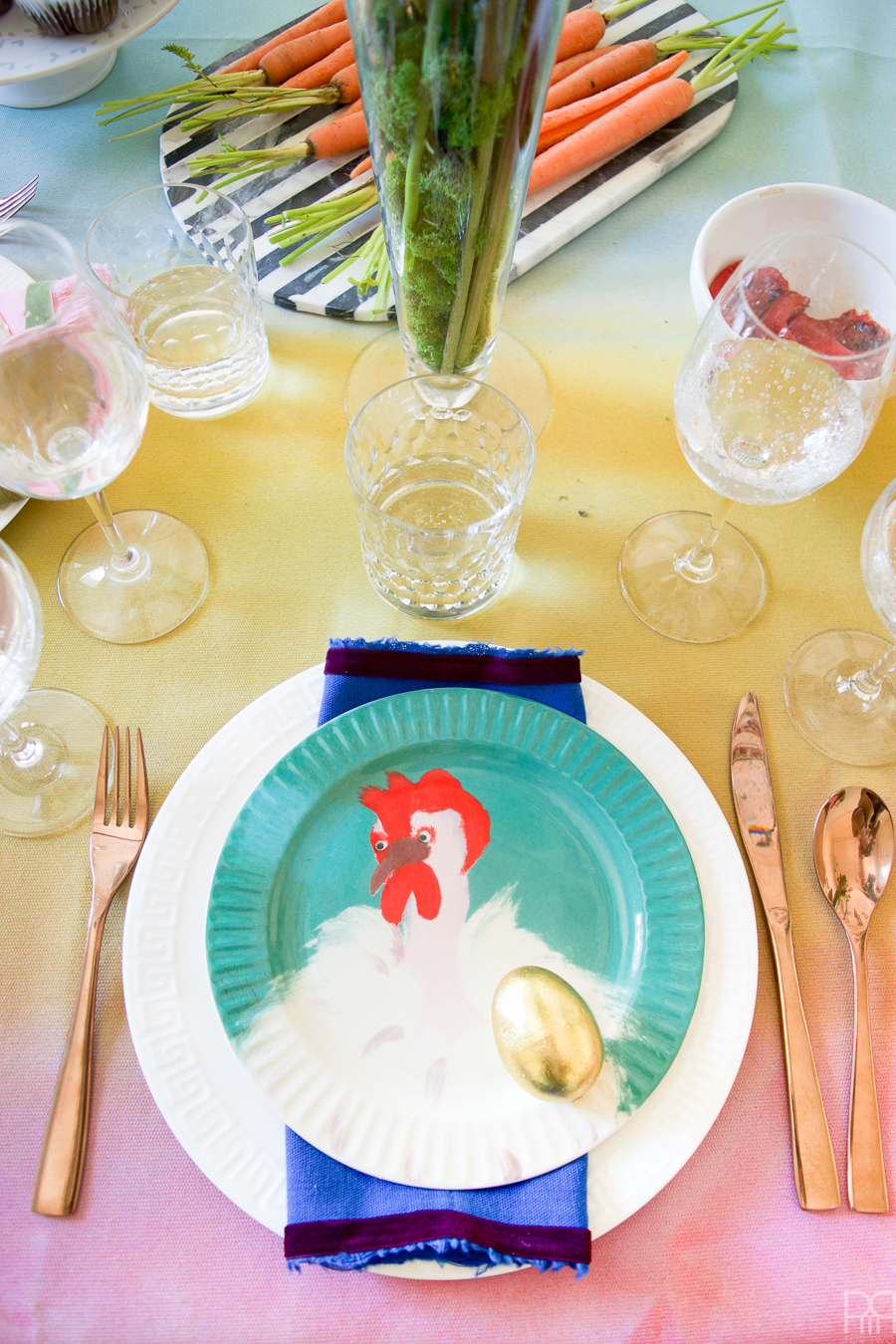 Because I also love a good floral detail, I perused the Afloral.com site, scouring all the flowers to put together some stunning centerpieces. With this tablescape I knew I'd need height over width, so these flowers were chosen with height and drama in mind. Poppies // here // have been front and centre in my mind's eye for a few weeks now, and looking to spring, they make perfect sense! All those rich colours and bright oranges and reds are perfect for this time of year. //  For a complete list of florals used, skip to the bottom of the post //
You can view my fall flower arrangement // here // or my Winter Wedding Florals // here //
Before we get to the tablescape itself, I'm sharing this quick spray paint tablecloth DIY.  I opted for a horizontal representation instead of scattered colour bombs or trying draw flowers. I wanted something that would read well when laid flat. Spray painting abstracts flowers would have been lovely as an actual tableau but would not have been visible under plates on a table. Colour bombs would be pretty and a more direct representation of Holi, but I didn't want to stray too close to American Apparel's paint splotch dress of 2010 (I owned it). Instead, I though a Rothko inspired Holi would be in order.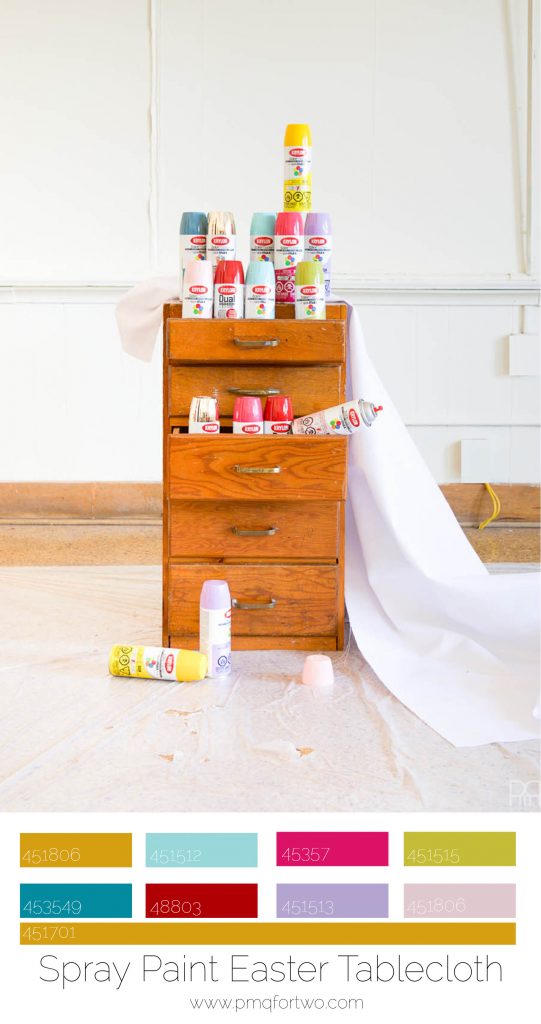 Materials
Krylon Colour Master Spray Paint in the following colours: gloss mambo pink 45357, Gloss Ivy Leaf 451515, Gloss Bahama Sea 453549, Gloss Blue Ocean Breeze 451512, Gloss Banner Red 48803, Gloss Gum Drop 451513, Gloss Gold 451701, Gloss Sun Yellow 451806, Gloss Ballet slipper 451806
2 Metres of bleached canvas (I opted for bleached as opposed to the more natural unbleached, because I wanted the colours to pop)
That's it!
*When you're spray painting, keep in mind that the colours will overlap, so pick colours that when mixed, won't create brown.
** ALWAYS read the labels and instructions on the back of the cans.
*** Apply in a well ventilated area i.e outdoors, or in a big space with all the windows open and a fan going in between coats.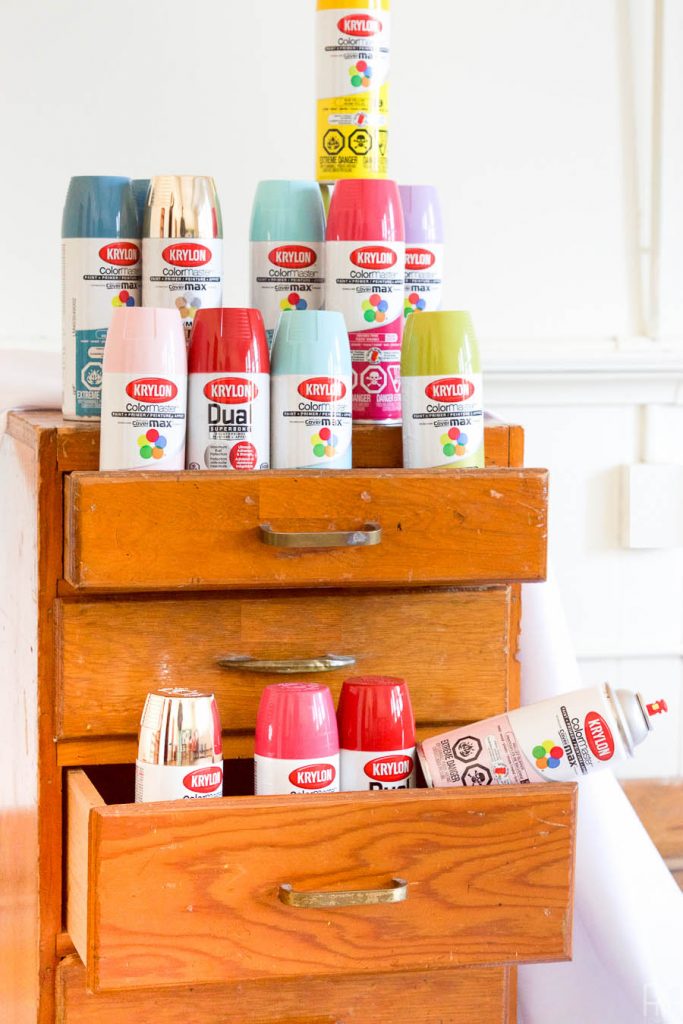 Step 1: Pick your base colours and spray a few large stripes to start off. These will determine the colour pairings on the rest of the table cloth, so be strategic. I've got gold, two shades of blue, red, a chartreuse and some pink. As you can see the colours spread past their intended drop zone, so be prepared to do several coats.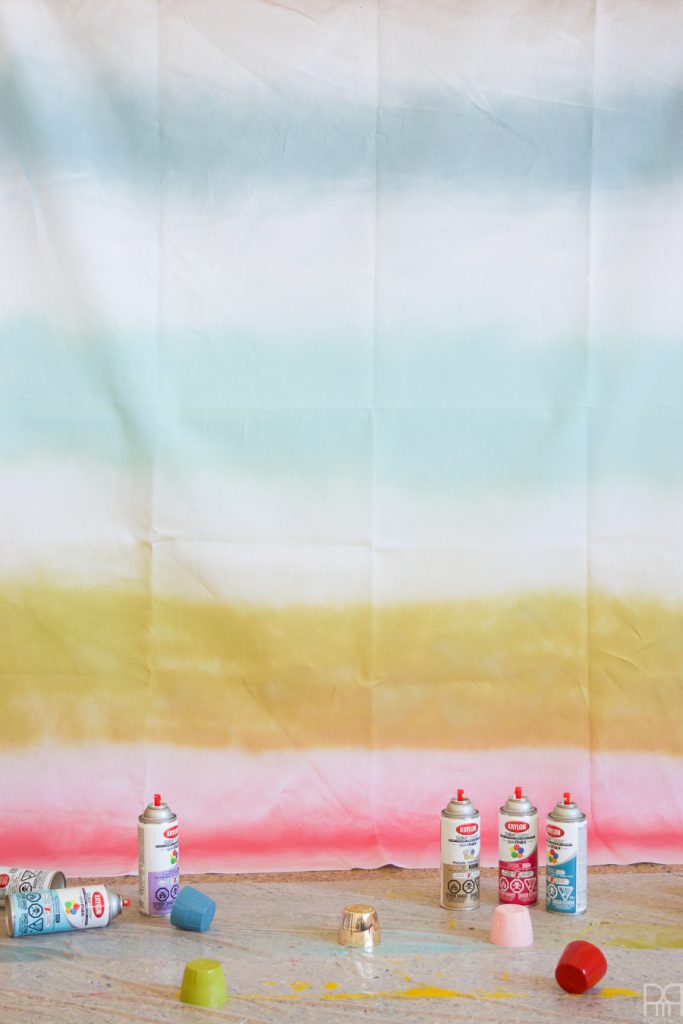 I laid the tablecloth down on the tarp on the floor, but then hung it to take photos and help dry.
Step 2: Time for your secondary colours. This is where you pick the closer colour matchings. I went for contrasting but complimentary.
As you can see, I've even experimented with half- stripes, allowing for another colour matching on the other side. You can also really see the effects of the colour bleed here, so be prepare to go over certain colours again.

Step 3: Put your finishing touches on the tablecloth. I added more complimentary contrasting shades and then went back over everything a second time.
Step 4: Give yourself at least an hour for it to dry. Even though you're not putting it on super thick, it might be tacky to the touch for a while. Better air on the side of caution and let it dry before you place it on your table.
I honestly love how despite being super bright colours, they're a shade muted here. It's less likely to blind your table guests, and still allow the items on your table to shine. Now to set the table!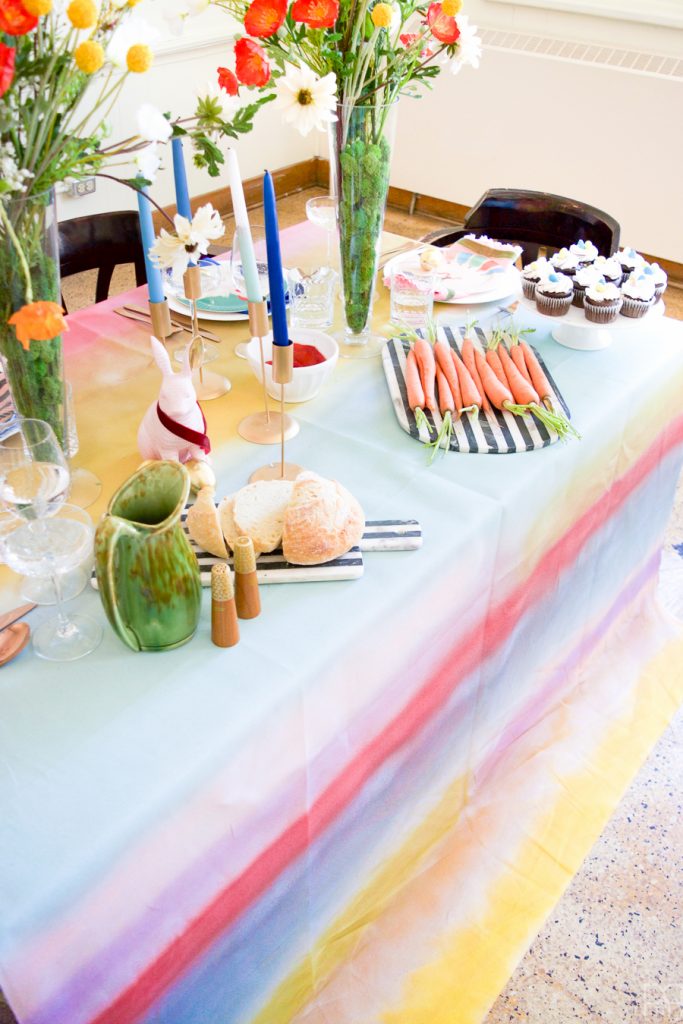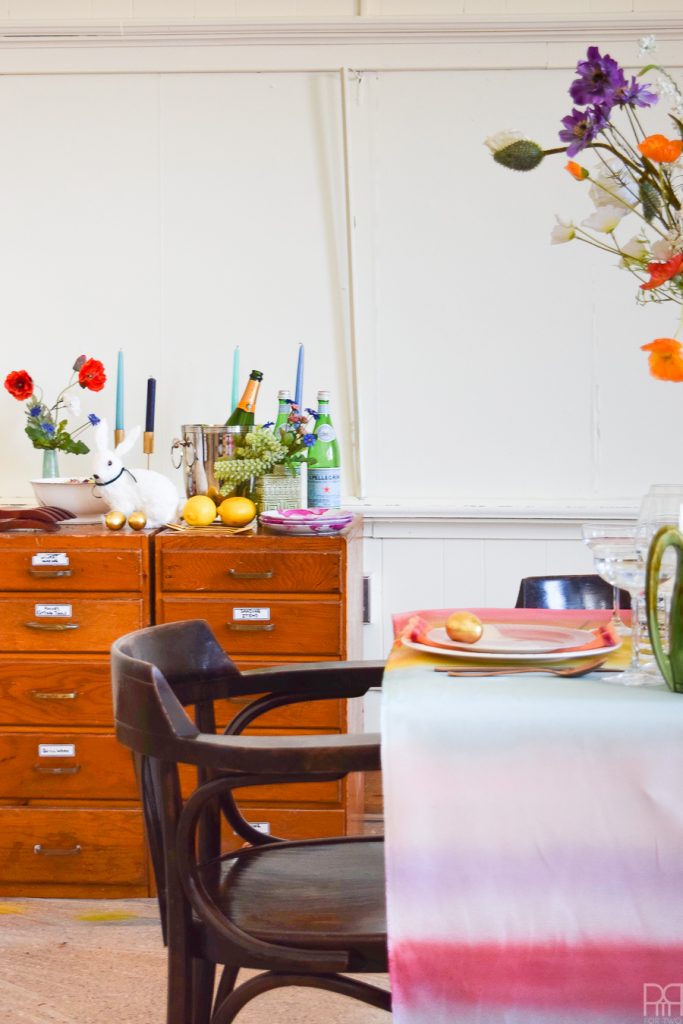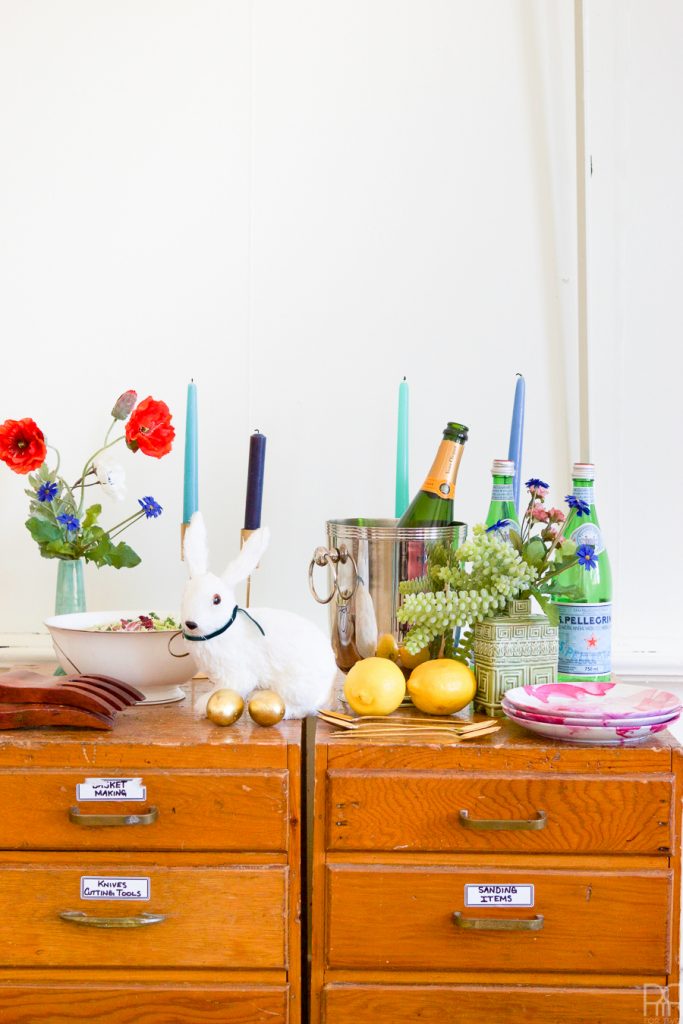 As you can see, the tablecloth is displaying beautifully with the stripes. The way the colours blend into each other is soft enough to allow the more complex details on the flowers and tableware to really shine. Also, you can find the blue candles on the Afloral site // here //
Now if I was in fact hosting easter in this space, I'd have a lovely little side-board all set up! Those wood drawers are perfect for this, and play-off the colour really nicely.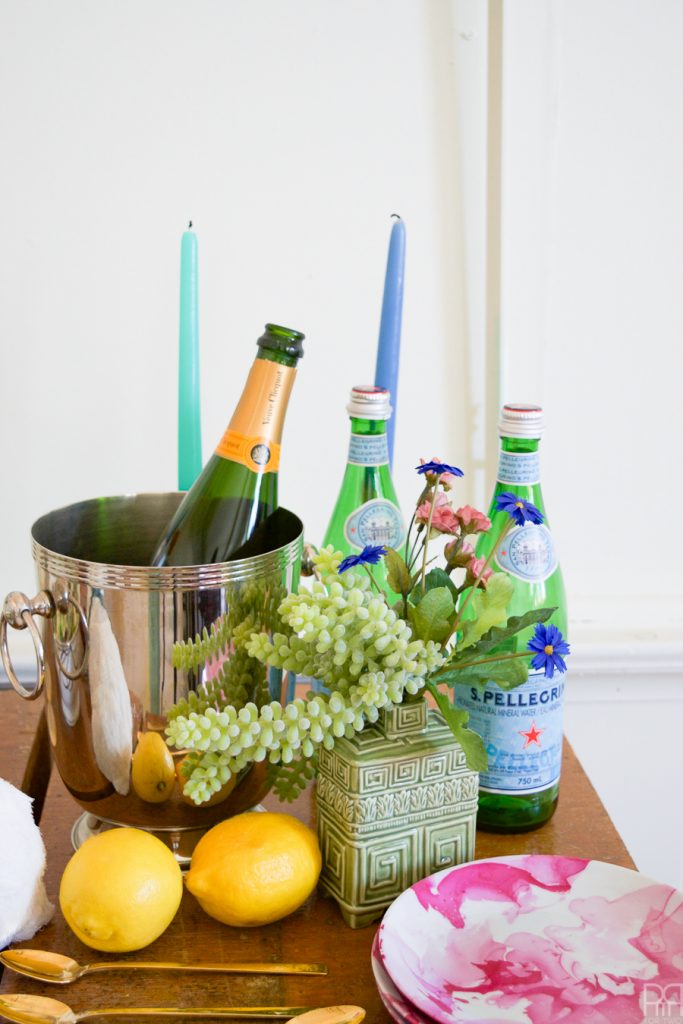 You can see the DIY Marbleized Plates // here //
The beautiful succulent // here // from Afloral is not only real-like, but it creates an interesting visual element on the sideboard, along with the poppies and the bunny. I am very very pleased with how this little space was styled. All we're missing is a mint palette cleanser between courses and those gold spoons are in business!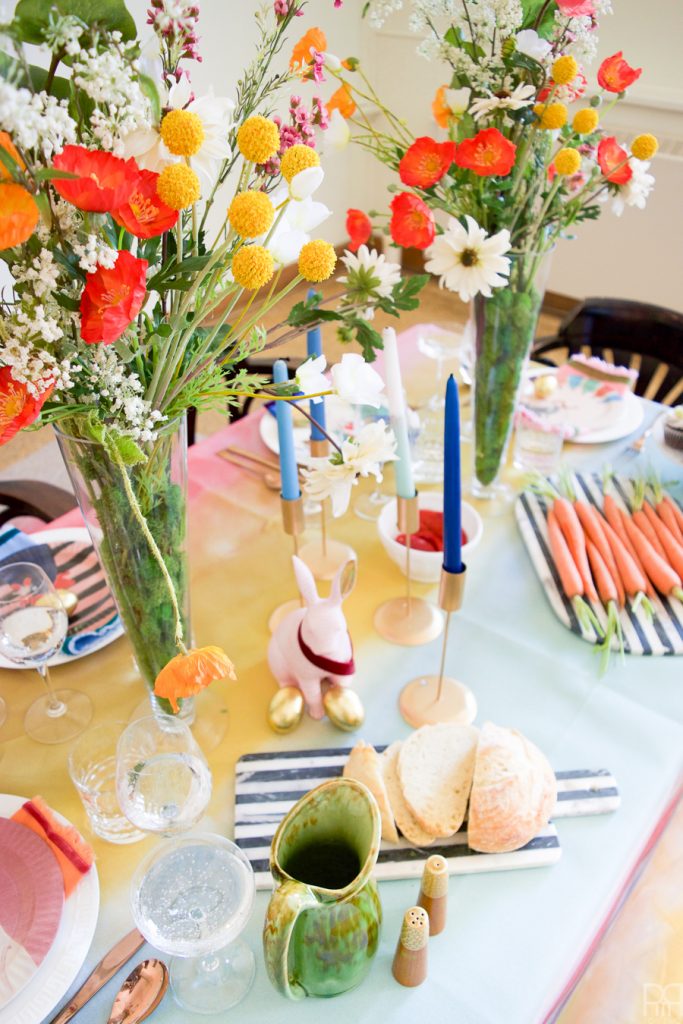 I particularly love how the horizontal stripes in the tablecloth play against the stripes on the cutting board and then the carrots. You can get more quintessentially "me" than this guys. Also, I would be remiss if there were no carrots on an easter tablescape, ya know?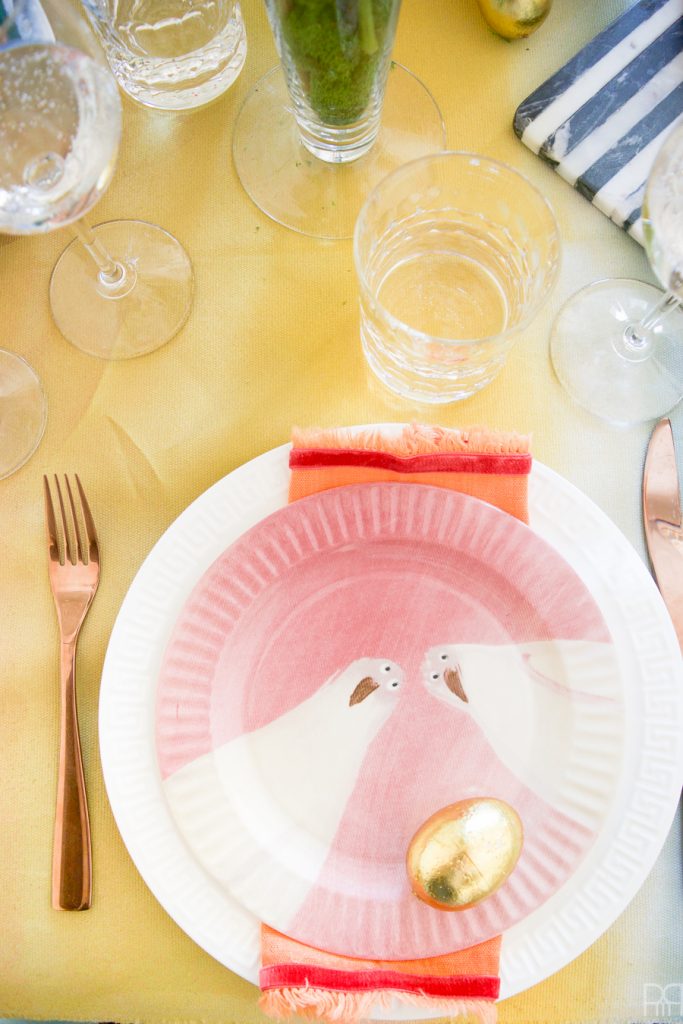 The DIY for my Up-Cycled Ribbon Napkins is // here //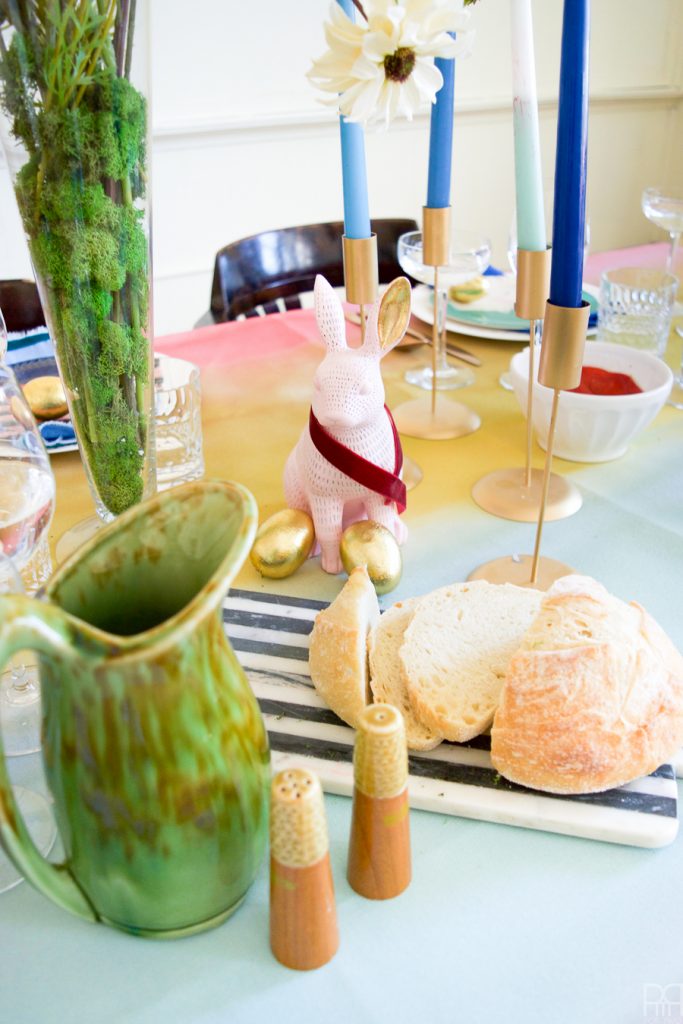 Let's talk about the chicken plates for a second. They're from anthropology forever ago, and I've got a huge wall of them in my dining room. You can better see them in my Colourful & Eclectic Spring Dining room tour // here //. I added the gold eggs, because why not! Easter is that crazy time of year where the cadbury bunny lays eggs, and chickens of all kinds are getting-in on the golden gig.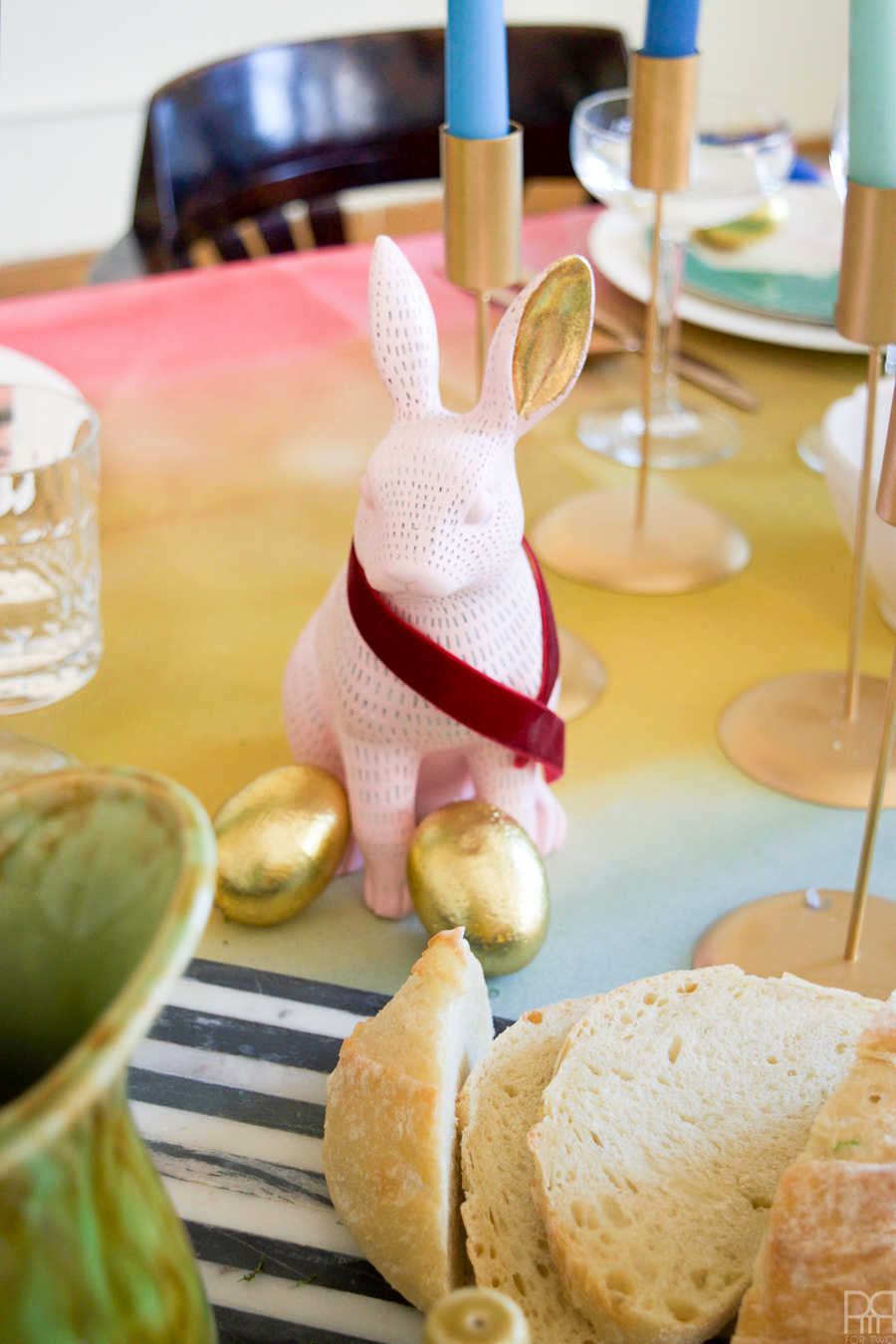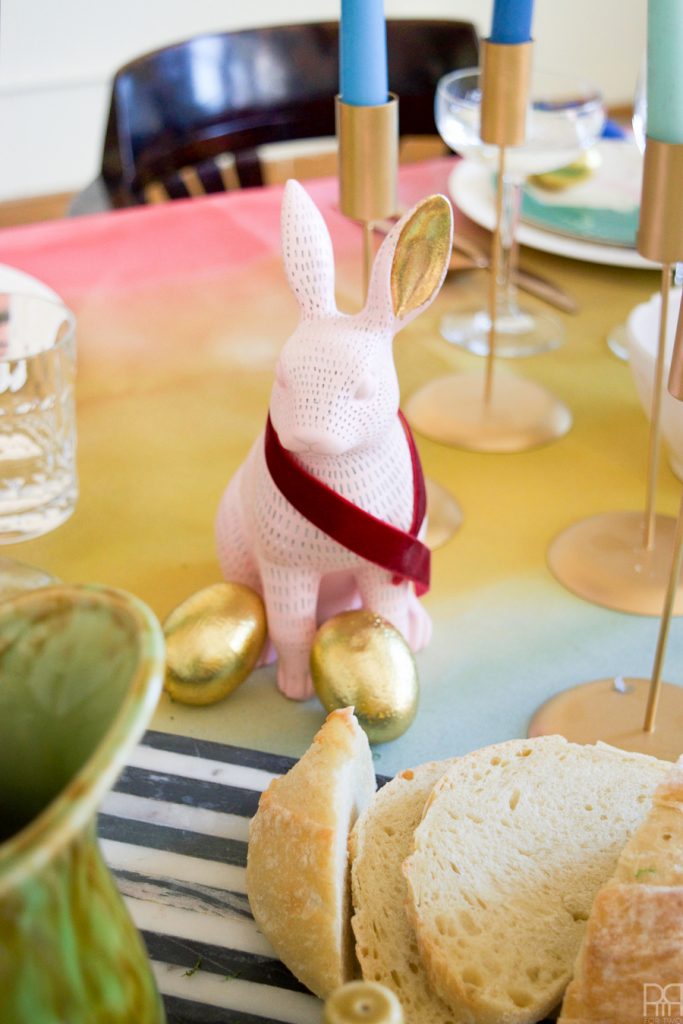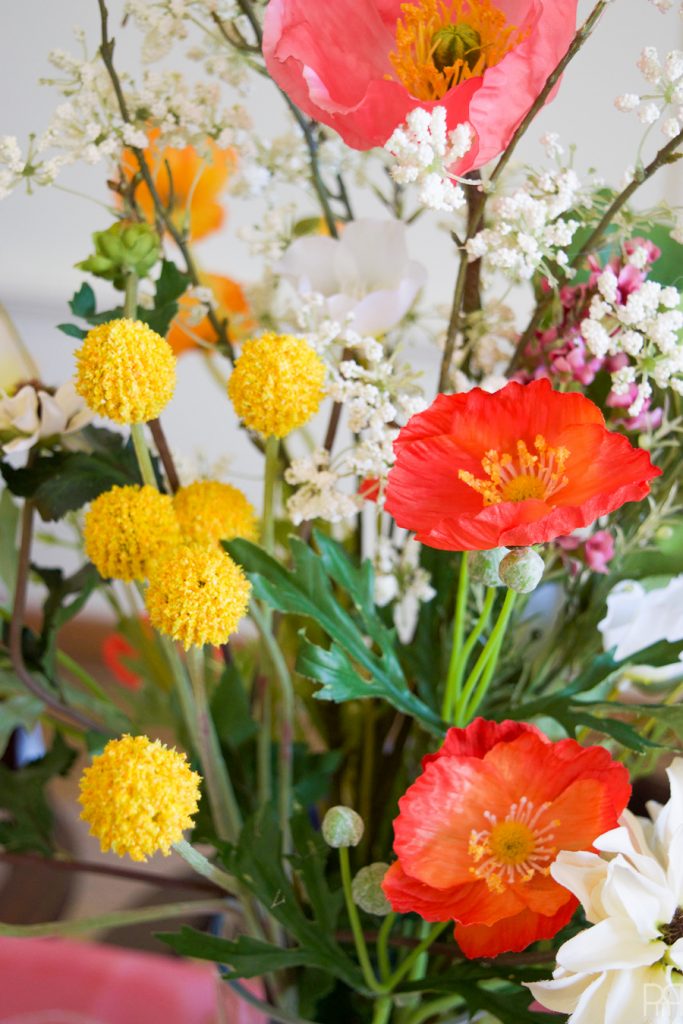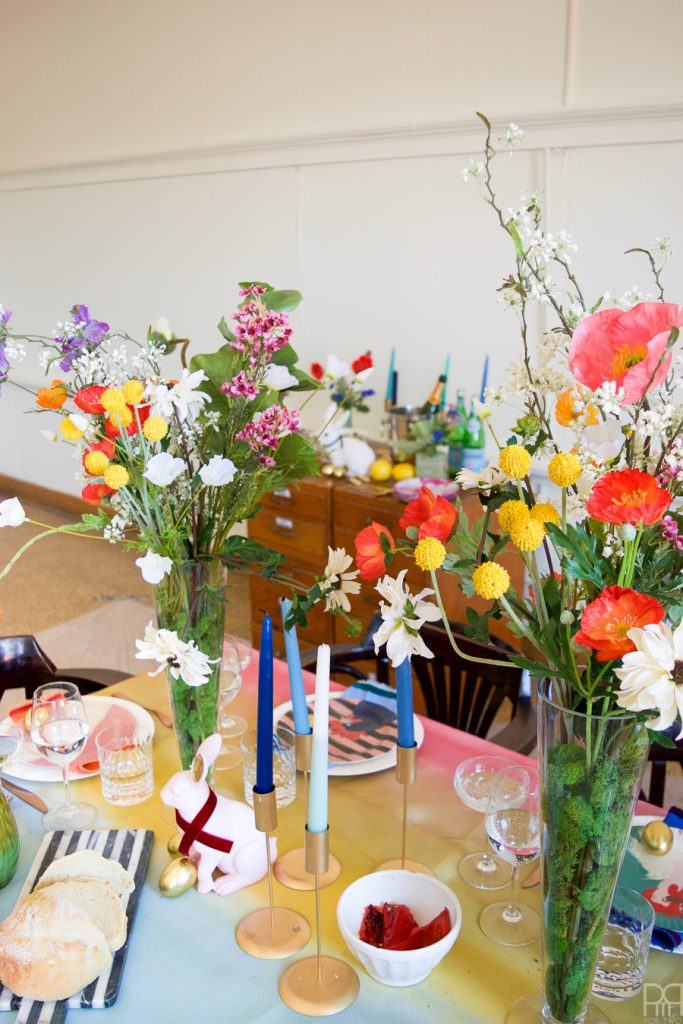 Florals used in the arrangements not previously listed: Daisy Silk Flower Spray // Faux California Poppy in Creme // Mini Blossom Silk Bush in White // Reindeer Moss in Spring Green // 16″ Glass Taper Vase // Artificial Waxflower Spray in Mauve Pink // Artificial Sea Grape Tropical Leaf // Silk Cosmos Spray in Purple // Silk Poppy Stem in Pink 30″ // Artificial Yellow Billy Button Spray // Artificial Poppy Flower Spray in Orange // Poppy Silk Wildflower Spray in Orange //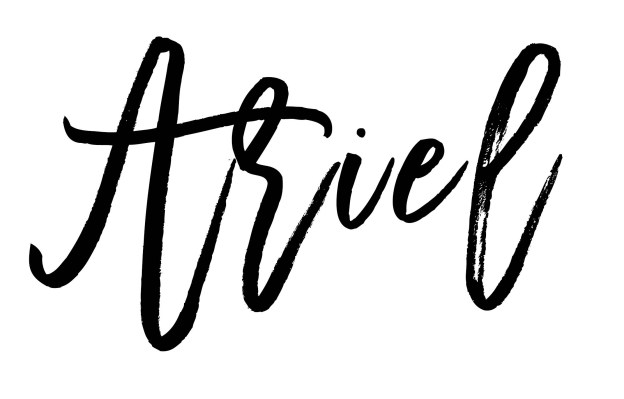 Monday
Everyday Living // Home is Where The Boat Is // Hunt and Host // Up To Date Interiors // Salvage Sister & Mister
Tuesday
Life and Linda // My Kentucky Living // Etched in Colloquy // Living With Thanksgiving // Charleston Crafted // The Bajan Texan
Wednesday
Sweet Sensations // Belle Bleu Interiors // Our Crafty Mom // Fjolla's Table // Bluesky Kitchen // A Casa di Bianca
Thursday
Panoply // PMQ for Two // The Robin's Nest // Dining Delight // Celebrate & Decorate
Friday
Simple Nature Decor // Rosemary & Thyme // Cook, Bake, Love // From My Carolina Home