Okay so it's been a minute since I told you guys I was refreshing the master bedroom. You can read all about that // here //. A lot of things have happened between now and then, including the massive summer slowdown I wasn't totally prepared for, and all my favourite brand partners taking a breather before the next ORC. This means that progress has been slow to come, but there is progress nonetheless. In fact, I'm going to share some with you!
*MacKenzie-Childs sponsored this post, but all thoughts are my own. Thank you for supporting the brands that make PMQ for two possible.
p.s MacKenzie-Childs is currently having a summer sale and there are some really good finds in there! Check it out // here //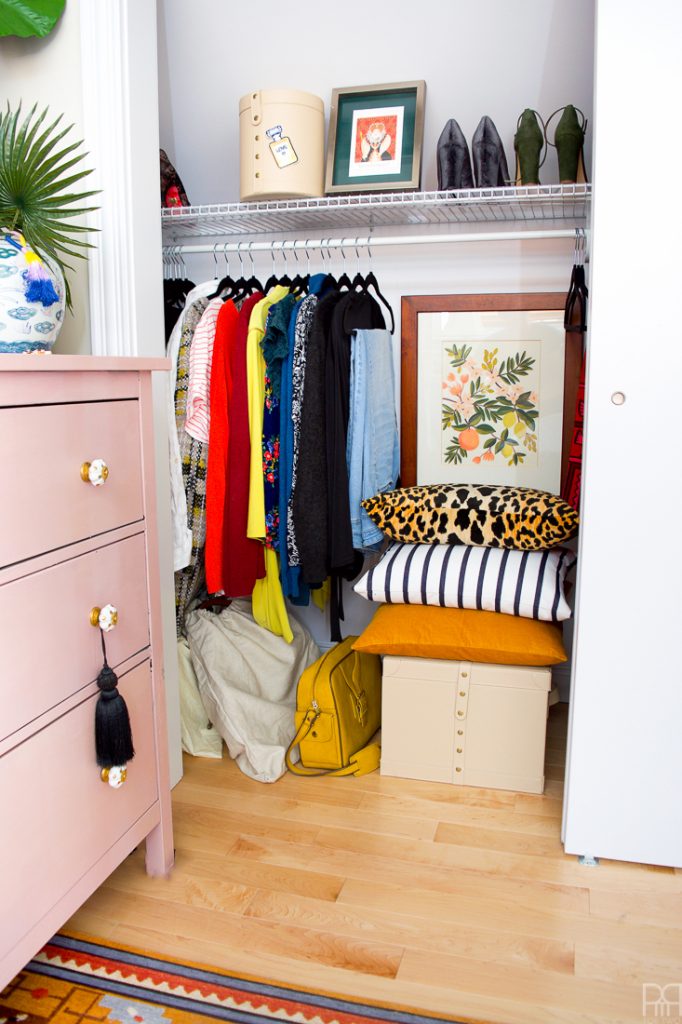 Do you remember back in the spring I shared a post about the 7 problems I needed to fix, otherwise I'd be photoshopping them forever? (if not, you can read that post // here //). Well, my closet was one of my biggest pet peeves, as was the laundry basket situation. You'll have to click through to that post to see some of the "before" photos, but goodness it wasn't good. Addressing a plethora of those issues was top of my to-do list this summer, and while I've been working away at them slowly in the background, I can legit talk closet and laundry progress. Paint, lighting, bedding etc. are all for another post (soon!).
If you've been following the blog and watch my Instagram stories with regularity you'll know that I like the weird finds. The stuff that you see and say "really?" That stuff speaks to me on a whole other level because I see its potential and how it fits into my own universe. That was exactly what happened when I saw the Zebra Hamper from MacKenzie-Childs // here //. A few accounts I follow on Instagram and been sharing their MacKenzie-Childs finds recently which piqued my curiosity and sent me browsing, which is when I stumbled across Wilfredo.
Some of my favourite finds on their site are this bow chair // here // The Christmas Moose Topiary // here // The paper napkins // here // and the bibelot tassel in Peacock & Moss // here //
He didn't have a name at first, but after the unboxing and his grand introduction to the world, he was named Wilfredo (it suits him eh?). Well, Wilfredo is just about the coolest laundry basket you could find. Not only is it sturdy and of craftsman-like construction, but it's super useful. It holds a full week's worth of laundry – which I was slightly concerned he wouldn't – and the bag inside the basket with loops makes it easy for me to bring the bag downstairs (and not Wilfredo).
This hamper would look equally good in a nursery or child's room, but he is a resident of our master bedroom and proudly so. Dan was initially concered that Bruce (the dog) would be terrified of him and that we would have to add it to his long list of things he scared of. Not the case though! Now that we've had Wilfredo in place for a few weeks now it's as if he was always here, and the memories of my ugly grey Walmart hamper are fading quickly.
Now, why did we need a new laundry hamper? Why not just hide the existing one in the closet? Well, for that we would have to have space in the closet. See, our master bedroom is mostly a regular regular footprint, but in the closet the wall is at a sharp angle and cuts the amount of space we would normally have, in half. That means low racks and one shelf. Dats it. Given that Dan and I seem to have more clothing than is necessary (even after a million purges) we just didn't have the space for a basket.
When I embarked on the master bedroom update I also decided to do something about the closet. I painstakingly sorted through clothing, sold some, donate the rest and have kept only what fits. Given that Dan and I also share a dresser (did I mention that our bedroom is small?) I now hang most of my clothes and keep gym stuff, unmentionables and sweat shirts in the drawers.
pillows from Tonic Living // here // & // here //
To help bring some continuity to the closet, I bought 100 no-slip velour hangers from Wayfair // here //. I had been eyeing them for a while, and wanted to upgrade from our missmatched plastic and metal hangers.
Now everything a more uniform look, and I know nothing will slip and land in a pile at the back of the closet – doomed to months of cat hair and cat naps from Dr. Tobias (one of the cats).
I also grabbed two trunks from HomeSense to use to store my bags that didn't have dust catchers. The bigger ones are in the big trunk on the floor, and the evening purses are in the canister on the shelf. For my shoes, I purchased really thin acrylic sheets and laid them across the grating of the shelves. Now my heels won't fall through and it all looks more polished. I would have added a light (and still may) but there's no good place to put one.
The higher the heels, the closer to god (or something like that)
On Dan's side of the closet. he finally got a tie organizer. I repurposed of my jewelry boxes for his ties, bowties and pocket squares. The black boots go with his mess kit and usually have the spurs in them, but it's not a good idea to store them in the boots. I've also got all his cufflinks, his dress compass and pocket watch (for mess kit) neatly gathered in a glass bowl above a small storage box. They used to reside in the bathroom but have moved into a spot with more presitge.
The photo of me in a beautiful burl frame was done by // Framebridge // , and I'll have more on that later once it has found its forever home.
Time for a dirty secret, Dan has like 3x the amount of clothes shown in this pic and most of them are plaid shirts or a variation there of. I took them out for the sake of the photos, but lord! does flannel weigh a ton eh?!
Dan would never admit to me storing some of leopard pillows on his side of the closet, but hey! They've gotta go somewhere at night, and sure isn't on the floor. A good pillow deserves a decent place to rest.
The zebra hamper aka Wilfredo // here // was an impetus for much closet related change, and my clothes are better off for it. Not only are they organized & well kept, but they look so good on those hangers. I can't wait to paint, re-upholster some things, and put the finishing touches in this space. The "makeverover" feels like it's been going on forever, so to see it completed before early august is my goal. But then again, the summer slow down extends to me as well, and I'm really enjoying my time at the pool each afternoon.