Let's talk about rugs baby, let's talk about you and me, let's talk about all the good things, and the bad things that may be – let's talk abouuuuut rugs. This week we're talking about rugs – choosing a rug, caring for rugs, why I chose this one, and a few little One Room Challenge updates. If the One Room Challenge // here // had proceeded as normal this would be the point where we all reveal our rooms and be done with it. But because of the extension I've got an extra week to wax lyrical about my love of rugs.  Before I launch into my update this week, I want to take a minute and remind you to go check out all the official spaces // here // and check back on Thursday for the linking participants. This week I'm talking about our rug choice and how it ties the room together.
Catch-up on // week 1 // week 2 // week 3 // week 4 // week 5 // The Reveal
*Behr Paint, Rugs USA, Wayfair & Parima Studios  sponsored this post, but all thoughts are my own. Thank you for supporting the brands that make PMQ for two possible.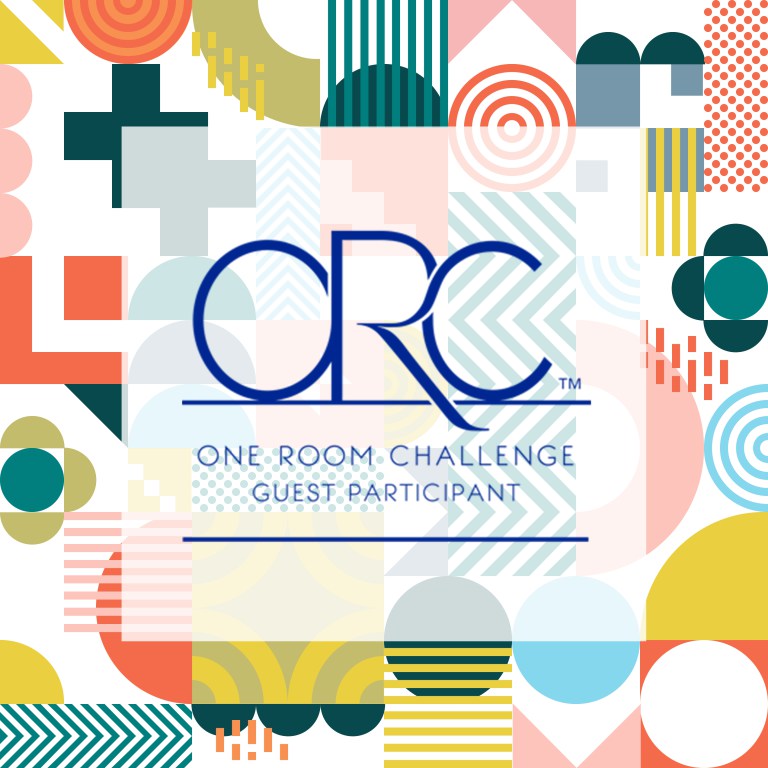 For the dining room I chose the Bosphorus Tecumseh Tribal Tale Triptych Rug // here // available on Rugs USA.
Unfortunately I've only got a few pictures of the rug in situ because I don't want to spoil the surprise. Next week you'll get to see the whole space, so I'm keeping it all under wraps until then.
But first, I'd like to take a minute and thank all my sponsors, without whom this ORC would not be possible! This week's update is especially thanks to Rugs USA.
So lets be frank, choosing a rug is kind of a daunting prospect. There are usually a few unassailable questions that race through your head, and upon which your purchase hinges: Will it be of good quality? Will it work with my existing decor? Will it match my other rugs? What about shipping from another country?
All of these questions are made even trickier when buying online because you don't get to see the rug beforehand, you have no way of knowing what it actually looks like and you won't get to touch it until it arrives.
This is now my 5th Rugs USA purchase, so I want to take a minute to lay-out a few things that I consider each time, and help answer any questions you may have. After all, I'm practically an expert at this point.
Mixing and matching patterns
I've got a lot of patterns going on, so when I'm looking at a new rug I not only have to consider the incoming rug's pattern, but how it will look next to the new ones. Because our home is so small, you can usually see one rug when standing on the other, so not only is cohesion key, but contrast is also important. I don't want the rugs to all look the same. This is why the  Bosphorus Tecumseh Tribal Tale Triptych Rug is perfect for the dining room.
Compare the  Bosphorus Tecumseh Tribal Tale Triptych Rug to the Chroma Mosaic Medallion Rug.
I also look at the range of colours, the key design elements, and pile.
When you look at the living room vs. the dining room rug, you can see there is a medallion, a boarder, a mirrored pattern, and blues, greens with warmer accents.
The two are similar enough to be complimentary without clashing, or looking so similar that you wonder if it's the same rug in a different color.
Understanding the rug in context of the home
It's not enough that two of the rugs match, the new addition has to fit with the rest of the house. When you look at the Bosphorus Tecumseh Tribal Tale Triptych Rug next to the other ones, you can see that the principles of mixing and matching hold-up on a house-wide scale.
Pictured: the Bosphorus Tribal Crosshatch Medallion, the Beeda Triabal Octagon Medallion Rug, the Bosphorus Tecumseh Tribal Tale Triptych Rug, and Chroma Mosaic Medallion Rug.
How do you judge the quality of a rug you've never seen? That's tricky AF! I'm not going to lie, taking a risk on my first Rugs USA purchase was just that- a risk. But it paid off. With that first purchase I was not only able to judge the quality of the weave and the pile, but also of customer service and the ordering process. I can only show your pictures and tell you how much I love it, sometimes you just have to judge things for yourself. I highly recommend you take the plunge though, worst case you return it.
Choosing the right size is the second most important thing to consider. You don't want to dwarf the room with a rug that runs from wall to wall, but you also don't want to put something so small that it doesn' t even fit under the couch and a chair. The general rule is that you pick a rug that will define the space your furniture will fill, with a little bit more on each side to give you some wiggle room.
The pile on the rugs I've ordered so far has been top notch for the price. The one in our living room has withstood a year of heavy foot traffic and pets, and you wouldn't even know it! There's no discolouration, no wear, no tears, and no theads have come lose. The same can be said of the rug in our bedroom, my office and now the runners in the staircase.
The one I've chosen for the dining room checks all the boxes on my list for the space. It's a great match for the rug in the living room (less than a foot away), it's big enough for the room and furniture in it, it fits with the rest of the house.
As you can see below, I'm playing around with the styling and figuring out where everything goes!
To Do List
Paint the walls – CHECK
Instal new light fixture – CHECK
Paint (or maybe reupholster) the dining room chairs – CHECK
Acquire and instal art – IN PROGRESS
Lay new rug – CHECK
Make roman blind for the window – CHECK
Swap light switch-plates – CHECK
Accessorize – IN PROGRESS