I said Brrrr, it's cold in here, there must be some clovers in the atmosphere! Thank you, thank you so much for getting my Bring It On reference. All joking aside, it is C-O-L-D outside, and I thought about whipping up a Brown Sugar & Cinnamon Hot Toddy using Jackson Morgan's Brown Sugar & Cinnamon Whiskey Cream. Sip Responsibly!
Check out my Toasted Marshmallow Salted Caramel Coffee & my Whiskey Peppermint Mocha Frozen Hot Chocolate & my Cinnamon Toast Coffee Cocktail & my Salted Caramel Cinnamon Pancake Coffee 
You may know the hot toddy under various different recipes, but really it's just a hot drink meant to clear your throat and light a fire inside. I made a Hot Toddy In A Jar kit too, if you're curious.
*Jackson Morgan sponsored this post, but all thoughts are my own. Thank you for supporting the brands that make PMQ for two possible.
During the cold winter months Dan, Bruce and I tend to stay inside, and play board games by the fire. We sip on our hot toddies and watch the snow fall, while hopping the heating bill isn't too high. We're pretty standard really.
Brown Sugar & Cinnamon Hot Toddy Recipe
You'll need a few things to put this one together, but chances are good you've got everything at home already. Phew!
You need Jackson Morgan's Brow Sugar & Cinnamon Whiskey Cream, a Cinnamon Spice Tea, and whipped cream. Presumably you have a kettle and access to water. Having a cinnamon stick to use as a stir stick never hurt either.
btw if you're crushing on my Jackson Morgan mugs, you can grab your own too!
How to Make a Hot Toddy
Start by putting the kettle on to boil. You start by steeping some tea, ideally something nice and spicy like a chai, apple cinnamon or spicy cinnamon. I used Harney & Son's Hot Cinnamon Spice ( a winter favourite of mine).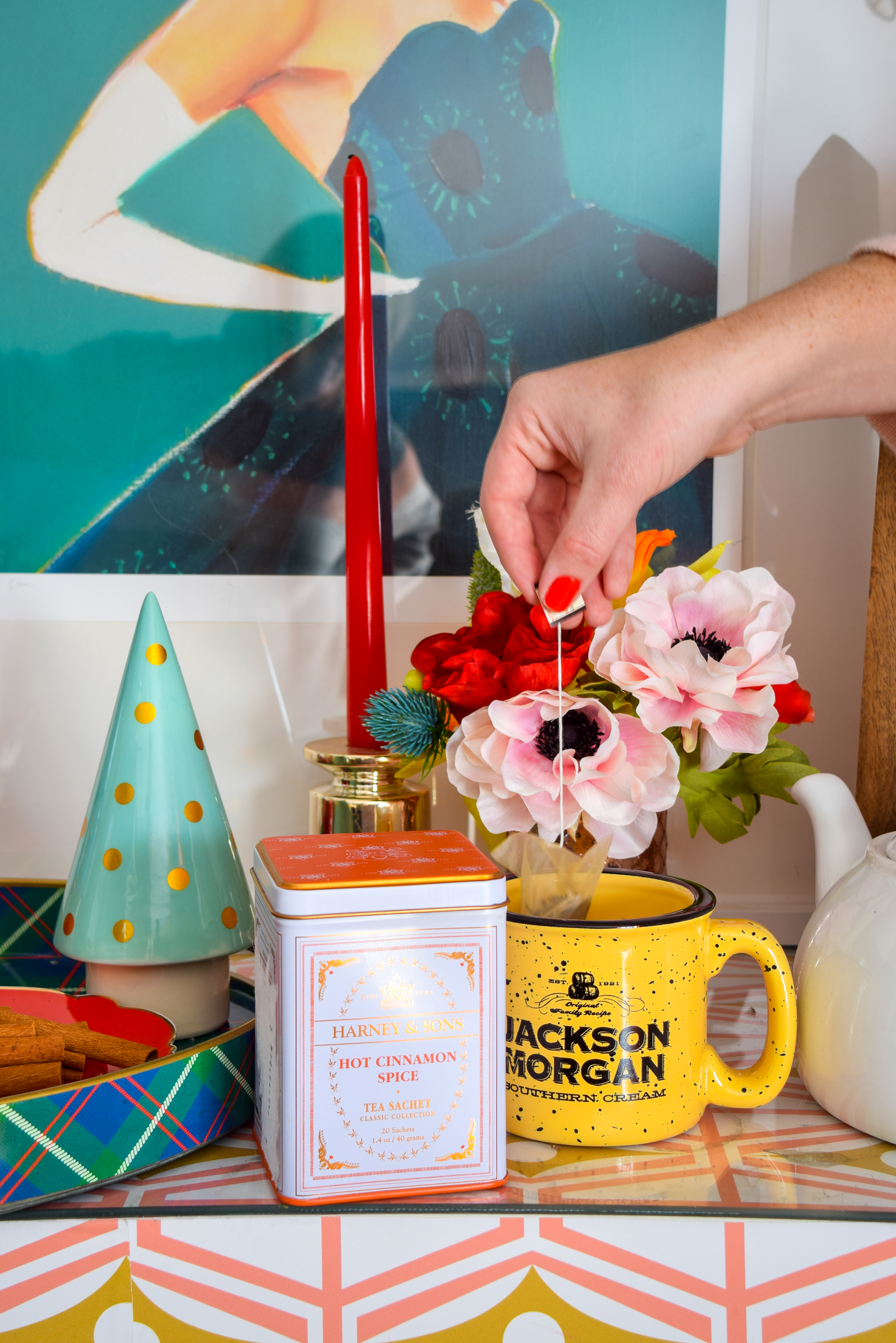 Once the tea has steeped to your ideal strength (I like the water to look dark), it's time add the Jackson Morgan Brown Sugar & Cinnamon Whiskey Cream! I added a 2oz shot. As soon as you open the bottle you can smell the cinnamon, and it's pretty much the best thing about the whole process (short of actually drinking your hot toddy).
Give it a swirl, and then top up the cup with hot water. An ounce ought to do it! You should then totally smother the Brown Sugar & Cinnamon Hot Toddy with whipped cream, and stick a cinnamon stick in "for taste." It's amazing.
I made one for myself, and saved some whipped cream for Bruce (I've created a MONSTER! He expects it every time now). This is a lovely spicy treat in the dead of winter, and a fun play on the Hot Toddy classic.
See?! He's just sitting there, waiting! What a goof.