If you've been following along on IG stories you'll have seen a few shots of some stunning flowers arranged in a variety of configurations. Weren't you the slightest bit curious?! Maybe not, I mean, I regularly feature beautiful things in my stories, not just close-ups of my sleeping pets, but I digress.
Catch-up on all the wedding posts:
Winter Wedding Centrepieces // here //
Winter Wedding Bouquet // here //
Winter Wedding Boutonnieres // here //
*Afloral sponsored this post, but all thoughts are my own.  Thank you for supporting the brands that make PMQ for two possible.
Here's why: My best army friend in the whole wide world is getting married on Saturday and I'm doing all her florals as a gift to her,
We met the same year we met our now husbands (soon to be husband in her case) while living in Kingston, ON and were partners in crime for my short year there. Despite the years, the postings and the distance, we've stayed remarkably close. We text almost every day and serve as a sounding board for the parts of our lives that are only interesting to people you've know that long.
When I found out she was finally engaged, I told her my skills were hers however she saw fit. She said she'd get back to me, and then didn't! Ha!
Well, since she's not registered anywhere and they don't want gifts, I thought I'd put my talents to good use and make her bouquet. A big beautiful floral bouquet was an indulgence she was willing to let me do for her, and then it all kinda snowballed from there. Next, she asked if I might arrange the flowers she was going to buy for her centrepieces, and during our discussions of what those should look like, I asked her if I could reach-out to a brand I love working with, to see if they might be on board for a wedding.
You'll remember Afloral from my beautiful fall floral centrepiece // here // and my Canadian Bloggers Christmas Home tour // here //. Afloral has always come through for me when I ask to partner with them, and the blooms never disappoint. Even if they hadn't agreed to partner I would  have still purchased my blooms from them because the quality is that strong. No word of a lie my friends, no word of a lie.
Afloral has an amazing selection of wedding florals // here //, as well as a large inventory of regular florals of all sizes // here //. They sell them by the stem, by the bunch, by the bouquet or by the group. They're a great option to have in your back pocket if you find yourself using a lot of the same flowers or colours since they don't really go out of style.
This week while I'm on location for her nuptials and tangent celebrations I'll be revealing the centerpieces, the bouquets and the boutonnieres, as well as a bonus wedding post, so if you've got a wedding planned soon you'll want to tune in for these.
I thought I'd also share our inspiration and mood board for the wedding, so make sure you pin the heck out of it!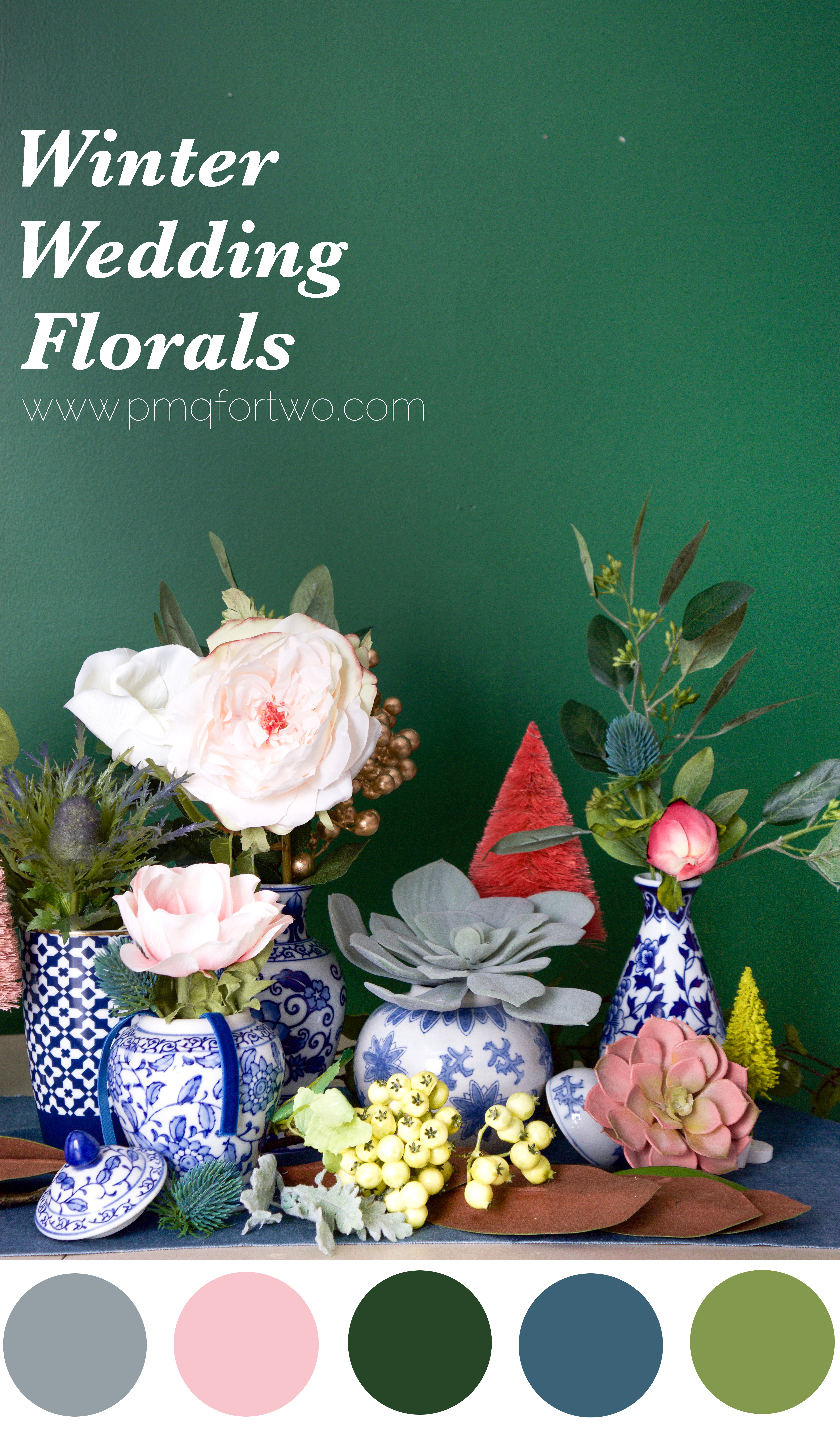 As always, I take almost all of my floral queues from the gentlemen over at Putnam & Putnam. They know florals!
For Tablescapes we were in agreement on lots of evergreen touches and accents. I wanted to add more saturated and darker hues (like in the shot above) but she wanted them to line-up more closely with the simple colours on the table, so that was out. We definitely tried to draw on natural shades and hues, with pops of blue and pink with candles.
In terms of boutonnieres we were in agreement that simple was best. Nothing too extravagant, and one bold colour – dats it, dats all.  If you know anything about me, you'll know that using so little colour, while not impossible, was not something I was used to. I think once you see the end result though, you'll agree that I did a bang-up job.
When it came to the bouquet we struggled at first to find the right mix of greens and blooms because she didn't want traditional blooms, and she also didn't want pinecones. So in terms of communicating "winter wedding" we were left with colours (blues and whites) and then the hard angular lines she was looking for came from the types of flowers and greens that we used. We were greatly inspired by these two images, in how they use colours and shapes to create dynamic and interesting bouquets.
p.s I definitely did not intend to recreate the One Kings Lane Putnam & Putnam shoot // here // when setting the scene for my own, but it just kinda happened didn't it.
p.p.s if you want some serious eye candy you'll follow their IG feed // here //
If you were doing a winter wedding what colours would you be sure to include? What about flowers or stems? Leave me a note and let me know!