Travelling. Let's all plan for when we can next travel! Beyond chosing a location, dates etc. having the right travel gear can make or break a trip with a toddler. So here's my UPPAbaby MINU stroller & TravelSafe bag review, to help you when it comes to making the right decisions.
*UPPAbaby sponsored this post, but all thoughts are my own. Thank you for supporting the brands that make PMQ for two possible.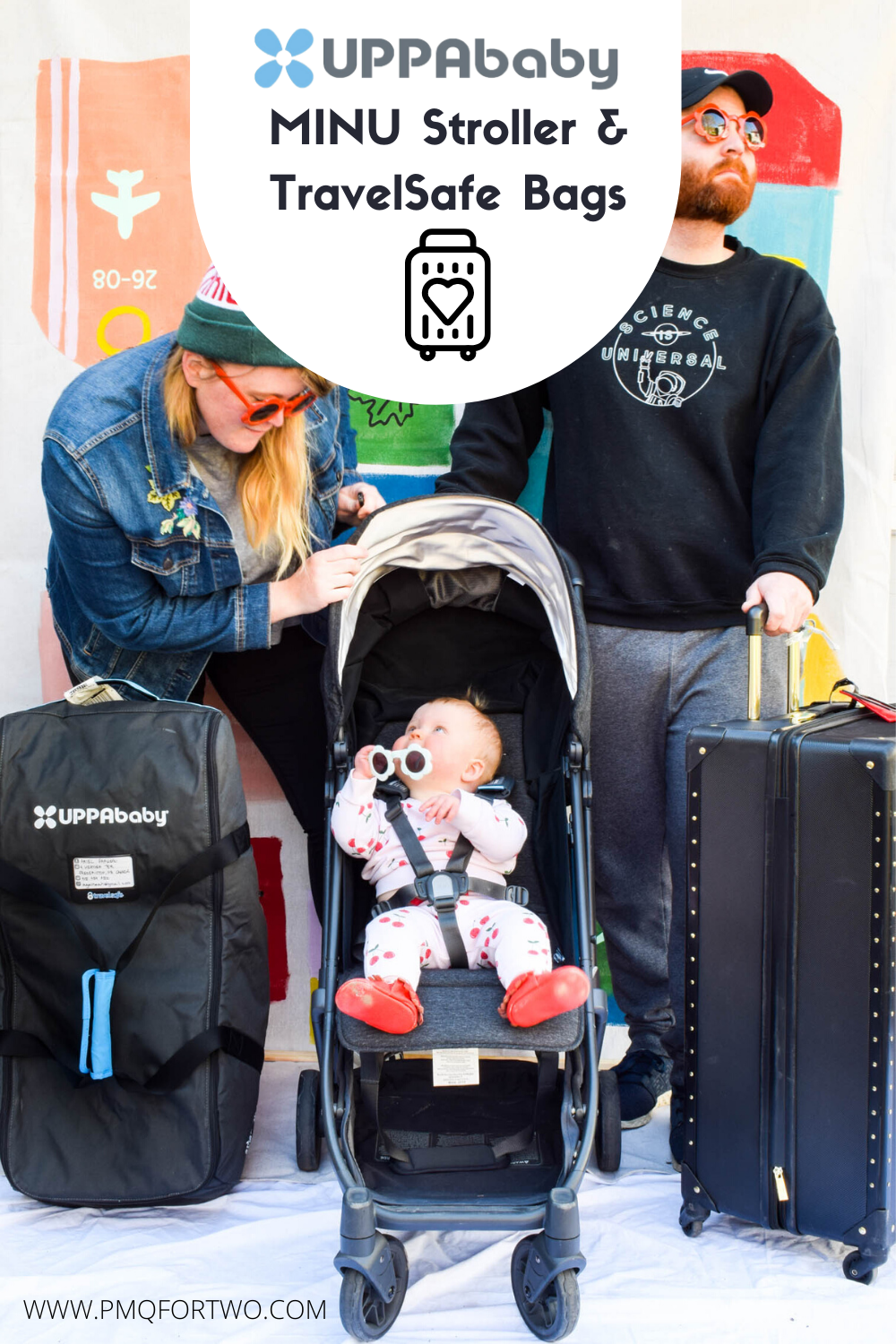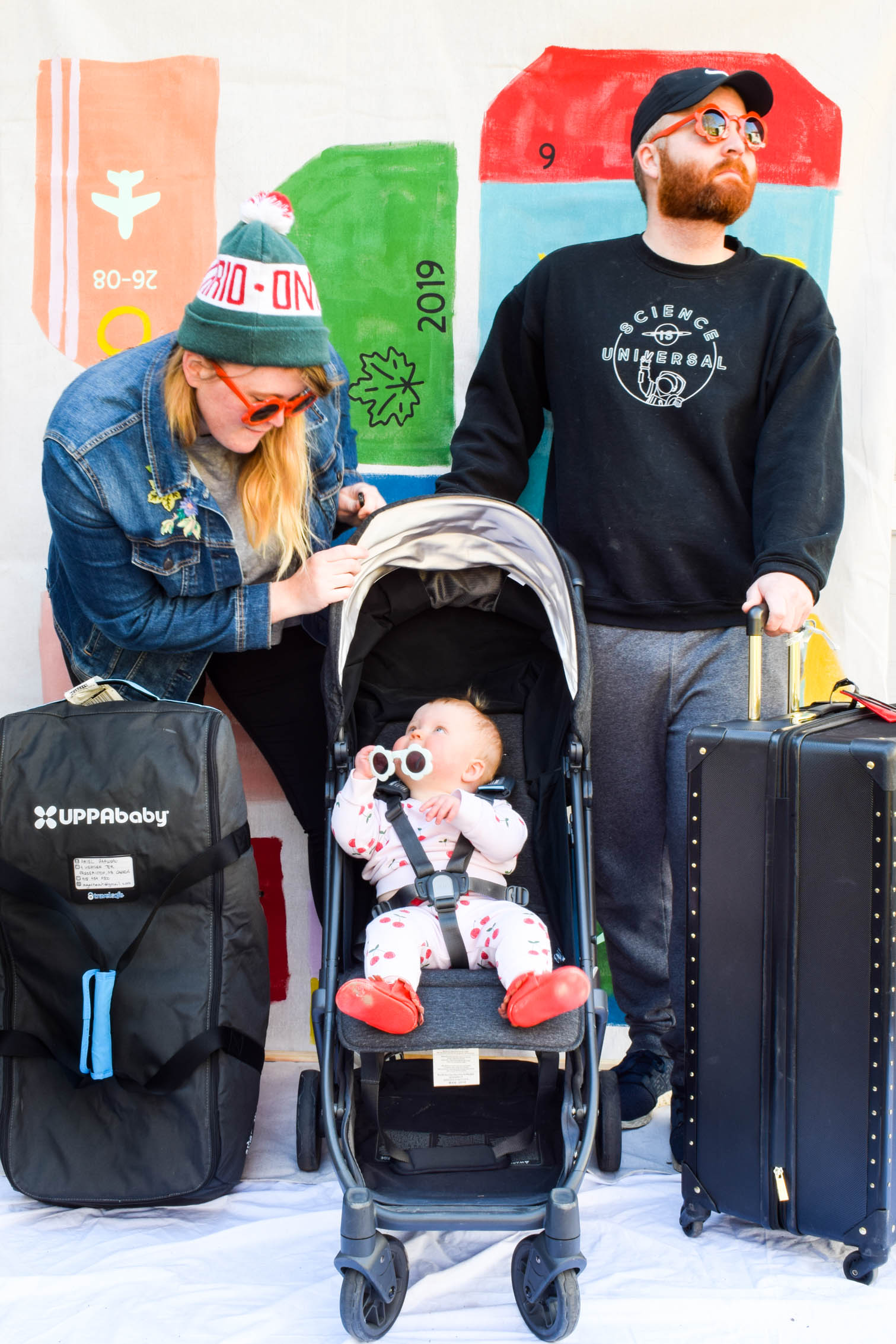 The many faces of travel with a toddler. It's exhausting, rarely smooth, and involves way more gear than you would have thought necessary.
The good news is, good gear makes it all much more bearable, which is why we looked to UPPAbaby for our travel arsenal.
Why we chose an UPPA baby travel stroller
We have the UPPAbaby VISTA stroller, and absolutely love it. It's been an ease to use, and has functioned in all seasons and possible scenarios. We couldn't be happier! So it was kind of a no-brainer that we would look the UPPAbaby brand for our secondary stroller.
While we could try and travel with the VISTA, looking for a smaller, more compact model to zoom around airports, hotels, and foreign cities, felt like the best option.
Not only were we already familiar with the brand and trust the quality, but they have a Travel Safe system and series of products.
The Travel Safe program was honestly the biggest draw when choosing a travels troller system. Instead of reiterating, I'll just quote from their site directly:
Our TravelSafe Program guarantees your UPPAbaby stroller, car seat, RumbleSeat, or Bassinet during air travel! Wherever your travels may take you and your family, we have your UPPAbaby gear covered. With our TravelSafe Program, you can gate check your gear without worry. Simply register both your gear and your Travel Bag before your departure, and any damage incurred during air travel is fully covered by UPPAbaby, under the terms of your original warranty.
Grab all the details about the UPPAbaby Travel Safe program on their site.
Travel Safe Travel Bags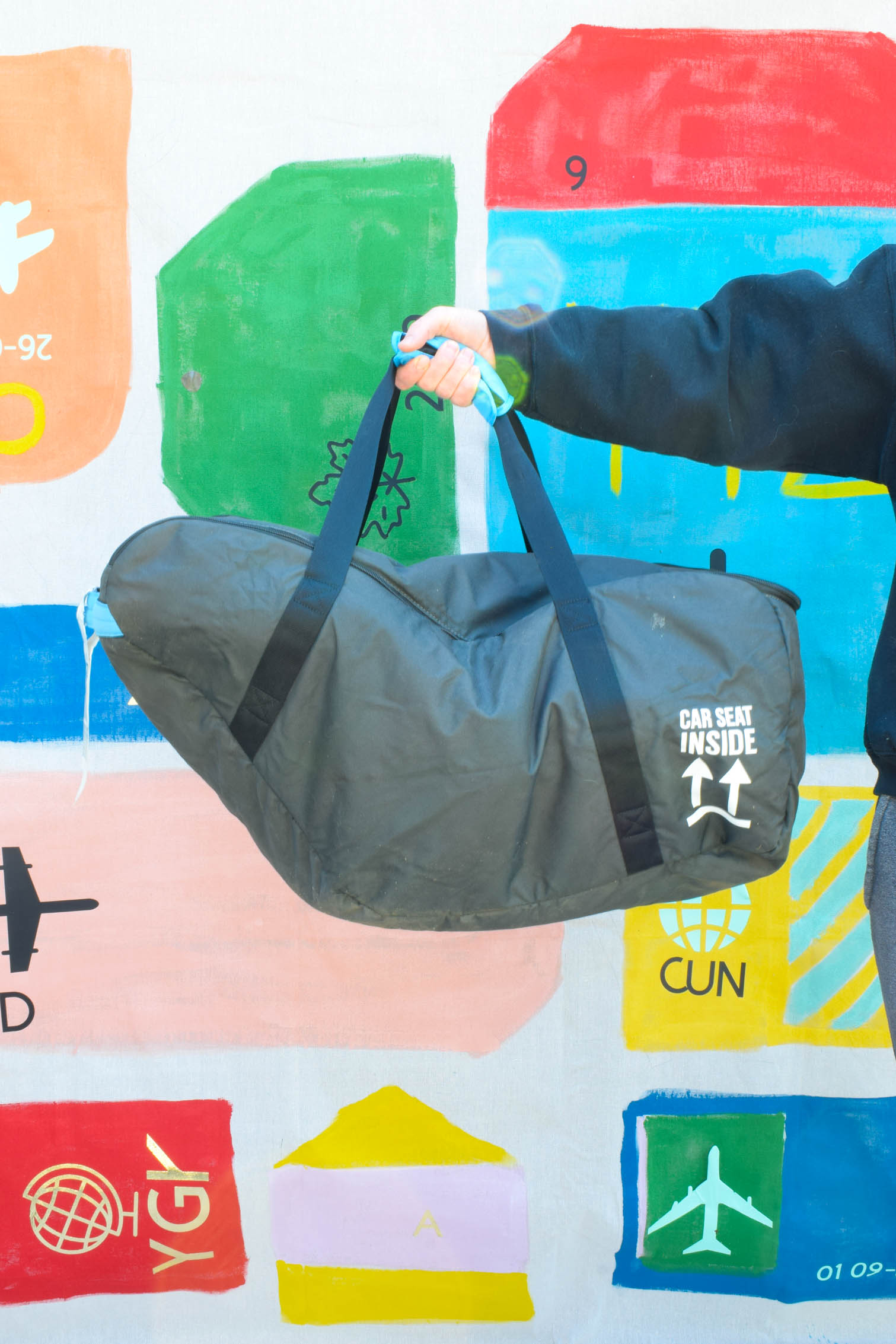 We got the TravelSafe Bag for our MESA car seat, because we had planned to check it for our shorter flights. For longer flights, we bought JB a seat so that she could nap and spend some time the safety of the MESA, instead of my lap.
And we all know that the car seat is the most important part about travel, so knowing that her car seat was safely getting from point A to point B was the most important part. And if for some reason it didn't make it in peace, we at least had peace of mind because of the Travel Safe program.
We also got the TravelSafe bag for her MINU stroller. It comes with a handy bag for the front wheels (which come off for travel), and has back pack straps that mean you can easily carry it down the walkway to the plane, ready for gate check.
Both bags have a giant illustration inside, that shows you how to load each item, and have sturdy zippers and handles for carrying. Perfect stroller? meet the perfect travel bag.
To be honest, no rhyme or reason why we chose the MINU over the G-LUXE, except to say the MINU checked all the boxes on our list.
What to look for in a travel stroller
We needed our travel stroller to:
have a reclining seat back for naps
have a 5-point harness
be easy to clean
be collapsable for easy stow (in a car, in a hotel room, on a plane etc.)
have a small footprint (have you ever tried to bring a stroller into a bathroom stall in an airport?)
have a basket that could fit our diaper bag
have a pocket for my phone/wallet/snacks
have a sun shield
have brakes
be easy to gate-check
be durable enough to see us through a few trips
Ya, we're demanding, but I'd rather buy it once than make a rash decision and not have it meet our requirements for a future scenario, ya know? Needless to say, the UPPAbaby MINU does it all.
Our UPPAbaby MINU Stroller & TravelSafe Bag Review
So here it is!
The stroller is lightweight, versatile, and gets the job done in a variety of scenarios. June is comfortable in it, and has even napped in it while in a busy airport.
We took it on the subway, on escalators, in elevators, in bathroom stalls, and up and down stairs. It survived city life, and travel life.
It folds down easily, and stays closed when folded. My only point against it, is that the little latch that keeps it closed, almost does too good a job. When opening it a few times, I couldn't get it on the first go. This is a minor inconvenience in the grand scheme of things, especially since it didn't get collapsed a whole lot.
The strap on it means that if you don't get the TravelSafe Bag, you can still cart it up and down stairs or to the gate check, with ease.
While many of our travel plans are currently on hold, we've used it to jet around town when convenient, and could easily lend it to visiting friends and family in case their strollers aren't as cool as ours.