Hello friends! Most of you are probably gearing up for Thanksgiving dinner this coming weekend, so I thought I'd give you a sneak-peek of what our thanksgiving dinner table decor will be! Hint – there are pumpkins.
In case you haven't surmised, I am a woman who enjoys seasonally flavoured beverages at Starbucks. It's pumpkin spice latte season y'all. *the pumpkin man gif will be important to the rest of the post if you read on. I promise!
Taking the pumpkin theme and running with it; I think I crammed as many pumpkins in as many different styles and textures as I could, into this year's thanksgiving table decor. I've got plastic pumpkins, ceramic pumpkins, mercury glass pumpkins, beaded pumpkins and real pumpkins! Goodness gracious, there are a lot of pumpkins on this table. Do you want some pumpkin with your pumpkin?

The table decor this year is so cheery and bright and layered with textures; it's a veritable feast for the eyes, so enjoy it! If you've had a fall like mine you'll be looking for joy and beauty wherever you can.
I added blankets on the chair backings not only for colour and texture, but because it gets cold in Quebec, and unit we wrap our windows there are a few strong drafts flowing through the house. Thanksgiving dinner or not, it can be cold.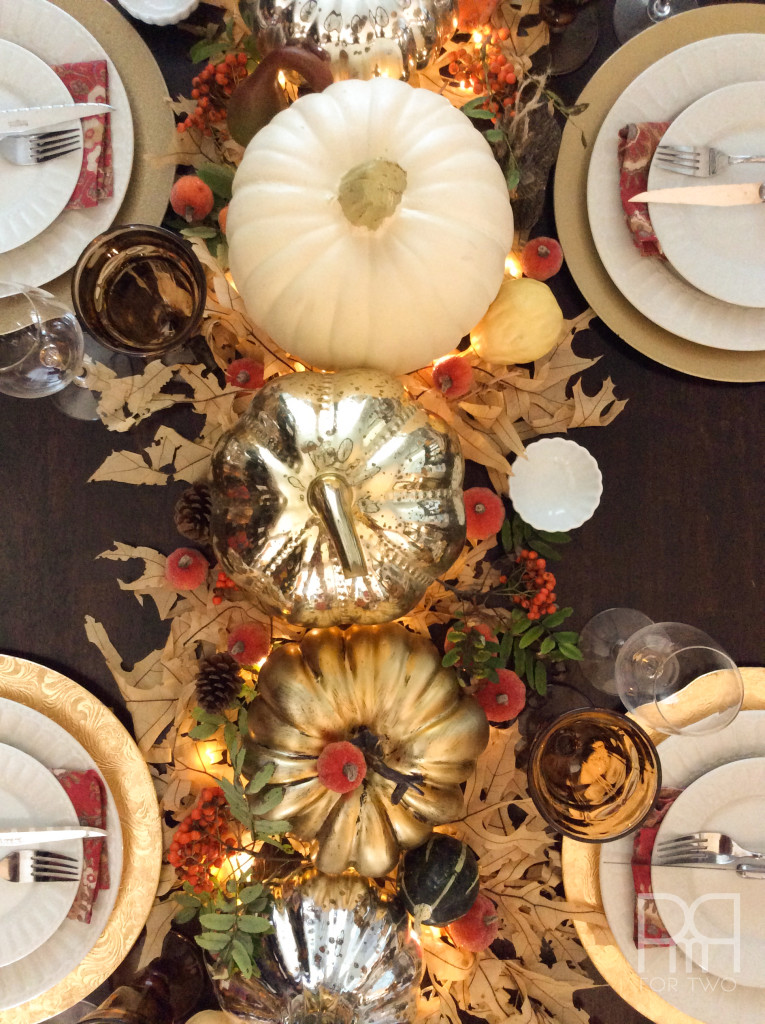 I've got a post lined-up for how to construct the centrepiece coming later, but for now enjoy the table in its entirety. And yes, those are mini LED lights under the leaves and foliage on the table. I opted to use the lights instead of candles to provide some warm light that wouldn't block sight lines.
Remember the deer from an earlier picture on instagram? Well here he is, wearing a bow and guarding a bowl full of… you guessed it… pumpkins!

What will you be doing for thanksgiving table decor?
Live boldly.