Okay, so earlier this week I unveiled the backyard component of the One Room Challenge reveal, but I felt like the front deserved its own little reveal party, so this is what this is! If you remember from Week 2 // here // you'll know that this space looked very different. What happened in the interim to get us to this point? A lot actually, and I could just pretend that week 2's iteration didn't happen, but it did, and I want to tell you why it looks so different.
Most of you will probably gloss right through this and just look at the photos- totally cool, just remember to pin stuff would ya?!
*HomeSense sponsored this post, but all thoughts are my own.  Thank you for supporting the brands that make PMQ for two possible.
If you haven't been following along, you should head back to the beginning and click through all of the updates to see what and why we did what we did.
Week 1 – introduction
Week 2 – front step
Week 3 – back step
Week 4 – dining area
Week 5 – lounge area
Week 6 – The Reveal pt.1
When I put all the mood boards together for the space back in Week 1 // here // I had originally envisioned this space with a s slightly more classic and refined vibe to it, with paired-down colours. I wanted to compliment the poop brown siding on our PMQ, not clash with it. Of course, this mood board was before we knew we couldn't paint the doors.
THEN, my plan changed when I walked into HomeSense. Btw have you heard about their #MyHomeSense contest going on right now? Tag them in a photo using that hashtag and tell them what you went in looking for, but what you came out with. That whole challenge essentially summarizes my situation with the front step.
As a curator of spaces /designer /decorator /blogger / person who lives in a shoebox, I am trying to be more coherent in my approach to decor. I've been saying this for damn near a year, but I mean it. I don't like going back to change a space because I didn't do it right the first time, no one does. I am however totally fine updating a space because it needs a refresh. So with all the time and money I had for the ORC I wanted to get it right. However, when I started shopping for the ORC there wasn't much available in store yet, and nervous I would not get a coherent look, I shopped what was there.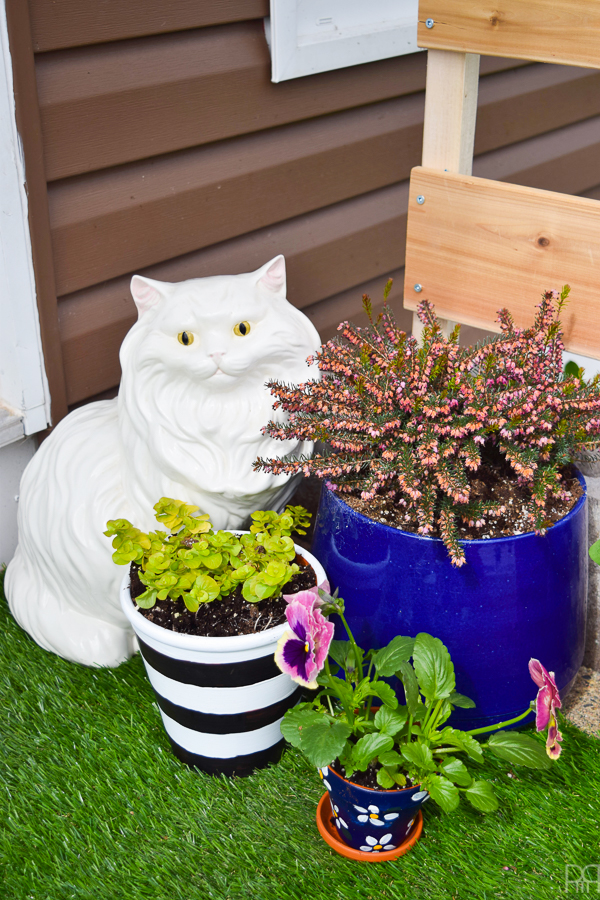 p.s can you see a cat and a dog in the window?
The painted daisy flower pot tutorial // here //
I obviously went back a million times, and with each trip my design for the spaces became more coherent. I made a mistake in buying my plants too soon though, because some of them are now dead and others just don't work outside in New Brunswick. This mean that some planters have come inside to find a more permanent home, and others got swapped around to the back.
When it came time to shoot the front step for the reveal // here //, nothing looked quite right. So, I decided to put a pin in it and go back to the drawing board in the hopes of mixing some things around. That's where this new space comes from.  I added a small privacy screen to mirror the back, incorporated more blues and whites (because that's what's going on in the backyard) and toned-down the plants a bit.
*Gorgeous dog not included.
*The following product links contain affiliate links. Thank you for supporting the brands that make PMQ for two possible. For my full policies click // here //
I've added a grass front rug – snagged at HomeSense for 29.99$ (SCORE!), another garden stool, and some new planters. The blue mailbox is actually something I purchased off Wayfair // here // and then used Krylon Colour Master Spray Paint (in Gloss Bahama Sea 453549) to give it a fresh colour.
The house numbers are a DIY using FAT paint and Floating MCM house numbers from Amazon // here //.
The front door can't be painted, I'm dealing with brown siding, but at least the blue calms the brown and looks a bit classier eh?
Fun story, Bruce stood on the other side of the door and yelped, barked, whine and cried until I let him come out. All he wanted to do was sit and have his photo taken apparently! What a ham! Either that or he wanted to see the white ceramic kitty cat that used to live in my home office.
Thanks for playing along guys! And thank you once again to my sponsors for supporting me through the ORC!