*Ashlyn of The Pedantic Foodie will be headlining a seasonal food series here on PMQ for two. She creates mouthwatering recipes on her site, and they're always full of colour and tastes. Her fall recipe line-up looks divine. I like to think she cooks the way I decorate – with all the flavours!
It is September, one of my very favorite months. As we slowly transition from summer to fall, we find ourselves in the delightful spot of in-between – carrying the last fruits of the summer in
one hand, while proudly toting a pumpkin in the other.
Pies are undoubtably a fall favorite, but I find that so many of my friends and readers are intimidated by the rolling, measuring, and weaving that a traditional pie entails. For this reason, I have assumed the role of cheerleader for that wonderful invention known as the pocket pie.
You may know them as mini pies, pocket pies, or hand pies, but no matter the title, these treats are always a crowd pleaser. And, their portable nature makes them ideal for a quick breakfast on-the-go.
For these pocket pies, I chose a few of my favorite flavors that not only reflect the gorgeous colors found this time of year, but the flavors of both summer and fall. Stone fruits, such as peaches, are rather late bloomers, so you can easily get your hands on some lovely specimens throughout September. Their flavor is so iconic to summer.
Rosemary and orange are two of my autumn go-to's. Rosemary brings such a warm, herbaceous fragrance to this medley, and orange zest brightens up all of the other flavors we have going on here. It is always a good idea to add some form of citrus to cooked fruit, just to liven up the flavors.
The trio is incredible. Unexpected, bright, and cozy – the perfect flavors to celebrate the coming
season as we wave farewell to the last. Pie crust can bring its own series of fears and reservations, but this recipe is pretty foolproof, and using your food processor makes the entire process a dream!
After you have made your filling and rolled out your pie crust, you will need to chill the pies after they have been assembled. This will prevent them from becoming the soggy, leaking disasters that we have probably all experienced at some point. The chilling sets the pastry and helps them bake a little more slowly.
Just before the pies go into the oven, give them a quick coating of egg wash and sprinkle them with raw sugar. The egg wash will help the crust to brown – giving us that coveted toffee-like finish, and the raw sugar adds a lovely bit of crunch.
Serve them with a scoop of ice cream, alongside a glass of lemonade, or shove a few in your purse on your way out the door. These pies will not disappoint!
Rosemary Peach Harvest Pocket Pies
Makes eight
Making the Pocket Pie Crust
Crust recipe adapted from The Four & Twenty Blackbirds Pie Book
• 2 1/2 cups all-purpose flour, plus extra for dusting
• 1 teaspoon kosher salt
• 1 tablespoon granulated sugar
• 1 cup cold, unsalted butter (cut into 1/2-inch cubes)
• 1 cup cold water
• 1/4 cup apple cider vinegar
• 1 cup ice cubes
• egg wash (1 egg whisked with 1 teaspoon water)
• 1/2 cup coarse raw sugar
Add flour, salt, and sugar to the bowl of your food processor and pulse to combine.
Add cubed butter and pulse 5-7 times, until the mixture is crumbly and the butter is in pea-sized pieces.
In a small bowl, combine water, vinegar, and ice. Drizzle in 2-3 tablespoons of the cold water mixture into the food processor and pulse one or two times. Continue this process, adding the cold mixture gradually, until the dough has just begun to pull away from the sides of the bowl.
You want just enough moisture to bring the dough together, but it should still be very rough and crumbly.
Turn the mixture out onto a floured surface and gently press to form a rough round of dough.
Divide the dough in half and form two discs. Wrap each disc in plastic wrap and refrigerate for 1 hour.
Making the rosemary peach harvest filling
• 3 ripe peaches, sliced very thin
• 2 tablespoons orange zest
• 2 sprigs rosemary
• 1 cup granulated sugar
• 2 tablespoons fresh orange juice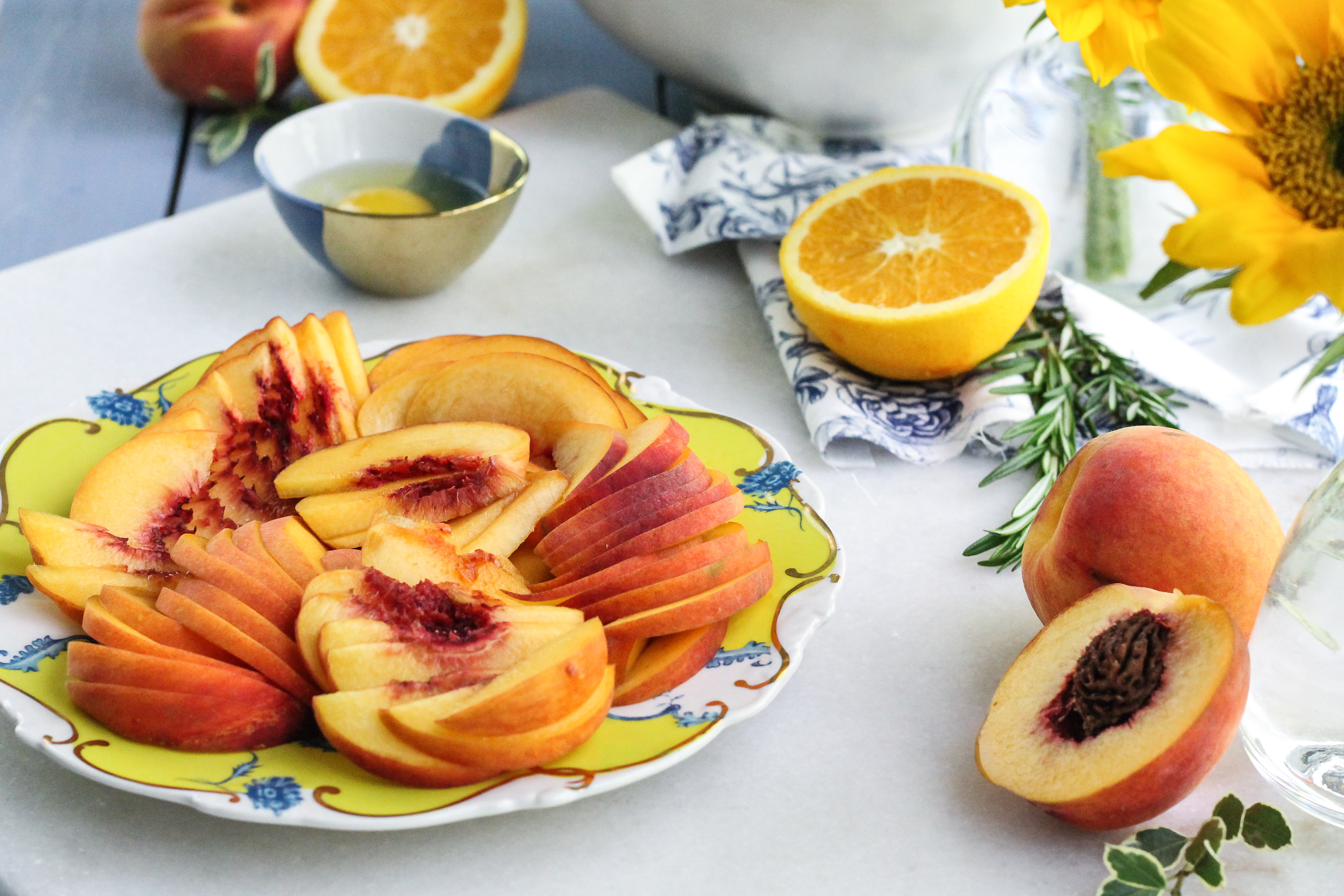 Combine orange zest, rosemary, and granulated sugar in a medium bowl and use the tines of a fork to press the zest and rosemary into the sugar, releasing the oils.
Pour the sugar into a large, nonstick skillet, along with the fresh orange juice. Place over medium high heat and allow the sugar to melt, stirring every so often so that the caramel cooks evenly.
Once the sugar has melted and the syrup is bubbling, add the peaches and cook for 3-5 minutes; until the peaches are soft, but still intact. Remove from heat and allow to cool until just warm.
Assembling and baking the rosemary peach harvest pocket pies
Preheat oven to 375 degrees F. Line two large baking sheets with parchment paper.
Dust a clean, flat surface with all-purpose flour. Place one disc of the prepared dough in the center and roll into a 10×8 inch rectangle, trimming away any rough or uneven edges. Move to the side and repeat with the second disc of dough.
Use a sharp knife to cut each rectangle in half lengthwise, then slice from top to bottom, forming a total of sixteen 8×2 smaller rectangles.
Place a spoonful of filling down the center of half of the rectangles and top with a second crust. Use the tip of a fork to seal the edges. Use a sharp paring knife to cut three diagonal slats down the center of each pie.
Lay the pies on the lined baking sheets and place in the freezer for 10 minutes. This will set the pastry. When the pies have set, brush with a layer of egg wash and sprinkle with raw sugar.
Bake for 20-22 minutes; until the pies are golden brown. Transfer to cooling racks and allow the pies to cool completely before serving.
Enjoy!