Halloween is my jam! Until Christmas, and then Christmas is my jam. Is it little wonder that I would have banging retro halloween porch decorations? Nope. Our retro house has got a completely different entryway/porch situation than our PMQ did, so I took full advantage to create a spooky, colourful and retro scene full of goodies from Spoonflower and the local pumpkin patch.
Grab one of my Motell 666 Keychains while they last!
Check out my other retro inspired Halloween Projects:
DIY Ouija Board // Easy To Sew Apron // DIY Witch Silhouettes 
*Spoonflower sponsored this post, but all thoughts are my own. Thank you for supporting the brands that make PMQ for two possible.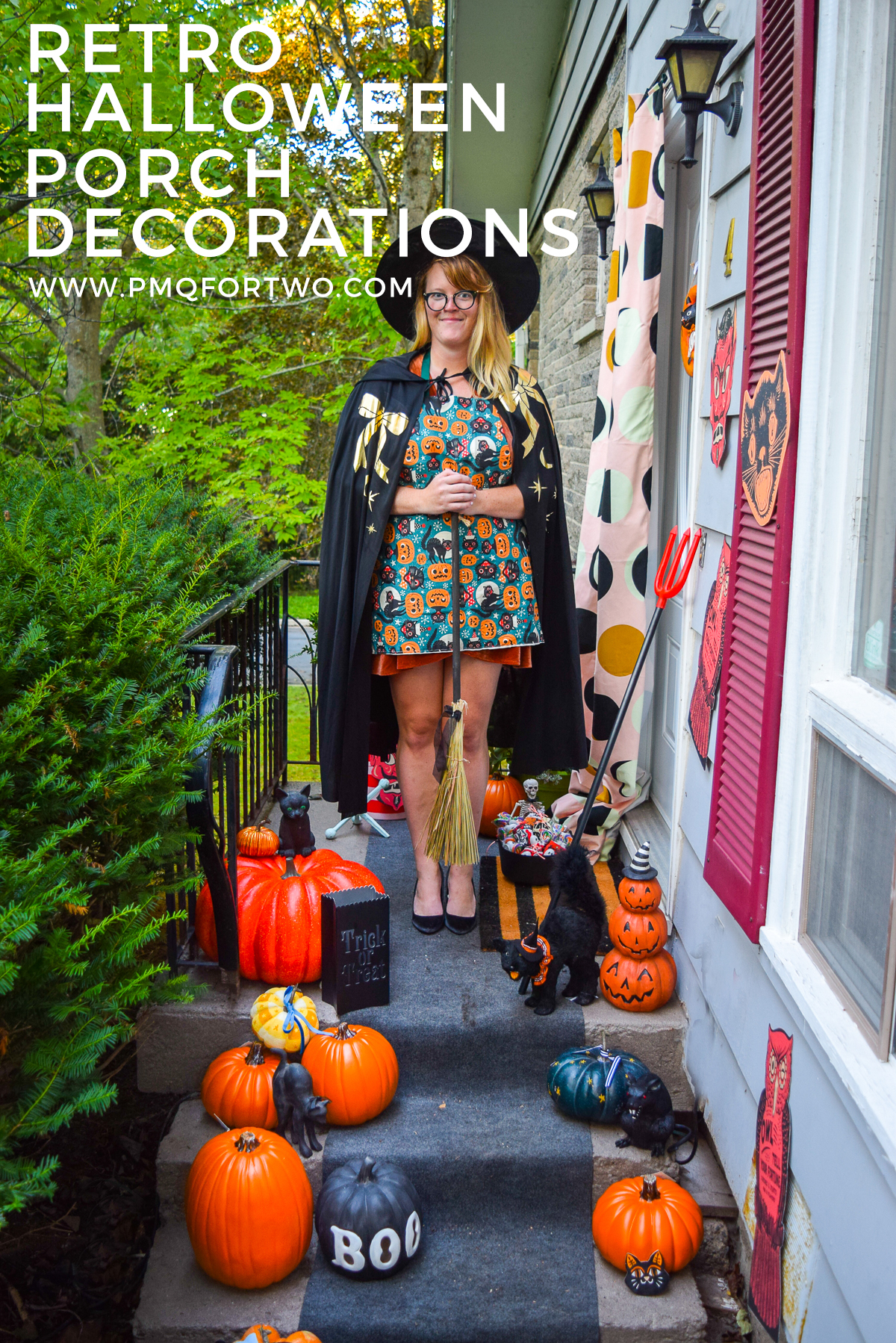 Bruce was present and accounted for, as always. He wore his new Halloween bandana that I made for him. I used this easy to follow tutorial from the Spoonflower blog. As a puppy, Bruce used to wear bandanas all the time but somewhere along the line we stopped making them for him!
I used Bats & Jacks pattern from Spoonflower in a lightweight twill, and ordered a fat quarter.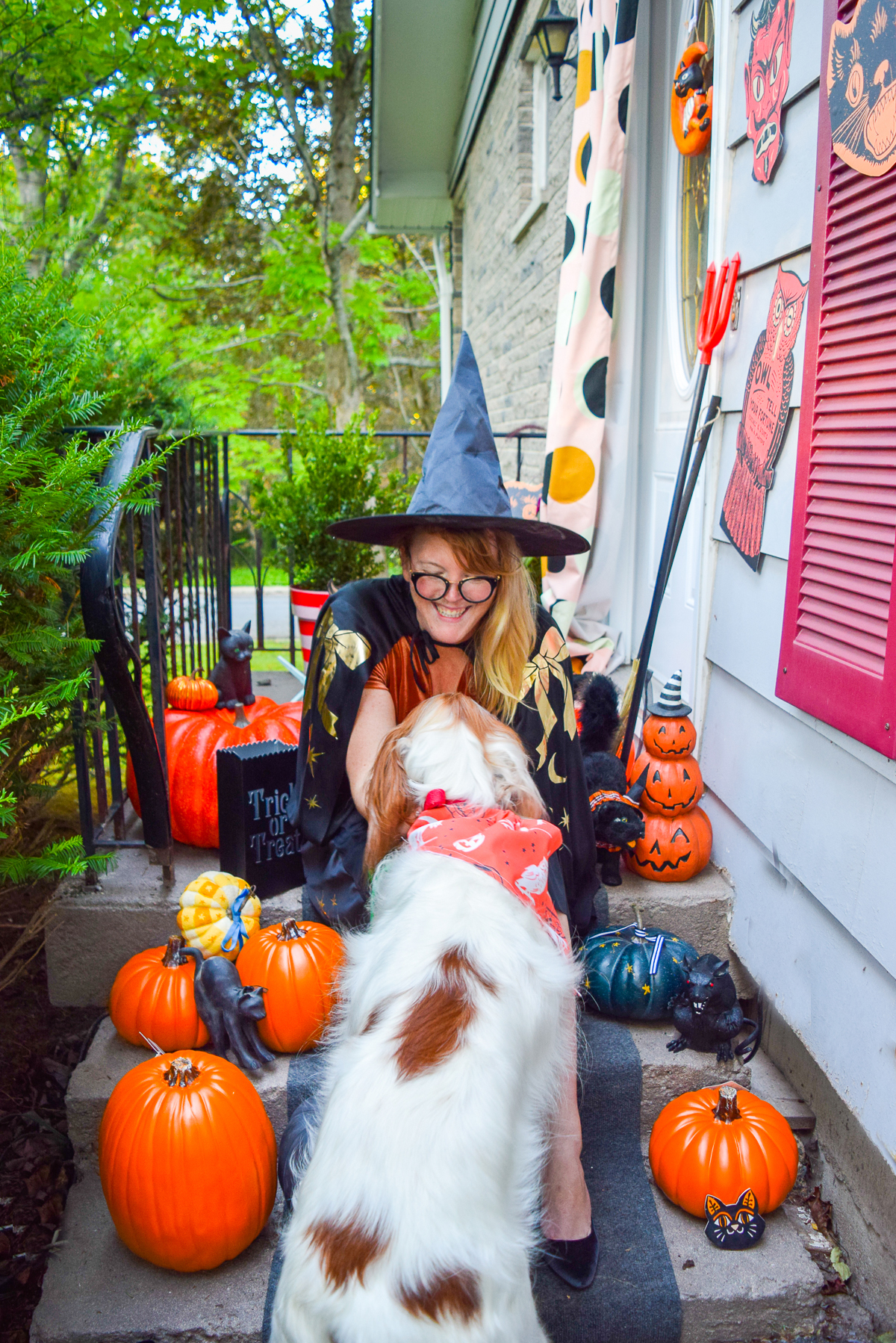 How To Create A Retro Halloween Vibe
Keep it simple with orange, black and white. All of the fun callback images you see from Halloween past (and even Halloweens from my childhood) were super simple – just orange, black and white.
You'll get the orange from pumpkins! Layer all of the pumpkins! I love all the fun shaped ones, but for this look, standard orange pumpkins is what you need. Mix
I brought in orange and white (and a smidge of red) through accessories like pumpkins, cats, a broomstick etc.
You Need Retro Accessories To Compliment The Decor
How cute are these treat bags?! Stay tuned for my post about those, and in the meantime, you get to admire their adorableness.
Remember my easy to sew apron from last week? Well I totally plan on wearing it to dole out candy. The fun retro print is colourful, playful, and looks right at home surrounded by the rest of my decor.
DIY For The Retro Vibe
The other fun element here are the giant house decals! They're removable wallpaper, applied to thing vinyl sheets, and then applied using 3M command velcro strips. Easy peasy, tutorial at a later date as well. If you're eager to get started though, grab the print on Spoonflower.
Let's not forget about my amazing Moon Phase curtain either! It's on display in the studio's entryway as part of a vignette for my DIY Hocus Pocus Mirror, but I think it works perfectly here. It will help keep all the warm air from escaping each time I open the door, and it looks adorable.
I hope you're not sick of seeing my DIY Mystical Witch Cape, because I am definitely not done showing it off. After I made it last year I didn't really get a chance to use it much, so I was more than happy to whip it out a bit earlier this year.
Get Your Pets In On the Decor!
Like I said before, Bruce got a new bandana. Since he's usually the first person to greet the trick-or-treaters, he should be dressed to the nines. He should also match the decor. ha!
That being said, I wanted to share with you guys what all those little kids will see – so coming at you, is Bruce cam!