Today I'm participating in my 3rd and final post of this week – a blog hop for wall treatments that AREN'T shiplap. Down with shiplap! Enough with it already. It's only appropriate in historically valid homes, and even then, use it sparingly to allow its beauty to shine. Because I live in a PMQ, i.e a rented home (because no one owns base housing) I've created renter friendly tiled wall for our small upstairs bathroom.
*Aspect Tiles provided the product for review, but all thoughts are my own.  Thank you for supporting the brands that make PMQ for two possible.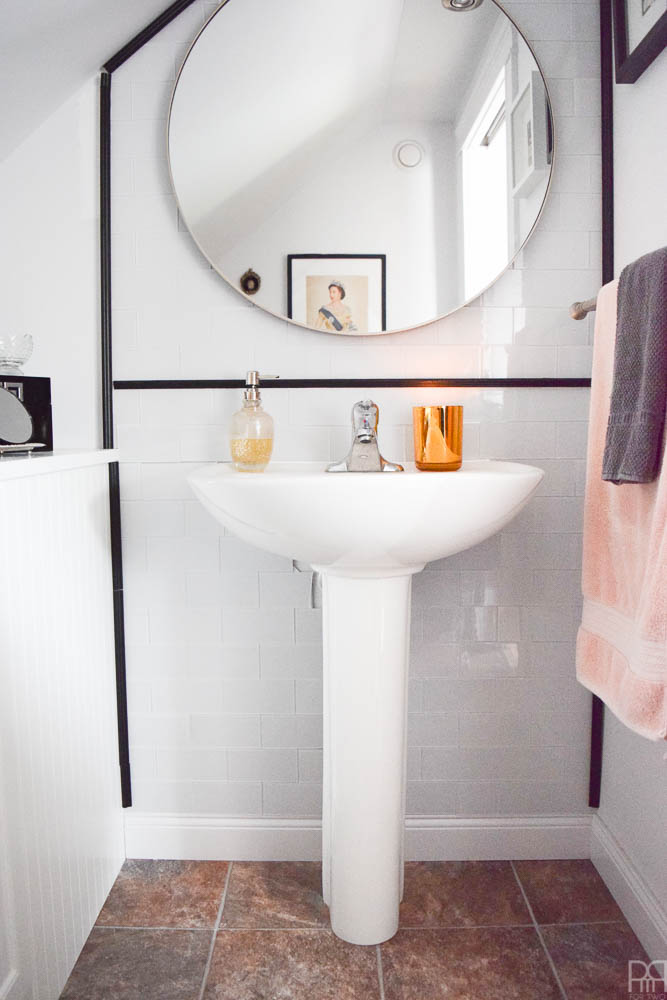 A while back I fell in love with Aspect Tiles' peel & stick glass subway tiles. As a renter, I loved the idea of something I could quite literally peel and stick. However, as a renter, I did not love the idea of having to put fresh drywall in after removing them for our march-out. No thank you. So what did I do then? Read on to find out.
If you're joining me from This Is Our Bliss, Sharon Joyce Interiors, Domicile 37 or Amber Oliver – welcome! My name is Ariel and I am a Canadian military spouse making each of our base housing units, a home! I offer accessible and affordable, home decor and DIYs. If you want to: know what a PMQ is click // here // a bit more about me click // here // and to see my project gallery click // here // Don't forget to sign up to // The Newsletter // sent out every Sunday at 9:15pm. It's like a whole other blog post!
Materials
Foam core boards – I needed four (20″ x 30″)
Hammer and finishing nails (1″)
20 square feet of Aspect Tiles – or any other peel and stick tiles
Glass tile cutter
GE Silicone 1
GE Silicone caulking in white
Wall trim – I had a colonial design, and then one they call the "sausage." I got 'em all at Home Depot.
Black paint – I used Behr Limousine Leather MQ5-5o
Paint Brush
Step 1: Measure the wall you want to cover.  Your measurements are for the foam core that will be covering the wall, so make sure you include and counter tops that jut into the space, awkward angles and light fixtures.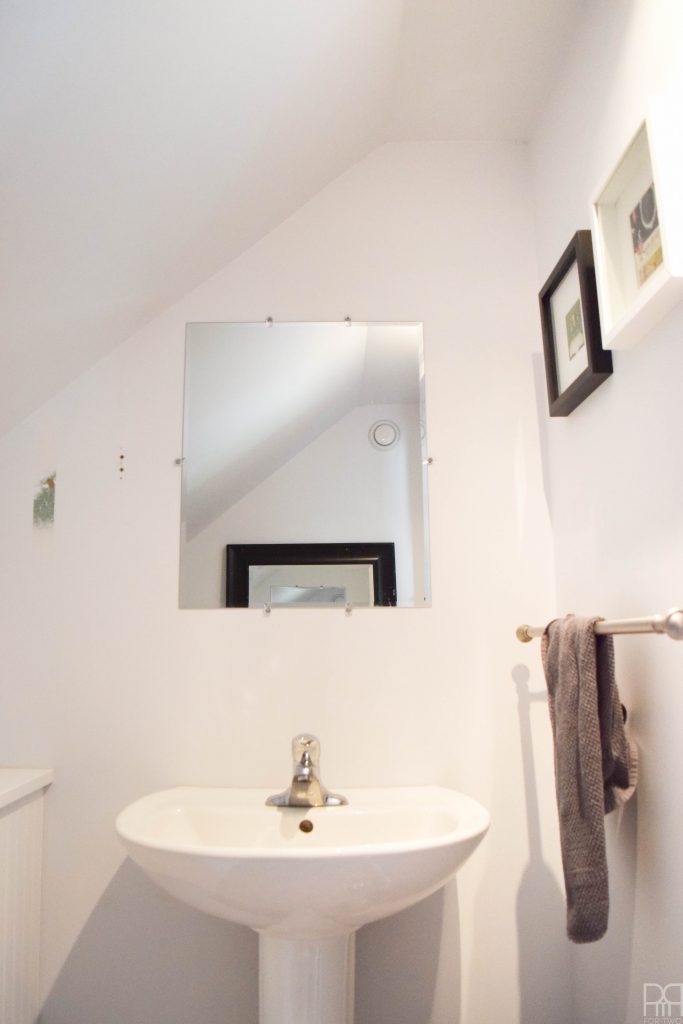 Step 2: Cut your foam core to specification. I used four panels, and numbered them before cutting them so that I knew which ones went where. Getting the cuts right was important at the edges of the wall, but no so much for where the mirror used to be since I would be covering it with a large circular mirror.
Step 3: Using a hammer and nails, nail the foam core to the wall. This will be a life-saver when you have to take them off to move. It will be as simple as pulling up the boards, not the tile.
Step 4: Start laying tile! This will be most complicated part because you'll have to make sure everything is plum and even, and that your spacing is on point.
Start by laying a blocking piece at the bottom if your floor trim isn't even. If it is – you're in luck! Use that. You always lay tile from the bottom-up.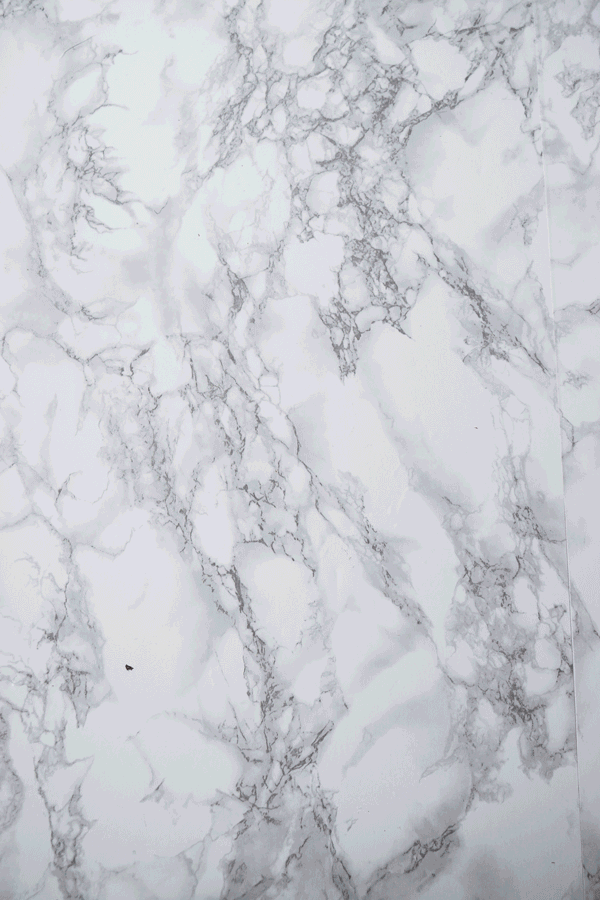 For my subway tile pattern I off set each row by half, so every other row I had to cut the tiles in half.
When you're cutting glass tiles, you score the top part using the blade, and then insert the tile into the mouth of the cutter, and press down. I found youtube videos super useful for this. DO NOT SCORE more than once! It will cause the tile to shatter when you press down on it, since the break occurs where the tile was scored.
The angled cuts for the ceiling were the hardest thing I've had to do. I thought nailing my primer for my // Vice Jars // was tough, but no, this was tough.
I did not photograph this process because it was insanely time consuming, and once I got started I wasn't in a mood to stop and take photos.
Step 5 – Optional – I used white caulking to fill any gaps between tiles that might have occurred due to error. I had a few, so I filled them with caulking to ensure that no water from the sink would get into the foam core or wall, and rot, unseen, until we took it down.
Step 6: Cut your trim to go around the exterior of the wall, much like you would an edge tile. In my case, a few of my tile cuts weren't completely straight, or particularly pretty, so the trim helped cover those up nicely.
I added a more decorative piece across the middle, just above the sink, for a decorate touch to help break-up the white.
Step 7: Paint your trim dark glossy black. The contrast is classic, and looks really polished. I used a paint sample that I got at the Home Depot, and then sealed them with a tough coat.
Step 8: Using GE Silicone 1 (because there's a Silicone II ) I applied the trim to the tile not the wall. Run a bead of caulking down the back of the trim, and then press firmly, holding for 30 seconds before moving onto the next piece.
Caulking takes up to 12hrs to dry, so I let is sit overnight.
Step 9: This is where I would say "hang your mirror" but I did it before applying the trim because I was tired of looking at the wall in the middle of the tiles. Because the mirror is large and heavy I didn't tile over where I would attaching it, because I had to drill into the wall for anchors. I also added my cute little bunny knobs from Anthropology.
Step 10: Enjoy! You now have a beautiful bathroom accent wall that is 100% renter friendly can be taken down with 1/10 the effort it took to put it up.
Monday, September 19th
Tuesday, September 20th
Wednesday, September 21st
Thursday, September 22nd