Spring is slowly starting to make itself known around here, and while I'm sure we've got more than a few snowstorms ahead of us before I can put my big coat away, I was itching to explore some spring colours with a tablescape. Not too long ago I did a beautifully romantic tablescape for two // here //, and I got to put together a Chinese New Year set-up // here //, but those were all done in the studio before it was complete // the studio // & // the studio kitchen //, so there were lots of angles I couldn't shoot. This Pink & Bold Spring Tablescape, is my first full set-up in a complete space, and I must say – it looks fantastic.
BTW I'm also participating in a hop with 6 other crazy talented bloggers, so make sure you click through to see what they did for their tablescapes. And big shout to Monica from Monica Wants It for organizing!

This is a relatively simple tablescape for me, in that there aren't a million and one things on the table, but the prints and patterns speak loud enough, without it being a yelling match *I think.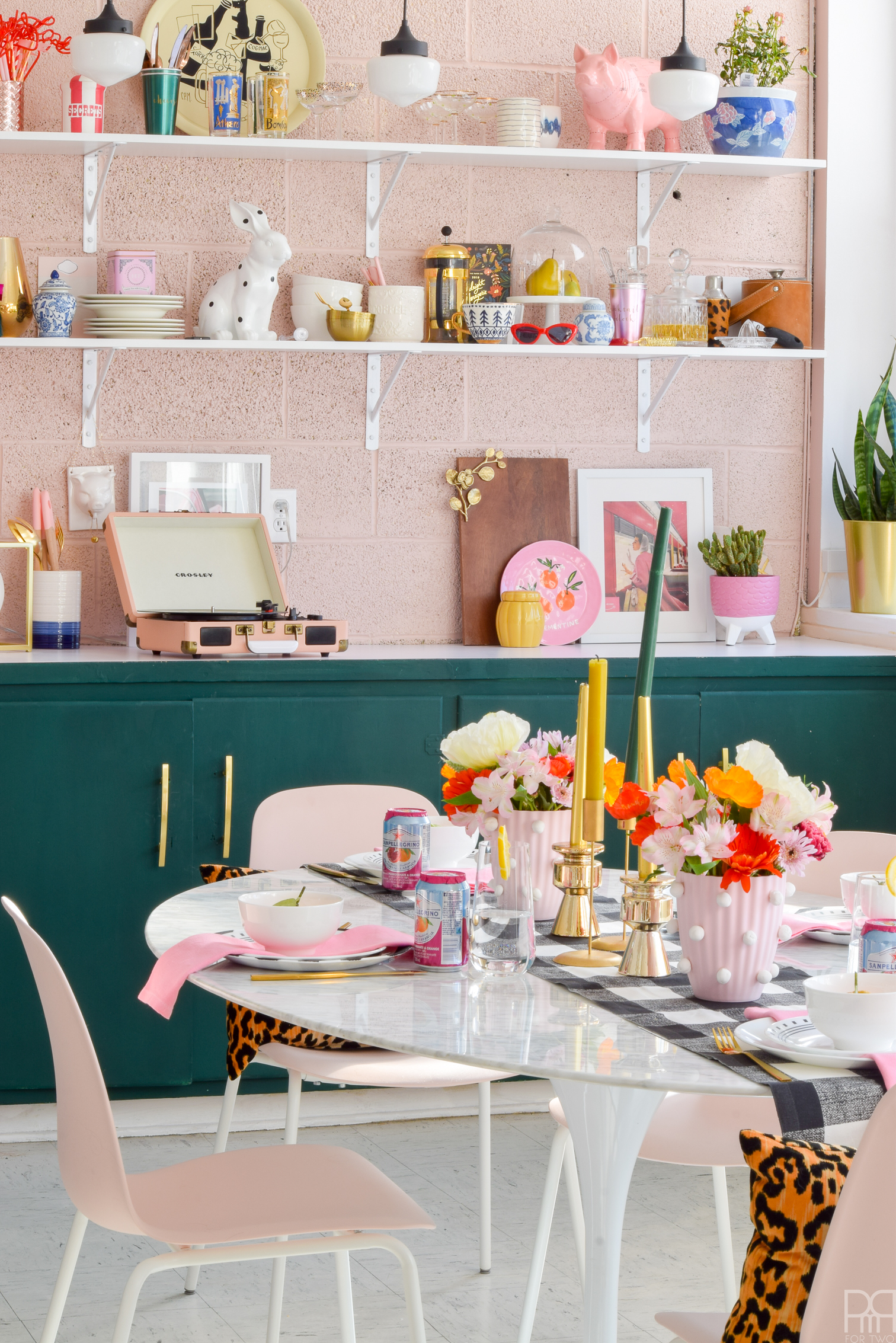 When I looked through the viewfinder and was able to see the pink & bold spring tablescape, with the studio's kitchen backdrop, all come together in one photo, it kinda took my breath away to be honest. It was such a great culmination to many months of work, and instead of working ON the studio, I finally got to work IN the studio.
I'm super excited with how these black and white ceramics on the sideboard turned out. I'll have more details on them later, but in the meantime you'll just have to admire their beauty from afar.
These florals are some of my favourites for a few reasons: they're a mix of real and faux stems, I got the real stems at 50% off, and the faux stems complemented the colour palette so perfectly that I couldn't have planned it better.
This little bunny is from Homesense. I snagged him for a steal and is now joining my very very small collection of Easter decor. It's now 2 items strong! lol In case you hadn't noticed, I'm not super into the smaller occasions like Vday, St. Patrick's, Easter etc. I prefer to celebrate seasons instead! Oh, and Halloween 😉
Speaking of DIYs – which we totally weren't – I tried my hand at fabric dying for the first time the other day. I used some Rit dye to transform a few white napkins into pink delights. It was good fun so I think I'll have to try it again soon.
And these little pink ice buckets + vases are going up on the blog later as well. They're a combo of dollarama + modelling clay. Super fancy, I know.
And that's it for my Pink & Bold Spring Tablescape – I hope you pin every image like 6 times 😉