It's Friday! More like Fri-Yay! Sidebar, is that too tired? or can we still say "Fri-yay"? Let me know.
Yesterday (and I suspect today) are the first days of summer; the days where the evening is still warm and there isn't a chill to the air. It was glorious to walk outside last night without a sweater and not feel a chill. Goodness I missed that during the winter. What I didn't miss however, is sweating profusely and not being able to stay cool when there's no summer breeze in sight. The maritimes can sometimes feel like the deep south during the summer with the humidity, so I figured I'd take a page from a good ole' southern book and make myself some paper fans. These beauties are sturdy, functional, and the perfect accessory for our summer bar cart.
I made mine using my Cricut Explore Air 2 and a Make It Now project by Lia Griffith. The whole project took a bit longer than I had expected, but that was because I ended-up modifying a few things along the way. It's all good though, because I can now tell you about those modifications and why they make for a slightly superior fan.
*Cricut sponsored this post, but all thoughts are my own.  Thank you for supporting the brands that make PMQ for two possible.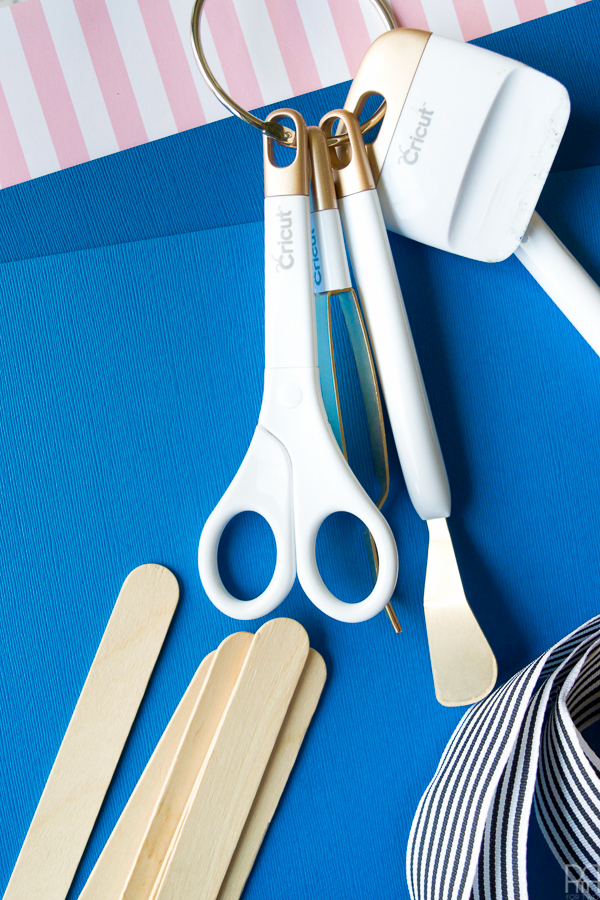 *The following product links contain affiliate links. Thank you for supporting the brands that make PMQ for two possible. For my full policies click // here //
Materials
Lia Griffith's Paper Party Fans Medium (under the Make It Now – Parties and Events)
*NB: you will need 2 sheets of card stock per medium sized fan. You can do the same project in a bigger size, but you'll need 3 sheets for that one.
Step 1: Select the project from the Make It Now category for "Parties and events." If you already have a payment profile set-up with your Cricut Design Space account, purchase the project and hit "go."
If not, take a minute to set yourself up with a payment method to purchase the files required for the project.
Step 2: Place the card stock on the cutting mat. Make sure there are no remnants from previous projects on the mat as they'll create bumps that will be an issue with the amount of small detail cuts the machine needs to make.
I often sue my scrapping tool to clean the mat between cuts, and you'll def need to do that with this project.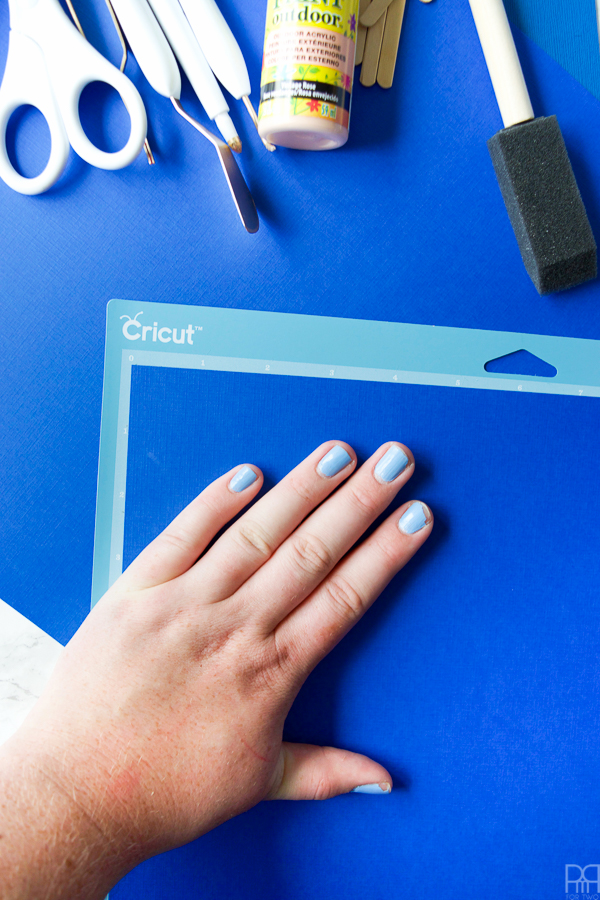 Step 3: Get to cutting! This project will also require a scoring pen, so make sure you have one handy.
The lovely thing about the Make It Now projects is that once you pick one, all you have to do is click "make it now." You don't need to fiddle with sizing or anything, but you can if you want.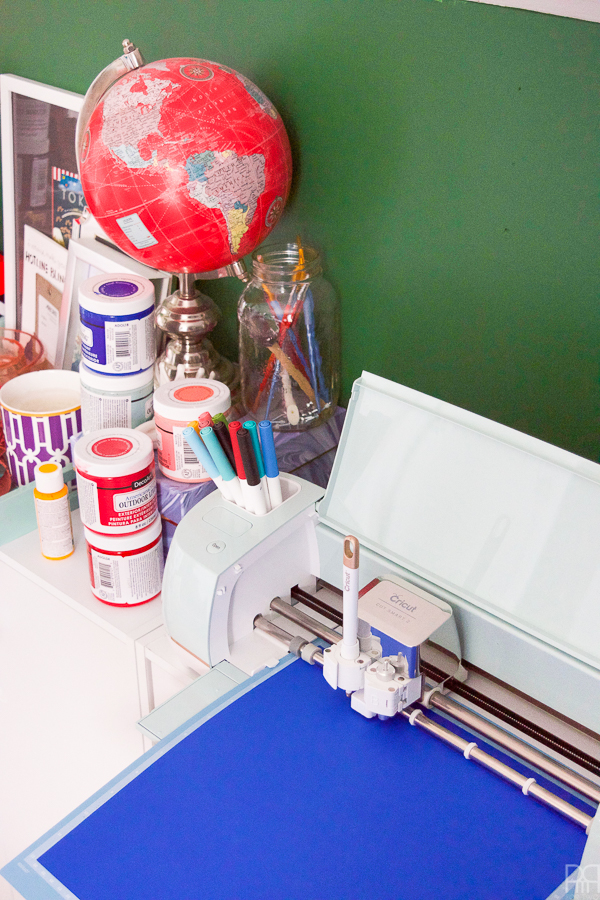 p.s if you're curious about why I use a Cricut Explore Air 2 and not a Silhouette Cameo click // here //
Step 4: Like I mentioned above, you'll need 2 sheets per fan, so if you need to make several fans it may take a while to get all the cuts done.
Once they're cut and you've removed them from the cutting mat you'll need to weed-out any remaining cuts that didn't fall out immediately.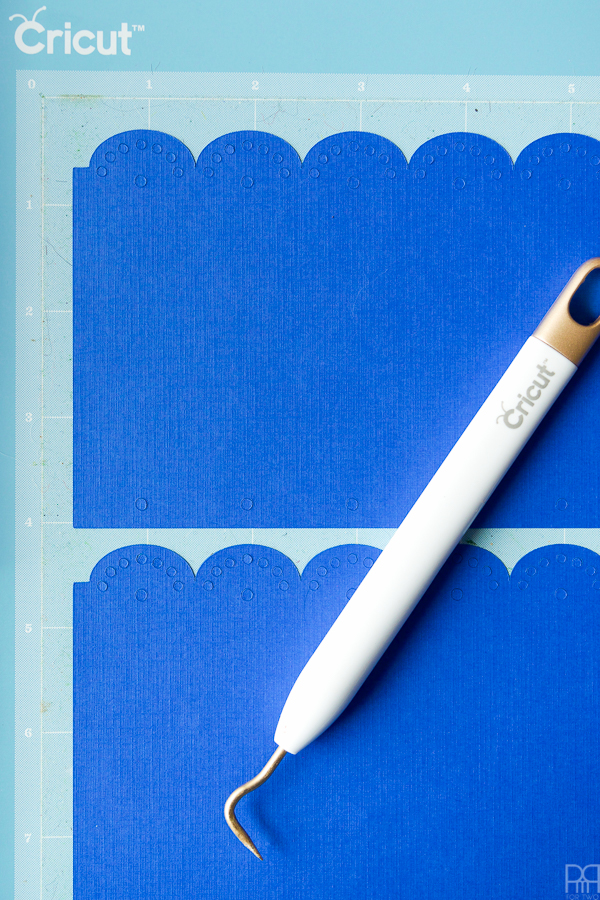 Step 5: Once you've weeded the cuts, time to start folding the fan components. Each strip that is cut will make up part of the fan, so you'll need to fold them like an acccordion.
Lia Griffith recommends gluing all four pieces to each other (end to end) before starting the folds, to ensure that you don't have to re-fold something because it's folded on the wrong grooves.
On my first fan, I used hot glue spread really thin to attach the pieces, but that made them too bulky to fold at the seams. Each strip comes with a seem where you can attach the pieces, but I found all of that to to be hard to work with. My first fan didn't really pan out how it should have, so I modified it going forward.
Instead: I cut-off the little tabs they provide for a seam and just glued the two extreme panels to each other. It was more sturdy, less cumbersome, and made for a seamless look.
Step 6: Thread some twine through all the single eyelets at the bottom of your fan strips.
Instead: I used 18 gage floral wire. Not only did I find it easier, but I found it sturdier. One of the problems I had with my first fan, was that I couldn't get the tension right with the twine, so my fan kept flopping over when I opened it. No bueno. Using the floral wire lets you adjust the tension, and makes for a sturdier hold. I highly recommend it!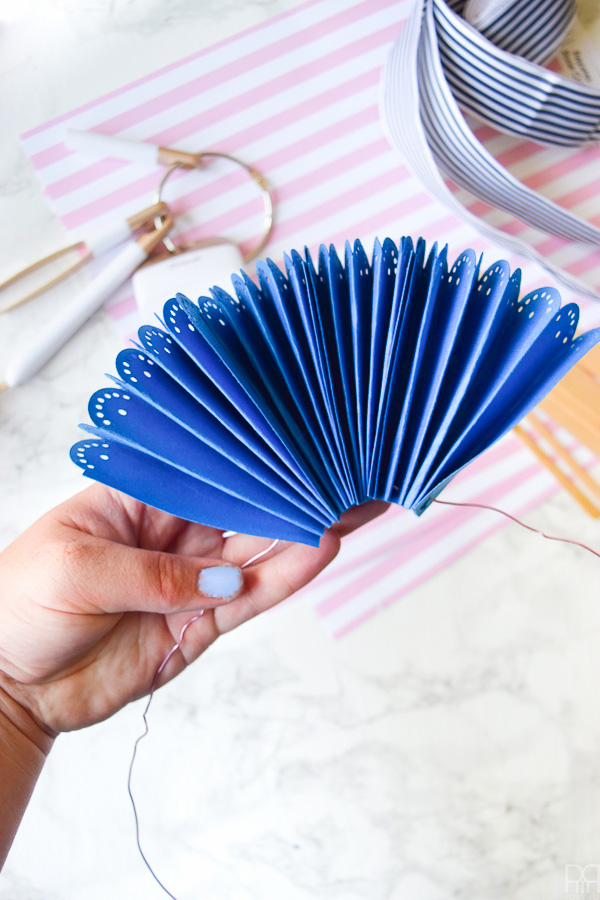 Step 7 : Using your large popsicle sticks, apply some hot glue and then inset them between the last folds on each end. Those will your handles!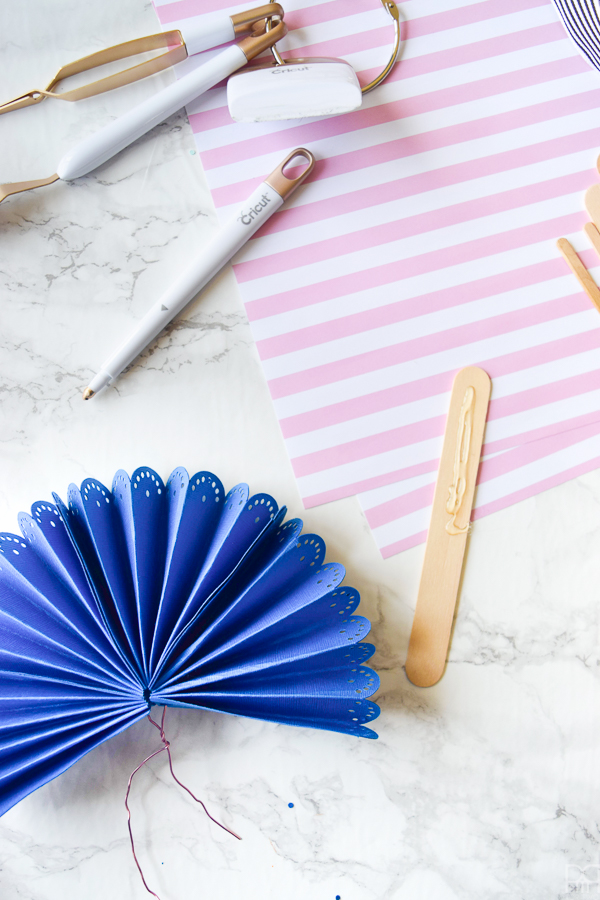 Here you can see how I figured-out the tension I needed. Open the fan half-way and then tie it off. That way when it's open all the way there will be nice tension between the folds.
Make sure you glue both folds to the popsicle stick or your fans will look silly.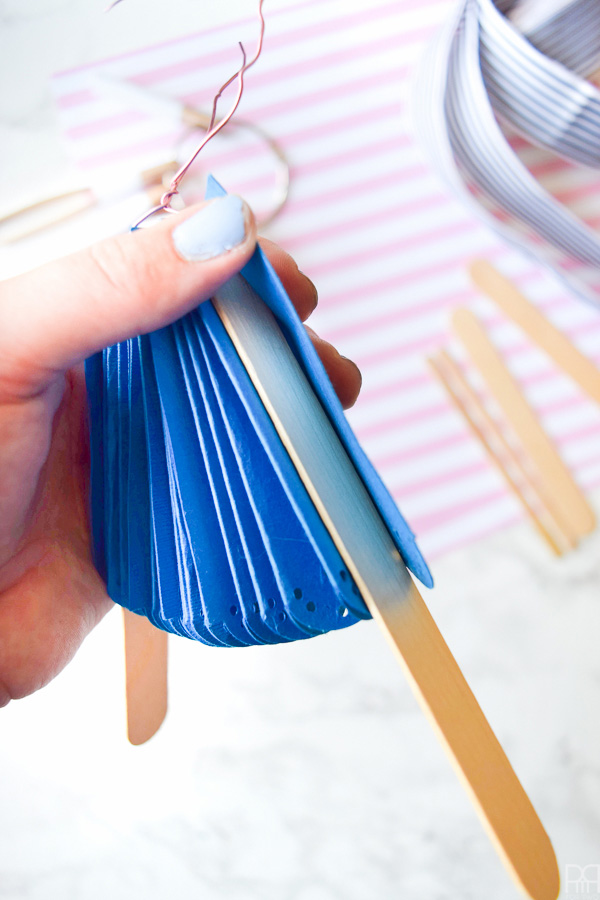 Step 8: If you want your fans to be open permanently you can then glue the sticks together and add fun centre medallions. I opted to have mine open and close for easy storage. Lia Griffith has a great continuation for this step on the CreativeBug website // here //. She also adds an elastic band on the ends of the sticks to make sure it stays closed, but I added ribbons for that instead.
Step 9: Test 'em out, check the tension and make sure everything is looking good!
Enjoy them too! With my ribbon on the ends I can use them as a loop for easy travel on my wrist, or to tie them closed. It all looks cute as sin either way!
Don't forget about my summer linen monogram project // here //. It's how I added the cute pink monograms to my cocktail napkins!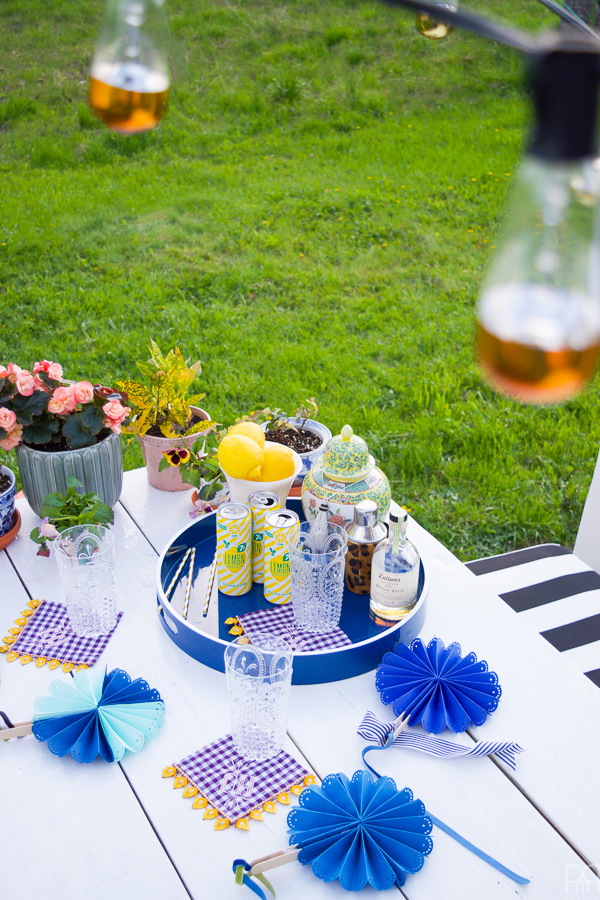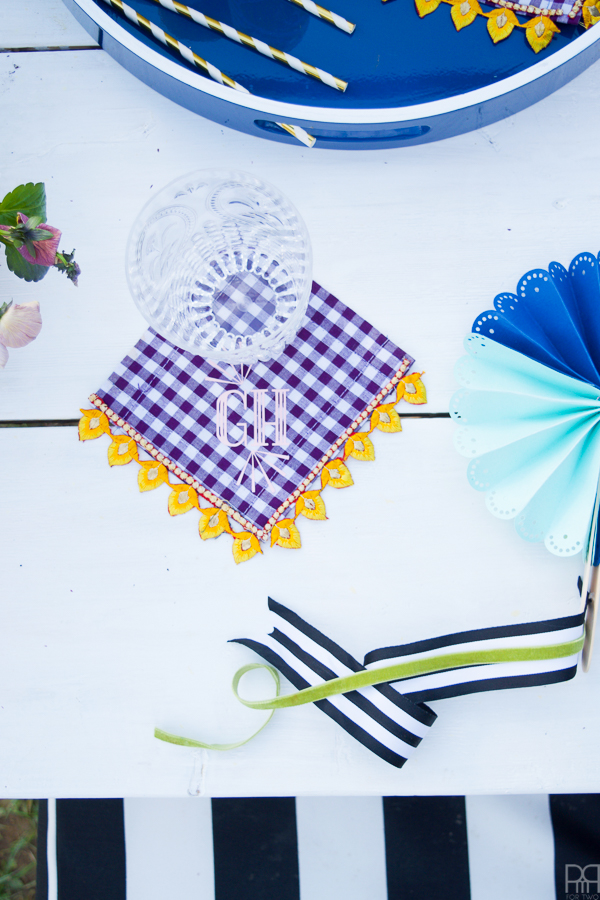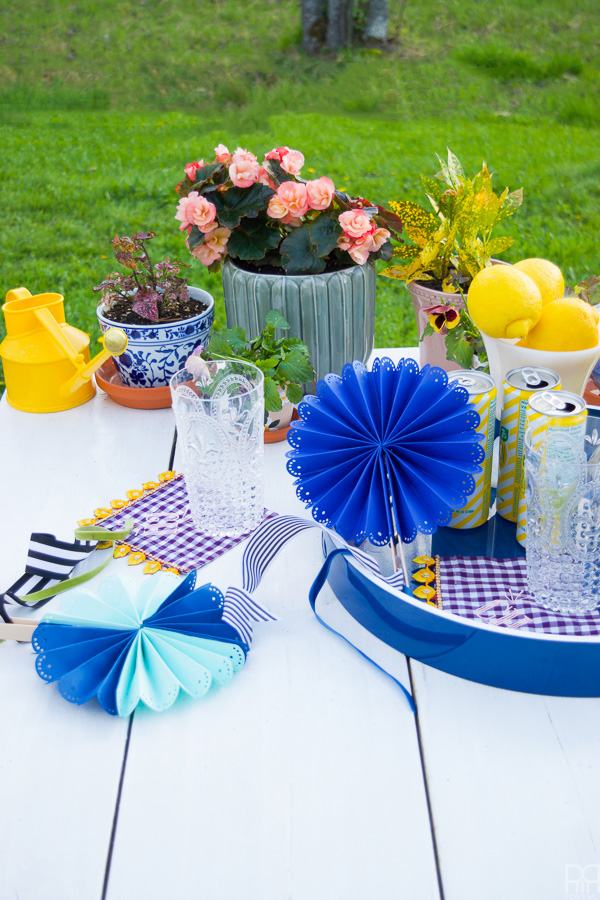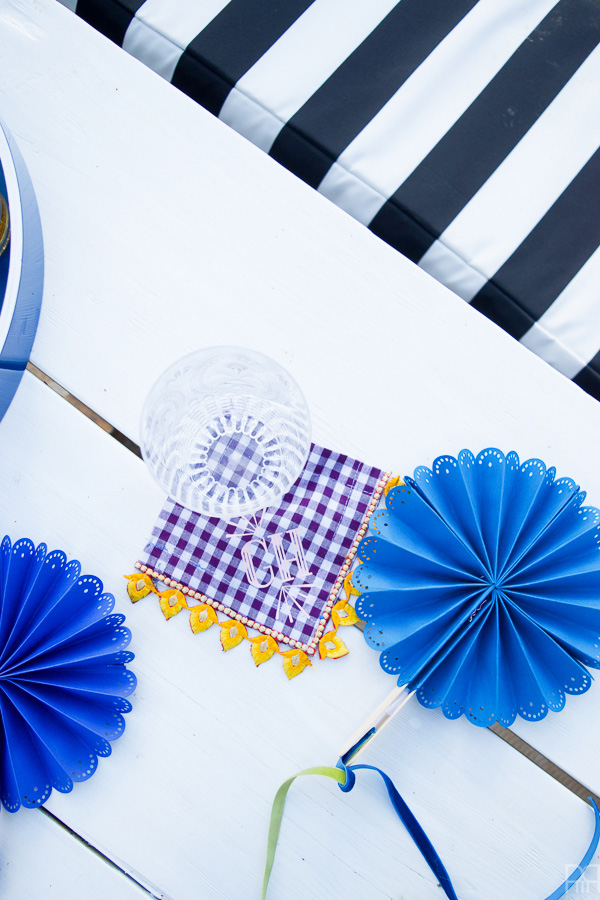 This is a sponsored conversation written by me on behalf of Cricut. The opinions and text are all mine.