I don't know about you, but getting back into the groove of things after the break was awkward. I had all too easily settled into a vacation mode and was happy to spend my days reading, watching documentaries and eating donuts. No lies kids, it was grand. I think we're going to stick with the whole "no travelling over the holidays" thing because it makes life so much easier. That being said, today's project is one I had hopped to publish last monday, and then last wednesday and then last friday, and then yesterday! It kept getting moved! Not because it was particularly difficult, but because I decided to focus on the more important tasks I had on the go, and wasn't under the gun of the holiday content calendar. I figured you guys could wait an extra day or two… or 9, to see my first DIY of the year. So without further ado, I present my winter painted pinecone wreath!
*DecoArt sponsored this post, but all thoughts are my own.  Thank you for supporting the brands that make PMQ for two possible.
And no, I did not think to hoard a bunch of pinecones this fall. Instead a very generous fellow crafter shared her hoard, like a squirrel with her nuts. If you're reading, thanks girl!
*The following product links contain affiliate links. Thank you for supporting the brands that make PMQ for two possible. For my full policies click // here //
Materials
A note on colour selection: I used pinks, some sugarplum purples and greens for my wreath because of where I wanted it to hang.  I recommend any good contrasting colour combination, but think these tones reflect beautiful winter colours for 2017.
Step 1: Paint your pinecones! I divide mine up 6 at a time. I painted the inside of the spines first, and the outside. That way you would catch the colour from every angle.
Step 2: While the big ones are drying, paint the small ones. In this case I just painted the outside. I did half in liquid gold, and then used different shades of pink and green to do the other half.
Step 3: While you wait for all the painted pinecones to dry, apply your base rim of pinecones to the hoop.
**I experimented with two ways of applying them, and through trial and error found that the second way was a much nicer look.**
Below was my first attempt. It looks cute on it's own, but left little to no space to start securely adding my layers. I then removed them from the wreath by prying them off like a crazy person. Luckily none of them broke or left pines in the glue on the wreath. Go me!
Since I was using the base layer as an amplifier to help create some volume on the wreath, I found this way worked better; kind of like a fan moving in one direction.
Step 4: With your base layer securely attached I then moved to adding the painted pinecones in the spaces in between. I kept to one direction (the same as the initial fanning), but inverted some just to keep it fresh.
Step 5: Once you've applied your Eastern Whites, glue the smaller ones into the gaps to cover the giant gobs of glue and such. This was fun as I got to play around with all the complimenting and contrasting shades I painted.
Step 6: Once you're satisfied with the wreath's cone placement, add your ribbon! Thankfully the pinecones left a few gaps between them and the hoop, so I was able to thread a big velour ribbon through the hole. Of course the ribbon is velour 😉
Step 7: Hang and enjoy!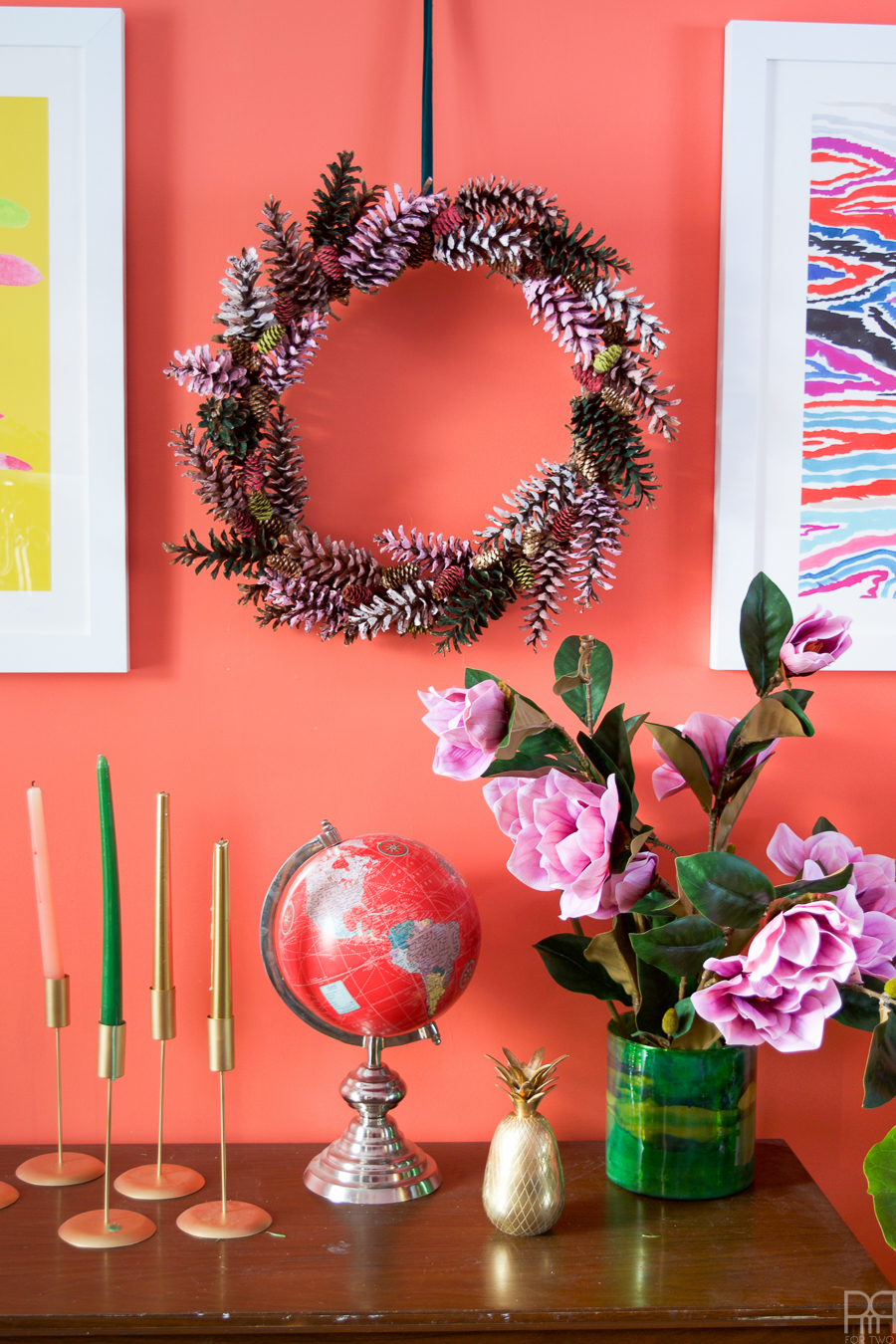 let's all pretend we can't see the little glue threads 😉