You guys know how you can submit a space for a feature tour on PMQ for two right? You can find out more about that // here // So you're probably thinking "hey! this isn't a PMQ" and you're right, it's not! It's a holiday house tour from Nikki at Collected Home. She doesn't run a blog,  but she does run one heck of an Instagram feed. In fact, she runs not two, but three! @CollectedHome, @IndianaMCM and @nicoledavisfoto. So if MCM decor is your thing, and you love the colours, shapes, and design of the aesthetic, this tour is for you!
I am beyond inspired by the colours and styles of MCM, and that extends all the way through to Christmas. In fact, it was one of my big motivators to go pink with Christmas last year  // here //. This year will be no exception, I'll just be keeping it eclectic.
P.s my only true MCM Christmas project is my DIY Starburst Wreath which you can find  // here //
*all image credits to @nicoledavisfoto
https://www.instagram.com/p/BMSj1oEjYAW/?taken-by=collectedhome
https://www.instagram.com/p/BLw0xz3jjG3/?taken-by=collectedhome
Reasons to follow her on IG (as if you needed any): She's known for turning found shopping carts into backyard installation pieces. She owns a black velvet Elvis painting. Her fur babies also include feather babies, and she made a monster wreath last year!  Oh, and she's got a collection of rotary phones nbd. She has also coined an amazing hashtag #kitschmas and if you're into this kinda thing it is the best gift I could give to you.
https://www.instagram.com/p/BLUb9GwjHmI/?taken-by=collectedhome
In lieu of the traditional questionnaire, I asked her a modified version, fitting of the season and the occasion. You should know that she has had up to 21 trees in the house at any point, and that she likes to cycle through them. We are not messing around here guys!
What is your favourite piece  
My favorite piece is the large Santa that's next to the fireplace. He was given to me by a family friend when I was a small child in the early '80s and he has sat next to a fireplace every year. He is from the '40s and I've been told he is Swedish.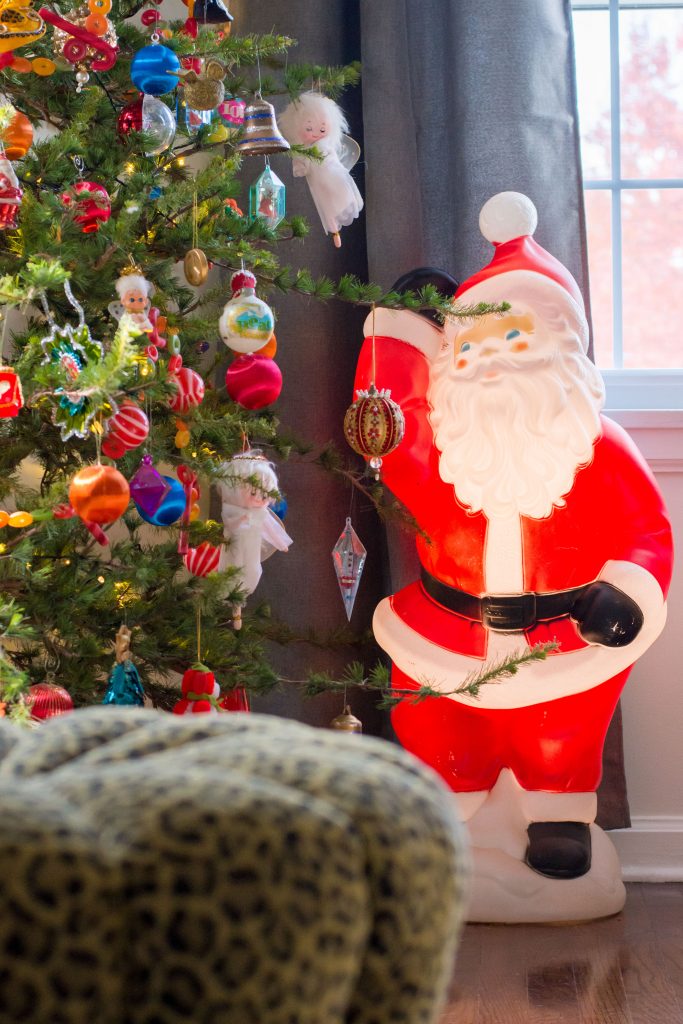 Where do you find most of your decor?
Most everything I own has come to me secondhand, either from antique malls, thrift shops or from my parents. My mom would take me thrifting with her growing up, so I have been collecting things for most of my life and MCM exclusively for about 15 years now. I like filling my home with unique pieces that have a story. It keeps things interesting.
If an item is vintage, which most everything I have is, I tend to leave it alone. I do like to find alternate uses for things though, like putting a christmas tree in a bullet planter. I did make the fire in my fireplace. It's the 8-bit fire from Zelda. I used foam core board and glued paint chips to it and I like how it keeps things fun.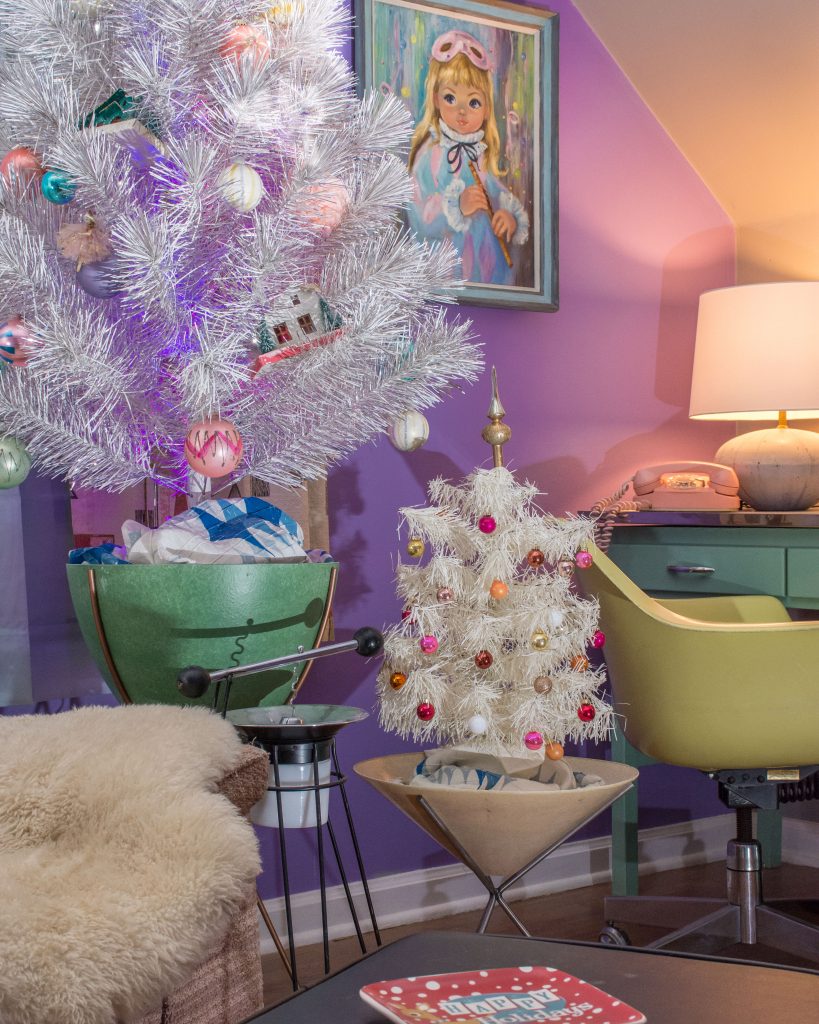 If you could sum up your holiday mantra in one word what would it be?
Fun * Couldn't agree more!
Oh, and what's the type of cookie you leave out for Santa?
French Butter Cookies! I stole the recipe from Martha Stewart and have been making them for years.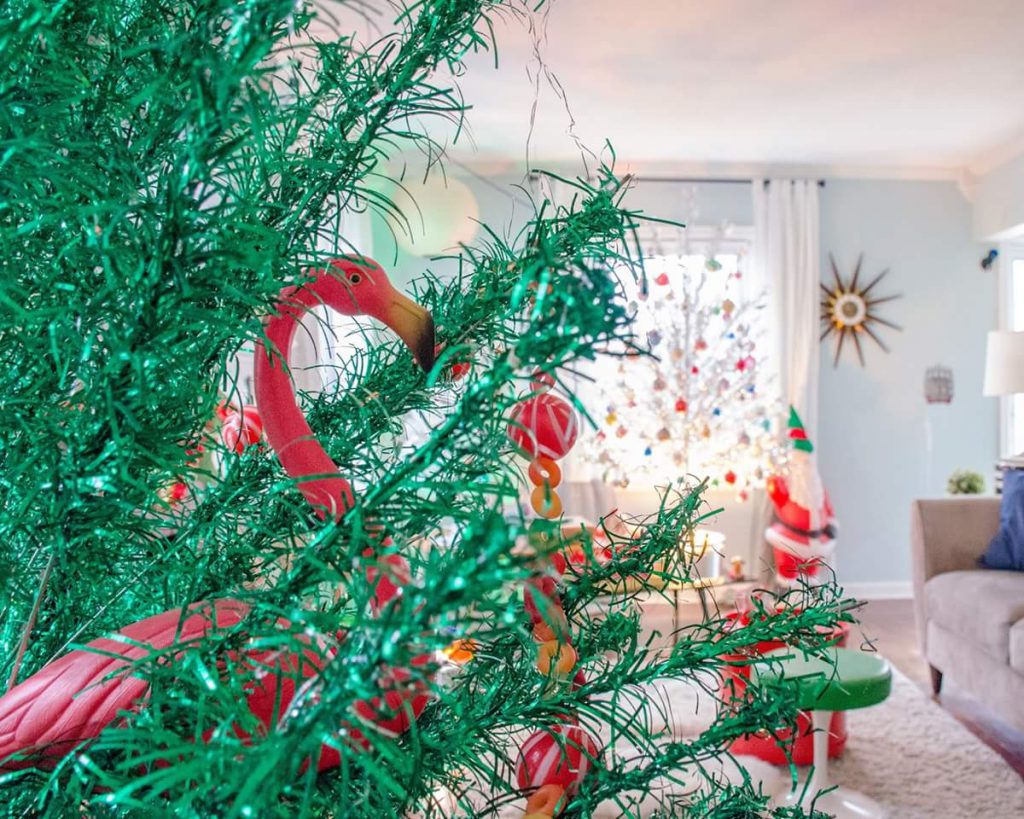 Make sure you follow @CollectedHome for more Kitschmas! Her feed is mind boggling, so catch it while you can!