Okay so who hasn't made their own wrapping paper yet? If you had asked me this on monday I would have said "ME!" but here we are on a wednesday, and I have now made my own wrapping paper. Well, I didn't technically make the paper from the pulp up, but I did paint it and then gild it, so that's gotta count for something right? For this month's penultimate edition of the 12 Months of DIY series we're doing stuff with paper! So I DIYed Painted Wrapping Paper using the beautiful and bold colours of The FAT Paint Company, and let me tell you – WOW~
So you're probably thinking "what? she didn't do something with her Cricut? or paint wrapping paper in a Rifle Paper inspired motif?" Nope – not this time, although both of those would be awesome projects. For this paper theme I wanted to deconstruct a plaid pattern. I've been toying with the idea of deconstruction plaids in some way, shape or form ever since we upholstered that chair for the One Room Challenge // here //, but I was finally able to actually do it with this project.
When I say "deconstruct" I don't mean that I took some scissors to a pattern and then taped it all back together in a new pattern. I mean that I broke open the lines and pattern, I forced some new colours and negative space in between existing structures to create a new, more abstract pattern. Not only is this pattern fresh and colourful and bold – much like myself – but it's also super easy, and you can probably do it with items lying around your house.
*The following product links contain affiliate links. Thank you for supporting the brands that make PMQ for two possible. For my full policies click // here //
*FAT Paint sponsored this post, but all thoughts are my own.  Thank you for supporting the brands that make PMQ for two possible.
Materials
Step 1: Figure-out how big a sheet of paper you want to work with, and cut it from the roll. I recommend weighing it down for a few minutes before painting, to avoid it curling in on itself while you're laying-down some colour.
Step 2: Start with your colour base. I picked two bold colours on opposite ends of the wheel, and one complimentary shade to form the initial pattern.
Remember how I said this was a deconstructed plaid? That's where this comes into play. Sure, you could focus on an exact pattern and repeat it, or you could have fun and paint a bunch of different lines that flow organically. What you make probably won't look like this, and that's OK.
The important thing is that you start with solid colours.
Step 3: Now that you've got your guiding grid down, take your complimentary colour and loosely shadow the first grid.
Step 4: Take your third base colour and fill-in some of the negative space using large brushstrokes. This will help define space for contrast and allow you to work in other colours and hues, as well as movement.
Step 5: Give the base colours a few minutes to dry. With the similar hued colours, you'll be going over the grids, so you don't want colours to run.
Step 6: Using the remaining colours, paint contrasting and complimentary strokes into the pattern. I used the Pink Cashmere to make the Red Barchetta stand-out, and then feathered the Blushing Bombshell and Coral Reef into the pattern with alternating strokes and placement.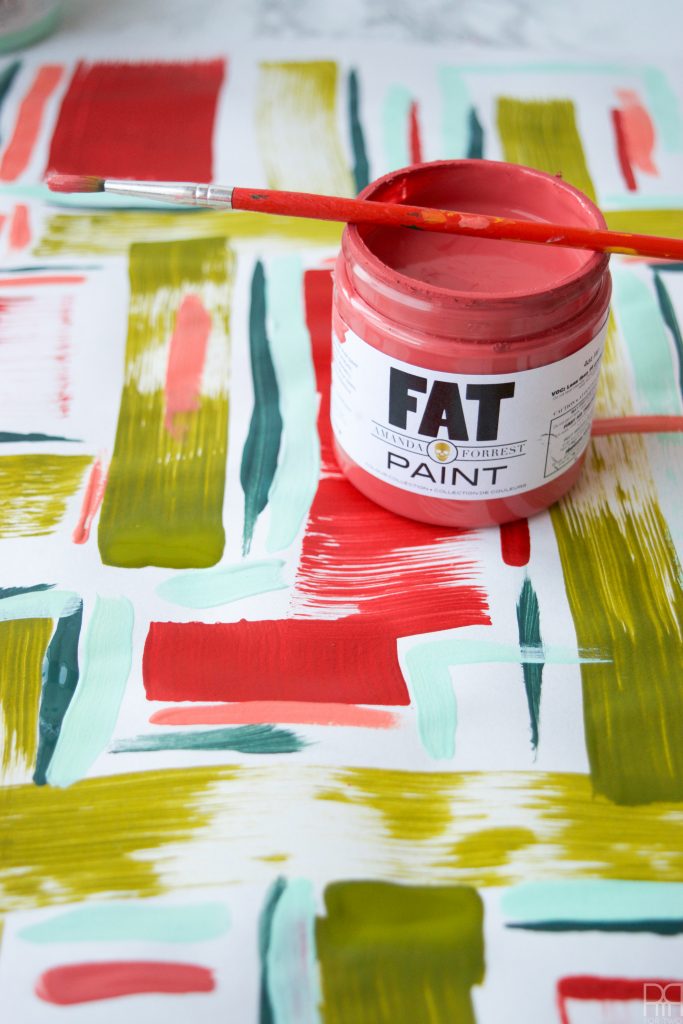 The point is to fill up the paper's surface, but to also leave some space between lines.
Don't be afraid to cut across, make corners and more corners, add a swoosh or two, and to create grids on top of other grids. Because this is deconstructed, you can really have a lot of fun with it all.
Step 7: Let all the paint dry thoroughly, and dab away any pools or large wet blotches. That's the thing about FAT Paint, it has such fabulous coverage and goes on thick, but when working on paper like this it may be a touch too thick if you're not careful.
Step 8:  Using the Martha Stewart liquid gold, apply a few strokes to emphasize and contrast the pattern. P.s this stuff smells super strong.
Step 9: Let dry once again.
Step 10: Wrap your gifts and enjoy!



Now it's time to see the rest of the DIY PAPER project ideas from my Canadian blogging friends.
From the top left, they are:
Free Love Peace Joy Christmas Printable from Sustain My Craft Habit
Silver Leaf Paper Trees for Christmas Tabletop Decor from The DIY Mommy
Rustic Gift Wrap Ideas from Love Create Celebrate
Book Page Feather Garland from Life Is A Party
Deconstructed Plaid Wrapping Paper from PMQ for Two
Make 3D Paper Flower Christmas Wreaths from Time With Thea
How to Make a Paper Garland from Fresh Crush
Quilled Paper Snowflake from Lifeovereasy
Funny Printable Gift Tags from Brooklyn Berry Designs
DIY Linocut Print Kraft Paper Christmas Gift Wrap from Woman In Real Life
DIY Chalkboard Paper Christmas Art from Vin'yet Etc.
DIY Floral & Paper Decoupage Girl Power Mirror from Heather in Heels