OK so you all know that we've been trying to be more deliberate with our renovations in this house. Next up on our list is the Master! Our Floral Glam Master Bedroom + Closet Plans are here! And I am living for them. Beyond the big stuff pictured in the plans, I'm really looking forward to styling the spaces with our personal treasures and finds from some local stores.
*Wayfair, Hygge & West, Behr, Homesense, Addison Weeks, Hudson Valley Lighting & Minted sponsored this post, but all thoughts are my own. Thank you for supporting the brands that make PMQ for two possible.
When it comes to this house, I haven't done everything top to bottom, and in fact, I'm going one room at a time and making sure I get everything my heart desires. This is kinda new for me, I'm used to settling because we're in a rental or because I can't afford what I want. This way is more fun, but also more nerve wracking because the stakes are a smidge higher. By the time we're doing with each room it will likely be time to sell due to a posting, so we won't have time to double back and fix big mistakes. That means the pressure is ON to make sure there are as few mistakes / bad decisions as possible. Hence, the snail's pace.
Jeweled Interiors | Haneen's Haven | Dimples and Tangles | PMQ for Two | House Homemade | Rain on a Tin Roof | Pencil Shavings | Our Fifth House | Kaleidoscope Living | The Pink Clutch | At Charlotte's House | Effortless Style Blog
For this master bedroom + closet makeover, I'm joined by the lovely ladies of the Choose Your Own Adventure Refresh — hosted by Jewel or Jeweled Interiors. We're all doing a variety of spaces, so make sure you check out everyone's to see what they're doing! There's a little something for everyone in this hop.
But before I get down to it, I want to thank my sponsors Wayfair, BEHR Paint, Hygge & West, Homesense, Addison Weeks and the official sponsors Hudson Valley Lighting & Minted.
The Master Bedroom BEFORE
You ready for this? We have done two things since moving in: I tested out a pink on one wall, and I hung our birds + tree branch above the bed. Oh, and I washed the curtains. But other then that, this space is exactly as we found it on signing day. You're getting to see it as we gutted it in anticipation of our plans.
You can see here that it's a very generous space. We've got like 2-3x the amount of space, compared to any previous sized PMQ bedroom. Add to that the master closet which I'll show you in a sec, and the master bathroom which you can see sort of see in the top right hand corner of this photo with Bruce.
The flooring is not ideal, but we're not touching flooring until we have a plan for the whole house (one of our goals is to unify ALL the different flooring types). The fan is actually going to stay for now (I know?!) but that's because we want to wait for spring/summer to see if it's actually needed, and in that case we'll swap it for a nicer one.
I love our corner windows, and the fact that we have big sliding doors that lead to our balcony. Those will be absolutely amazing in the spring and summer, so I'm looking forward to those.
The Master Closet BEFORE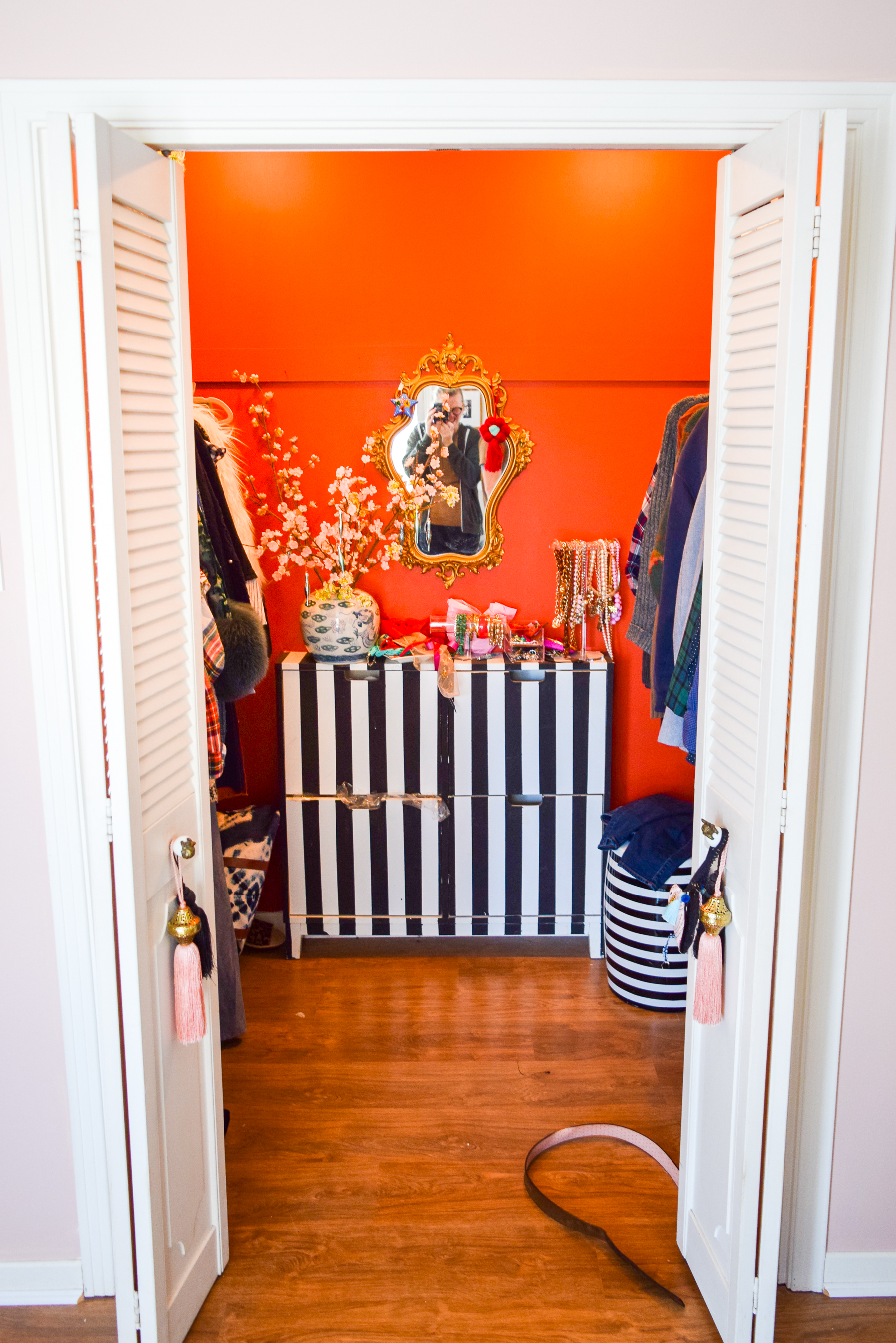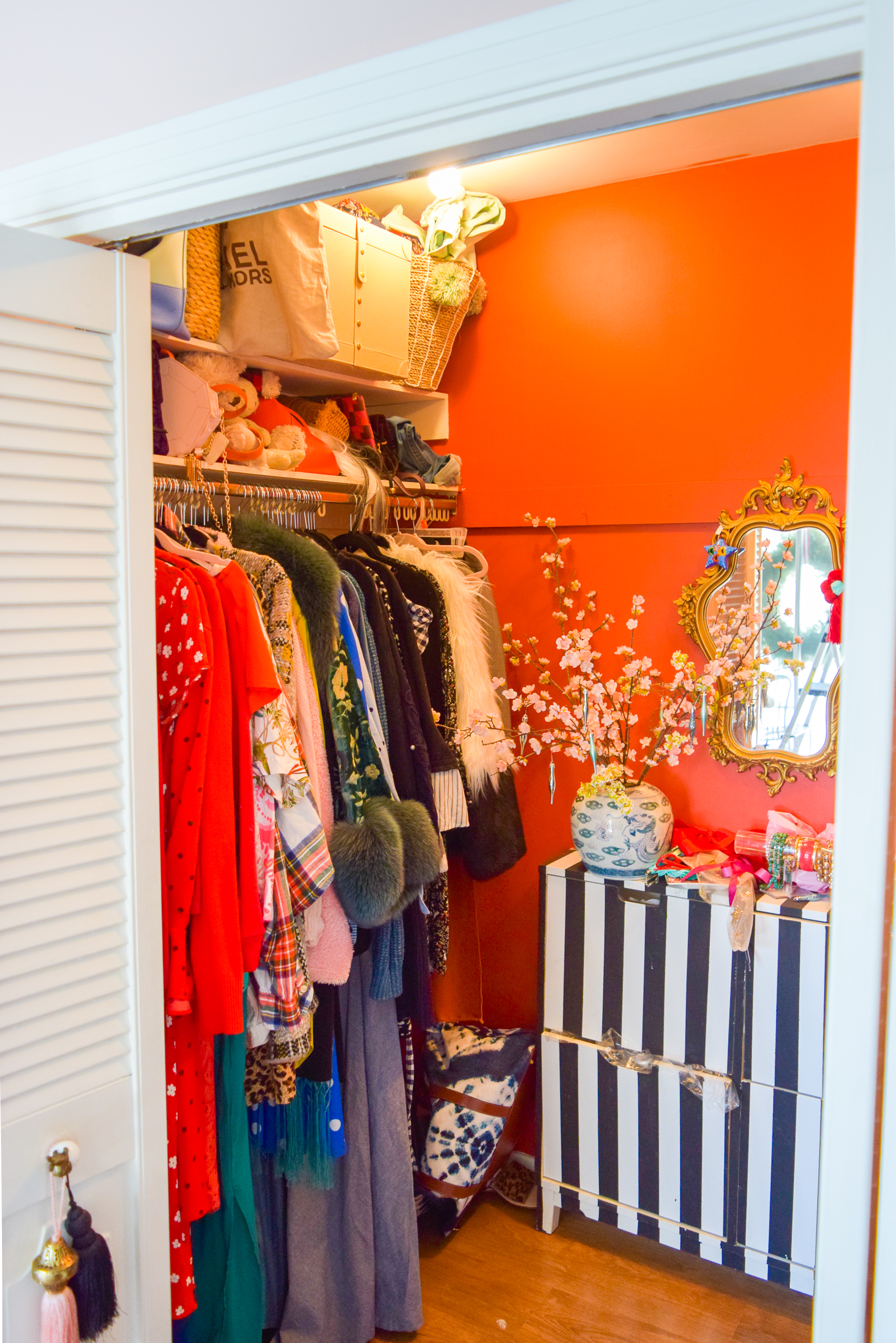 Make no illusions here: I did not tidy up before taking photos! We've added the black & white striped IKEA Shoe dresser, and painted the wall red, but that's it. That awful lighting came with the place, as did the shelves and dirty bi-fold doors.
The size is nice, and I like that we can have a his & her side, with built-in shoe risers. It's got great potential, but it needs a few major tweaks.
It's a space you can see from the bed, and pretty much as soon as you walk in, so having it all tie together in a cohesive way is important to me (and re-sale in a few short years).
The Floral Glam Master Bedroom + Closet Plans
I'm not telling you where any of this is going just yet. You'll have to see next week's progress post to see where the paint and wallpaper are going, as well as what's happening with those cool light fixtures.
Here's a source list for everything I'm using in case you need to know ASAP: