For obvious reasons, I do not share my movements on the blog ahead of time. However, now that we're home, I can freely talk about my awesome trip to Toronto this holiday season! woohoo!
Do you know Chris Rhea's song Driving Home For Christmas? Click the link and then you wil!
This year we decided to spend the bulk of the holidays with my family. Including DH's family, we have quite a large and extended group of people that demand our attention come the holidays or any journey out of Quebec – this makes traveling a bit of a headache. 10 days split 4 ways, quickly becomes a coordination nightmare in which I have to be a stickler for our schedule to the detriment of any relaxation or quality time. People seriously think I'm the Grinch!
My family is notoriously hard to pin down for more than 24hrs at a time, and this year they were offering themselves up for 96 hours- we immediately booked our trip down to see them. After a solid 10 hour drive down to see family, we were finally in Toronto on Christmas Eve and hilarity ensued!
Given that DH is now a part of the family, my siblings and I decided to implement a new tradition that he could be a part of. I love old family traditions, but it's kind of hard to always be joining in on something your SO has been doing for twenty odd years, and which makes zero sense to you, but everyone does it "just because". We wanted a slice of lunacy that he could feel he was a part of. OUT CAME THE UGLY SWEATERS!
We had spent about 3 hours gluing, cutting and bejewelling our sweaters for christmas eve. My brother showed-up dressed as Hunter S Thomspon, the other one wore my father's blazer and said it was "ugly" (it wasn't, it was Armani), and our sister wore a fantastic sweater she plans to use as a dishcloth later. My sister's boyfriend later showed up with a santa clause get-up, and an elf sweater underneath it. We were a festive bunch to be sure! Since we were surprising our parents with this, my mom was only able to pull-out some red and white stripped tights – for the record, she looked like the wicked witch of Whooville. We added some candy canes under the gingerbread house for a laugh.
But enough about my family and our craziness, you want to know what I did for PMQ for Two while in Toronto! I miss my hometown of Toronto. I miss the beat of a major city, I miss the cultural and ethnic diversity, I miss the shopping, but I also the familiarity of knowing where everything is. When you move once every year, it means you are perpetually "settling in" and never really get to feel at home. Going "home" is easy for me, especially now that I have a job and we're not just window shopping. With this in mind, I took full advantage of boxing day shopping in a major city where I would know where to snag a deal.
As soon as the guys got wind that they would be looking at China patterns, they all scattered to the wind (or down to the see the Hobbit to be precise).
My mom and I went shopping together and it was lovely! We started in Anthropologie, a store I absolutely love for their housewares. The clothes aren't necessarily my style and I don't often fit them, but I am coo coo for their knobs and drawer pulls, and especially their plates!
After spending an un-healthy amount on plates with chickens on them – WHAT! They were on sale yo – we headed to Williams & Sonoma, where I used to work. They always have really good sales on table and kitchen linens, as well as their christmas china. Having just had a bunch of tea towels expressed to me via my extend friend network from London, I wasn't in the market for tea towels.
My mom had a nice gander at their glassware, and then we found this adorable nutcracker apron, and we both wished we knew a small child (that size) who cooked.
Since we were already on the Mink Mile, we continued into Pottery Barn – another store I can only shop on sales, when in Toronto. Who wants to pay to ship china?! that shit's expensive. I fell in love with he water/wine goblet, but since we have something similar, I couldn't justify it (even though they were at a great price to begin with).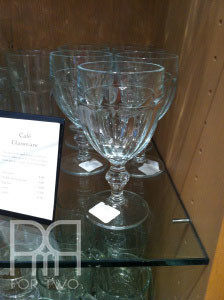 Instead I gawked at this pillow with a christmas pooch, and was reminded why I don't spend 20$ for just the cover (another 36$ for the stuffing.)
We continued into Holt Renfrew's just to look at clothes. They've bumbed-up their house and home selection, offering some lovely pieces from european stores, but unfortunately they've added an extra number to some things. They DID however have almost anything and everything by Jonathan Adler, which I would have loved, but couldn't justify 54$ for a miniature salt & pepper shaker set. Maybe next time!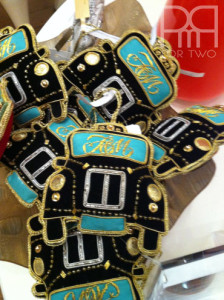 Since our long awaited mission had been to decide on china patterns in Ashley's, with coffee, determination, and a new lease on life, we headed across the street.
My mother had inherited a lovely set from her mother this past year after her passing, and Ashley's will be discontinuing the print at the end of December. Because my mom only has about 8 place settings (enough in my books) and she normally carries 12, she had to decide whether to buy another 4.
I won't scare you with the price for a salad plate (ahem 485$), but in the end we decided not to, because the set is currently in storage while the house is being renovated. She didn't have a final count on settings, and is convinced that if need be, she can find the pattern elsewhere. The pattern is lovely, but a little busy to eat off. The beautiful design in the middle is lost once you start platting food.
Because I have a soft spot for the Bay's HBC collection, we headed into the Bay next to see what was on sale. The gluckstein home set of white china with either platinum of gold tipped edges that I had been jones-ing after were in fact on sale. Five pieces to a set, they had twelve place settings  on for about 250$. They also had a nice selection of open stock in the gold, but because we still don't have a nice hutch to store it in, I don't want to leap into the world of fine china just yet.
Instead, I settled on some lovely Rifle Paper & Co. wraping paper that I plan on using in our master bedroom as wall art – because everything Rifle Paper & Co. does is breathtaking in it's colourful simplicity. Curiously, they also had a nice wing-back chair in the same print as our headboard! Although I won't ever pay that price for a chair, I did consider it for a brief moment.
We finished off the day with lunch at terroni, and a quick jaunt into Summerhill Market for a thick medallion of panchetta to bring back to QC with us, and some cookies.
The next day, before catching lunch with my High-school friends (the only 3 I keep in touch with), we walked along Queen street to look into the super cool and ultra modern furniture stores, where we finally got a jigger and a large cocktail spoon. I had to be torn way from this chair, and the chandelier. Since I was thwarted in my attempt to get the Indigo Champagne chalices, I'm still looking for an acceptable flute or chalice, and these almost made the cut.
All in all, the trip was a lovely time spent with family and friends. We spent the last evening at a really cool bar in Toronto called Chill Ice House. It's a bar in two parts, where the first part is entirely made out of ice! You're in a freezer, in case that wasn't clear. You can rent a cool cape and some gloves for that part, before moving into the speak-easy in the back where you can shed the layers and enjoy a drink in a really cool bar. No one has ever accused me of being cool, but THAT was a cool place.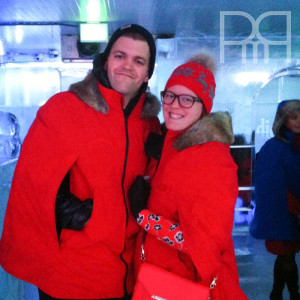 How were your holidays?!