Hold the phone – you know who Iris Apfel is right? If not, you can read her wiki bio right // here //. If you are familiar with her though, you'll know that her clothing style is what I assume my home decor is to other people: overwhelming, magical, bold, bright, colourful, eclectic and creative.  I mean for real, can we all agree that she is a gem and she must be as careful guarded as the likes of Betty White? hmmm, glad we all agree. Anywhoo, for this month's edition of Inspired by DIY hosted by Jess of Domicile 37 and Kathy of Up To Date Interiors we're challenged to create with Iris in mind. I created embellished disco ball drink stirrers with her in mind.
I was actually super stumped on what to do for this project. I had originally envisioned doing a styled dressed in our bedroom, but I've shown that space a lot. Then I thought I might do something in my office like The English Room's One Room Challenge space // here // , but then I remembered that my home office is currently the staging grounds for my summer purge, so I decided to work in the dining room again. You'll remember for last month's challenge I made over our then sideboard in a glossy blue with funky wallpaper // here //, so working in the dining room seems to be my thing!
Before I get to the project, I'm sharing some of my favourite shots of Iris. You can also peep her apartment's tour online with Architectural Digest // here //
*for the life of me, I cannot find the actual person to credit for these images of Iris. I've reverse image searched for about 20 minutes now and have gotten nowhere. It would seem no one credits authorship properly so I wind up in the depths of uncredited Pinterest images.
*The following product links contain affiliate links. Thank you for supporting the brands that make PMQ for two possible. For my full policies click // here //
Materials
Step 1: If you find thrifted stirrers with an existing bauble and you wish to remove it, do what I did and use your dremel with a cutting bit to remove the bauble. Don't forget to wear protective eyewear!
Step 2: Using your hot glue gun, affix your disco balls to the top of each drink stirrer. I used my glue gun on the low setting so that I might be able to shape the hot glue so as to avoid ugly lumps.
Step 3: Start gluing gemstones and pompoms. I did this in no particular order, but I did take care to harmonize colours.
Step 4: Let everything dry and then wash the stirrers before using them.
While I was a bartender for a few summers and can mix a mean drink, I just don't seem to have the creative wherewithal to create a unique cocktail in honour of Iris. To break-in my new stirrers I used a classic – the London Lemonade and have not been disappointed.
I swear, all my little thrifted bits and bobs just keep getting better with age. Remember in my spring home tour // here // how I told you about my secret obsession with thrifting cool cocktail glasses?
I've wanted to add white dots to giant palm fronds for like a year now. I first spotted it on a bar cart setup by Oh Joy! and instantly new I had to make my own version, I was just unsure for when/what. This is it.
p.s if you're digging those monogramed napkins check-out my tutorial // here //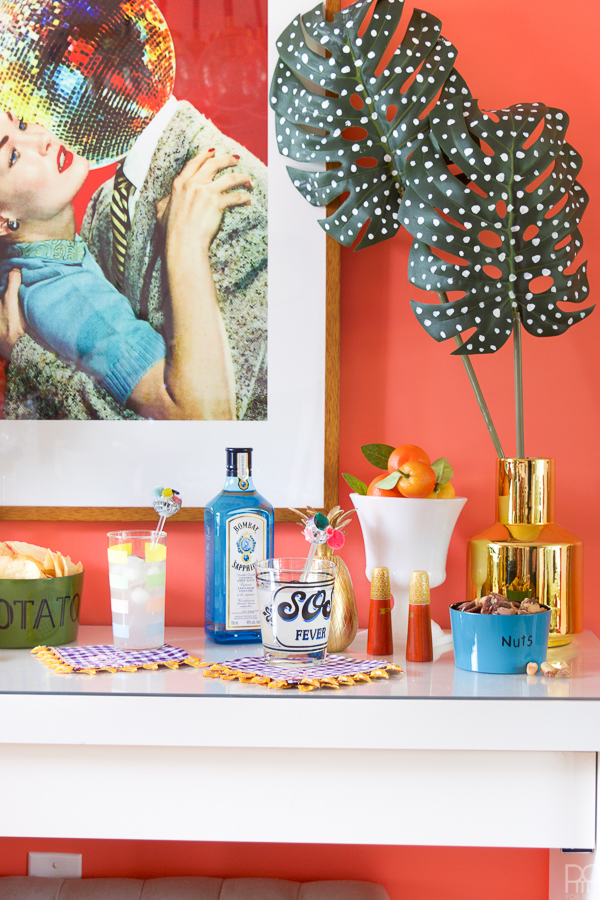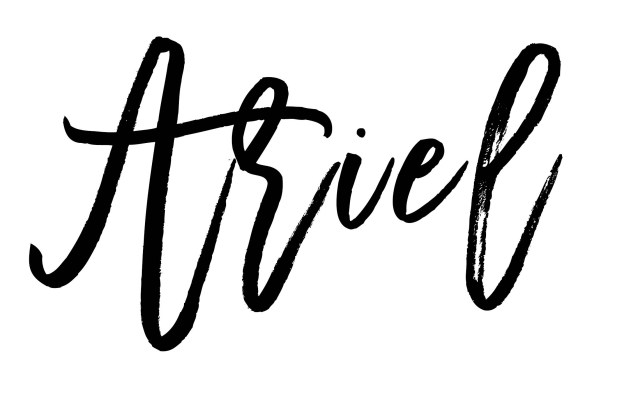 pst! Don't forget my friends over here!
Up to Date Interiors | Domicile 37 | The Gathered Home | Semigloss Design | Jest Cafe | PMQ for Two | The Rath Project