With Halloween behind us, we can set our sights on Remembrance Day. On November 11th, we  take pause to remember the lessons learned from the sacrifices of those lost in the First and Second World War, as well as all the conflicts since (Korea on through to Afghanistan). It's a somber moment, pregnant with emotion for many of us in the military community. When Cricut, asked me to share a distinctly Canadian tradition, my thoughts went to LCol. John McCrae's poem In Flanders Fields, from which the tradition of wearing a red poppy stems. My DIY Poppy Shadow Box is a great way to commemorate the day and keep Christmas at bay just a little bit longer.
For the fun tutorial and step-out you're heading over the Cricut page // here //
For more military life posts // here // For the project gallery // here //
*Cricut sponsored this post, but all thoughts are my own.  Thank you for supporting the brands that make PMQ for two possible.
All across grade schools in Canada, children will read McCrae's poem and learn about the Great Wars. Many of us remember the poem, and standing at ceremonies hearing it.  It means something a little different to everyone. Whether it's a fond memory of a grandparent who fought in the wars, or remembering friends and family who have fallen in recent conflicts. To me, it means remembering what my grandfather fought for, what my husband serves for, and why I am committed to our lifestyle as a military spouse. Now when I attend our local parades I think of the poem and all that it means to me.
It's as haunting as it is beautiful, and its words never cease to impress upon me the lessons of our past.
For those of you unfamiliar with the poem here it is:
In Flanders fields the poppies blow
Between the crosses, row on row,
That mark our place; and in the sky
The larks, still bravely singing, fly
Scarce heard amid the guns below.
We are the Dead. Short days ago
We lived, felt dawn, saw sunset glow,
Loved and were loved, and now we lie
In Flanders fields.
Take up our quarrel with the foe:
To you from failing hands we throw
The torch; be yours to hold it high.
If ye break faith with us who die
We shall not sleep, though poppies grow
In Flanders fields.
When I was trying to come up with something I could make to honour the day in our household, my first thoughts went to the velvet poppies sold by the Canadian Legion in November. You'd be hard pressed to find a Canadian who doesn't have at least 5 in a glove compartment or drawer somewhere. We wear them each year, and then lay them at the war memorials and cenotaphs or wherever locals services are held.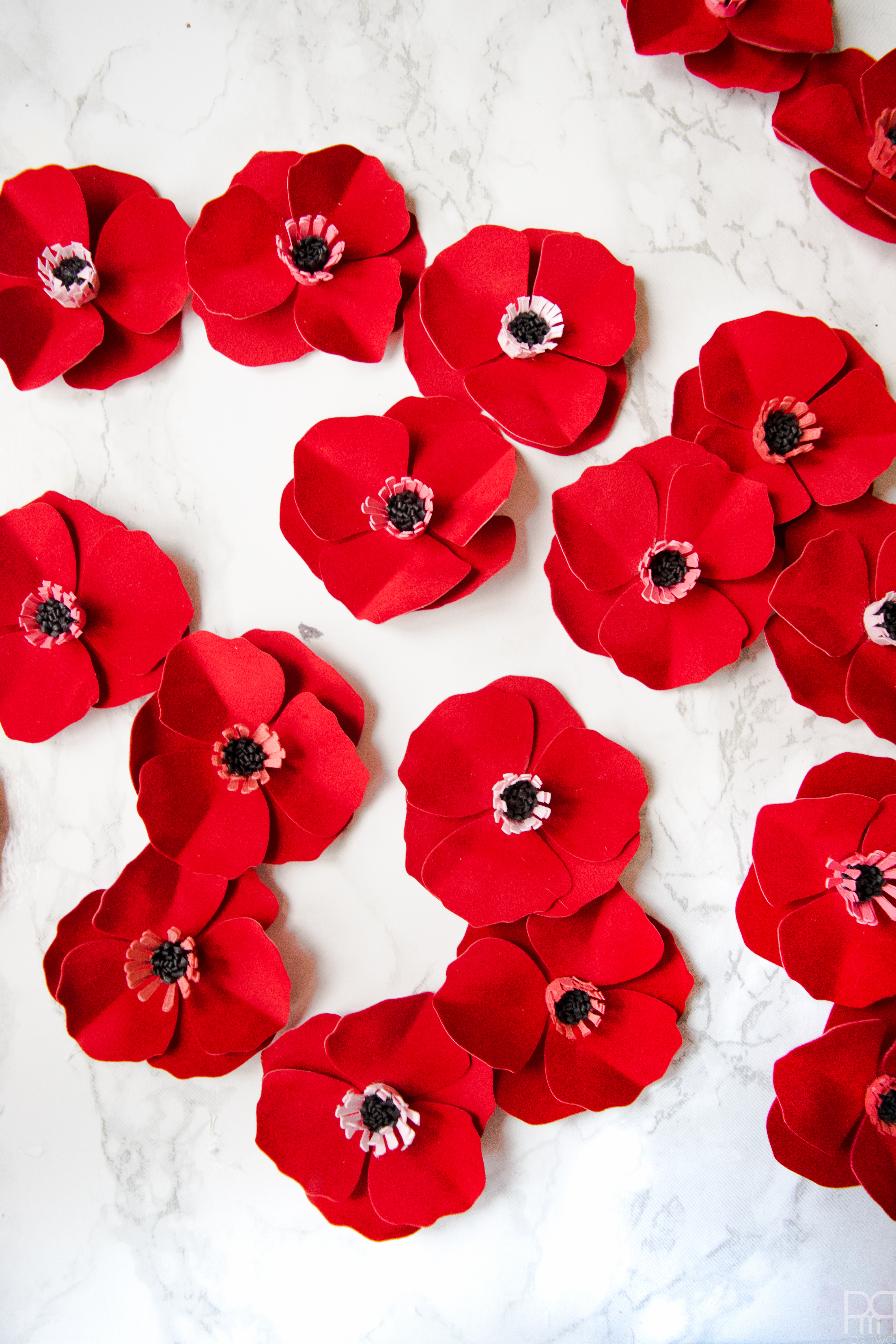 After some sleuthing at my local craft store I found red velvet paper (!) and it all came together. I had a shadow box kicking around, enough beautiful vinyl, and some time to create using my Cricut Explore Air™ 2 machine. Over the course of an afternoon I created and assembled the red velvet poppies, and a vinyl "hand-written" overlay of the title in English and French – because after all, we are a bilingual country.
There's a 3D poppy cut template available in the Cricut Design Space™ for 0.99$, and I already owned the font I would need to create the lettering.
For the fun tutorial and step out you're heading over the Cricut page // here //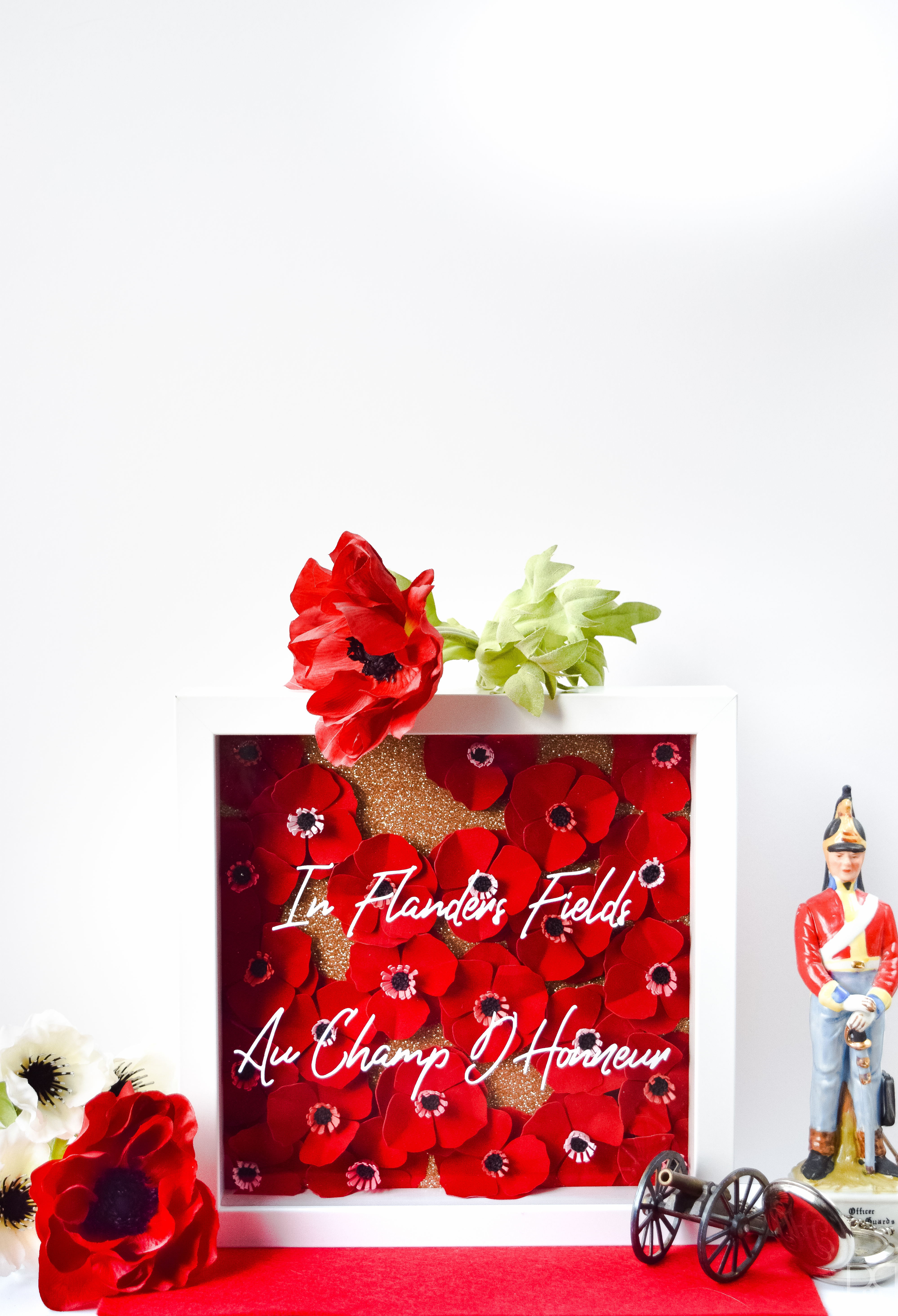 "The guns, Thank God, the guns!" – Rudyard Kippling
This is a sponsored conversation written by me on behalf of Cricut. The opinions and text are all mine.