It's that time of year again! Time for the Canadian Bloggers Christmas Home Tour! You may remember mine from the fall // here // it was full of colours and patterns, and my Christmas tour is no different! Well, it's different in that it's not a fall tour *dying of laughter over here.
Instead of giving away the whole kit and caboodle in one tour this year, like I did last year // here // I've separated it into several digestible posts. Last week we had the Holiday Mantel which you can view // here //, I then shared my Christmas Party decor in our dining room // here //, so today I'm sharing all things related to Christmas food – that is to say the kitchen and the dining room. Later this week I'll be going into detail on the tree and the rest of the house!
Thank you to Christina of The DIY Mommy for hosting. If you're joining me from Amidst the Chaos, Brooklyn Berry Designs, lemon Thistle, Suburble or Life is a Party – Welcome! My name is Ariel and I create bold, bright, colourful and eclectic home decor and DIYs. You can read more about me // here // and see more of my work // here //. I'd love you have you sign-up to my newsletter // here //
*Afloral sponsored this post, but all thoughts are my own.  Thank you for supporting the brands that make PMQ for two possible.
I make a kick-ass gingerbread cookie. I've been making the same recipe since I was in 2nd year university and working at Williams and Sonoma over the Christmas holidays. I worked there every year from September to January while in University. I fell in love with beautiful and simply bold kitchen decor there. It's why I still own 20$ spatulas to this day, and know the names of more glassware types than you'd think is normal. Anyhoo, my recipe is actually one of their 5 versions. You can find it // here //
// Don't worry, you can "shop the tour" at the bottom of the post! //
It wouldn't be the holidays without a decked-out coffee and hot chocolate bar. This year I swapped the coffee filters for marshmallows, candy-cane and chocolate drink stirrers, and some chocolate peppermint squares from the grocery store.
I think Christmas is one of those occasions where it's permissible to put things like nutcrackers and malachite Christmas trees next to your coffee maker. I wouldn't do this for say Halloween, or Valentine's Day, but at Christmas I like to find bits and pieces a little bit everywhere.
I love that our kitchen sink has two windows directly above it. I can watch the snow fall while doing dishes, or pouring a cup of coffee. Not wanting the front of house to be outdone, I added two wreathes to our windows with big bold red velour ribbon. In lieu of my beautiful floral arrangement from the fall – complete with beaded pumpkins – I've simply replaced them with two lavendar magnolias from Afloral // here // and one of my atomic starburst ornaments // here //
You'll find those stunning blooms on our bar cart in the dining room too.
Christmas decor calls for small but perfect vignettes throughout the home. It's about creating little moments that catch the eye and draw you in. My bristle reindeer and bottle brush trees are the perfect example! Perched on the middle shelf of my IKEA bar cart, you only really notice them when you're reaching for a glass.
Bruce had to be a part of the Canadian Bloggers Christmas Home Tour too. He ran around like a goof while I decorated and photographed.  He and the two cats Boots and Dr. Tobias are a constant source of joy in my life and household.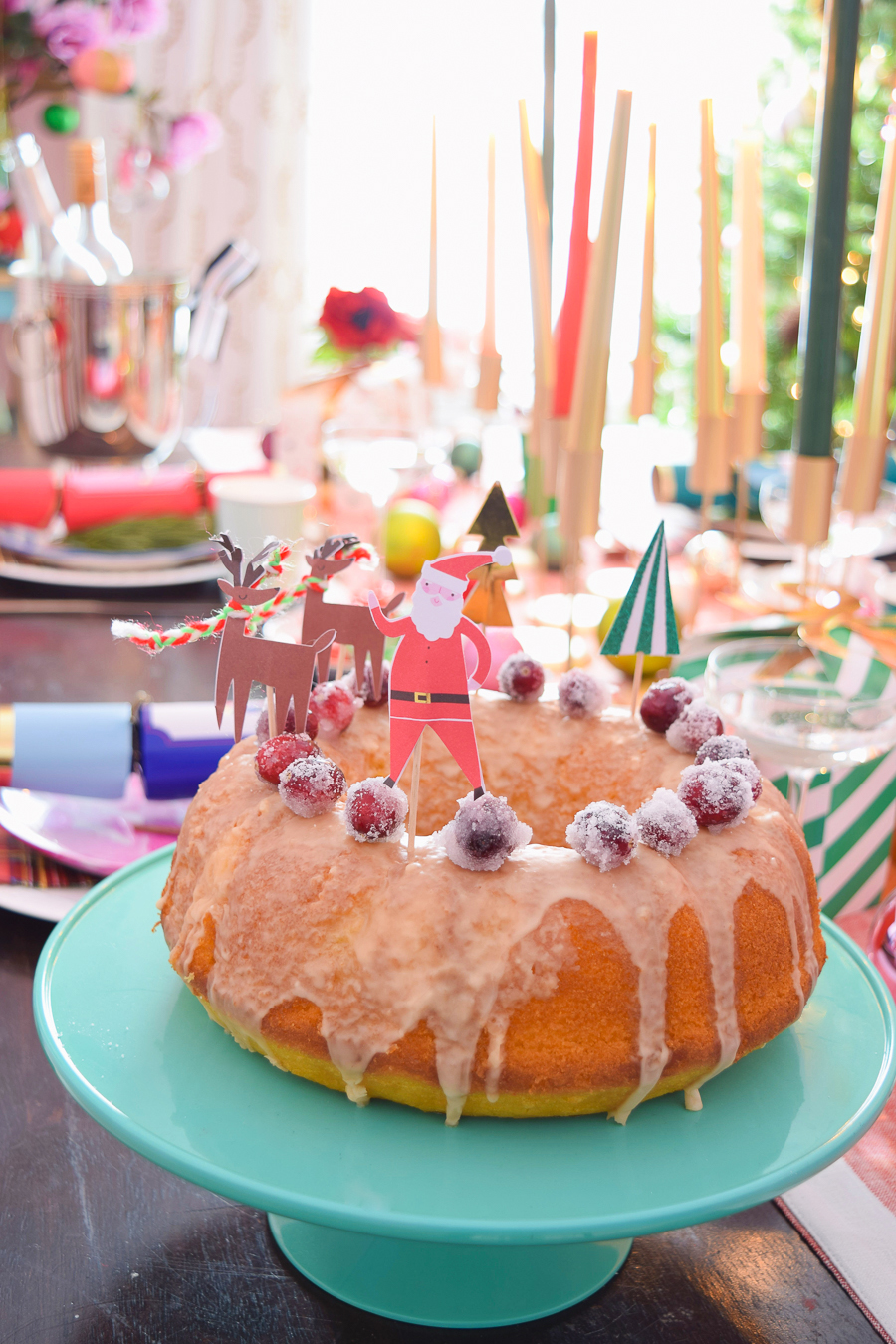 Another Christmas treat I love is a lemon bundt. I know that makes no sense, but it's true. A good ole' fashioned Betty Crocker lemon bundt with a lemon glaze and sugar frosted cranberries. This year it's adorned with little Christmas food picks from Meri Meri, and helps add a bit of flair to the otherwise stunning bundt cake.
Which brings us to my tablescape and place settings. I am a sucker for tablescapes, and like I told my friend, I need Buckingham Palace or Versailles to properly execute the designs I have in mind. Lord knows my very small PMQ dining room is not big enough, and certainly doesn't give me the height profile I need to properly pull-off some of the things I have in mind. If you're digging these awesome pink marbled plates though, you can find the DIY // here //
This year I've nailed-down our colour palette to pink, red, light blue, green (dark green and a richer and lighter green), as well as metallic and then purple. I don't know if that sounds "nailed-down" to you, but to me, that's a nice step-up from last year's pink-stravaganza. I'm slowly expanding the palette and adding more whimsy to our decor, while balancing it out with darker colours.
Anyone else serve Turkish Delights this time of year?
Aren't the crackers delightful? Using a cohesive collection has really helped unify all my different pieces as I mix and match them to best suit the decor needs. You'll notice the cookie boxes, crackers, and food picks are all by the same company. Not only that, but the florals throughout the main floor are all cohesive in style and colour. Afloral was great for that – I was able to order enough flowers for the entire house in one fell swoop without worrying about whether or not the florist would have what I needed.
If you wanted to shop the post, now's your chance!
*The following product links contain affiliate links. Thank you for supporting the brands that make PMQ for two possible. For my full policies click // here //
From Afloral: pink anemones, lavender magnolias, green vase, blush mercury glass vases, gold candle stick holders, gold candles
From Anthropologie: Christmas Salad plates
From Meri Meri: Party Crackers
, Party Picks
, Treat Boxes
, Multicolor Cups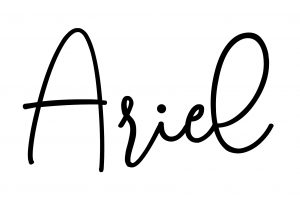 Make sure you check-out all the other homes on this week's tour! The Canadian Blogging world is FULL of talent, so it's nice to see it all assembled in one place from time to time.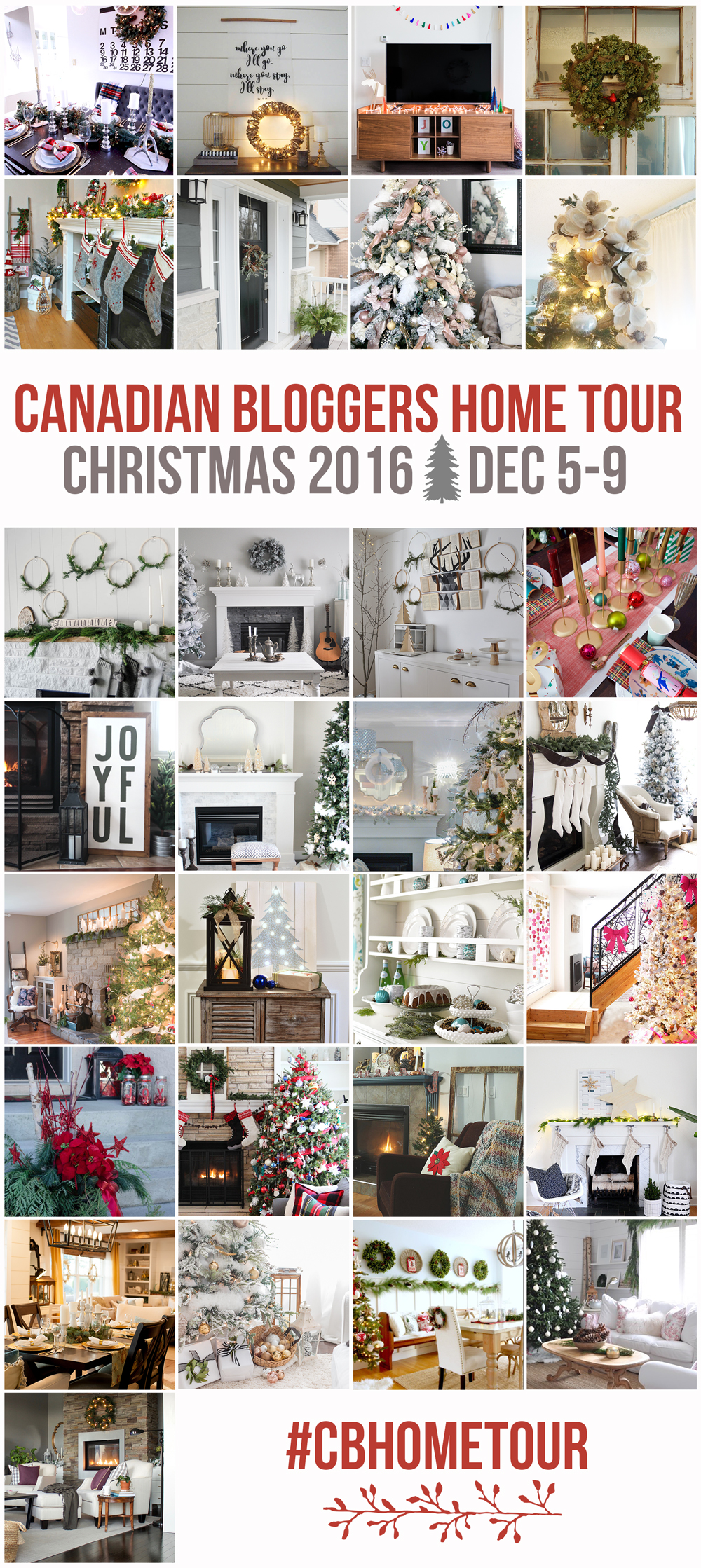 Monday
northern style exposure
The Learner Observer
The Uncommon Law
Heather In Heels
Clean and Scentsible
THE SWEETEST DIGS
Tuesday
Amidst the Chaos
Brooklyn Berry Designs
lemon Thistle
Suburble
Life is a Party
PMQ for two
Wednesday
Love Create Celebrate
Satori Design for Living
A Pop of Pretty
So Much Better With Age
VinYet ETC
Woman in Real Life
Thursday
The DIY Mommy
Fresh Crush
Time With Thea
A Pretty Life
Home To Heather
Nalles House
Friday
This Little Estate
Craftberry Bush
The Happy Housie
Kimpowerstyle
Elliven Studio