I've been featuring my sitting room and bar area for a while now, but I thought I'd share some info on one of my favourite spaces – the bar.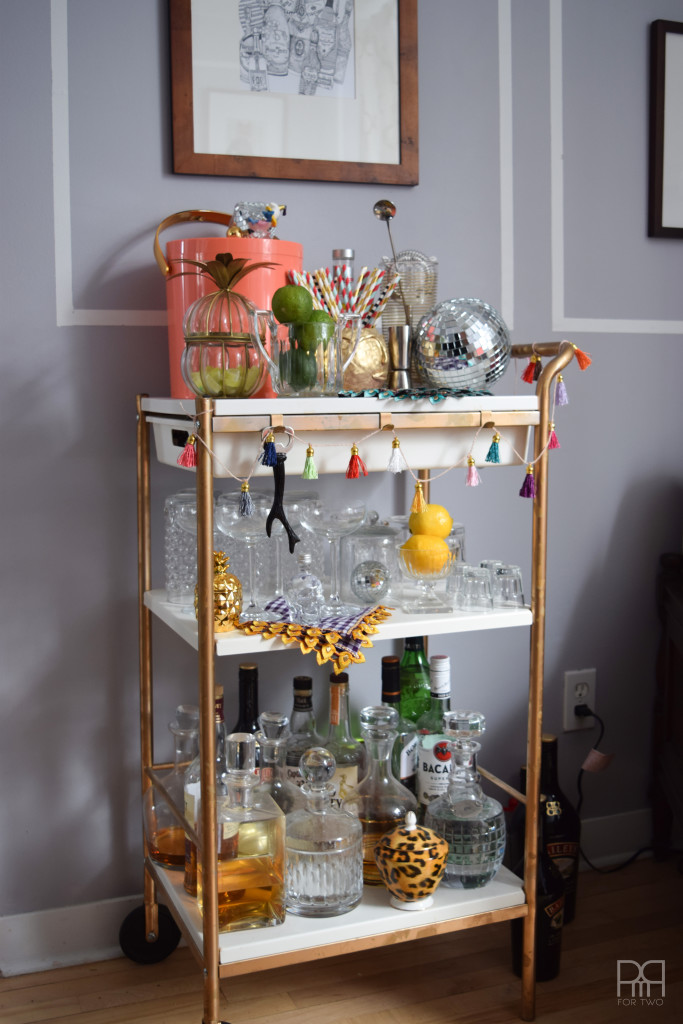 Our bar has had several iterations since we started living together. From a windowsill with one decanter in Gagetown, N.B., to the top of a buffet, and now onto a bar cart – our bar has grown and expanded along with our collection of  decanters and flair. We love to entertain, and a good well-made drink is the best way to lead into that.

What do you stock?
A home bar should contain – at the very least – some liquor and glasses. What type of liquor and glasses will depend entirely on your tastes, but if you host often and offer your bar, having a variety of "bar rail" options is usually a good idea. The basics are vodka, rum, gin, and rye (Canadian whiskey). They're referred to as "bar rail" because it's the four bottles you'll find in the speed well/rail at your local bar. Your bar rail brands are usually bottom to low shelf (not the pricey ones).
What you stock above and beyond that, should be based on your taste. I like vodka, so I try and keep a nice bottle kicking around for special occasions, but my husband likes whiskey so we keep a nice variety on hand. What good is an expensive brand without the proper accoutrements though?
The mixes and garnishes you stock are just as important – so don't forget all the little extras that make a cocktail that much tastier.
To decant or not to decant?
Instead of featuring your really nice (or not so nice) selections of liquors in their bottles with branding and colours, why not put them in a decanter? They don't cost a fortune, and can be a really nice touch to jazz up your home bar, even if it's just a shelf in your kitchen. The different styles, colours, details of your decanters can bring together the style elements in a room, or serve as a fun pop of colour. Have fun with them! Just make sure you can identify what goes in each decanter. There are handy little decanter tags that you can get at a bar store, expressly for this purpose.
We've kept our collection in clear glass with gold and silver details – classic and timeless. You can spend 500$ on a crystal decanter, or you can spend 10$ for something on sale at a department store, whatever floats your boat is just fine. It doesn't have to cost a million bucks to look like a million bucks.
Mix and match your glassware styles, not the types
Serving a drink in a lowball if it should be in a highball can completely change the drink. Glassware is key to taste and look of your cocktail, even if it's just for a stiff drink after work. The type of glass will affect the aromas you're exposed to when taking a sip, just as it can affect the proportion of mix to liquor. Also, whiskey on the rocks looks best in a lowball. Although we have a nice variety of glassware, I have strayed from getting all of the glasses in the same line. I wanted to have fun with the selection and get different styles for each type of glass. We have a fun bubble glass for highball, while we have a nice, heavy, crystal lowball. The shot glasses are more structured, while our wine glasses are the classic riedel brand. Together we get an eclectic look that works together without looking match match.

What about the bar tools?
When it comes to the selection of bar tools, unless you're making intricate drinks requiring biters and the tears of a newborn (joking), all you need is a shaker, a bar spoon, and a jigger (the little metal shot glasses). You can pick-up some really cute sets, or splurge on something with mother of pearl inlays.

Bar carts are the best
If you can swing a bar cart in your space, I highly encourage you to go for it. There are many shapes and styles, and much like decanters, chose something that works for you and your budget. We got the option from Ikea and spray painted it as we applied it. You can read about it in the gallery post.
Style style style
Have fun with it! Add some fun mixers, get a bottle of fancy fizzy water, play around with cute drink stirrers, invest in a good set of cards, and have fun the art work. I added smurfette in a champagne glass because I think she's adorable, and that's that. I also don't have kids coming to yank things off the bar.
If you didn't catch it in my previous post about the Klorebel Champagne print – I love champagne. I keep a small bottle on hand for impromptu celebrations. I've replaced it a couple of times now, so clearly they come in handy. You can read my tassel garland tutorial here.
Do you have a home bar? How do you style it?