Bouquets – much like table arrangements – are such fun to create. In today's floral scene, it's less about symmetry and creating one big ball of the same, and more about lovely constructed arrangements that respect mathematic principles like the fibonacci sequence and the golden ratio. If you can nail those in your arrangements, you'll wow and intrigue. With my friend's bouquet, we knew she wanted angular and hard-edge florals more than soft and curvy blooms. This brought me more in the direction of thistles, succulents, berries, and greenery with one or two big blooms thrown in for colour and contrast.
Catch-up on all the wedding posts:
Winter Wedding Florals // here //
Winter Wedding Centrepieces // here //
Winter Wedding Boutonnieres // here //
*Afloral sponsored this post, but all thoughts are my own.  Thank you for supporting the brands that make PMQ for two possible.

Before getting to work on her bouquet and the two bridesmaids bouquets I set the scene with my beautiful collection of ginger jars and chinoiserie vases to help stimulate my creative process. Arranging everything just so is reminiscent of a Dutch masters' still life, complete with shafts of light and details in darkness.
When making a bouquet with faux florals you don't really have to consider whether or not something is "in season," so that opened-up so many options for greenery in the bouquet. There was no way I was going to find half these blooms locally, let alone in season, so working with the beautiful silk and real-touch versions was the perfect solution considering I then have to drive all the way down to Ontario with them. Durability is key!
The fact that we're working with silk florals also means that my friend can keep her bouquet forever. It'll never dry-out or need to be protected quite the same way. If you want to keep your bouquet for posterity's sake, faux-florals are a great solution.
I mean, just look at those succulents! They look so full of life, so real, and oh-so beautiful. The same can be said of the berries, the anemones, the thistles and the english rose. Just beautiful!
Materials needed for these bouquets:
Step 1: I used a starter bouquet that would help showcase the accent stems. This one has little cabbage heads, grape seed, Queen Anne's Lace, Lamb's Ear and rosemary sprigs. It's quite beautiful on its own, and if my friend or I had been simpler people, this would have been perfect as it stands on its own very well.
Step 2: I then started adding pops of blue in the form of thistles, and a big english rose.
Step 3: Followed shortly by an anemone and a succulent and some berries!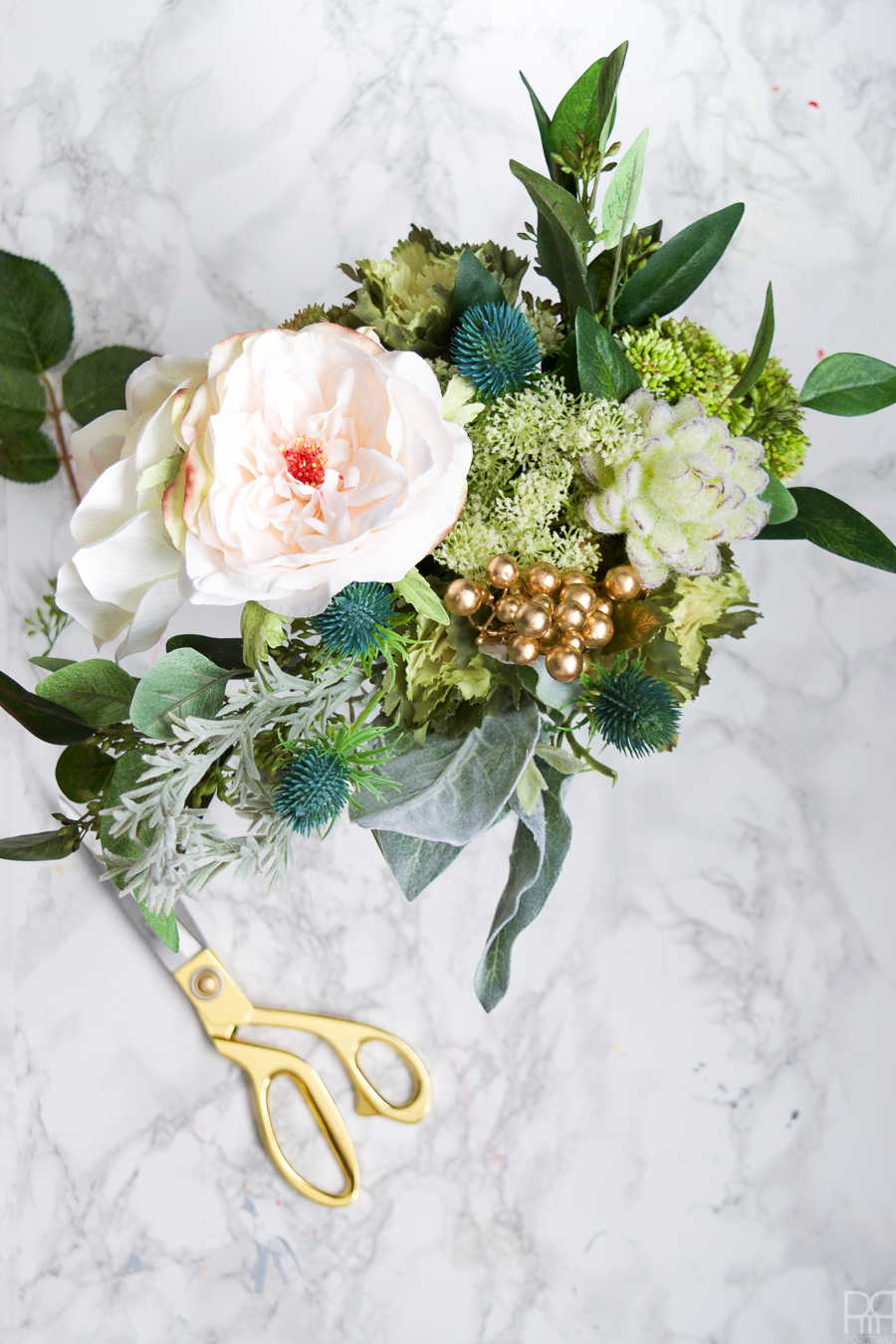 Step 4: The whole point of creating a more natural bouquet like this is to add dynamics and motions, while drawing the eye to different aspects. You do this by adding high-low, left to right, and then depth.
Step 5: You can watch it all come together like this
Step 6: Once you're happy with your arrangement it's time to wrap the stems. This can be tricky if you have differently weighted parts, as some may require more securing than others, but floral wire and floral tape will do the trick just fine!
Step 7: I then wrapped the bouquet, this hiding the wire stems and the floral wire, with blue velvet ribbon. I used hot glue to start the ribbon, and to secure it along the stems at various intervals. There are two layers of ribbon here, and the first one was more of a base, while the top layer is meant to be pretty, so keep that in mind.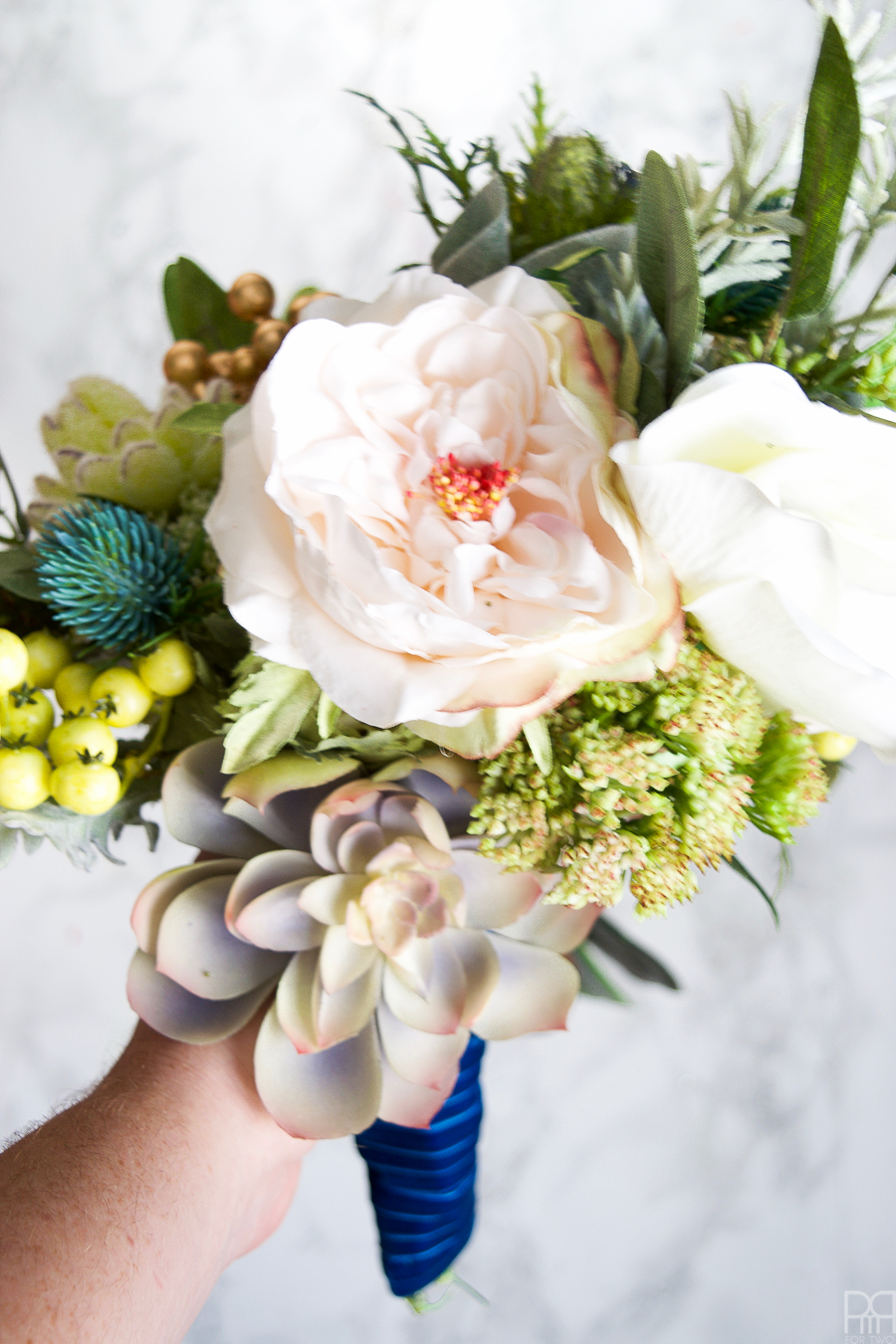 Step 8: In order to avoid crushing any blooms or creasing anything, I'm storing it in a vase upright.
Step 9: The same process can be said of both the bride's maids bouquets, except I started with smaller sets and only added or or two statement blooms to each bouquet. I added enough common flowers between each bouquet that they all looked cohesive. Ex. Only one bouquet got an anemone, while the other got all the extra succulents.
They have just as much swoop and drop as the bride's bouquet, but are smaller and easier for them to hold while a) holding the bride's bouquet b) doing bride's maid-y things like fixing her train etc.
I'm exceptionally happy with how these turned-out. They're show-stoppers for sure, and will convey just as much about the bride and her style, as they will the theme. I'm so excited to see them come down the isle with the bridal party.
Dark moody pics for example, drama and ambiance.