It's here! Reveal day for our long await Retro Glam Kitchen renovations is finally upon us, and I can't believe we actually made it in time. Big shout out to Dan for working so hard with me through this entire project, and for trusting me when it came to certain design choices. He loves every bit of it just as much as I do, and it's easy to see why.
Catch up on our progress so far: Plans for out Retro Glam Kitchen Renovations, How to Paint Plywood Kitchen Cabinets, Choosing A Retro Kitchen Floor Tile,  Retro Kitchen Details, Glam Kitchen Finishes & How To Choose A Retro Sink.
P.s Welcome to week 6 of the ORC! Make sure you go check out the link-up with all the other linking participants, and check out what the official ones are up to.
*Polycor, Velux Canada, Blanco, Villa Lagoon Tile, Hygge & West, BEHR Paint, Homesense, Metrie, Emtek  & Hudson Valley Lighting sponsored this post, but all thoughts are my own. Thank you for supporting the brands that make PMQ for two possible.
ALL SOURCES LISTED AT BOTTOM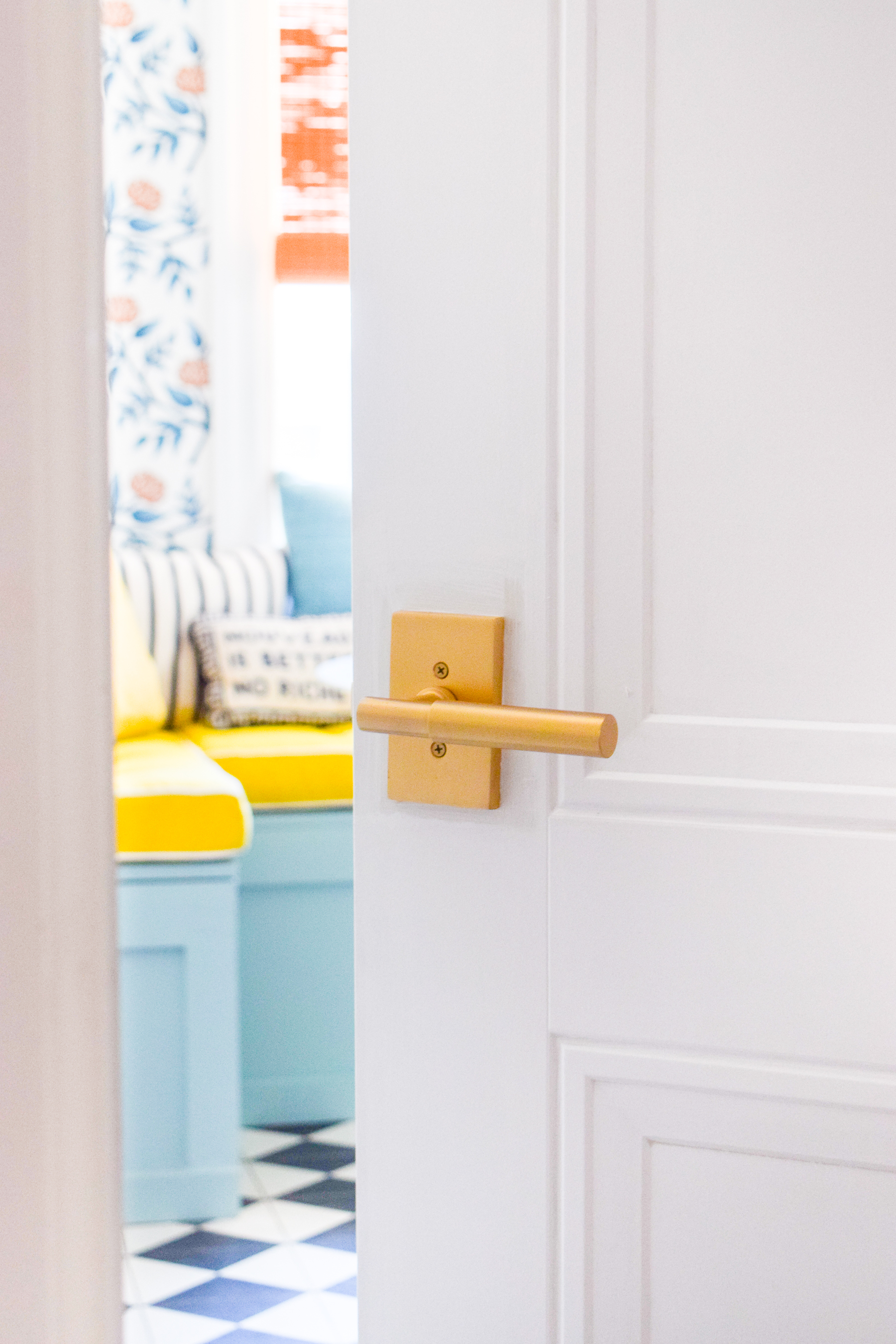 Won't ya come on in! You can't enter this kitchen without first remarking on the new doors, doorways, and handles. I like having the kitchen as a separate space in the house, and giving it new entrances felt fitting.
We've got the Livingston door from the Masonite x Metrie collab, along with casing & architraves from their new Option M line.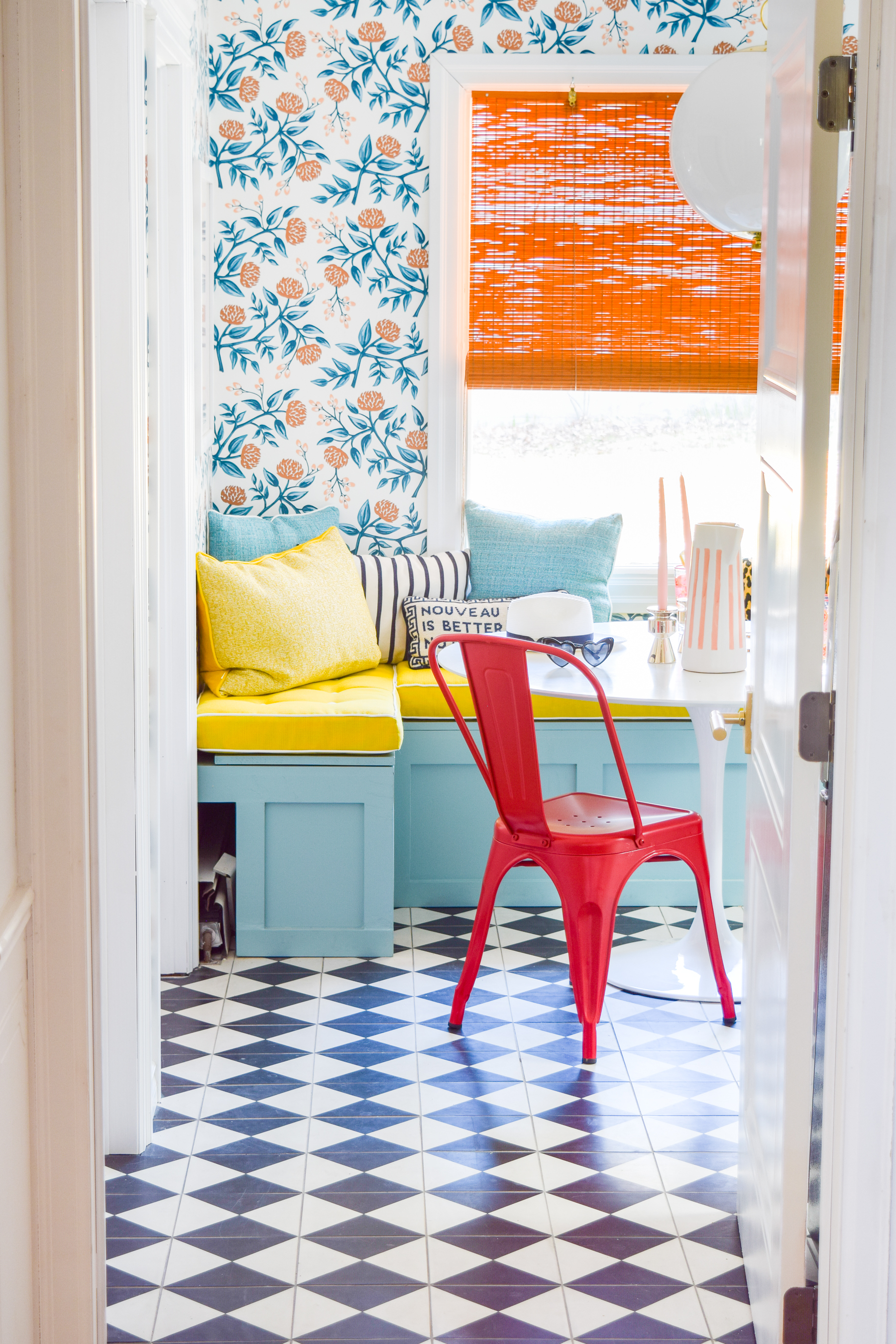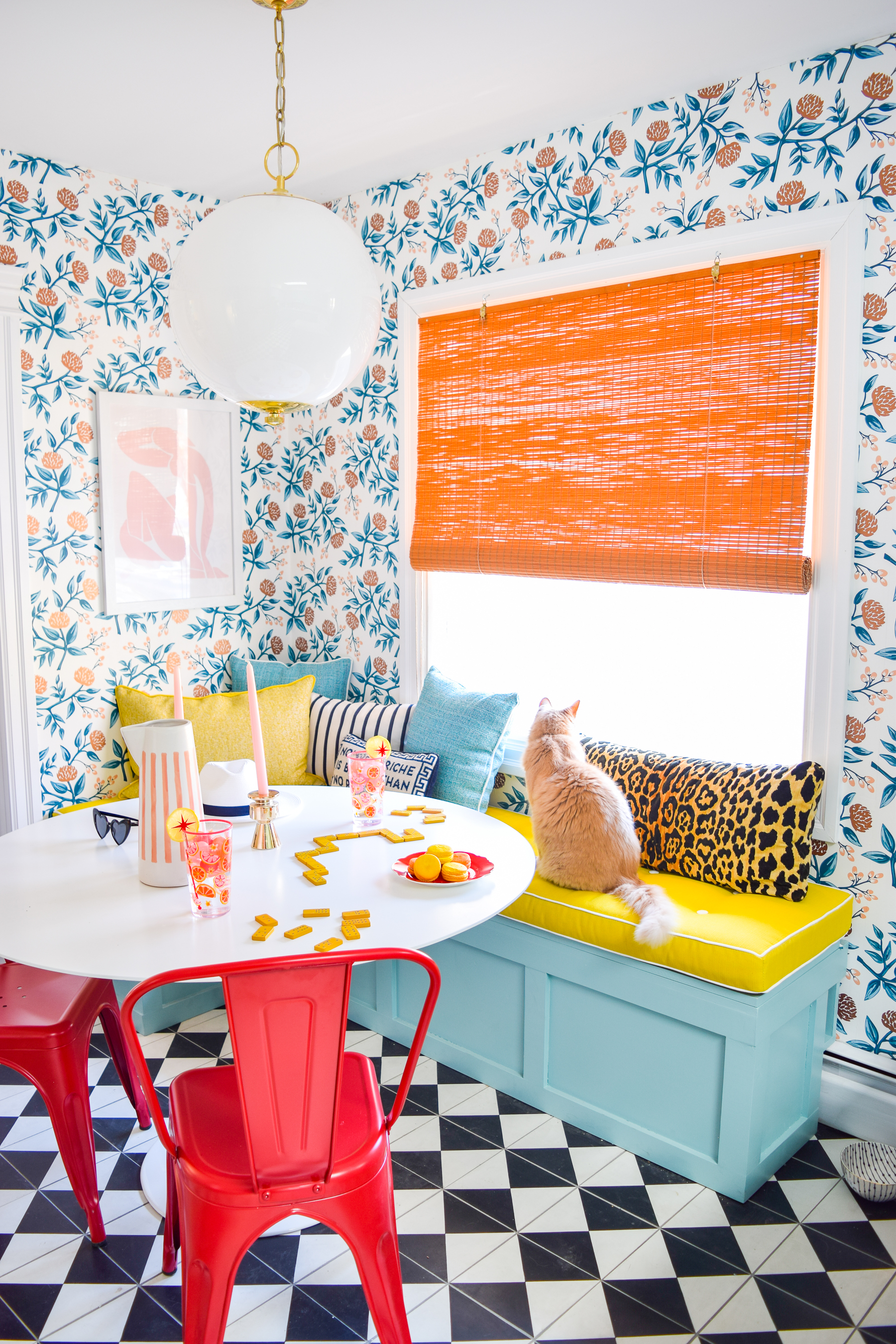 When you come in, the first thing you're greeted by is our new seating area. We've always had the table there, but with this renovation we wanted to add something that would at once cover up the baseboard radiators, provide seating, and give us extra storage.
Our window corner bench was expertly built by Dan, and painted by me. We had custom cushions made up, and are very happy with how they turned out. I couldn't have made anything as nice as those, so the extra cost was well worth it.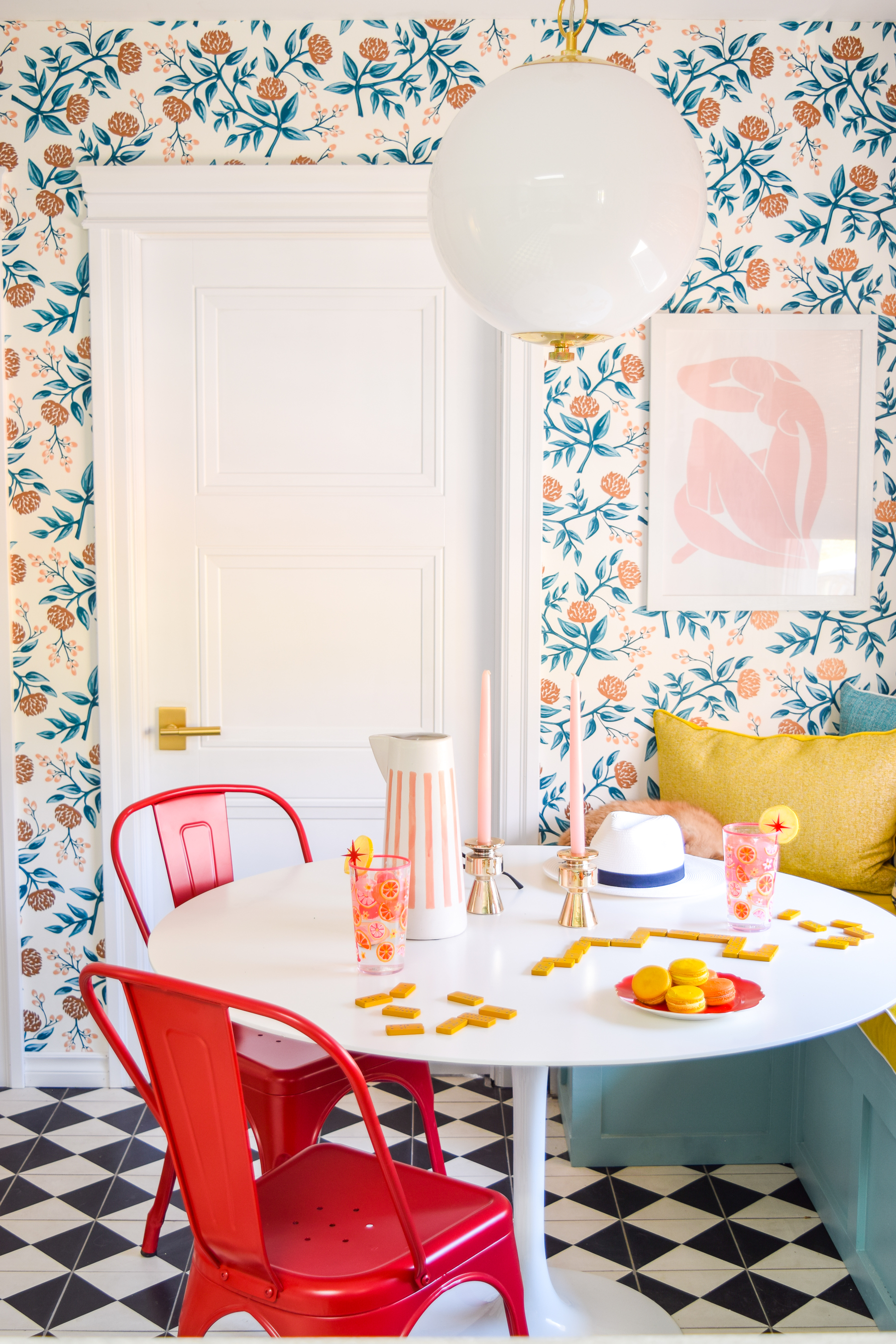 We added the red chairs (deciding to move the pink ones into the dining room), and are pleased with the pop of colour they provide against the white tulip base table.
Hanging the large Sphere No.1 Light from the Mark D. Sikes x Hudson Valley Lighting collaboration, above the table, really gives an interesting play on scale and shape, especially with all the rigid grids and lines from the cabinetry.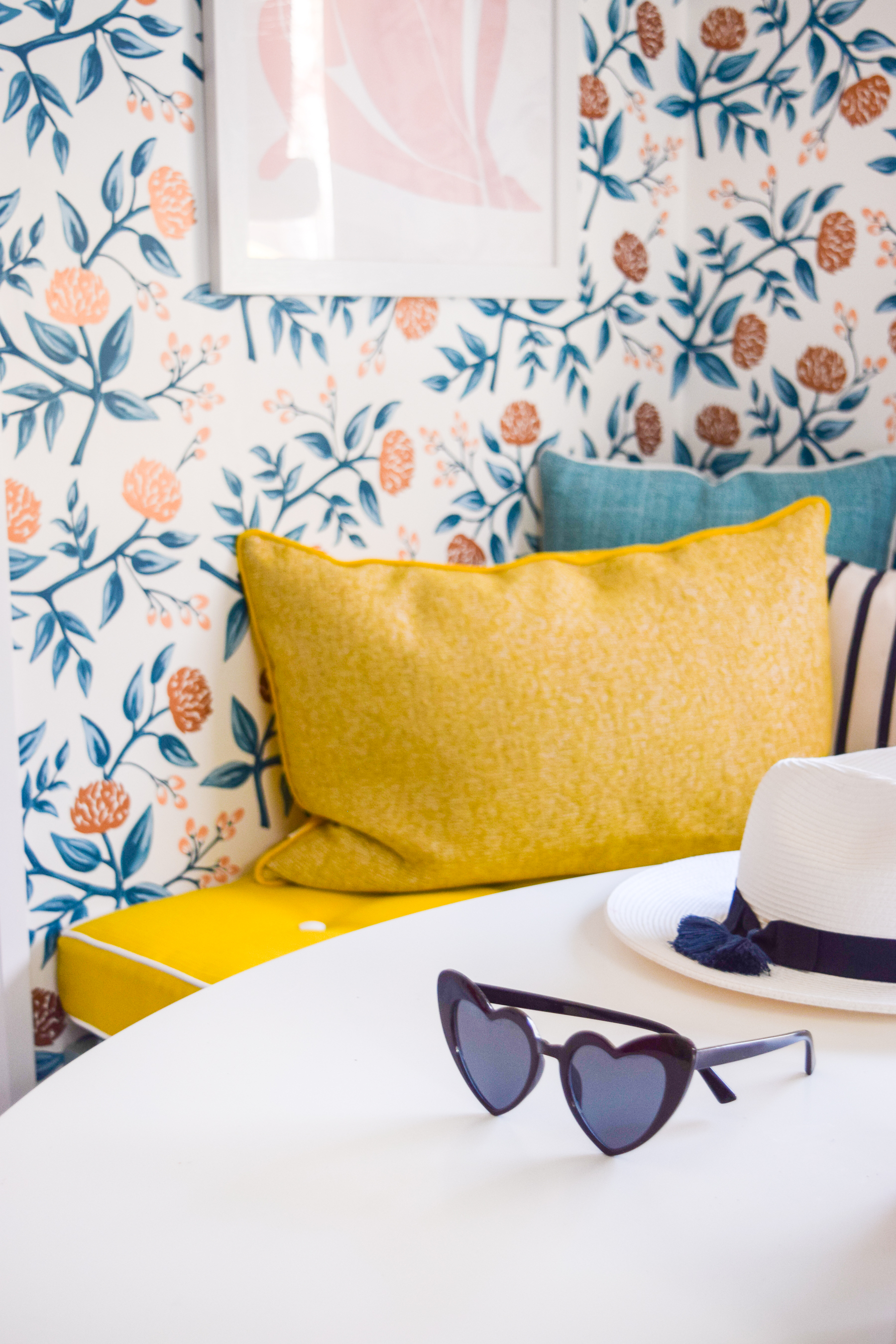 Setting the table for this reveal felt like an exercise in Saturdays and summer days to come. From my hat, to my sunnies, to the domino set and big citrus cups, and the statuesque pitcher (all from Homesense), I can't wait to spend an early evening or late afternoon enjoying some lemonade inside and out of the sun.
It also makes me think of late nights and early mornings with our baby girl. She'll be here around the end of August, and I'm sure this kitchen will be getting lots of use for late night activities.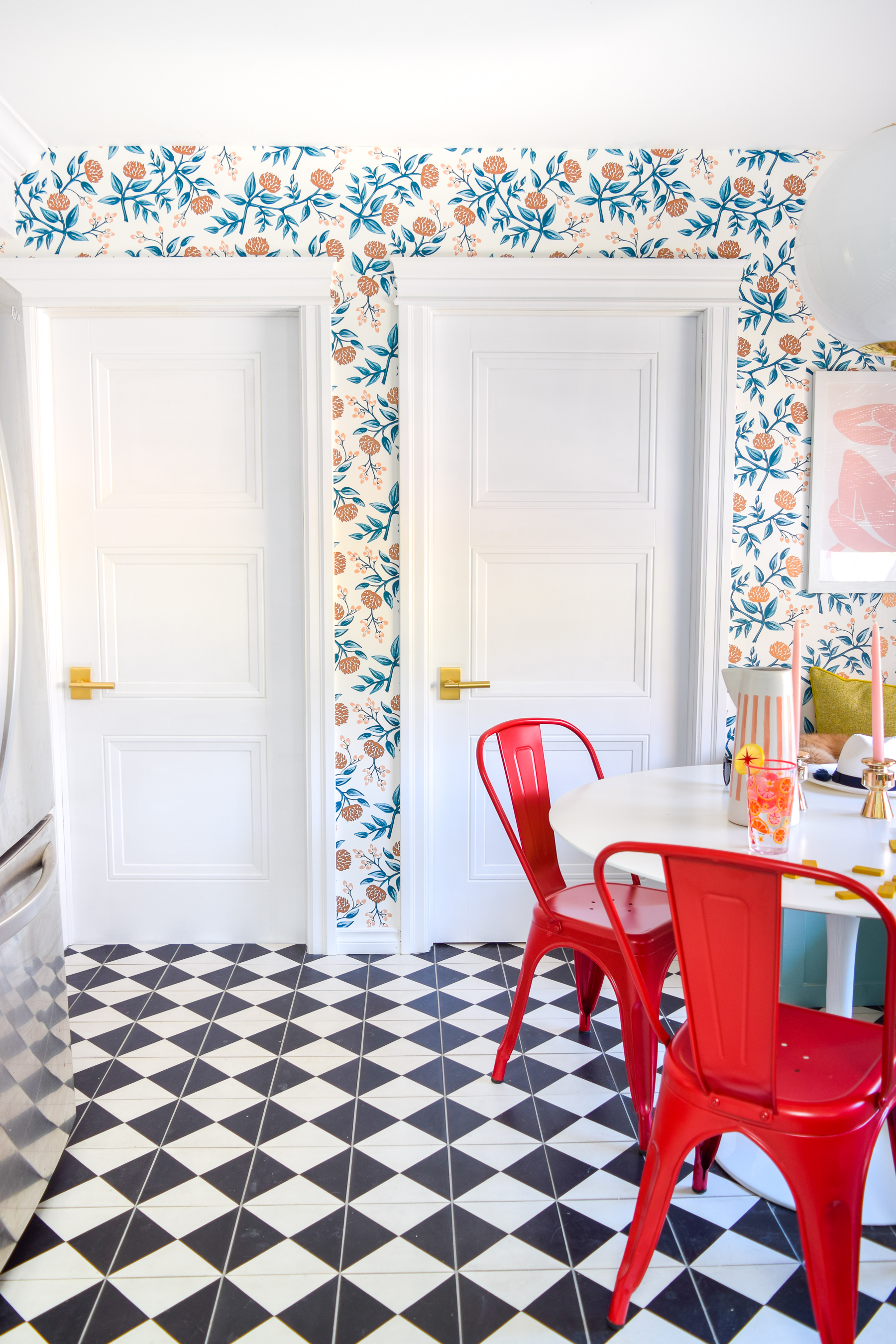 Even though we didn't change a single thing about the layout in this space (because it was actually really good to begin with), we did make major changes my updating doorways and doors. The architectural detail that they add to the space, really make it feel like a glam kitchen, and one deserving of a place in this lovely home.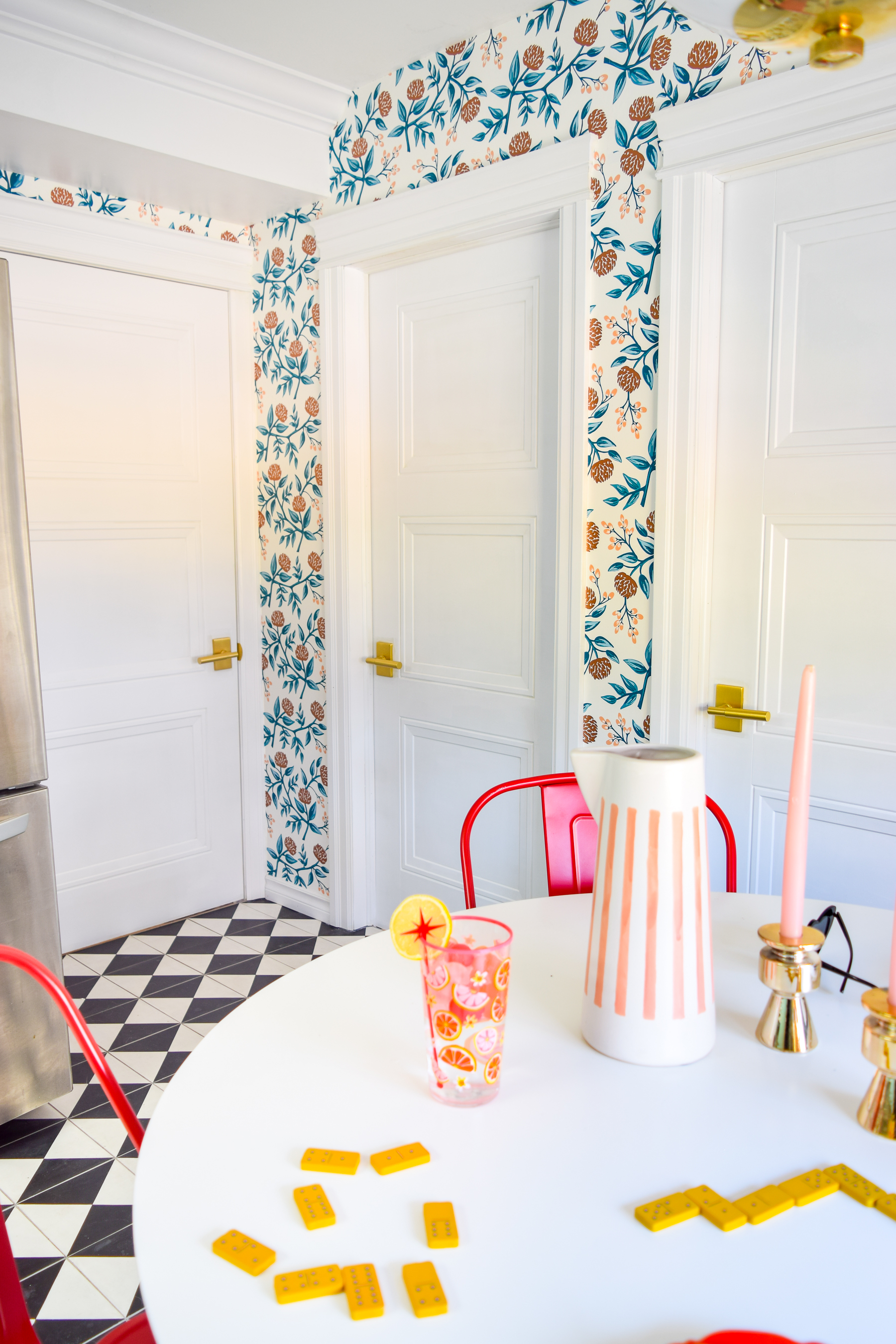 The door hardware is something I spent a lot of time deciding on actually. These handles from Emtek are a joy to look at, and even easier to use (nothing worse than a sticky handle).
Dan's only mark against them, is that they're easy for velociraptors to open (Jurassic Park anyone?), and since I don't think that'll be a problem anytime soon, he's gonna have to sit on that one for now.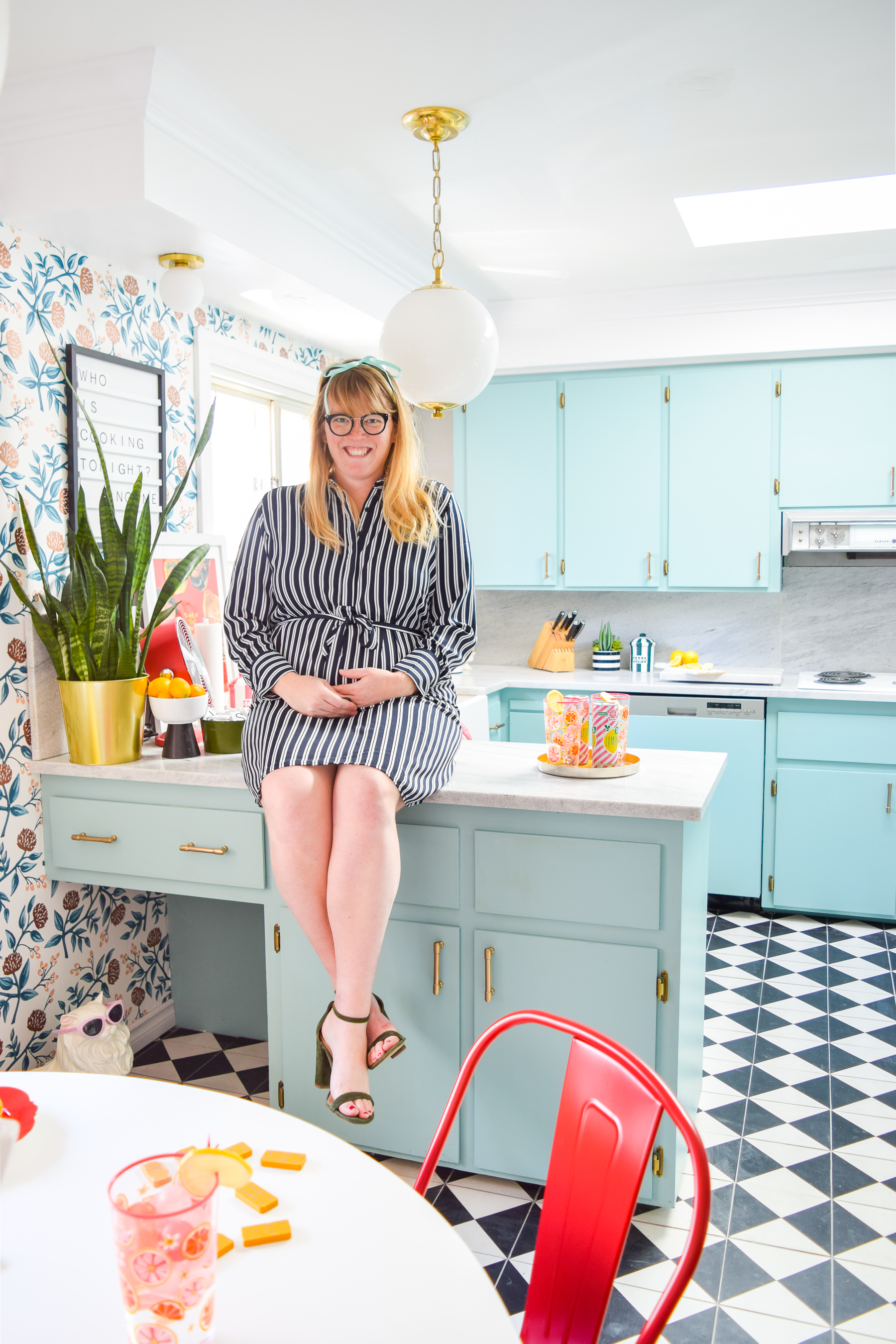 You can immediately see the difference that the skylight from Velux has made. That corner — that's now beautifully lit — used to be dark. The layout didn't make it an obvious place for a light fixture, so adding a big window onto the sky was such a luxurious option that we jumped at the option to do so.
I'll have a full post about the process, the skylight itself, and how we've incorporated it into our smart home tech. (it closes automatically when it senses rain, or will open with CO2 levels become dangerous).
Can we please take a minute to talk about this cool cat? The poor cats have had their food bowls moved all over the house since the kitchen reno started, and not only am I moving the back into the kitchen, but I've given them new food bowls!
These are actually people bowls from Homesense, but I wasn't going to let that stop me from using them for my fancy kitties. Since neither of them would sit still long enough next to them for a photo (Boots made his presence known almost everywhere else), I added my ceramic cat for dramatic effect.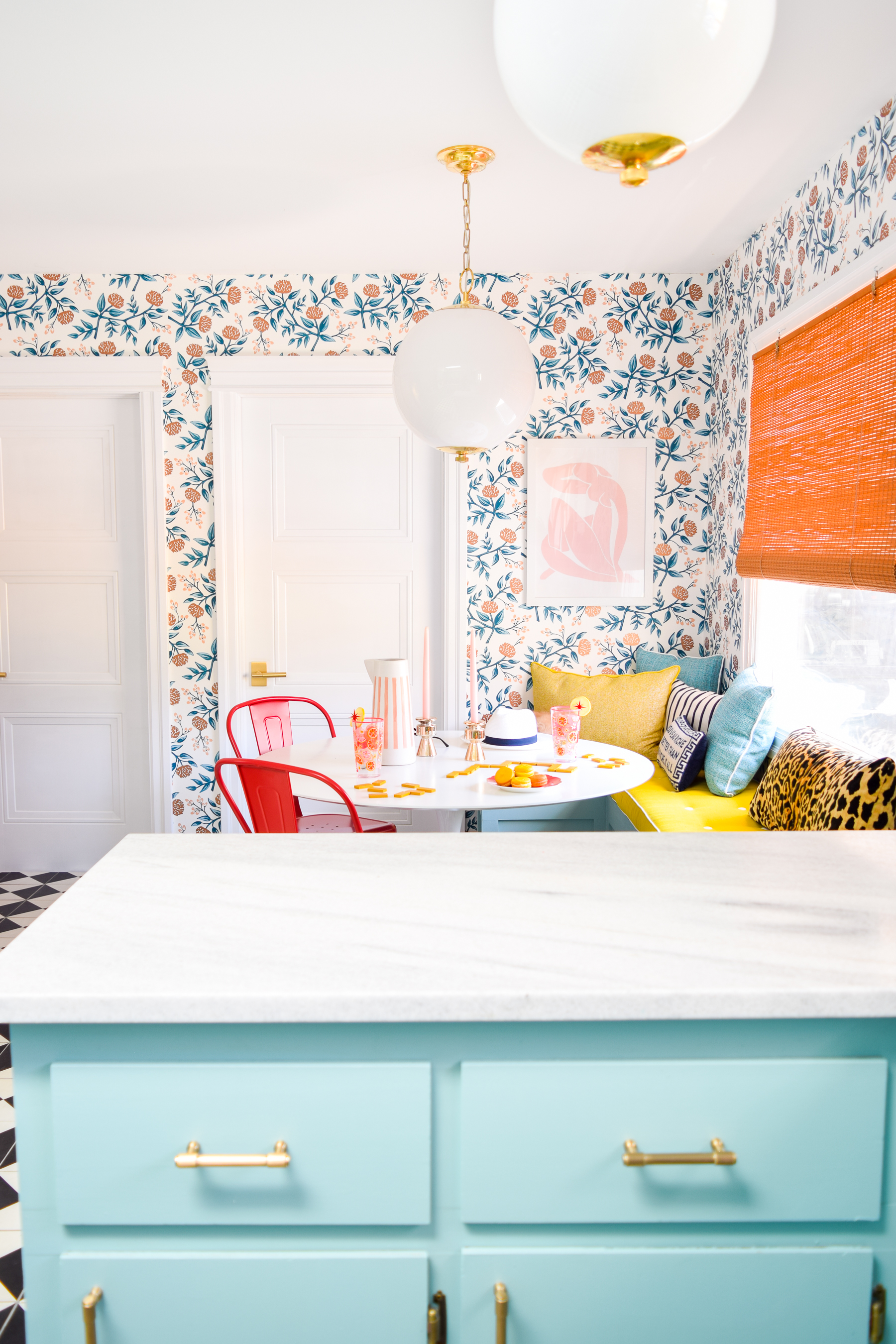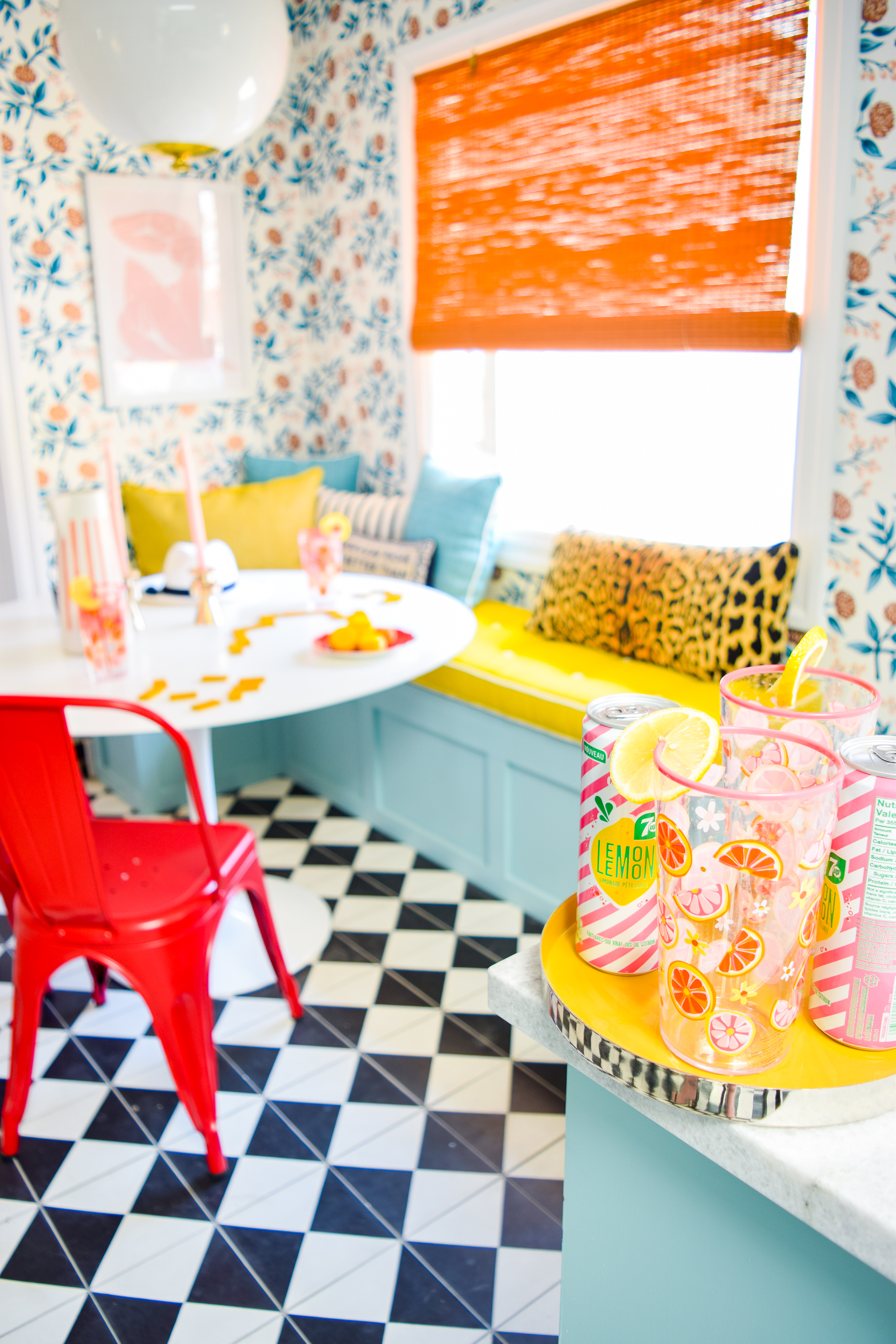 Although selecting all the big finishes was a crucial and exhilarating process (I've never had the luxury of choice in all our military rentals), choosing the soft finishes like decor, pillows, art etc. was by the far the most fun. Mainly because there wasn't so much riding on those choices.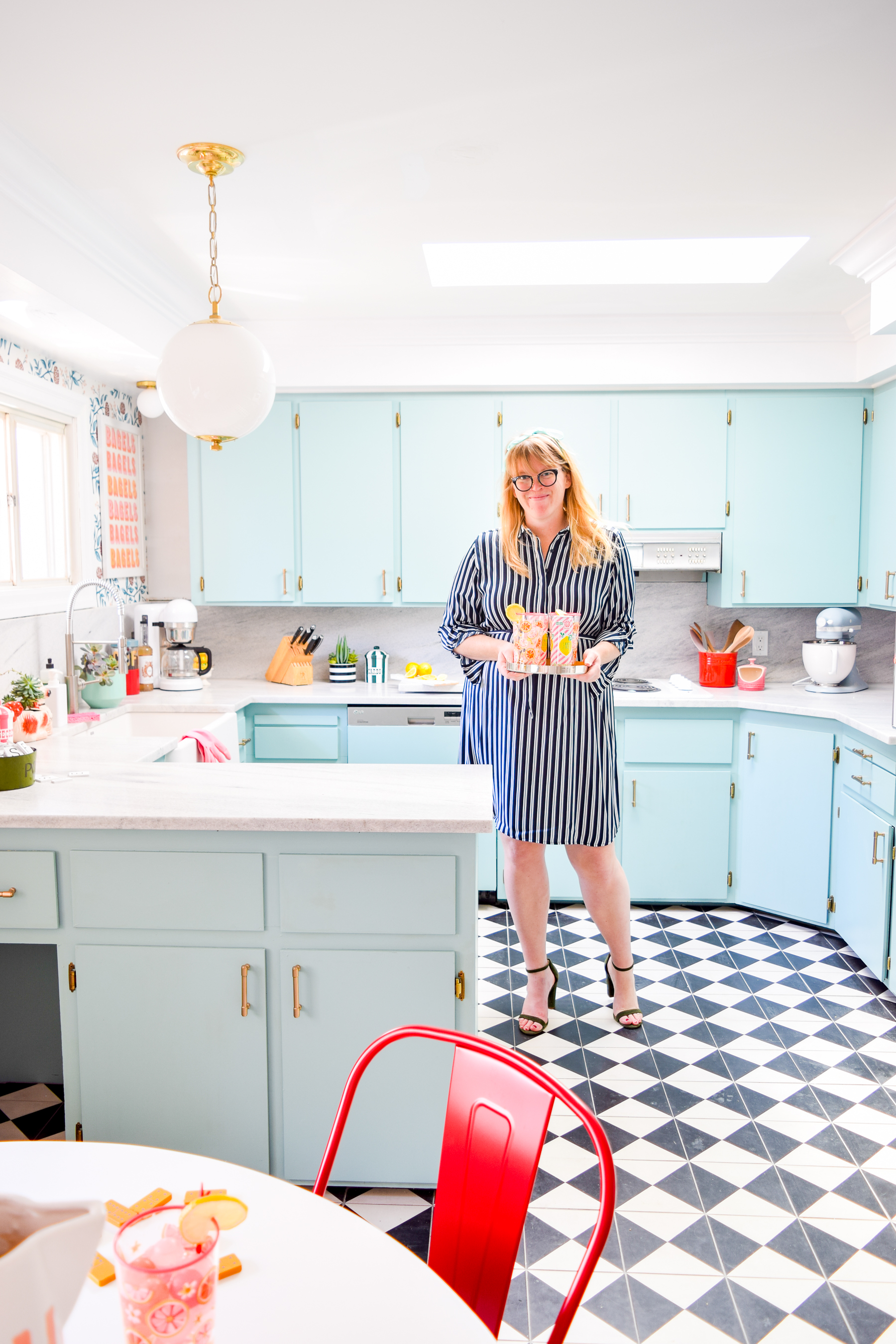 Can we talk about the countertops and full height backsplash for a hot minute? I've got an entire post dedicated to them coming up, but in the meantime you should totally take in all the White Cherokee Marble goodness from Polycor.
It's more durable than traditional marble, and the veining in these slabs was the perfect balance of bold and delicate for me.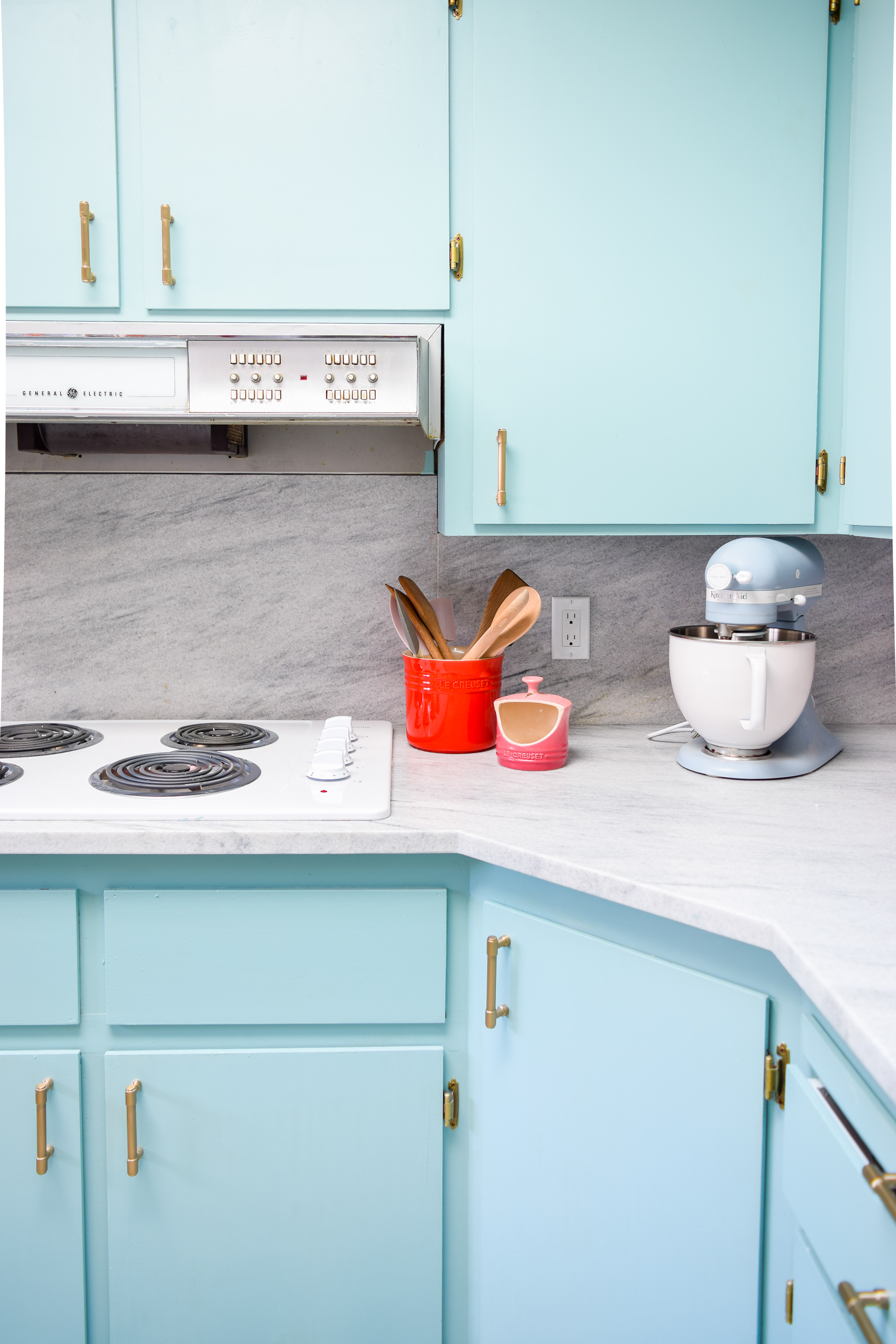 Having them installed all around the kitchen (and between cabinets) has made the space not only safer (we used to just have gross old wallpaper – 5 layers of it), but easier to clean. I just need a wet sponge to clean them down at the end of the day.
Given how we have our range and oven separate (a retro kitchen feature I ADORE), it means there's nothing standing between our pots and pans, the grease or mess, and the back of the range. The marble will be so much easier to clean.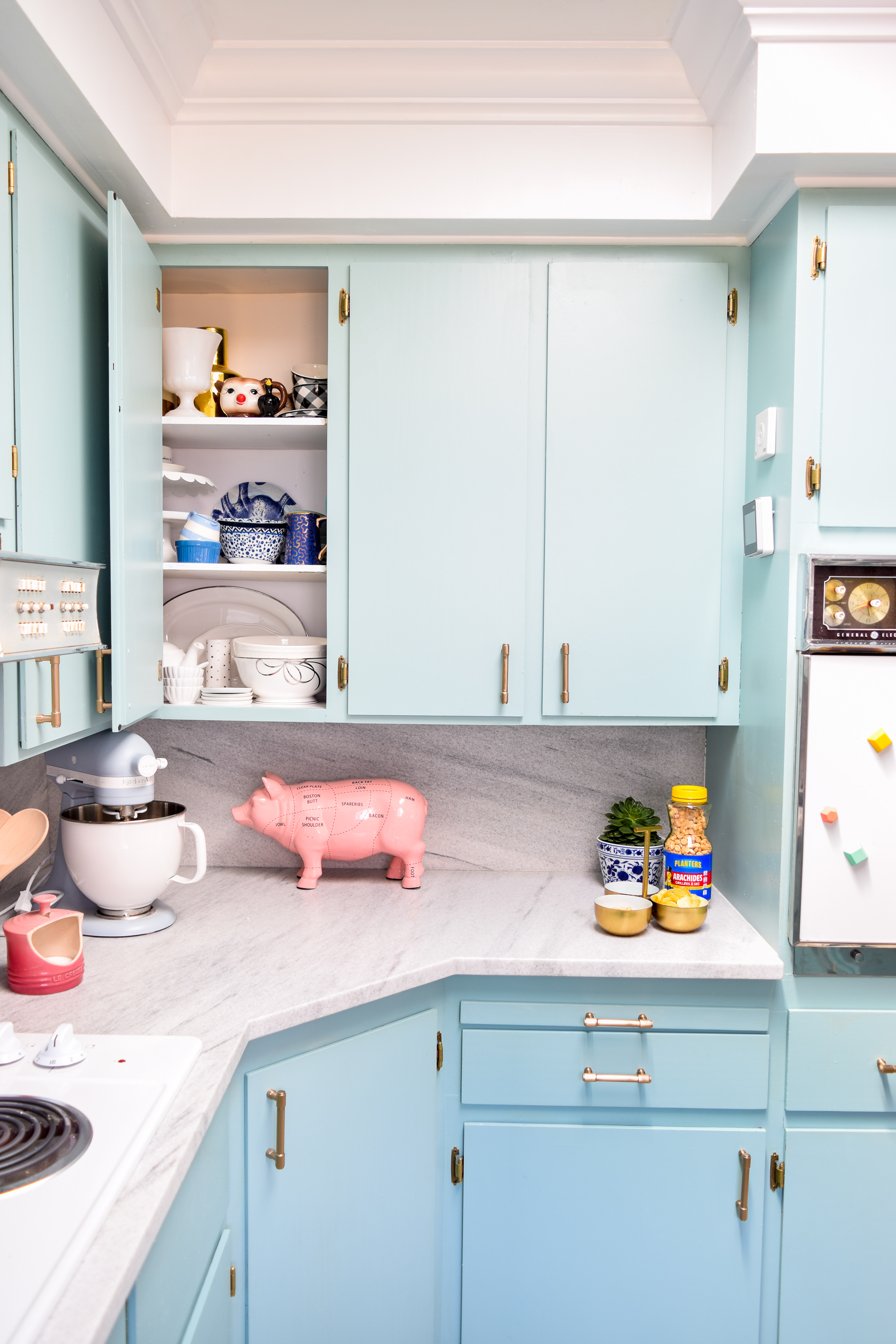 With our cabinet re-shuffle (we took down 3 upper cabinets on the wall with the sink), I had the opportunity to shuffle things around. When we moved in, our friends kindly unboxed the kitchen for us while I was directing traffic. It means that I didn't actually pick where anything went, and decided to leave it until the reno.
Would you believe me if I told you that we have so much cupboard space (even with those upper 3 gone) that there are currently 6 empty cupboards in our kitchen? Mainly lower, and it's a reflection of the fact that I keep a lean kitchen and don't like to hold on to lots of stuff in here (contrary to the rest of the house).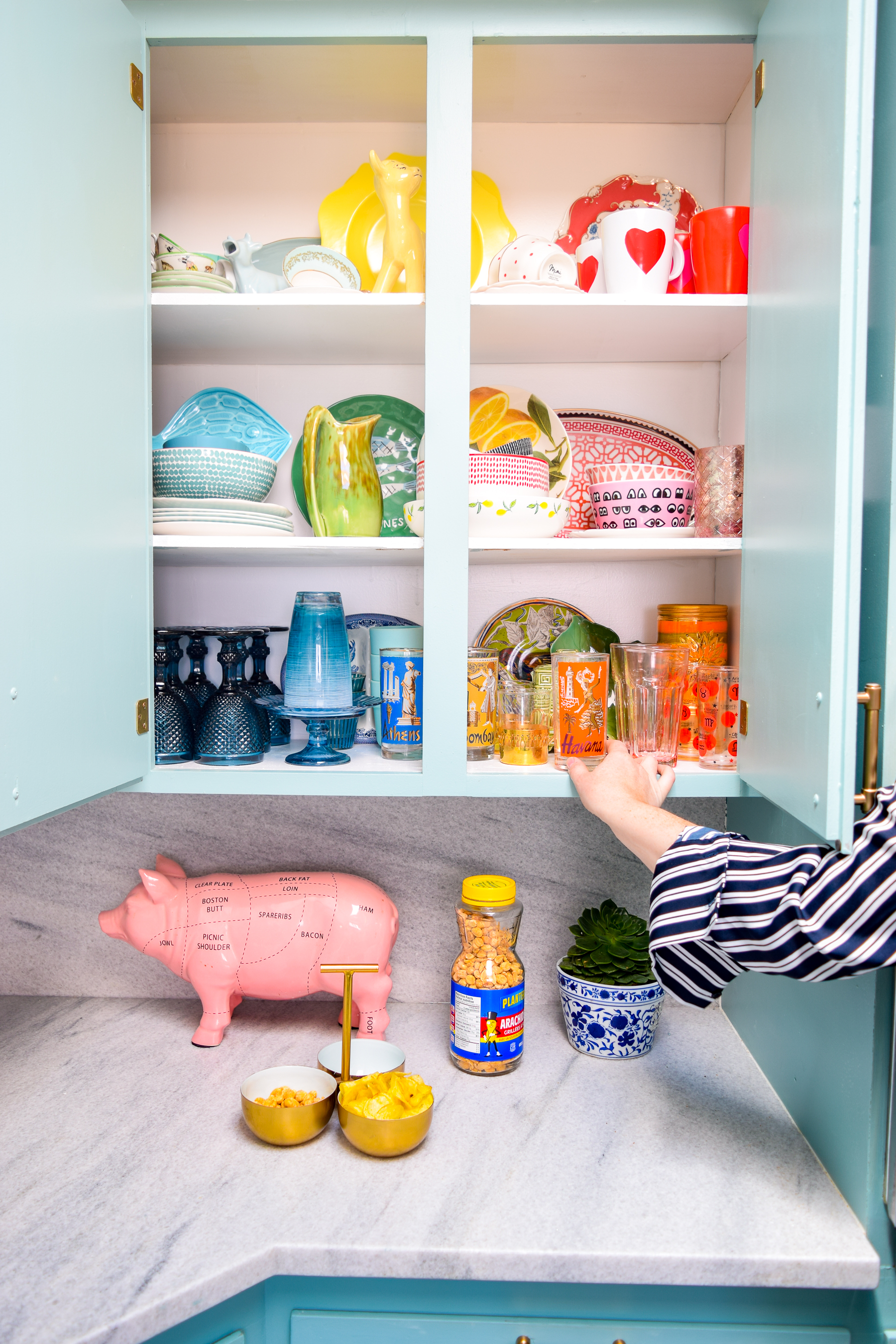 I definitely took full advantage of a shuffled kitchen to create a rainbow arrangement for all the extra fluff in one wall's cupboards. It's all the cups, vases, dishes, trays and more, that I don't use regularly, but still want to be able to access.
So instead of cramming them in with our day-to-day sets, they get to be organized by colour here.
Nugget and I are hungry, and right now we're after the salty stuff.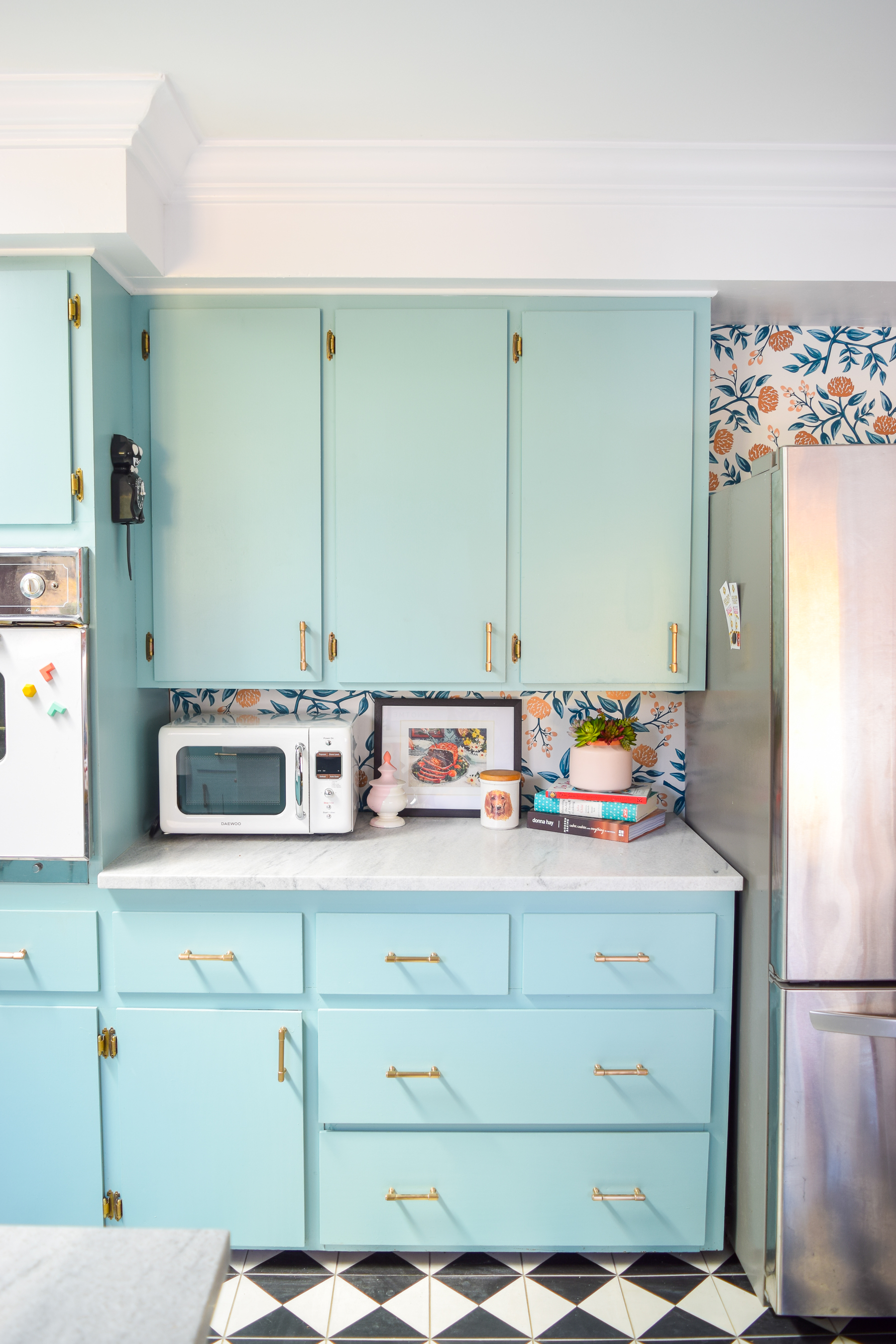 Once we moved everything back in, we decided to localize all the food in one spot, so we moved the pantry to these upper cupboards. Now when we're unloading groceries we don't have cans and boxed items on one side of the kitchen, far away from the fridge.
We also updated our kitchen countertop appliances with more retro inspired pieces, and you can find all of them in my round-up of Kitchen appliances & decor under 100$.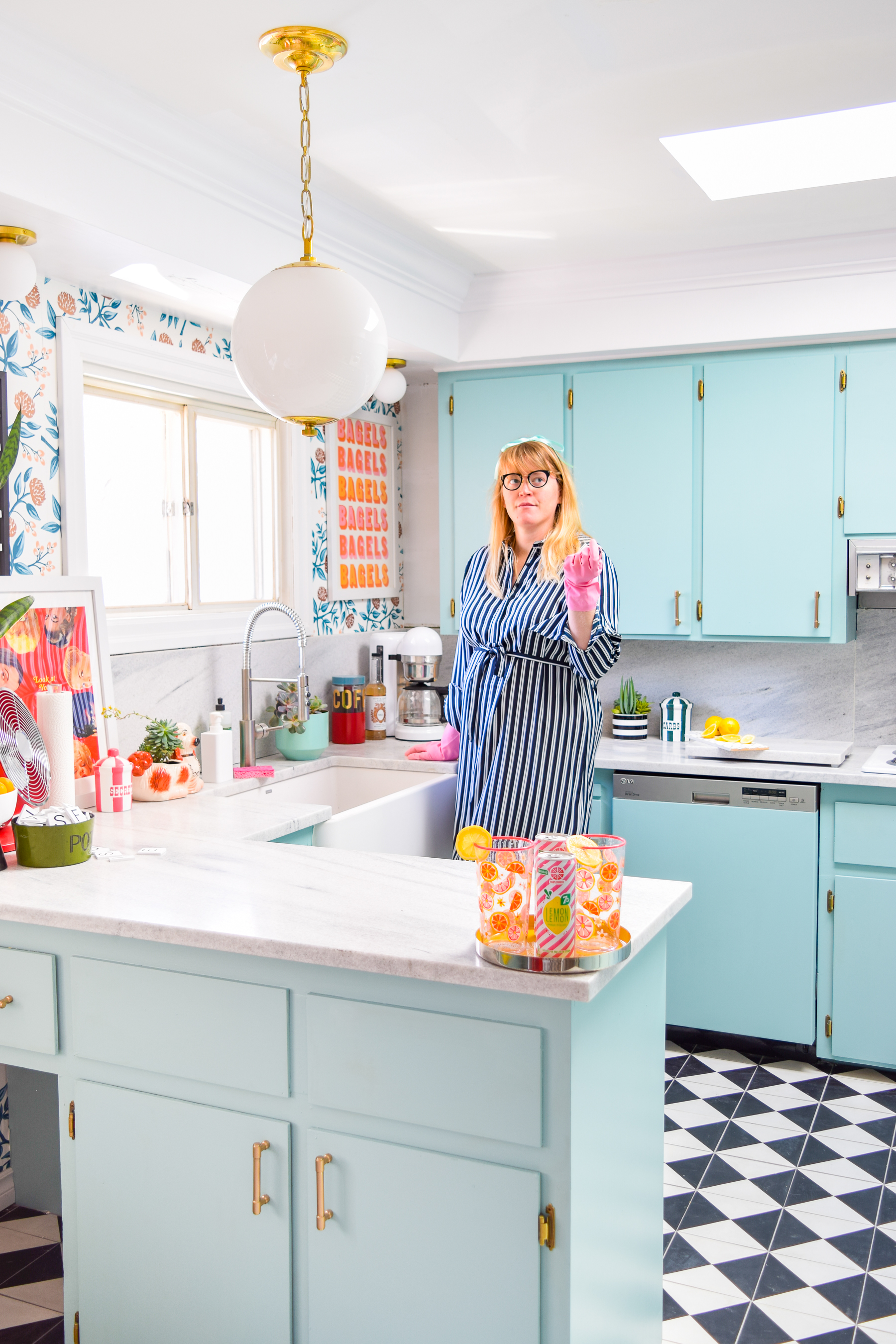 Last week we talked about our new retro kitchen sink from Blanco, the IKON 33 in Silgranit. It's quite simply, amazing. I can fit all my plants in there, at least a meal's worth of dishes, and will hopefully have a baby in there soon enough.
With all the updated decor, the extra light from the skylight, and my big sink, I don't mind doing dishes now. No one tell Dan.
In our Glam Kitchen Details post update, we talked about the large Sphere No.1 Lights, but I said we'd show you where the other ones were going. Ta da!
We've got two, one on either side of the sink, above in the bulkhead. They're on a different switch than the peninsula Sphere, so we truly have some utilitarian and glam kitchen task lighting.
Before I sign off and go enjoy my kitchen for a few days before moving onto the next space, I want to take a minute to thank all my sponsors for so generously providing product for our retro glam kitchen renovation. I couldn't have done it without you!
Shop the Retro Glam Kitchen Look