Drum roll please! Our next PMQ will be option #1. If you missed it, click here to read about our House Hunting Trip to CFB Gagetown to find our next home. We opted to do a PMQ instead of an apartment "on the economy" since all the newly renovated Qs has such fantastic features.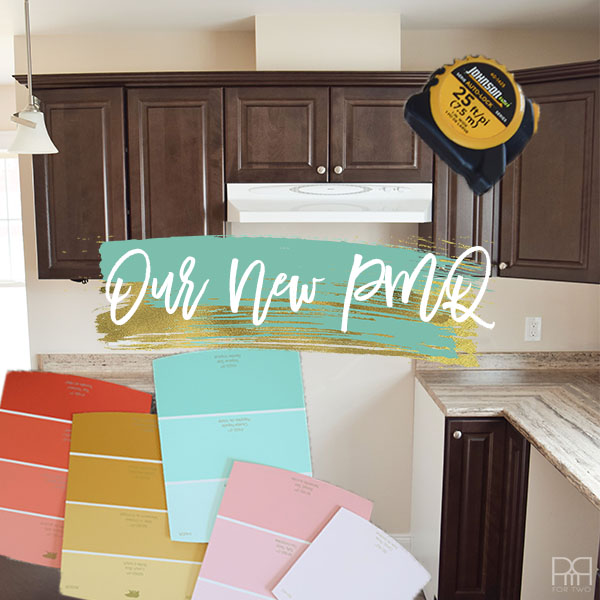 Here are the details on the PMQ we chose:
2 Bedrooms
1.5 Baths
Paved driveway
Garage
Air Conditioning
Tankless Water Heater
Newly renovated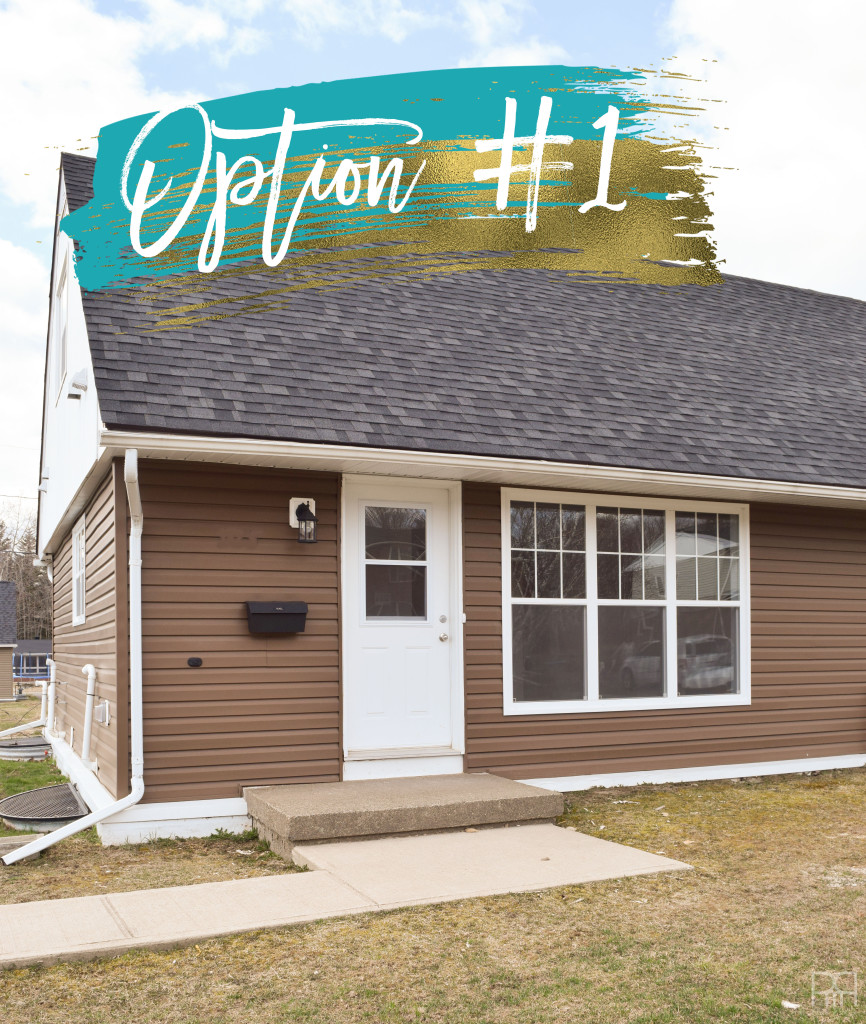 So why did we pick this one? A lot of you guys thought Option 4 was a shoo-in, while others thought Option 3 was our sure bet.
It boils down to three things: the garage, the size and layout of the backyard, and the siding of this PMQ.
The garage will serve as our workshop so a lot of the tools and items in storage around the basement and backyard will move into the garage, thus liberating the basement for DH's true man cave.
Ladies, I spent no less than three – almost four- hours listening to him talk about the layout of the basement and the table he's going to build for his games. I've never spent so much time talking about joints, wood types and overall construction.
I was totally engaged for the first 20 minutes, but then he kept changing the design and I lost track and then just gave up after the 10th revision. I did not talk to him about plans for the house on end, but mainly because we're on the same page and I'd rather show him than try and explain it to him.
The backyard was a huge plus for us: Bruce (the dog) needs space to roam on his lead, and if we've learned anything from our row house life, it's that people are particular about which poop belongs to who, so we'd rather avoid those issues entirely. This yard also gives us the space for our table and the entertaining that goes along with it. Expect grand ole' soirees outside under the stars.
The plastic siding on this PMQ means that the insulation has been re-done. This is big news and an important thing to consider when looking at heating the place this winter. Every item in the house could be energy efficient and the windows could be brand new, but if the walls are seeping heat then it was all for nothing. The brick on Option 4 meant that the insulation hadn't necessarily been touched, and that was a risk we didn't want to take.
I still have reservations about this place, but the negatives are things I can look past and deal with:
I'll make the colour in the kitchen work with the rest of the house and the direction we're hoping to take it in;
The dining room will be paired-down to the table, chairs and a buffet/bar;
The siting room and TV room will merge into a family room
The guest bedroom will become an air mattress in the basement – we don't get enough visitors to warrant a third bedroom right now.
My office will be on the second floor and our master bedroom across the hall.
In case I hadn't said it already, I'll be transitioning to blogging full time with the move! That's right, no more office jobs for terrible people, I'll be working for myself! I've got so many plans that have been on simmer for the past year, and now I can finally turn the heat up! Watch-out world!
We got a kick out of it. I feel like our future basement was once the local spot for horny teenagers! Glad they've been cleaned since 😉
Heather, if you're out there, don't hate me.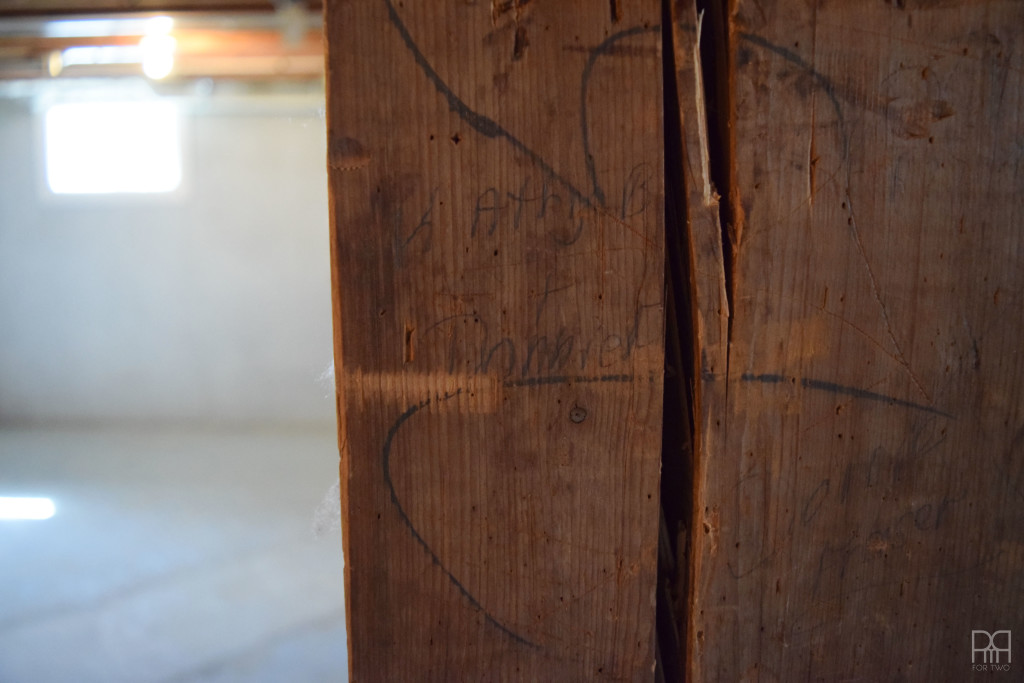 What do you think of our choice?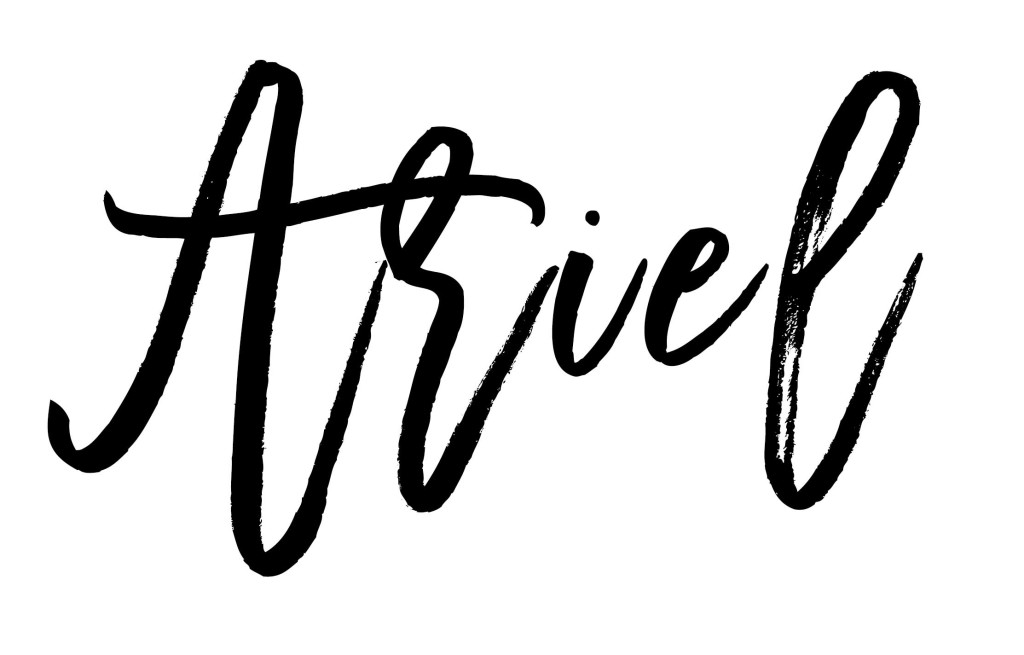 Living & Dining Room New Mover Essentials

Mid- Century Modern Soda
Moving into the first living room that's really yours, chances are good you'll want to upgrade from that couch someone had in their parents' basement. Opting for a sleek mid-century piece with solid construction in a compact form will give you more versatility than you think.

Brooklyn Floor Lamp
Depending on the footprint you have available in your living room, I'd go for this tripod lamp. The wood legs mirror those on the chair and the couch, while bringing an interesting visual element to eye level.

Harlan Square Glass Coffee Table
If you're moving and now have space for a nice table, simple and sturdy does the trick for me.

Murfreesboro 2 Piece Arm Chair & Ottoman Set
The two tones play off the rug, and the tufted style complements the couch's design. Can't go wrong with a foot stool either!

Barcelona Area Rug
I love the bold colours and weathered look for this carpet. A well-chosen area rug will help frame a space from the ground up.

Sputnik 18 Light Chandelier
The retro sputnik is definitely enjoying a comeback, and in your dining room/eating area it will provide the perfect balance of ambiance and style. Swap the lightbulbs for frosted white ones for more light!

Artisan Splendour 20 Piece Flatware Set
the gold cutlery is perfect in so many ways. Not only do we find the brushed look in the chandelier, but in the warm wood tones of the living room.

Brist 12 Piece Dinnerware Set
I bought my first real set of dishes when I moved out on my own. Although they weren't as colourful, these would look great in this dining room, or even in the living room while watching TV.

Florence Arm Chair
Two sets of these and you're in business! I like chairs that can be brought into other rooms for extra seating, and that don't look out of place. The clean, uncompromising lines of these chairs are really amped-up by the high gloss red.

Kateri Dining Table
This dining table will see you through many homes and many uses. The circular nature allows for greater seating, even in a tight space!