After a few months on pause the Inspired By DIY series is back! Many thanks to our hosts Jess of Domicile 37 and Kathy from Up To Date Interiors for putting this together. Going forward we're not just inspired by interior decorators, we're working with the premise that creatives of all types inspire us. As such, it should come as no surprise to you that I was overjoyed with our first month's inspiration: Wes Anderson. I wrote about how his works have influenced my colour palette and decor choices // here // but this my first Wes Anderson Pantheon inspired DIY for some reason. I had toyed with many different ideas for what to do here but decided that a Society of the Crossed Keys DIY would not only be fun and colourful, but it would look great in my entryway or dining room.
To view my Inspired by DIY posts: Marbleized Plates // Vice Jars // FauxMarble Book-ends // Gemstone Bauble Tray
This DIY was put together quickly and with little pain, so if you're into all things The Grand Budapest Hotel, you should be doing this for yourself!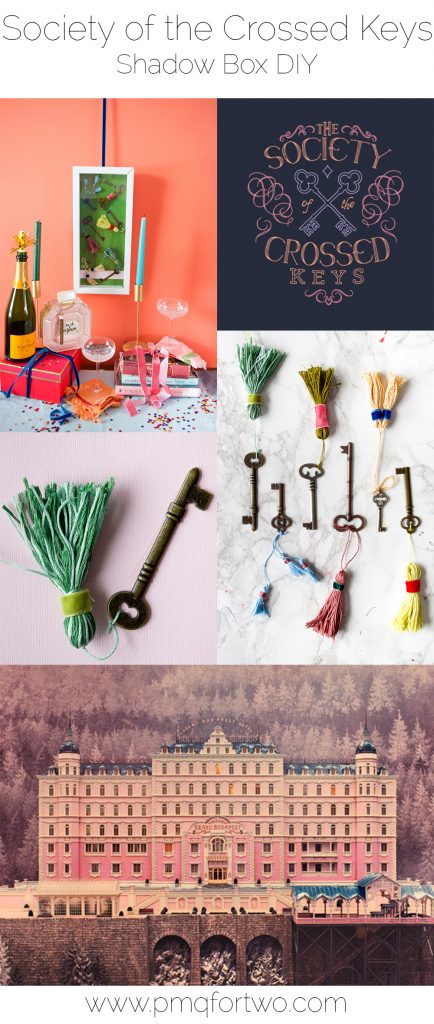 But first, a quick prelude on why I love Wes Anderson's cannon of work. The Royal Tennenbaums was the first W.A. film I saw, and I totally didn't get it. I just thought the trailer looked cool. Granted, I saw it when I was 14, so I may have been a bit young to understand everything. I understand something new in it each time I watch. The Life Aquatic with Steve Zissou holds a special place in my heart. I won't go into all the reasons why, but it's a film my husband and I watch about once a year. It was also one of the films my husband and I watched with our late friend when things were getting rocky for him. The Grand Budapest Hotel is my all time favourite for the art direction and grandiose sets. I would legit book a room in the Grand Budapest Hotel. The others are all fantastic in their own rights, but those three will always get rewatched in this household.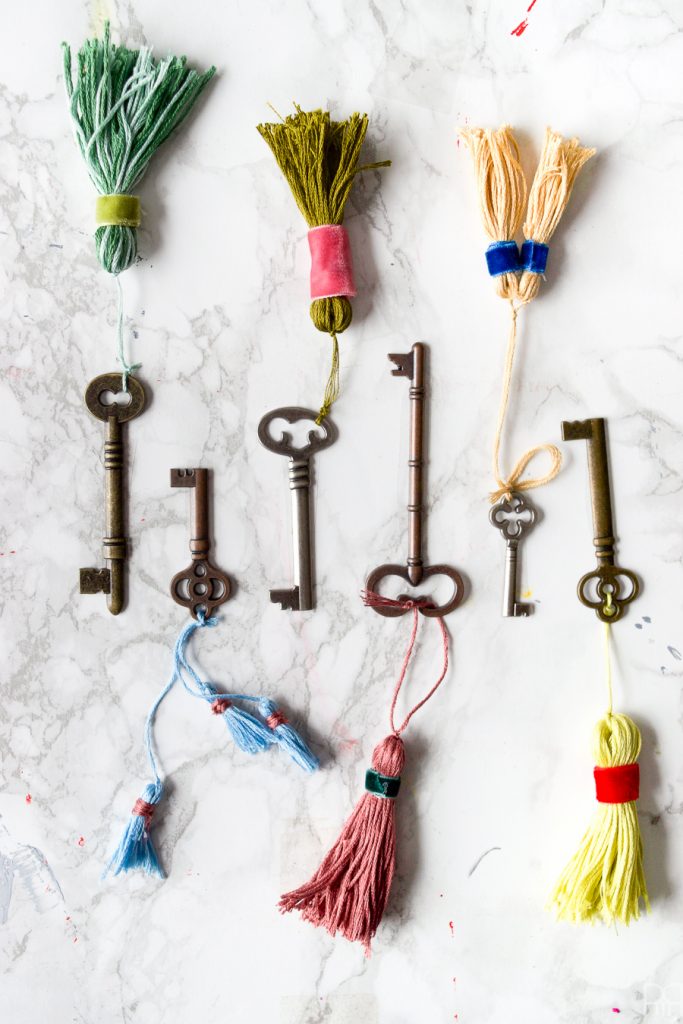 The following product links contain affiliate links. Thank you for supporting the brands that make PMQ for two possible. For my full policies click // here //
Materials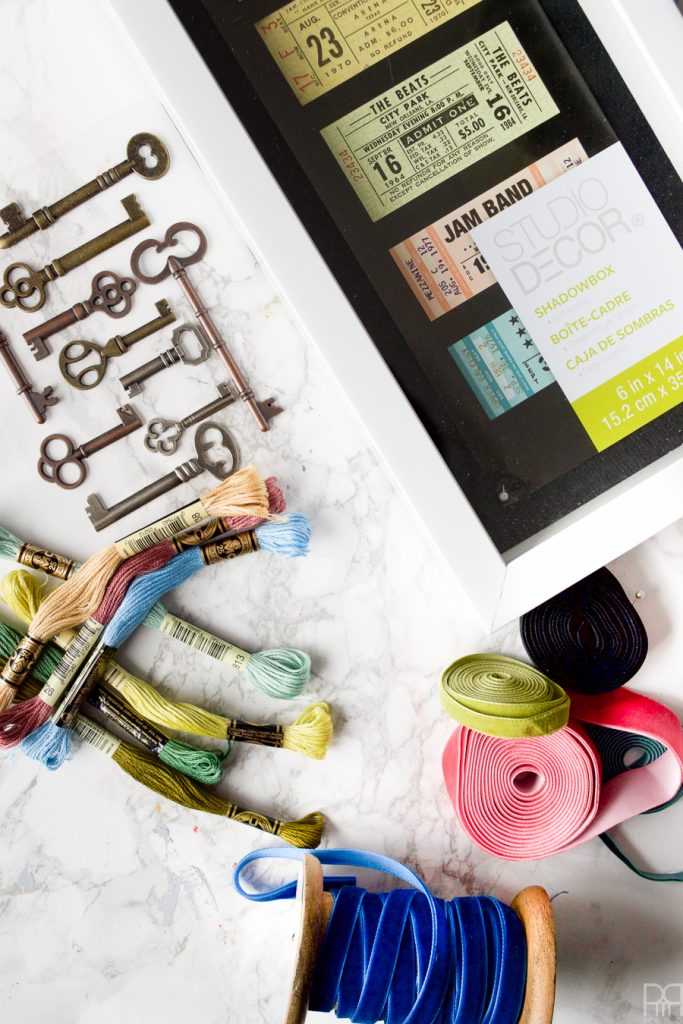 Step 1: Make a tassel. Actually make as many as you plan on using in your shadow box. I made quite a few and varied their height, "fatness" and size. In some cases I made many small ones, or in others I just made a big one. It's up to you!
You can view my tutorial on making tassels  // here //
Step 2: Add a decorative ribbon element around the top of them. I used velvet ribbon scraps, but pretty braided or beaded ribbons would be just as beautiful. I added hot glue to one end, wrapped it around one, and then glued it down. Simple!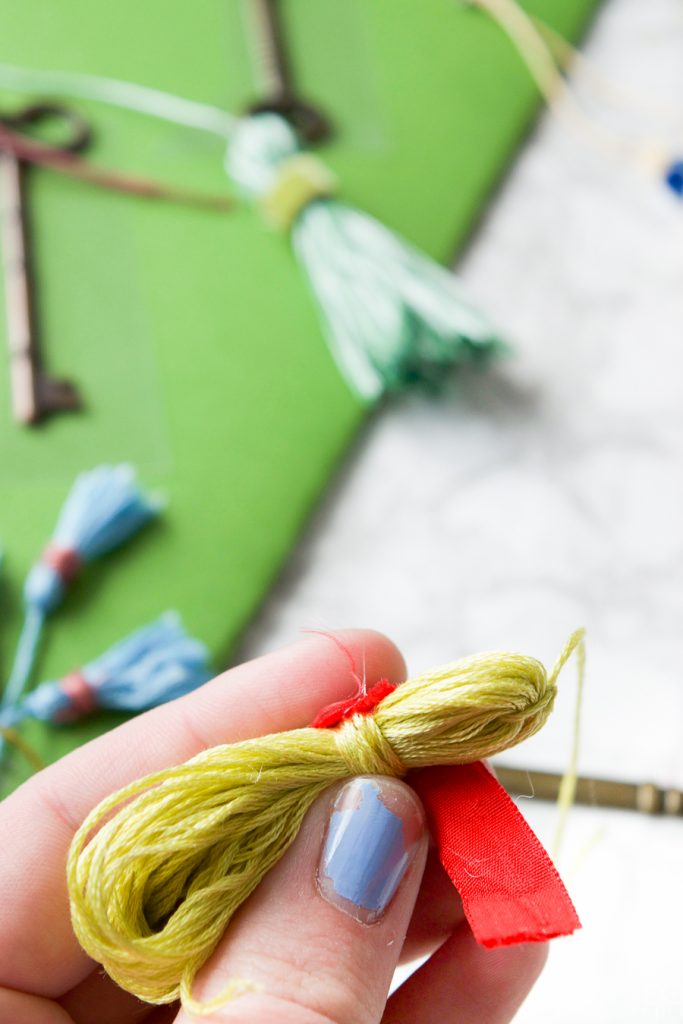 Step 3: Attach the tassels to the top of the keys. A simple knot or bow will do the trick. Trim any excess.
Step 4: Cover the back of your shadow box in scrapbook paper. I chose green and pink because they are classical Andersonian colours. That pink stripe is really hiding the seam in the two green pieces. But shhh! don't tell anyone.
Step 5: Affix your keys in an artful manner on the backing. I went with these keys because they had an adhesive along the back of them, so I wouldn't have to worry about the best epoxy for them since they do appear to be metal.
Step 6: Using your hot glue gun, glue the tassels in place. Gravity will do it's part, so if you've placed any keys in diagonals or upside downs, glue will help hold them in place and allow you to fill all the space you want.
Step 7: Once everything is dry, load your backing into the box and secure.
Step 8: Hang and enjoy! I've styled mine in the dining room with a box of Mendl's finest, some champagne, and all the pink you can handle! Also, Eau de Panache anyone?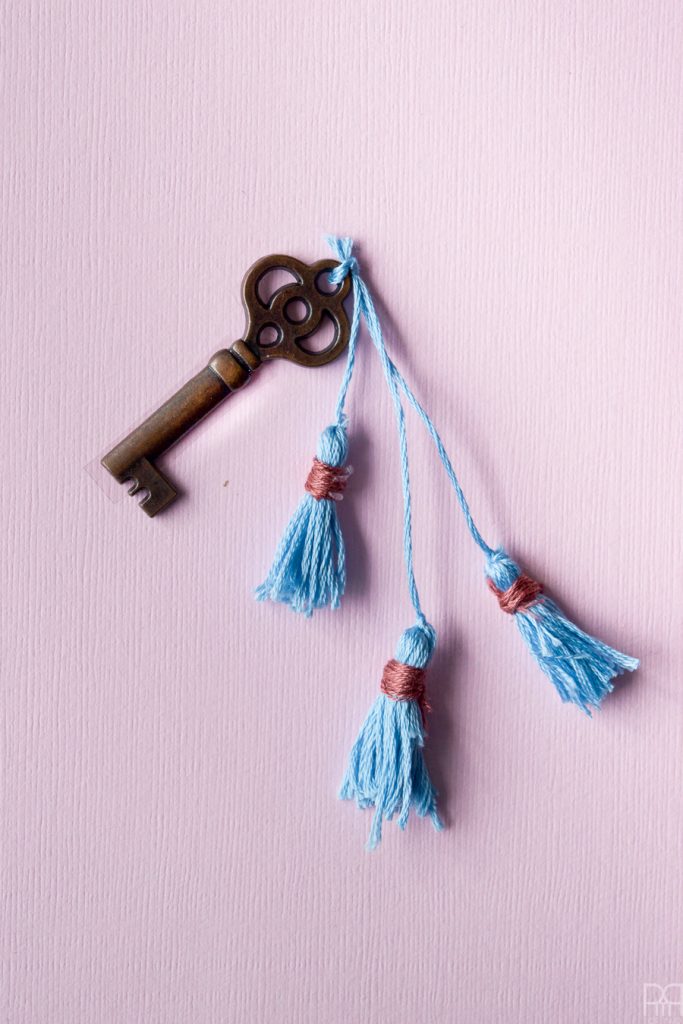 Don't forget to click over and see what my friends did too!
Domicile 37 | Up to Date Interiors | PMQ for Two | The Gathered Home | The Rath Project | 58 Water Street | Semi Gloss Design | Jest Cafe | The Home I Create