* 
Cost Plus World Market
sponsored this post, but all thoughts are my own. Thank you for supporting the brands that make PMQ for two possible.
Kung Hey Fat Choi! Happy Lunar New Year! Although it's not technically until next Friday the 16th, I am delighted to be able to show you how I am celebrating the year of the dog. It should come as no surprise that I've created a beautiful tablescape to showcase my growing ginger jar and chinoiserie collection, as well as my new Chinese New Year Decorations from Cost Plus World Market. That's right, if you're one my American readers you already know about them, but my Canadian audience may not. So without further ado, feast your eyes on my Glam Lunar New Year Tablescape!

I'm not an obvious choice for hosting a glam lunar new years tablescape, but I've had a love away with Chinese new year since I was born, and it all has to do with where I'm from. Growing up in Toronto  – the most multicultural city in the world – we were exposed to so many different cultures and their traditions. Given that I lived and went to school downtown, Chinatown on Spadina was an inevitable destination for great eats, fun shopping, and oh so many colours.
Although I wasn't present at every single lunar near year celebration the city ever had, I did make my way downtown with friends and family to celebrate whichever year was at hand, and enjoy some amazing food. Even through my university days at U of T I would often run down Spadina to the waterfront, and then grab some tasty eats on my way back up before settling in for an evening of studying in residence.
Although I haven't lived in Toronto for far too long now, and there are rarely any good Chinese food options near whichever base we live on, I will always try and find a way to celebrate the next year, and hand out a few Chinese New Year Gifts.
For my glam lunar new year tablescape this year, I used my large collection of thrifted jars and vases for a centerpiece, but expanded the concept with large red paper lanterns that have a lovely dangly fringe. Those are from the dollar store, and I hot glued fringe to them around the base. I am beyond happy with how they turned-out. I think they add so much drama to the space, and with the cultural importance of red, I think I'm anchoring my table well.
For the actual place settings, I ordered items from Cost Plus World Market to complement my cut scaloped place mats. I grabbed some white napkins, blue and white ceramic chopsticks, beautiful chinoiserie plates, year of the dog ceramic cups, and a beautiful red and black platter for serving the main. I loved that they had such an extensive collection online for shopping, since that's where I did all my shopping! They don't actual ship to Canada, but for my American audience this isn't a problem at all. My nearest store is actually one I've visited before, and it's in Framingham, MA – we stopped by on our way to Martha's Vineyard this summer while we were by-passing Boston. You can find your nearest store // here //
While my tablescape is pretty standard for me – I started with the centreiece and worked my way out, the place settings were good fun. I started with the place mat, added the lovely Indigo and White Porcelain Kichi Dinner Plates, a plain white napkin, added a simple white bowl for broth (we're doing a hot pot btw), a clementine, and then a set of Blue Ceramic Chopsticks. For the glass portion I've got these adorable Porcelain Lunar New Year Zodiac Cups (with dogs on them!).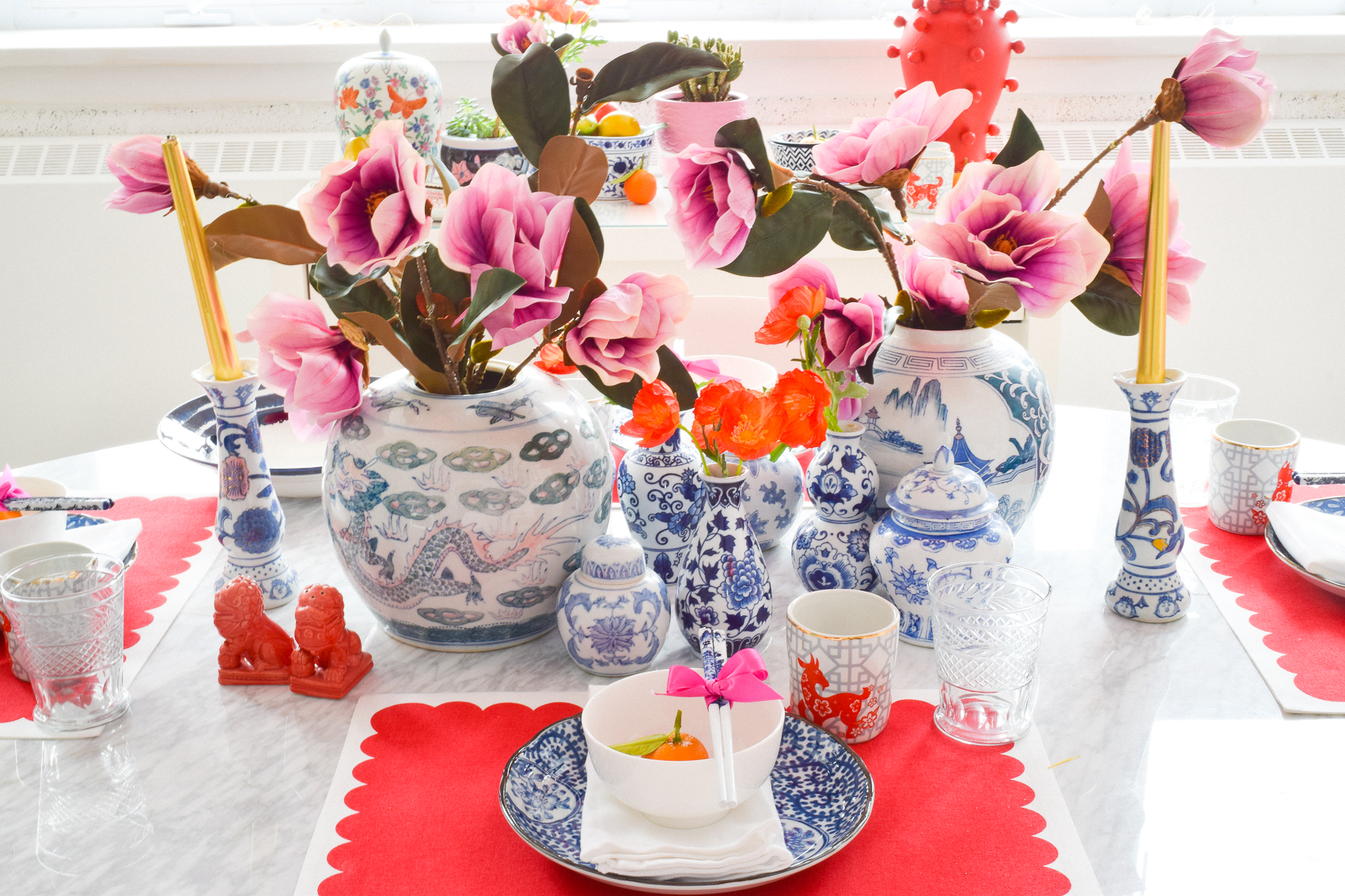 I mean, can we talk about how good this all looks?! Seriously. How crisp is the white, with the blue ceramic, and that pop of red in the placemat and the cups. Too good!
I was definitely inspired by some beautifully elaborate tablescapes I've seen in magazines, so I hope this one pays tribute adequately.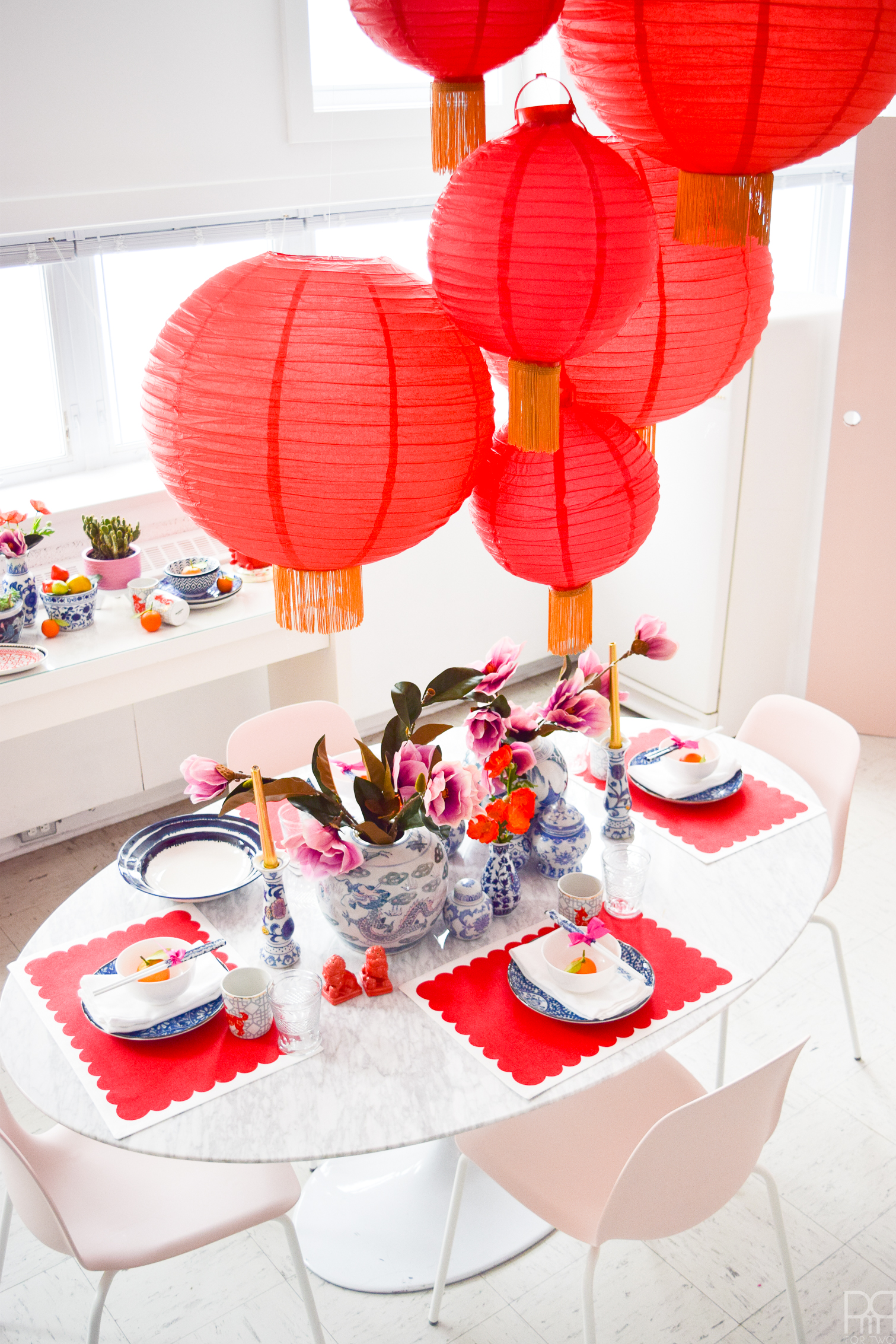 Can you spot that sideboard back there? That's where I've got all my colourful ceramics and plants that didn't fit on the table. It's also where I've got the rest of my beautiful plates and dishes. This big red platter was too pretty to pass up, and fits with my theme in a lovely way. While I've got it displaying some fresh pears leftover from my tablescape over last weekend, for our actual hot pot I'll have a variety of vegetables and tofu available.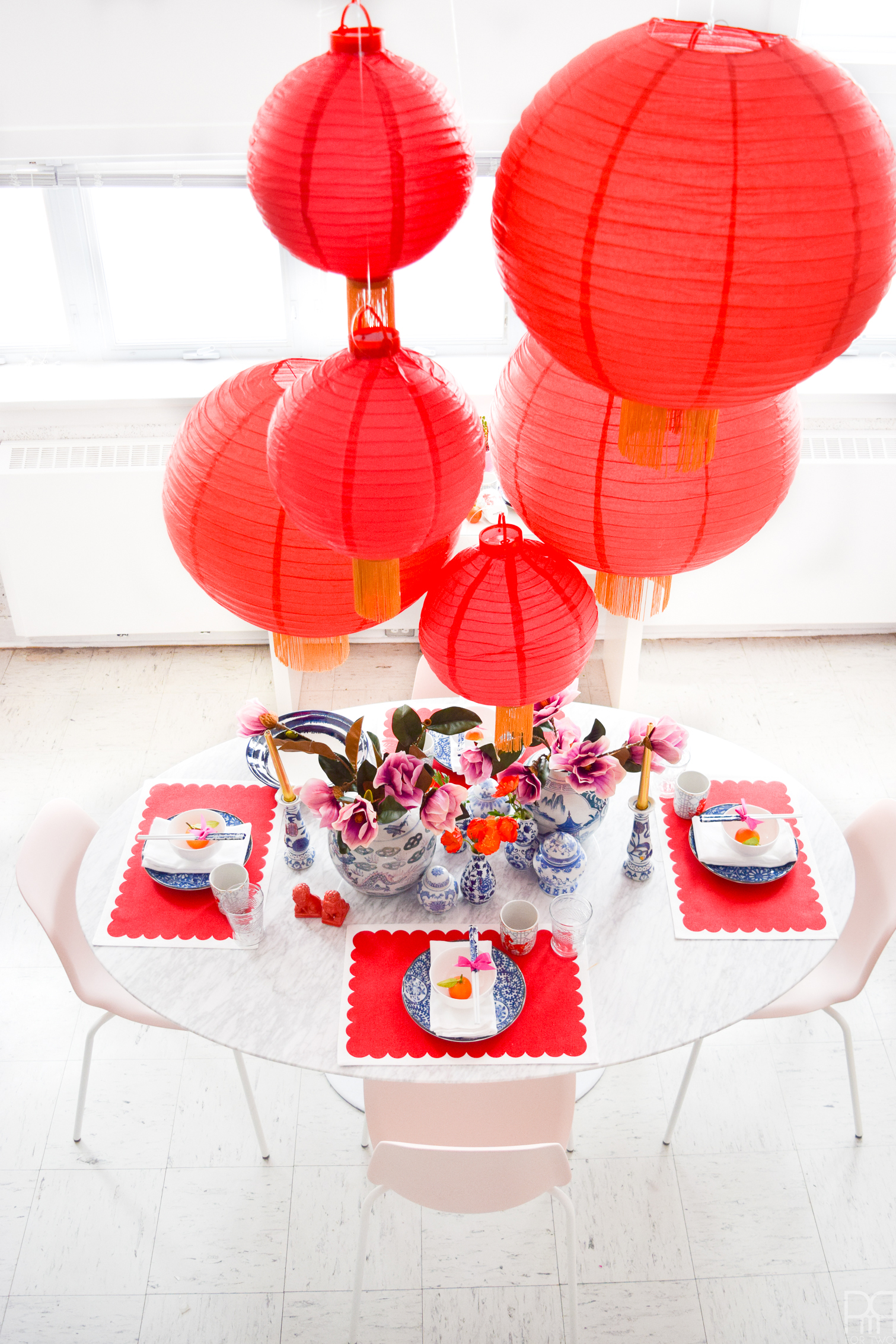 And now, the part you've been waiting for, a source list for my Glam Lunar New Year Tablescape:
Indigo and White Porcelain Kichi Dinner Plates // plain white napkins // Blue Ceramic Chopsticks // Porcelain Lunar New Year Zodiac Cups // Red Lunar New Year Porcelain Beijing Platter // Ginger Jars