Week 6 – THE REVEAL – of the One Room Challenge hosted by Calling It Home is here!  If you're curious about what the official participants did last week you can catch their progress //  here // and you can see what all of us guest participants did last week // here //.
Catch-up on the One Room Challenge to date:
Week 1
Week 2 
Week 3
Week 4
Week 5
Week 6 – The Reveal – We made it!
We made it. I'm sorta kinda maybe amazed at how it all came together. I can't imagine having done something like this on my own, I'm so glad I chose to work with a family. Not only did I meet some great people and make friends, but I had an extra two sets of hands helping me with everything. Even the kids helped with their toy placement. It truly was a team effort, and I am humbled by the outcome.
The brand relationships I've been building towards over the past few years, the know-how I've picked-up since I started the blogging journey, and the design boldness I've grown into – all contributed to the success of this space, and I'm just so proud.
Before we get to the stunning reveal photos, I want to remind you of what it looked like before.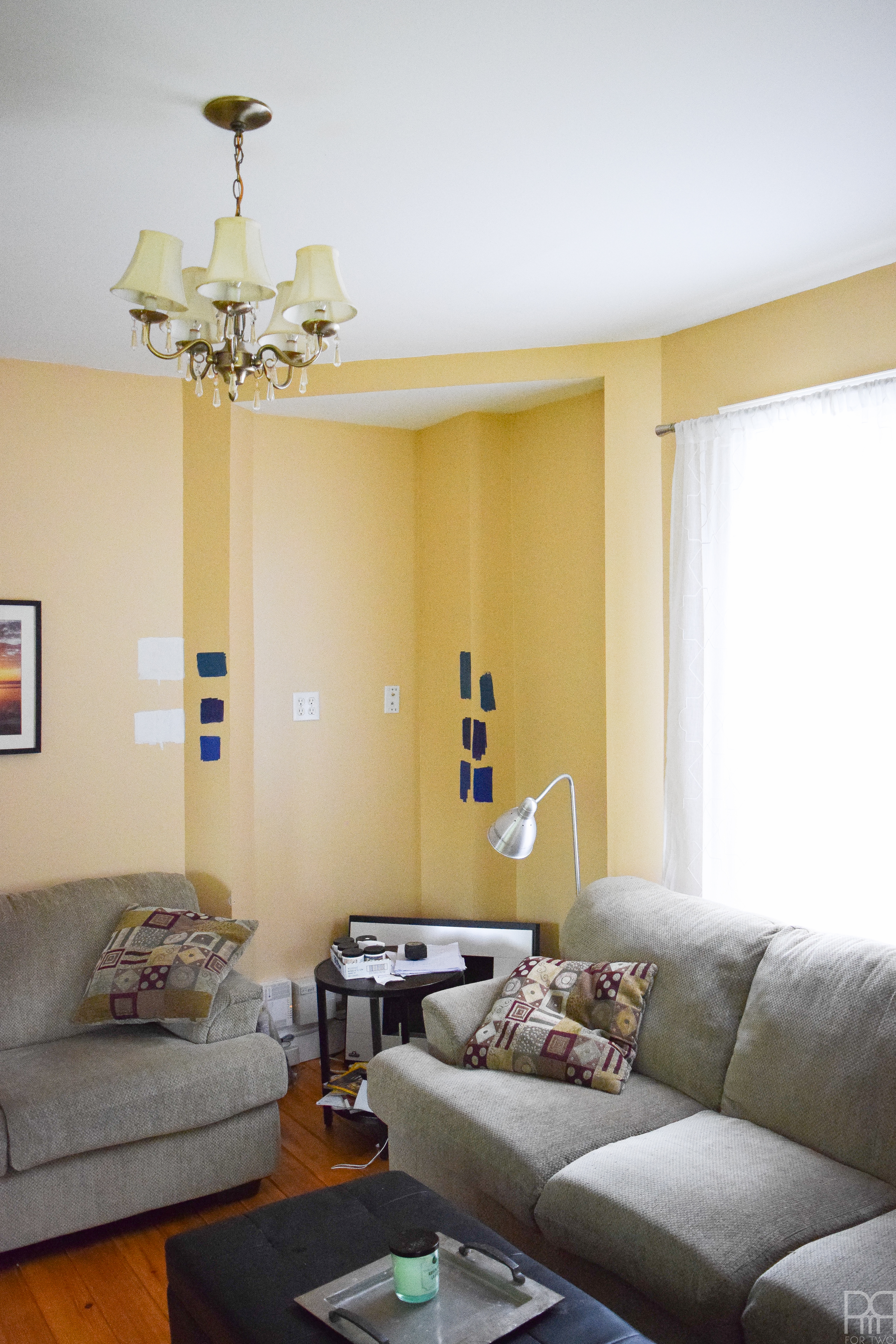 They had an extra couch, no rug, bad lighting, and a wall colour that needed to be updated.
Say it with me folks "no yellow beige walls ever" 
Week 1, we unveiled the plans for the room. Can you tell how much the final product is actually different from what we thought it would be?! // here //
Week 2:  we painted the walls with the help of Behr Paint // here //
Week 3: we upholstered a wingback chair with the help of Online Fabric store.net // here //
Week 4: we talked accessories and how were going to finish the room with the help of Society 6 & Wayfair // here //
Week 5: we were finally able to get our build projects done with the help of The Home Depot & Ryobi // here //
Week 6: we finished the room with an amazing rug from Rugs USA and pulled the space together.
The room is now completed and resplendent in all its beauty and perfection.
Although I thought we'd be taking the room in a more farmhouse modern direction (lots of black and white with geometric shapes), we ended-up with Coastal Canadiana and I love it! 
We went with this stunning print from Rugs USA: Radiante BC68 Modern Navajo Rug in Mustard
We were also considering these options though: the Monochrome Hexagon CS03 Rug in Grey, the Kiwa WA02 Handwoven Jute Birdseye Diamond Rug, the Vernazza Parallels PL03 Rug in grey, the Arenite TR01 Flatweave Solid Tassel Rug in blue or yellow
Spot the screwdriver!
*The following product links contain affiliate links. Thank you for supporting the brands that make PMQ for two possible. For my full policies click // here //
Blankets: Hudson Bay 6 Point Blanket, Natural with Multi Stripes
, Mustard Chunky Knit Blanket, Knitted Cable Royal Yellow Throw
Pillows: Black and White Buffalo check, Red and Black Buffalo Check, Marsala Mongolian sheepskin 
Wall Art: Nova Scotia Framed Print
Ottoman Pouf: Cotton Rope Pouf Ottoman
Wallpaper on cupboard doors: Gilded Marble Cubes
We purchased the Napoleon Fireplace on sale at our local Canadian Tire. It was a fantastic in-store promotion, but we had been looking at several other options: Wall Mounted Recessed Alcohol Fireplace
, SoHo Wall Mount Ethanol Fireplace (High Gloss White)
, Curved Black Wall Mounted Electric Fireplace
Change dish : Small Change, Pocket Change // Gold Arrow Bookend
Wood Cars: (in cloche) toy cars, (on display) car no 1, car no 2
Bottle Brush trees: 20″ tree, set of 6 small ombré trees, 3 Piece Set (2 Trees and 1 Wreath)
Brass Deer: set of two does, laying down deer
Above the Fireplace: Cross-stitched flowers, Snowy Forest , Abstract Chevrons, Wood Arrow, Monkey's fist // Vintage Toy // Sea Glass Art
On the side tables: Wood cube truck // Hitch 22″ H Table Lamps with Dome Shade,
Chandelier: Hampton Bay (not the exact one we used, but as close as I can get) // and these were our runners up: Sumerside 5 Light Chandelier
, Contemporary Metal And Wood Frame Orb Chandelier
, Globe Candle Wrought Iron Chandelier 
On the Picture Rail: Moose, Lighthouse, Crab, Mountains, Waves, Stitched Sailor, Poppy Scarf ,Square Mantel Yellow Clock, Bagpiper Card
These oars were custom painted by myself and Ainsley, but you can buy some here // Oars: Nightfall padle, Coral & Mint, Yellow & Blue