As many of you know, at the end of December I have to close the studio and fold it back into the household. Now that we have a big house, I can't justify the expense of a separate studio work space (not when there are renos to do!). Because of that, I've been slowly setting things up in the house to make it easier when I bring everything home. Getting my home office temporarily set up has been a big item on my to-do list, and with the help of Mohawk Home I crossed it off! So here, come for a small but cozy eclectic office holiday tour.
Check out my other Christmas Tours: My Classic & Colourful Front Porch, Colourful & Eclectic Christmas House Tour,  My Cozy & Colourful Christmas House tour, My Colourful Christmas Tablescape, My Christmas Mantel, My Colourful Christmast Front Porch
*Mohawk Home sponsored this post, but all thoughts are my own. Thank you for supporting the brands that make PMQ for two possible.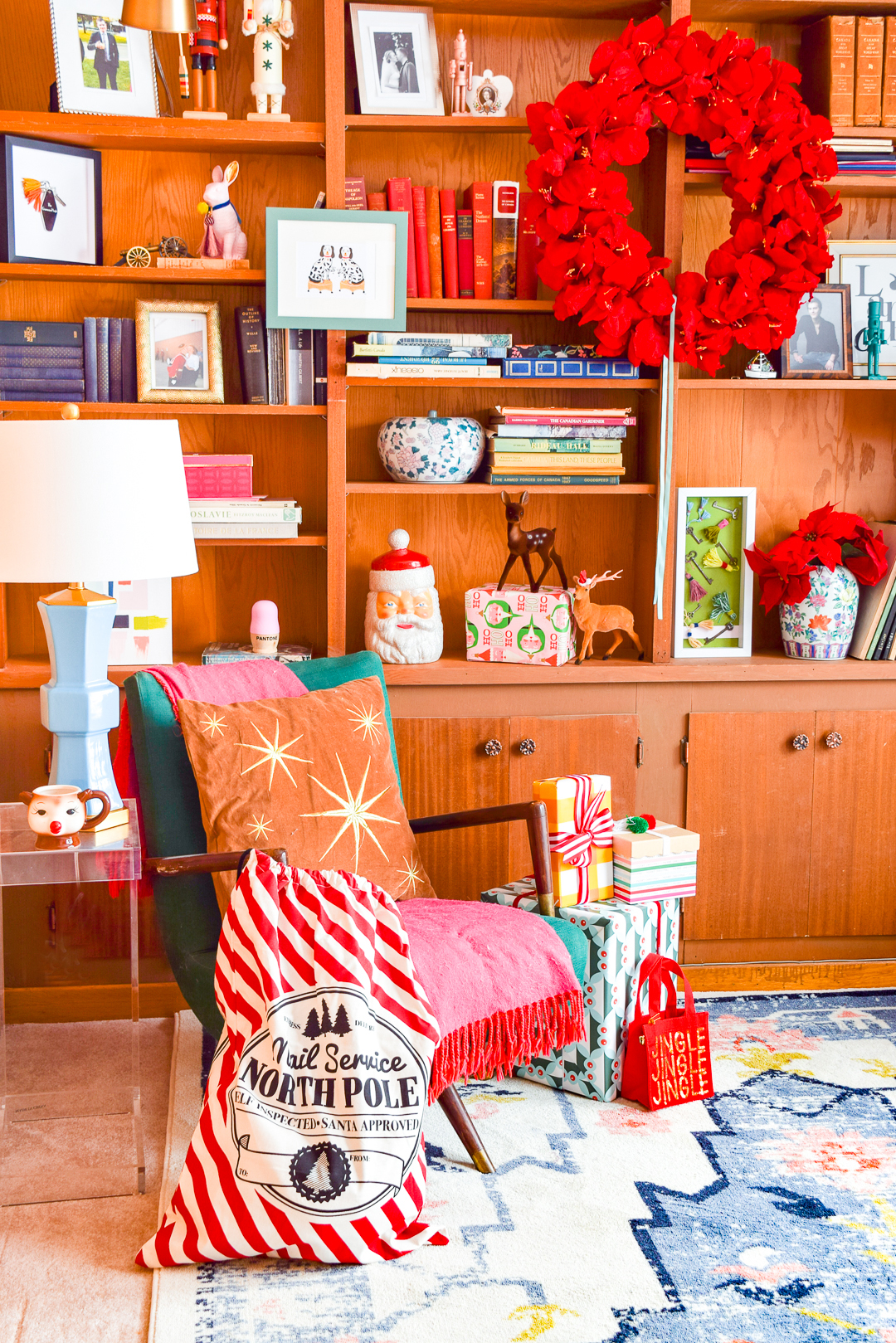 While you're here, you should also check out the other participants in the Mohawk Home Holiday Tour: CG Home Interiors, Simple Cozy Charm, My 100 Year Old Home, Cassie Bustamante, Amy Williams, Gathered Grace, Designs by karan, Turquoise Lifestyle Co, TxSizedHome.
I should preface this by saying that YES, I will be painting in here. I love the wood tones, but there's too much wood. I'm not sure in which colour or which combination I will be painting, but it will happen in the new year. In the meantime, enjoy all this earthy wood panelled goodness!
The built-ins are such an amazing feature of the space. They're the right size, plenty useful, and hold a host of my colourful creatures for display. I've always wanted built-ins, and these are it! I added the articulated brass sconces myself, because otherwise the space has no task lighting!
The rug I chose is the Prismatic Jasmine Cream Multi Collection. The colours aren't overpowering (because the wood does that already), and the pattern is lovely. It reminds me of the rugs we had in our last PMQ, in the living room to be precise. The print is busy enough to hide any stains I might add – because let's be honest here – but also delicate enough that it provides a nice balance to the otherwise manly space.
As I read in the description when considering the rug "Floral goes global in the Old World influenced style of Mohawk's Jasmine Area Rug in Cream. Soft hues of powder blue, pastel pink quartz, light green, dusty blue, midnight navy and pure ivory come together to reveal this modern expression of traditional Persian inspired design." Boy were they right!
I'll be back to working at this desk, and hopefully I'll have a good office chair by then, but in the meantime, the view is quite promising. I love the look of the white frames against the wood panelling, especially since their content is mirror by the bold colours of the rug below.
This rug is from Mohawk's Prismatic Collection. "Thoughtfully crafted in the U.S.A. in small batches utilizing Mohawk's exclusive precision dye injected technology, the Prismatic Collection is redefining printed rugs, literally one original design at a time." Surprisingly, this rug is actually "consciously created with Everstrand yarn, Mohawk's exclusive premium recycled polyester produced from post-consumer plastic water bottles." Which means it's environmentally friendly!
I've even moved the orchid and plant stand into the office, as I believe it'll get better light here. It's also right next to a radiator, so I'm hoping that will keep it warm enough to survive and thrive.
I will say this, the brass base on the pedestal, reflects the pattern in the rug beautifully!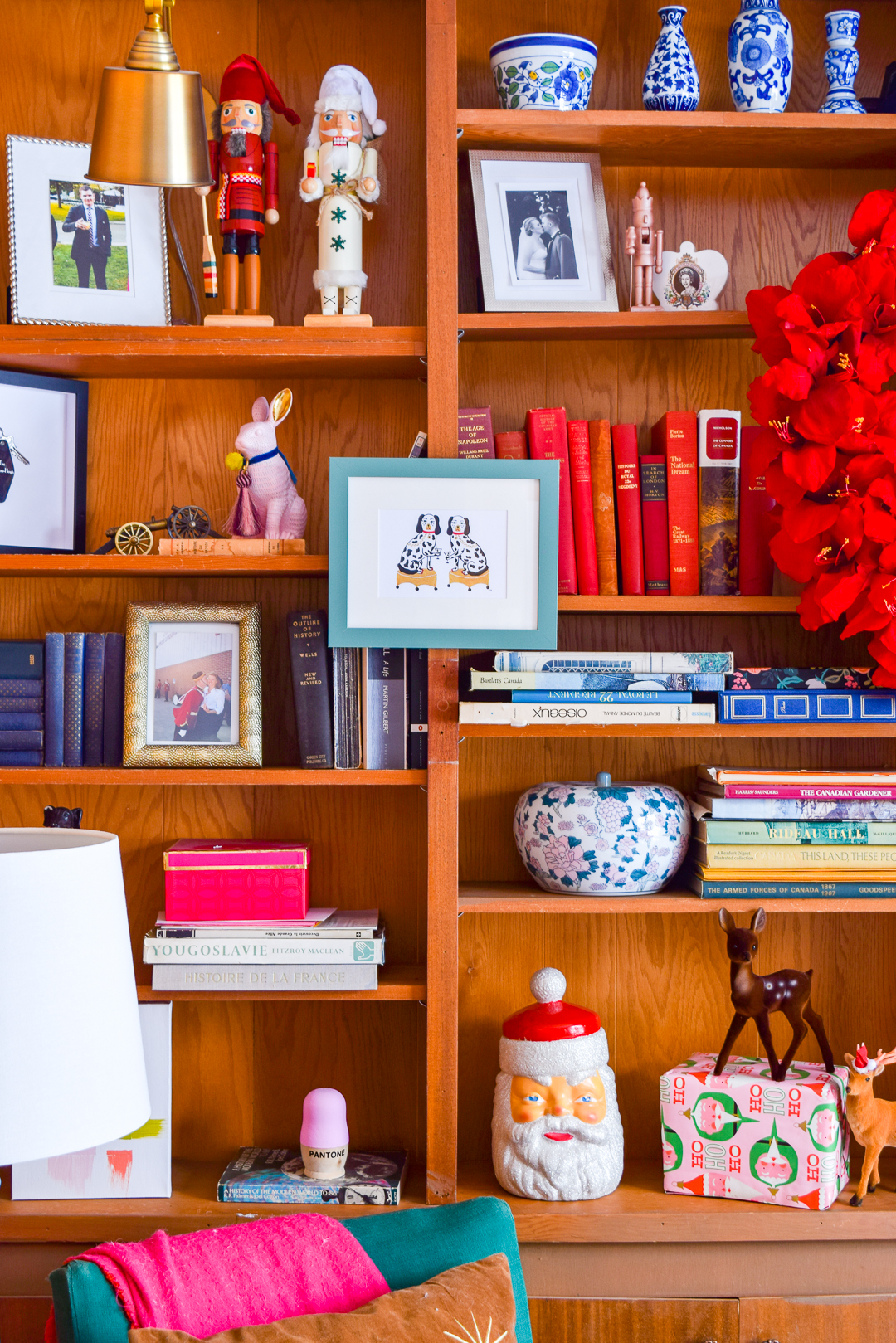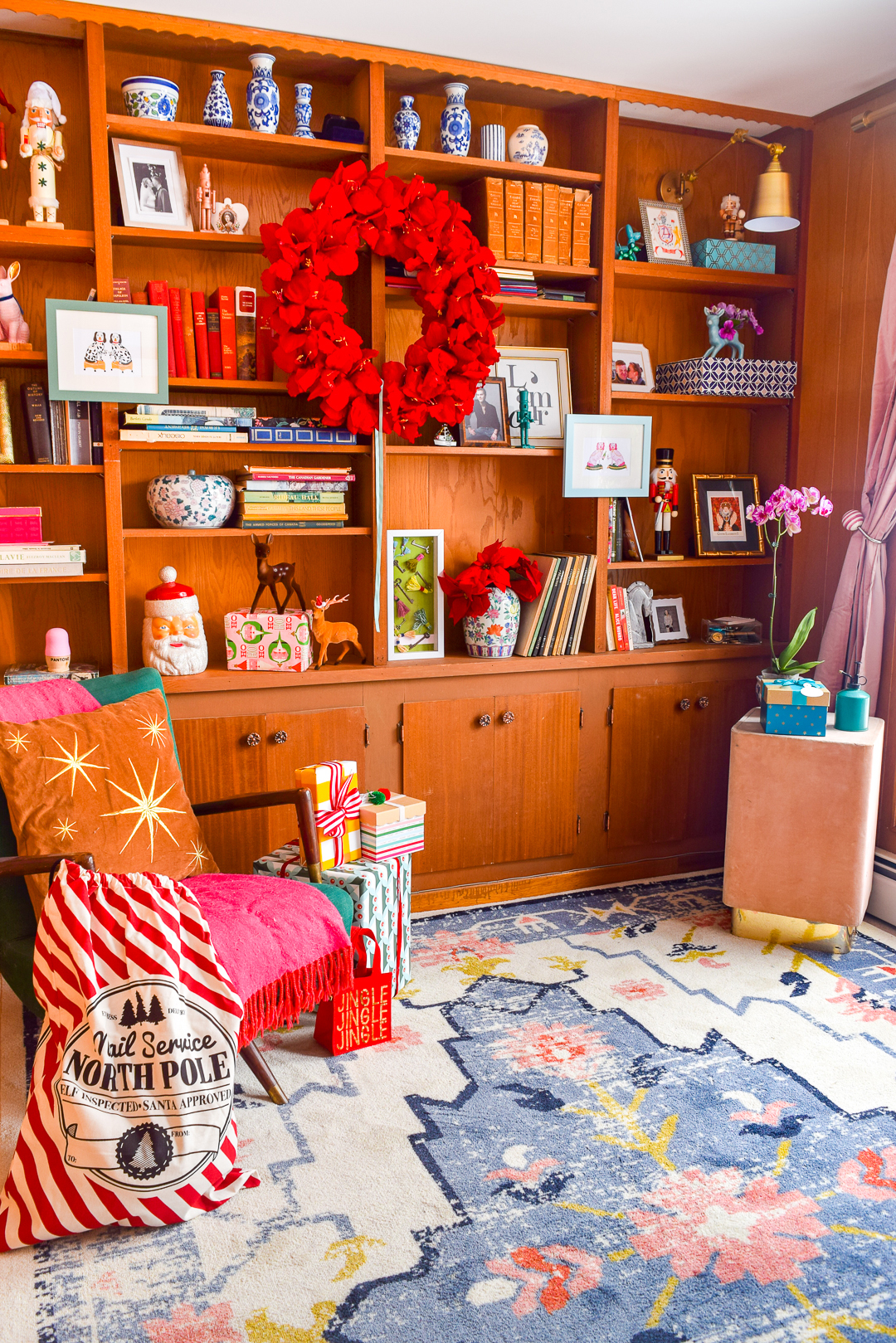 I've nestled all kinds of gems and memories in amongst my books. Everything from nutcrackers to cherished photos and knick knacks. The holiday flair really adds a certain je ne sais quoi to the whole situation, and I really do love it.
The giant amaryllis wreath was a total score when I found it this fall. I've used it in various set-ups, but I think this is one of my faves.  By adding my small collection of ginger jars up top, the blue and red contrast beautifully.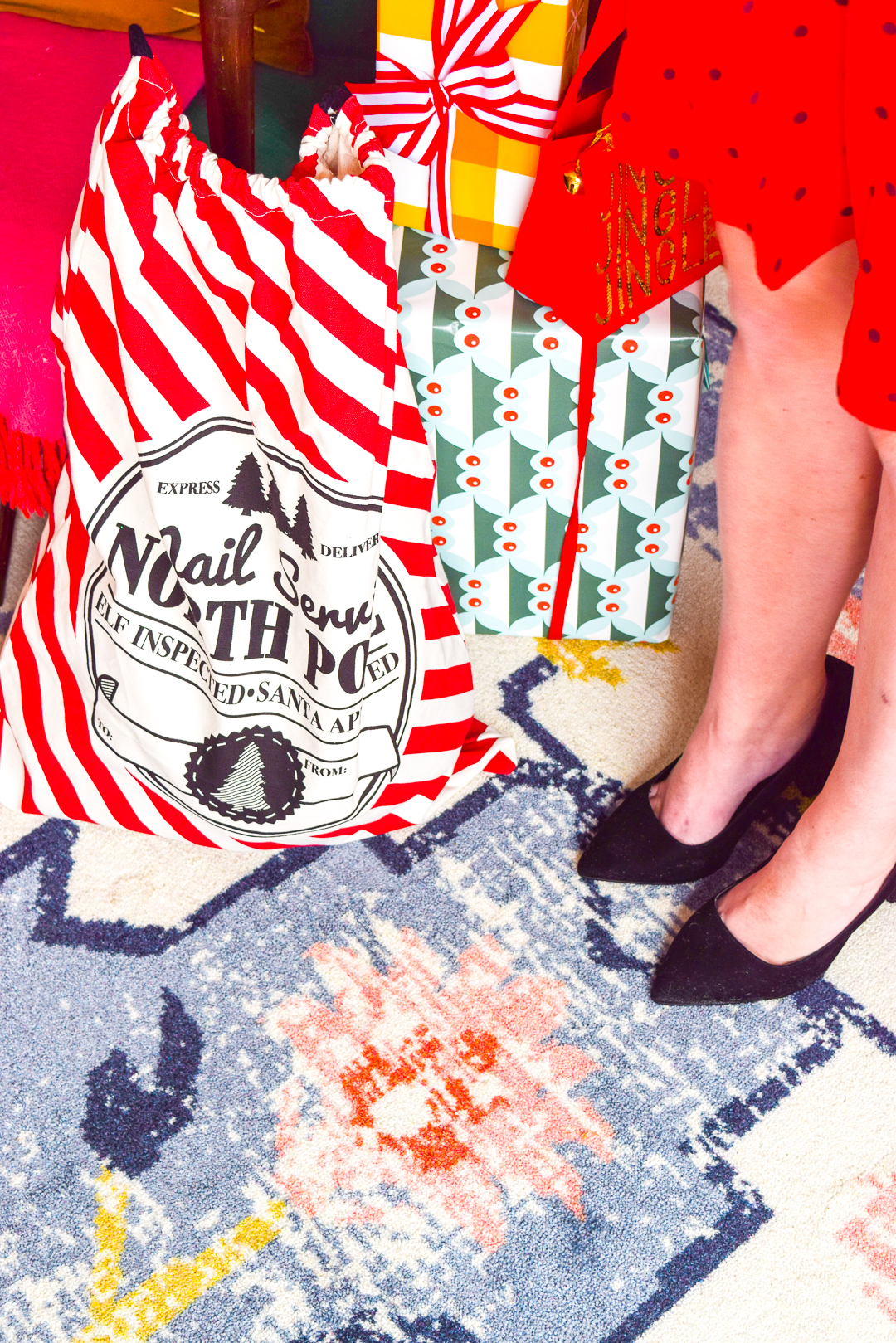 As you can see, I've made myself quite at home here in the office, and a lot of it has to do with the rug. I wasn't sure which direction I wanted to take the space in – even temporarily – but once I got the rug in there, things just fell into place,
I think the pops of seasonal red, and the fun blue lamps really mirror the pink and purple in the rug, and gosh darn it! I just love complimenting colour mirroring.