You guys! Our colorful powder room reveal is here. It's been two months in the making, maybe a bit longer, who knows! Feels like we started work on this space back at the beginning of June, and we probably did. This space is SMALL. Like, under 20 square feet. So we packed it full of color and pattern and art. Come take a look!
Check out last year's Primp & Pamper Bathroom reveal – my Kate Spade Inspired Powder Room – and how to remodel a bathroom on a budget (incase you've already got a powder room and it just needs some updating). Don't forget my guide to choosing a console sink, and the deets on our small space finishes.
*Hygge & West, Hudson Valley Lighting, Emtek, Build.com & Signature Hardware sponsored this post, but all thoughts are my own. Thank you for supporting the brands that make PMQ for two possible.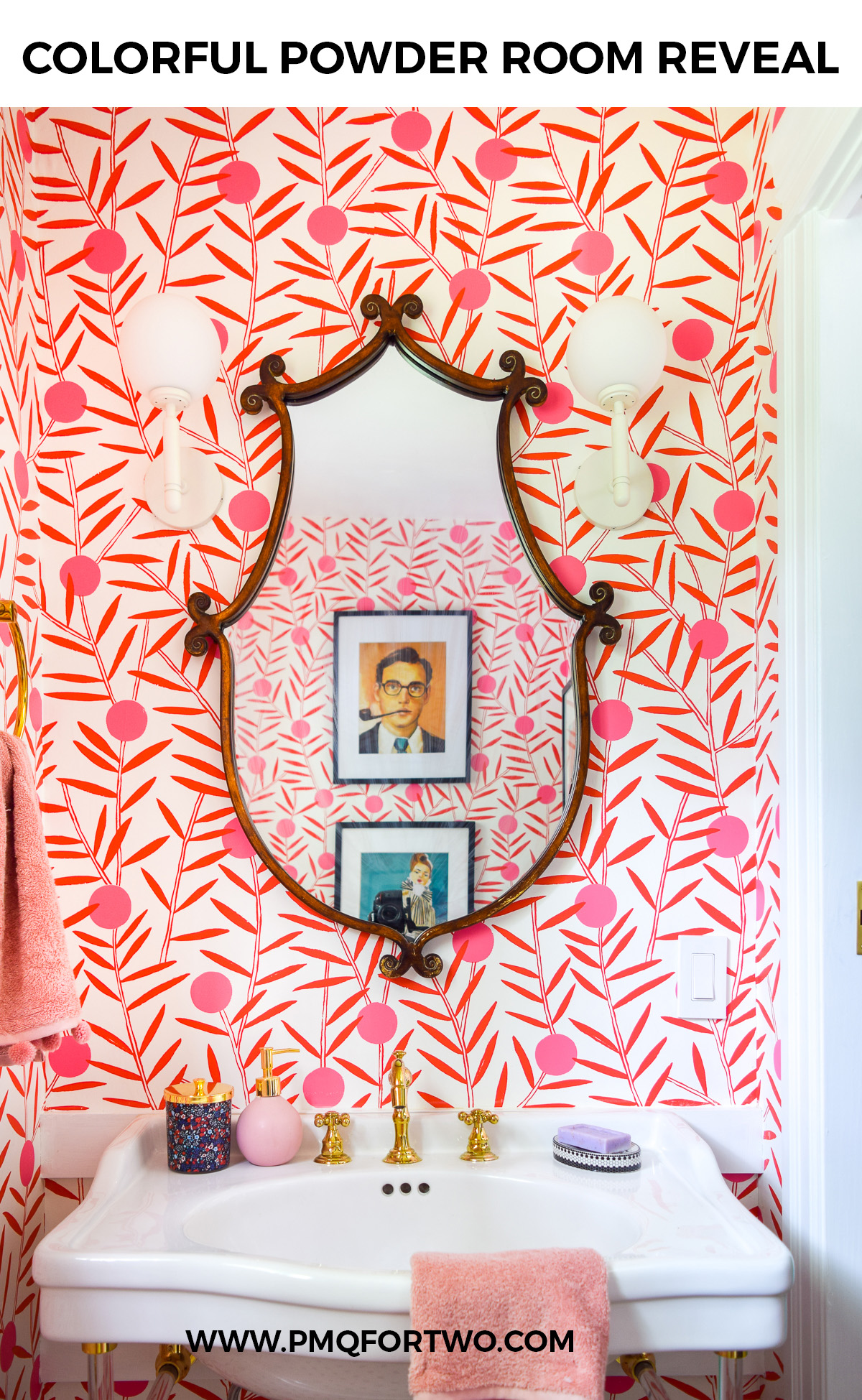 The Powder Room Before
This space had been causing us much grief. It wasn't well thought out, it was cramped, and we had low functionality. Who needs that? So we took a sledgehammer to the walls.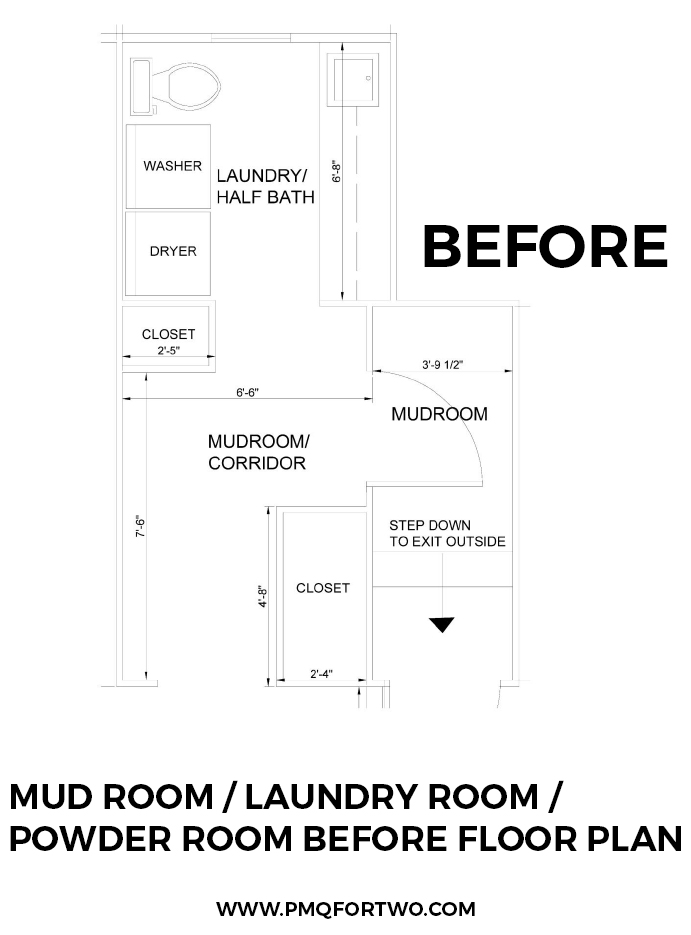 We literally had to build this space! We started by reworking the floor plan in our laundry room / mud room / powder room so that they would all be distinct spaces. Once we did that, we had a blank canvas to work with.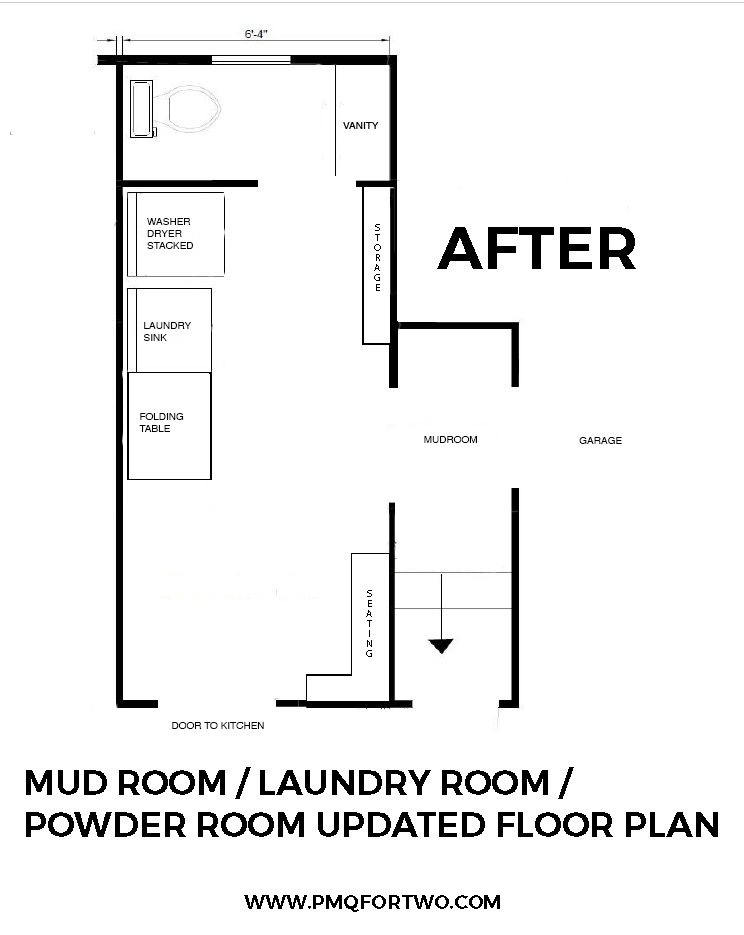 Once we got the floor tiled we could start working on all the finishes. So this is what the "before" looks like – there isn't even a toilet in there.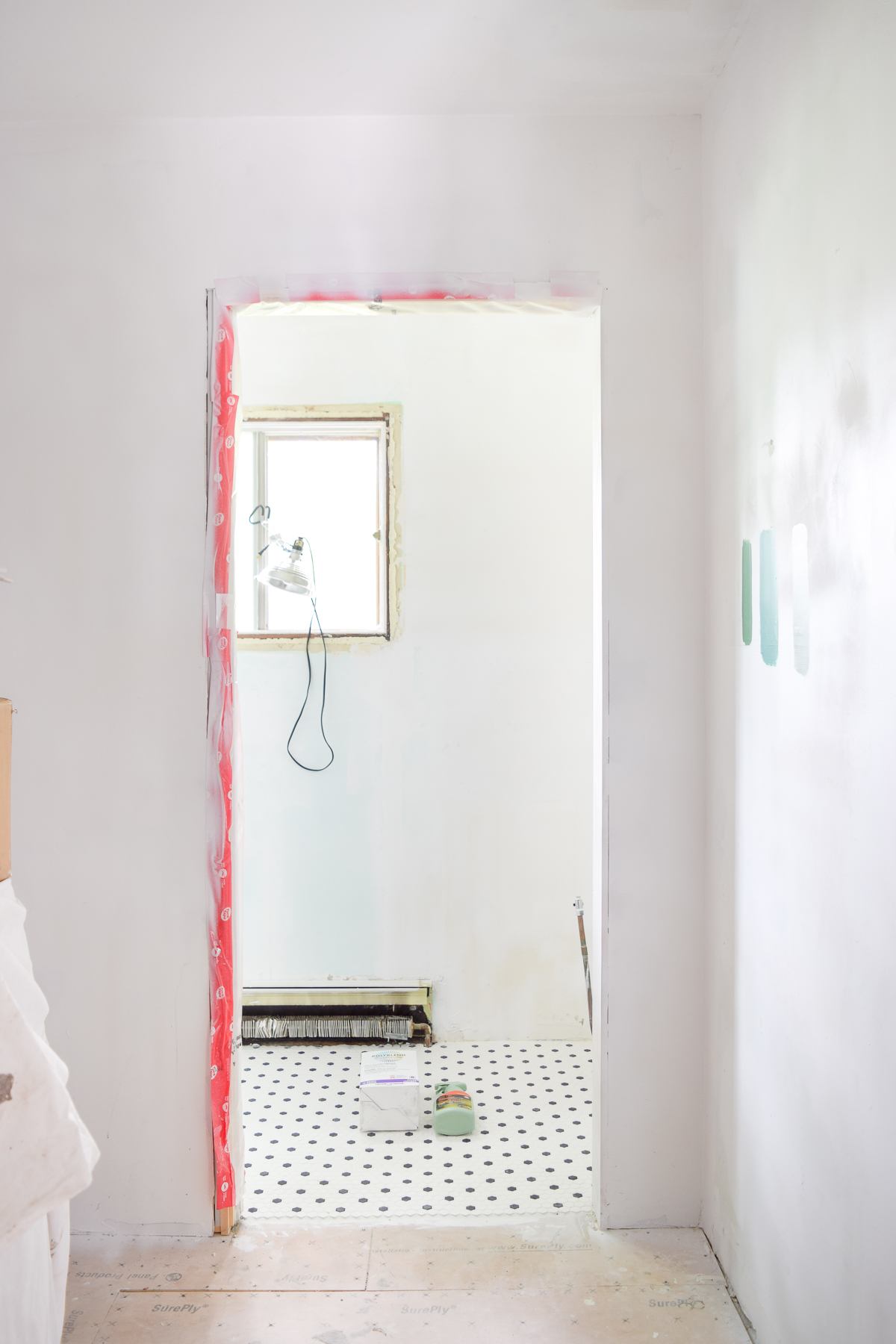 Powder Room Finishes
In the mood board I shared, you got to see a lot of our finishes ahead of time, but I then went into detail on the selection process for things like our console sink choice, and the colorful and brass finishes we eyed for our small space.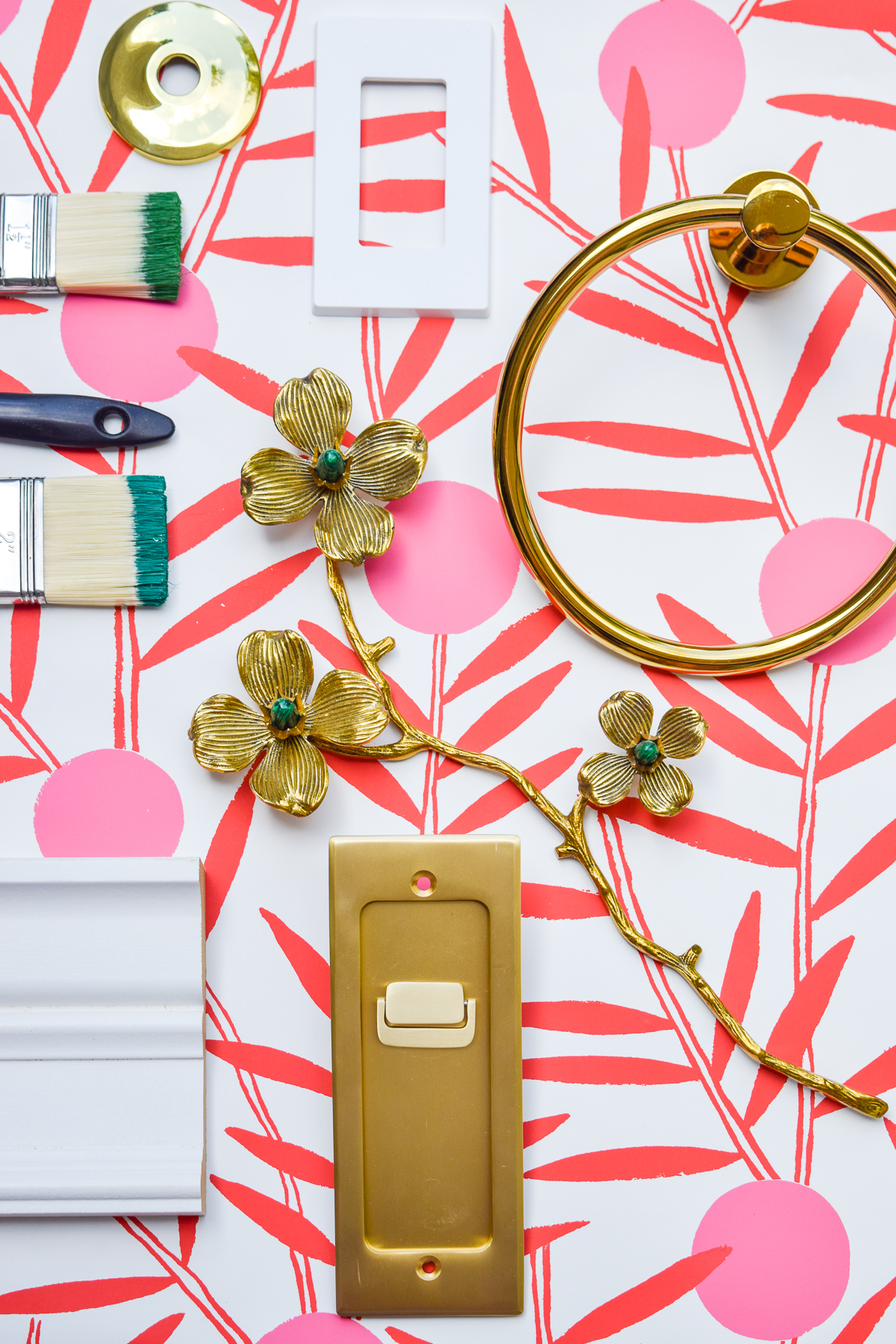 When we designed the space and made our selections, we also had to consider what was going into the laundry room, so a lot of choices flowed together!
Colorful Powder Room AFTER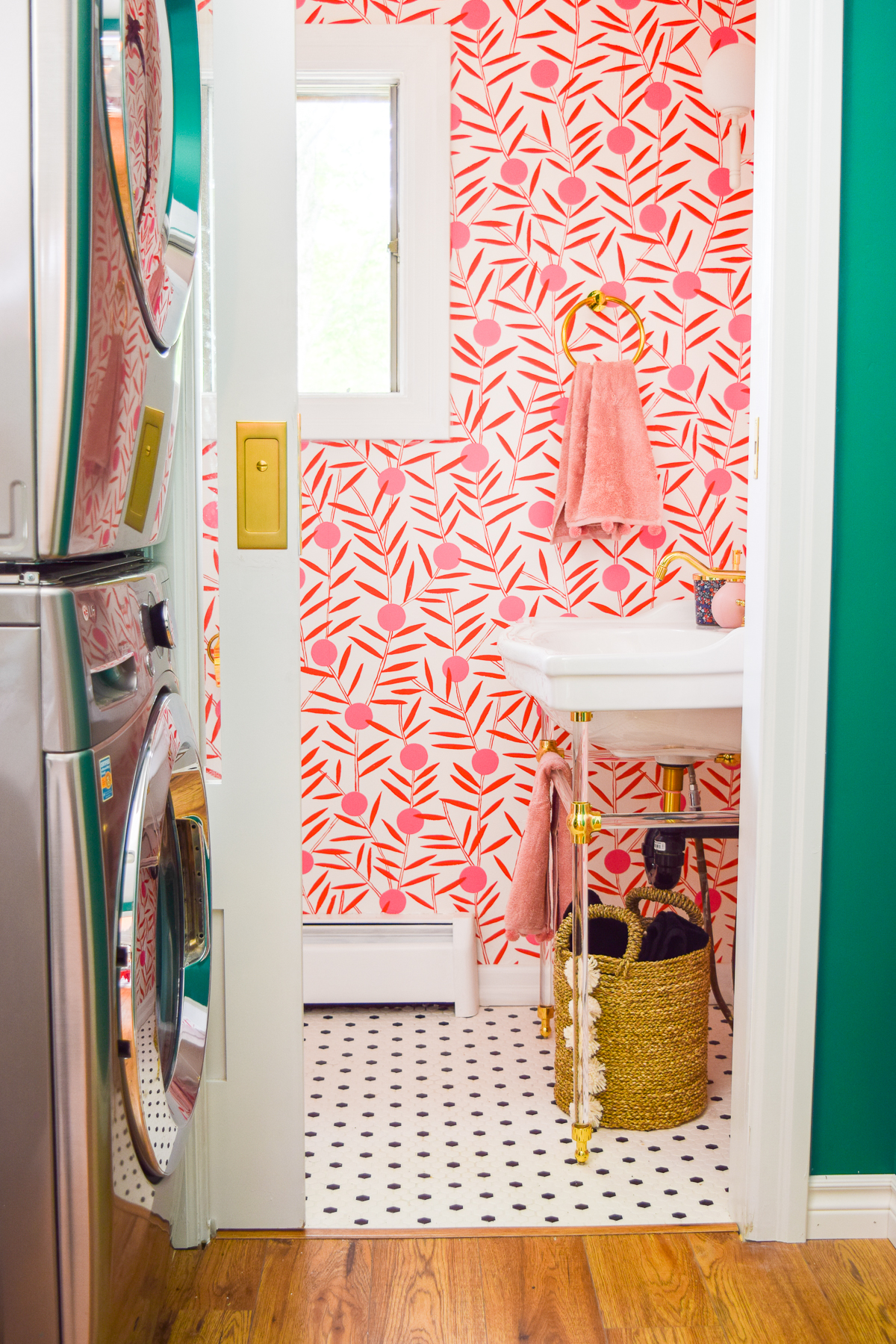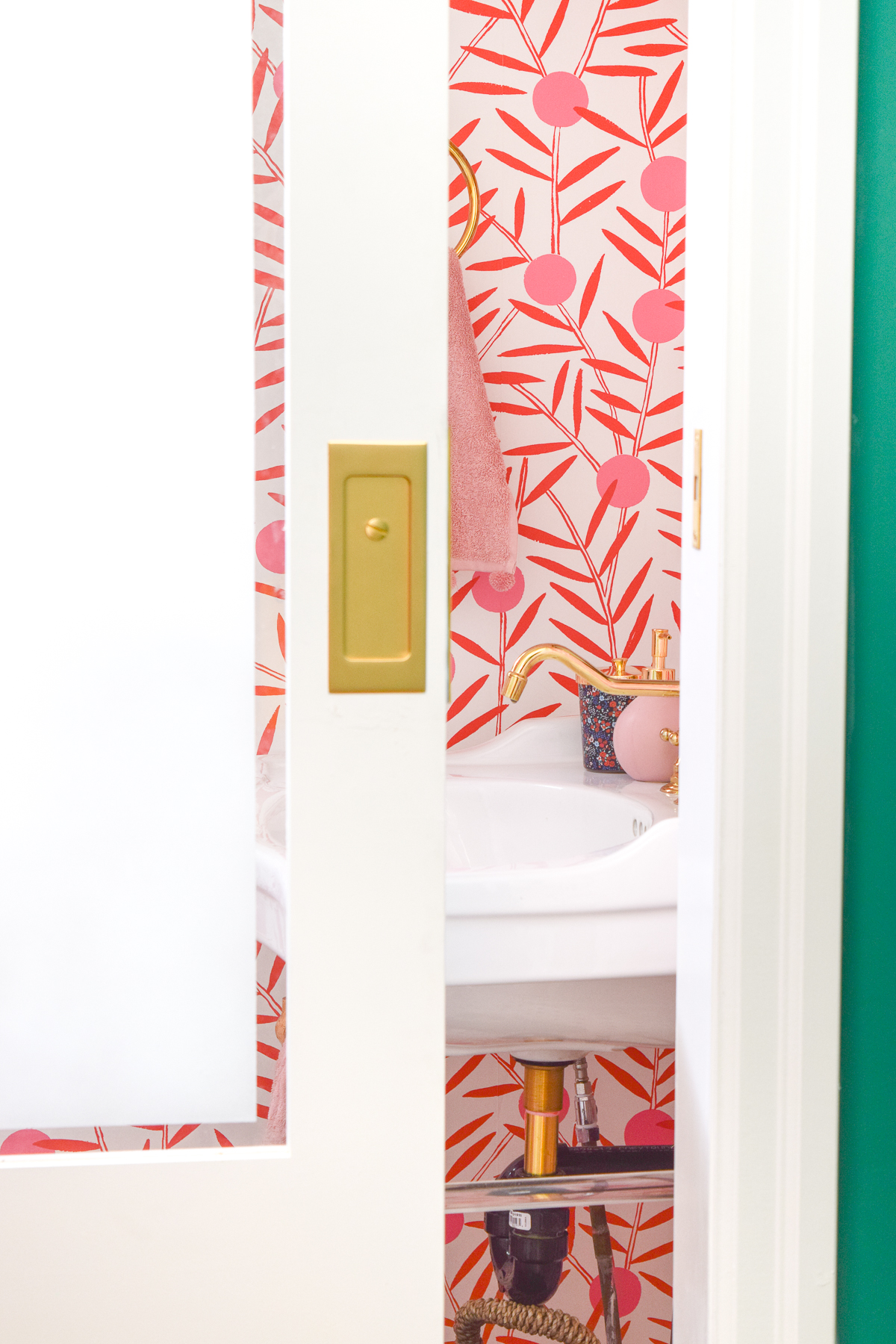 So after toiling in the space for a bit, our small powder room came together relatively quickly. We had to get the wallpaper up first, and then frame the door and window. But before any of that could happen, we had to fit the sconces' electrical boxes so that we weren't blindly cutting through wallpaper to find the existing wires. Electrical can be complicated eh?
But before we could do that, we had to get the console sink height in there, so that we could figure out where the mirror was going, because the sconces were going on either side. Easy.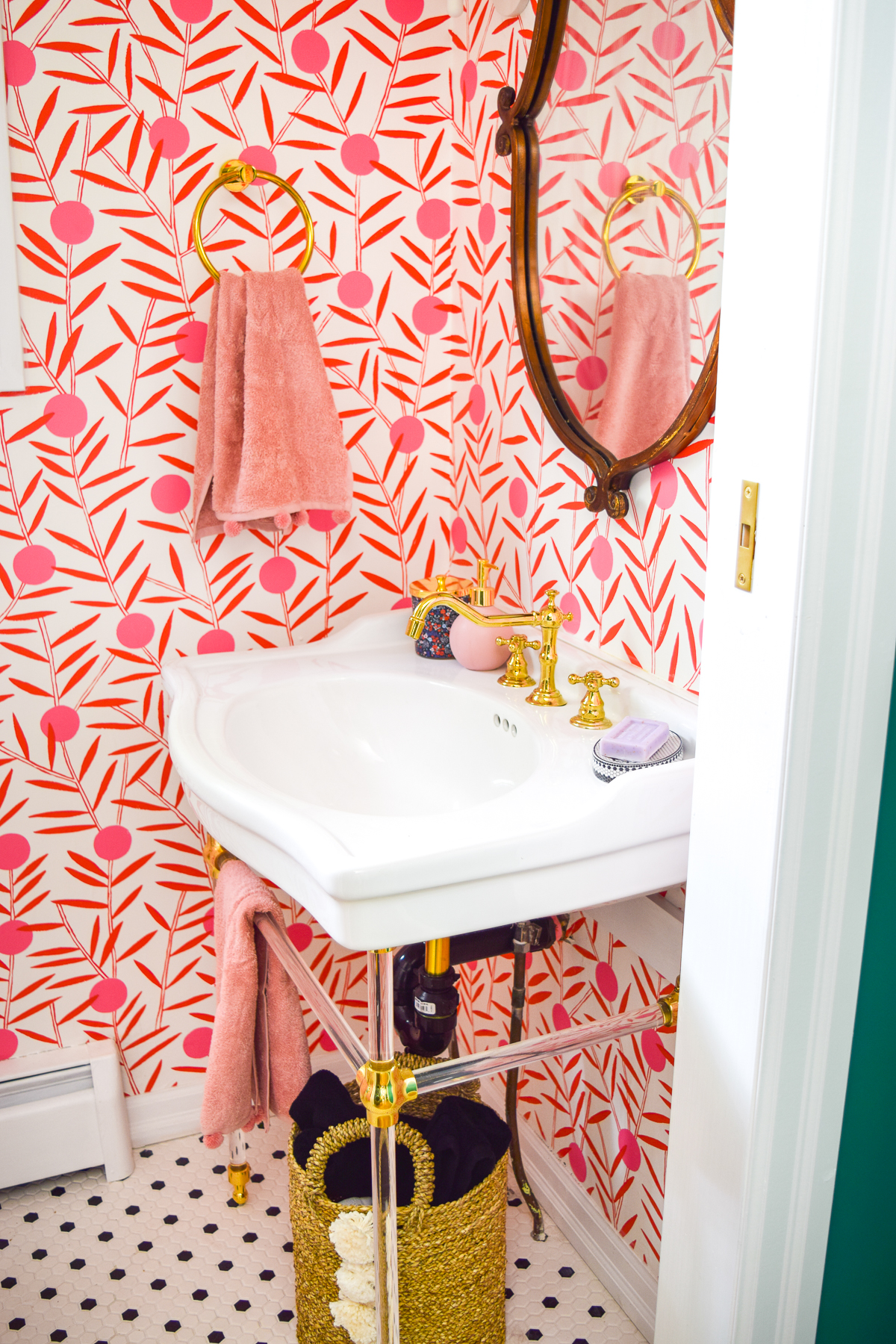 From the pocket door, you see the console sink and the lucite legs do exactly what they're supposed to do – not visually obstruct the entrance.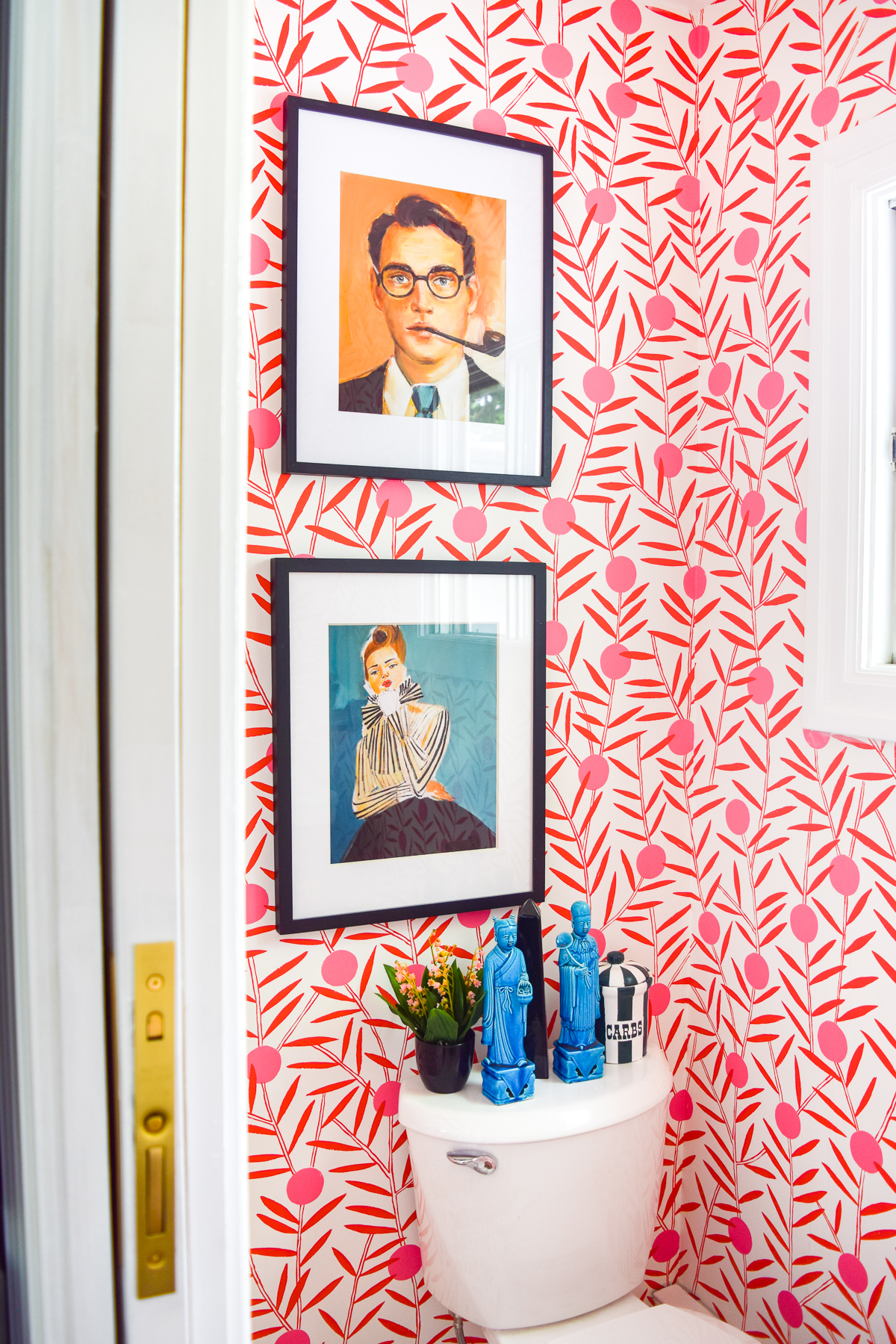 We kept the original toilet rough in, but it means that in the wider space its off-center. Not a huge issue since we have room for a trash can.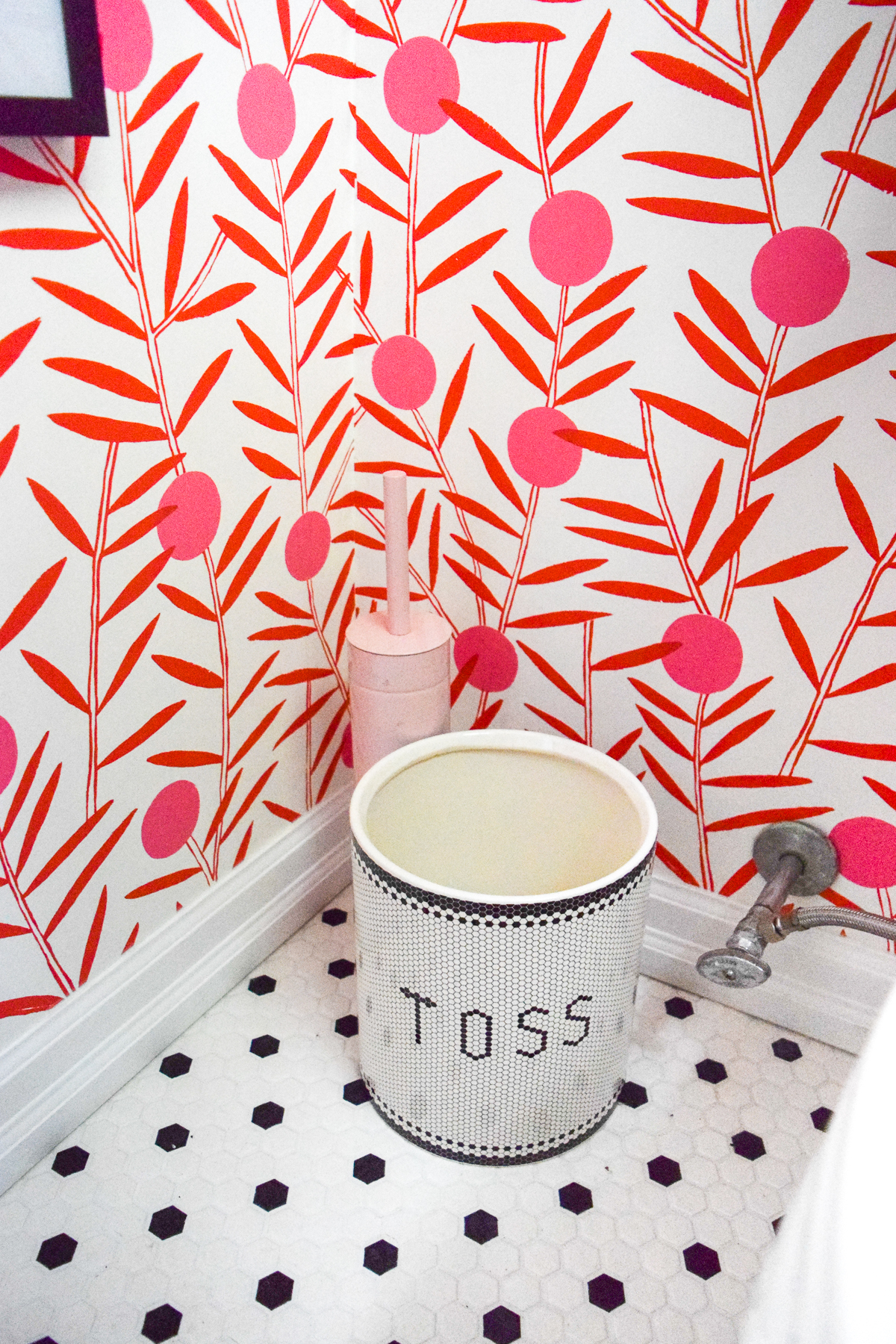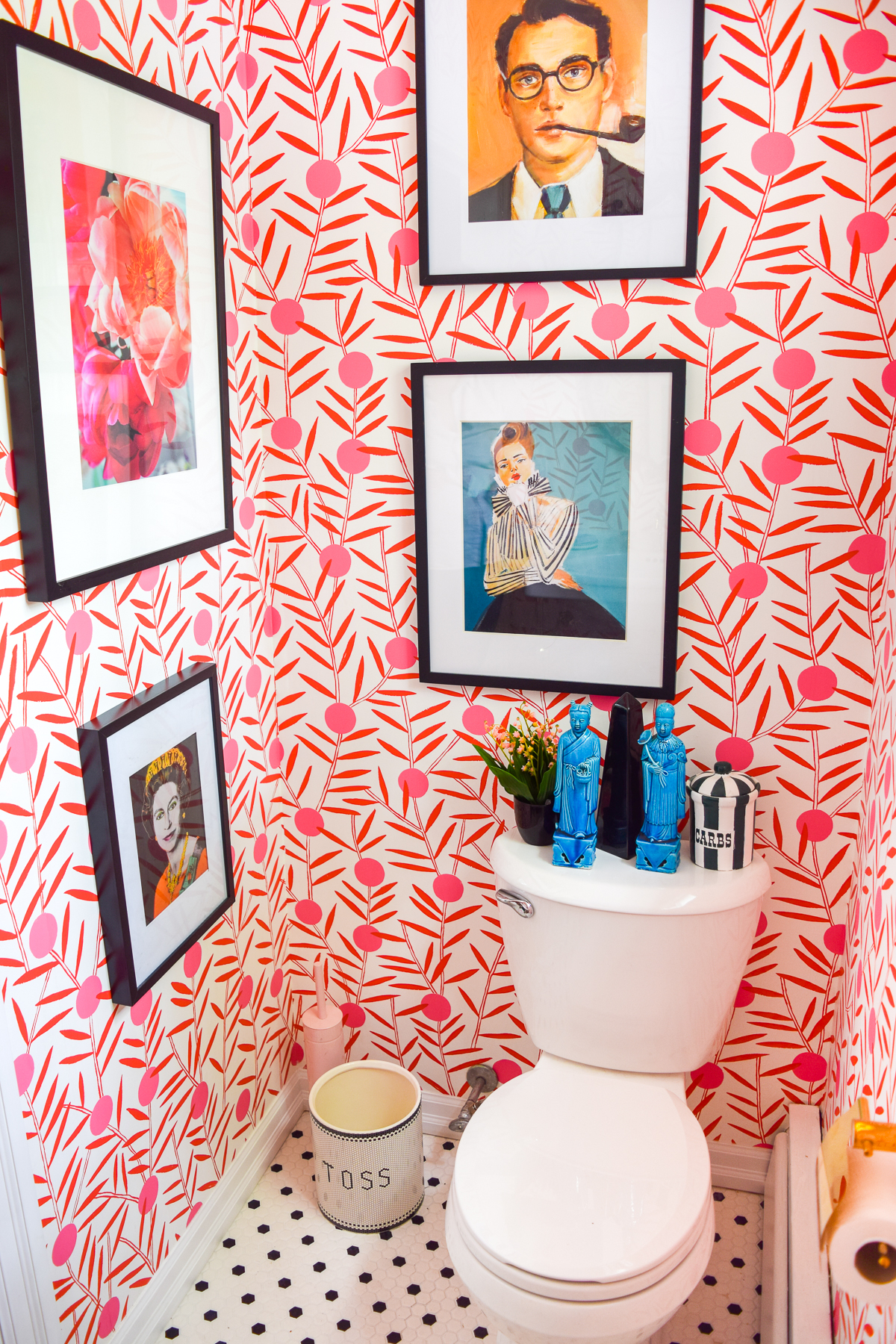 I pulled props from the rest of the house to decorate, and I must say, the pop of blue against the reds and pinks is lovely. The black of the monolith and the vase coordinate nicely with the black frames on all the art.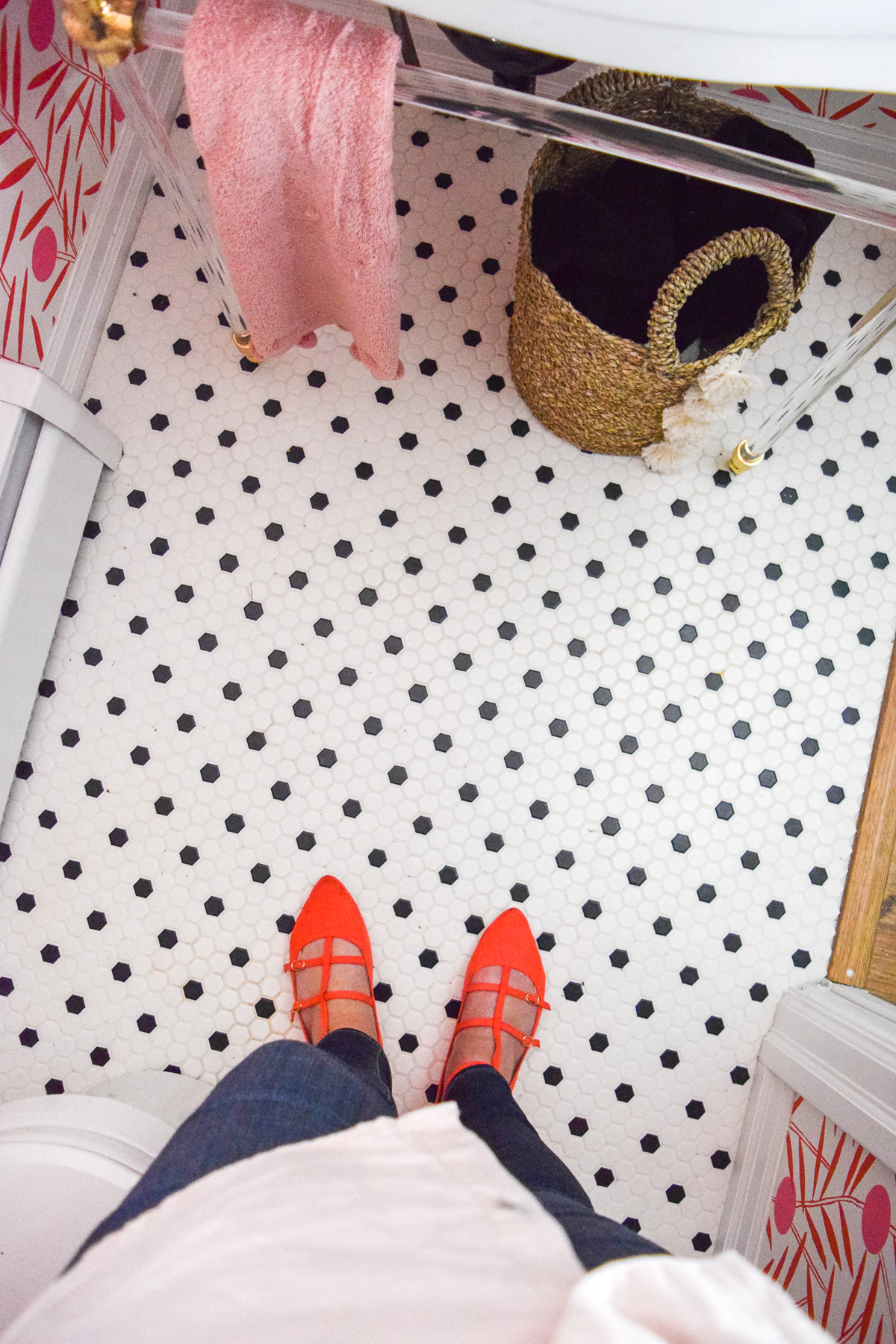 Looking down, everything flows together nicely. The black tiles connect with the ceramic trash can and the soap dish.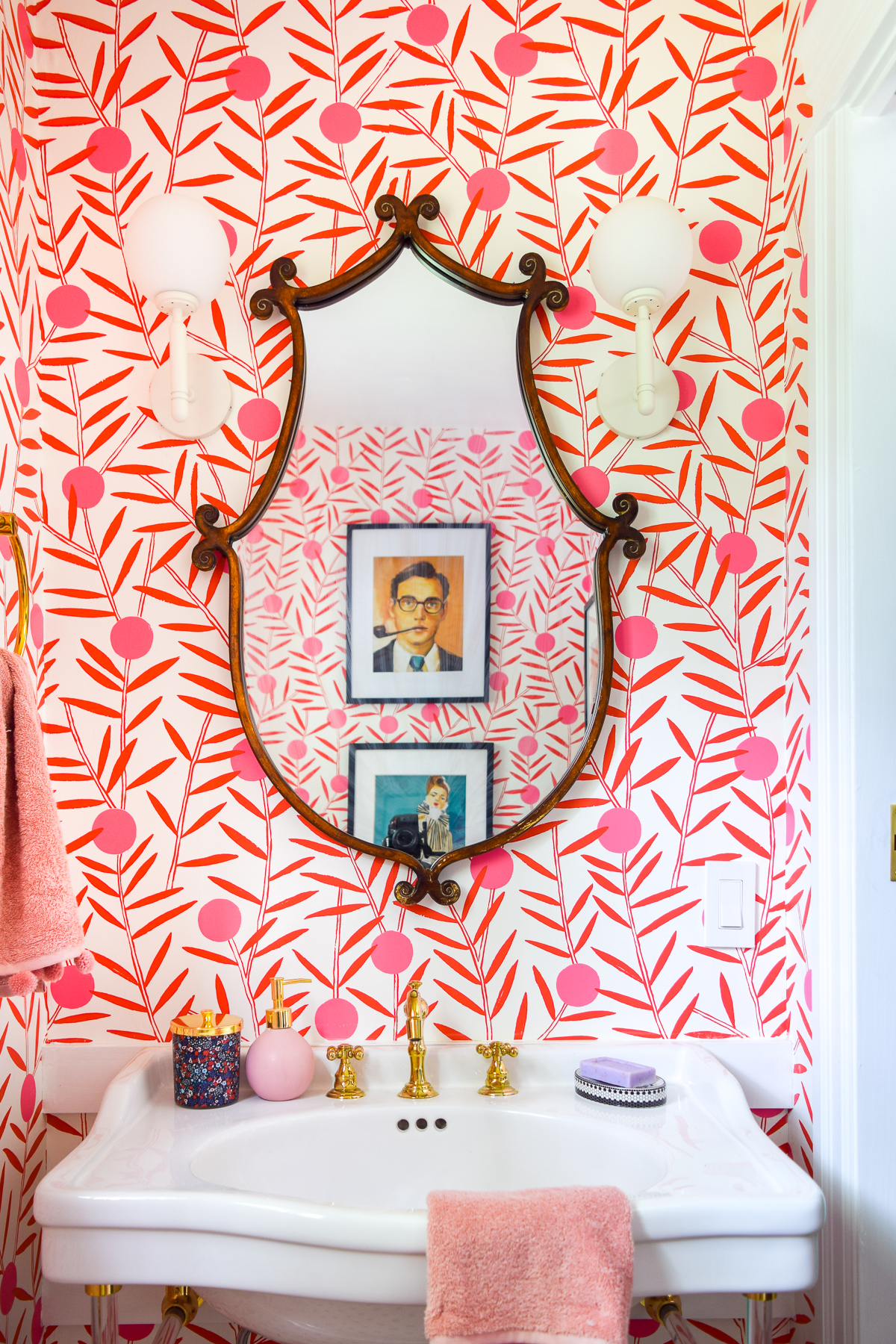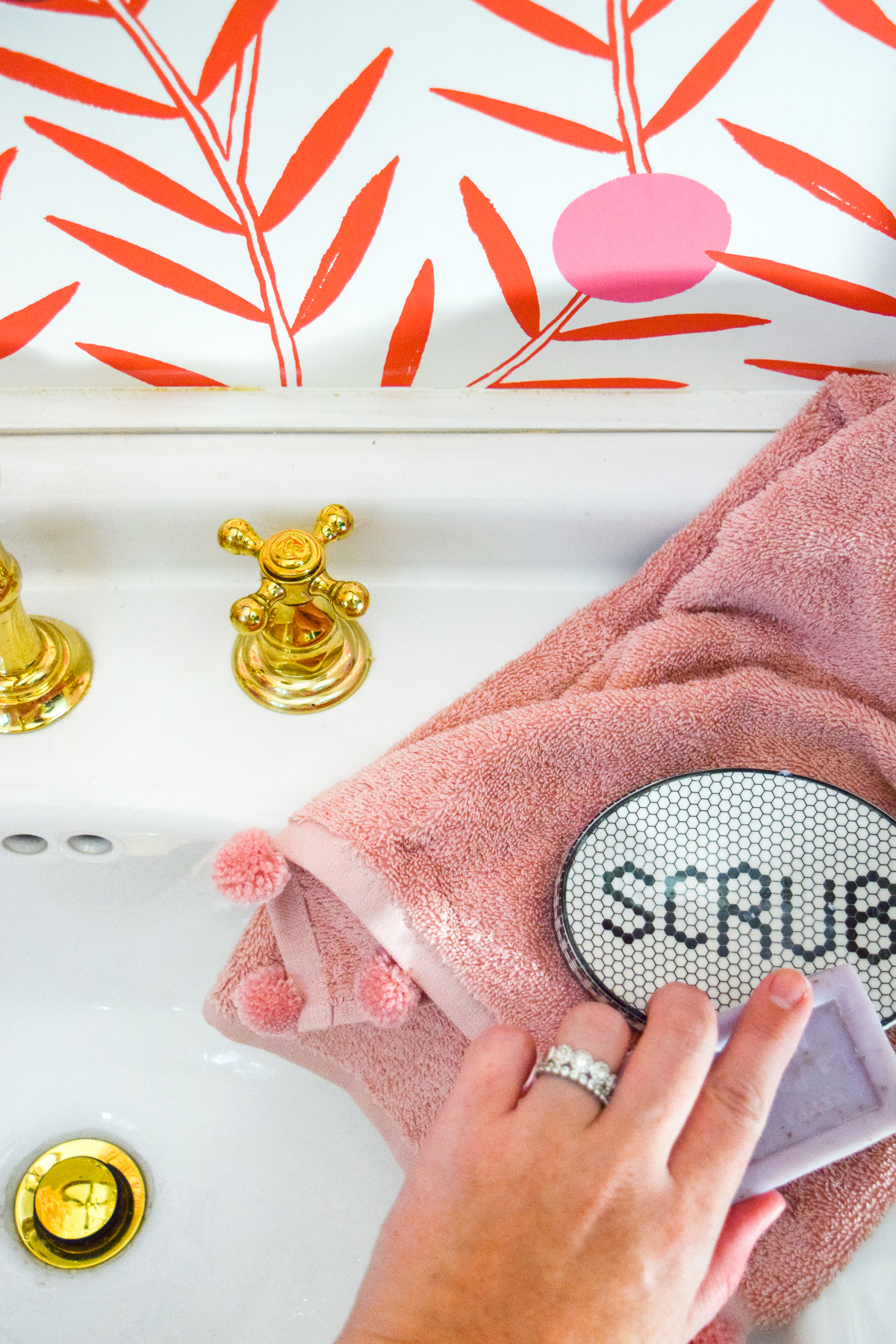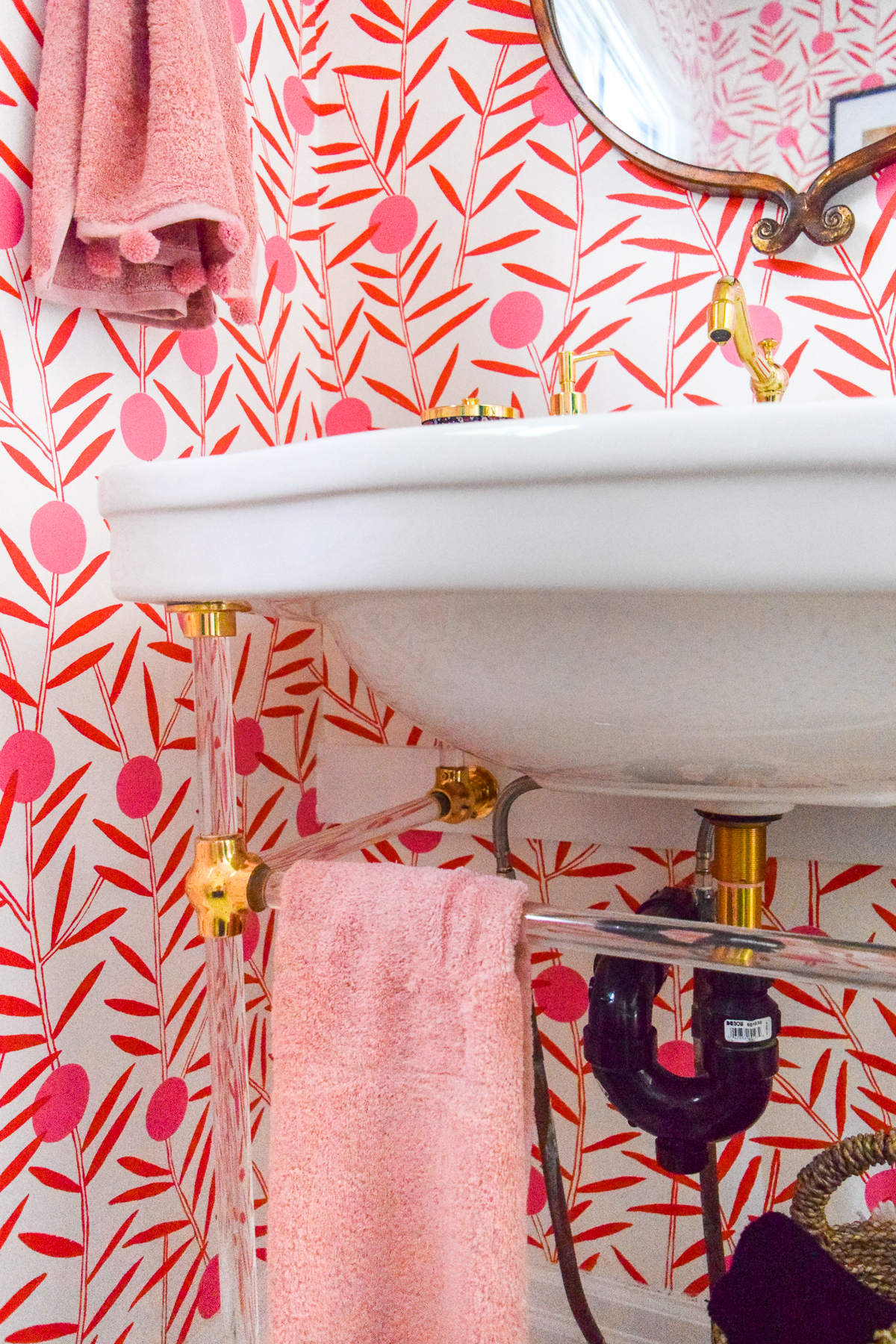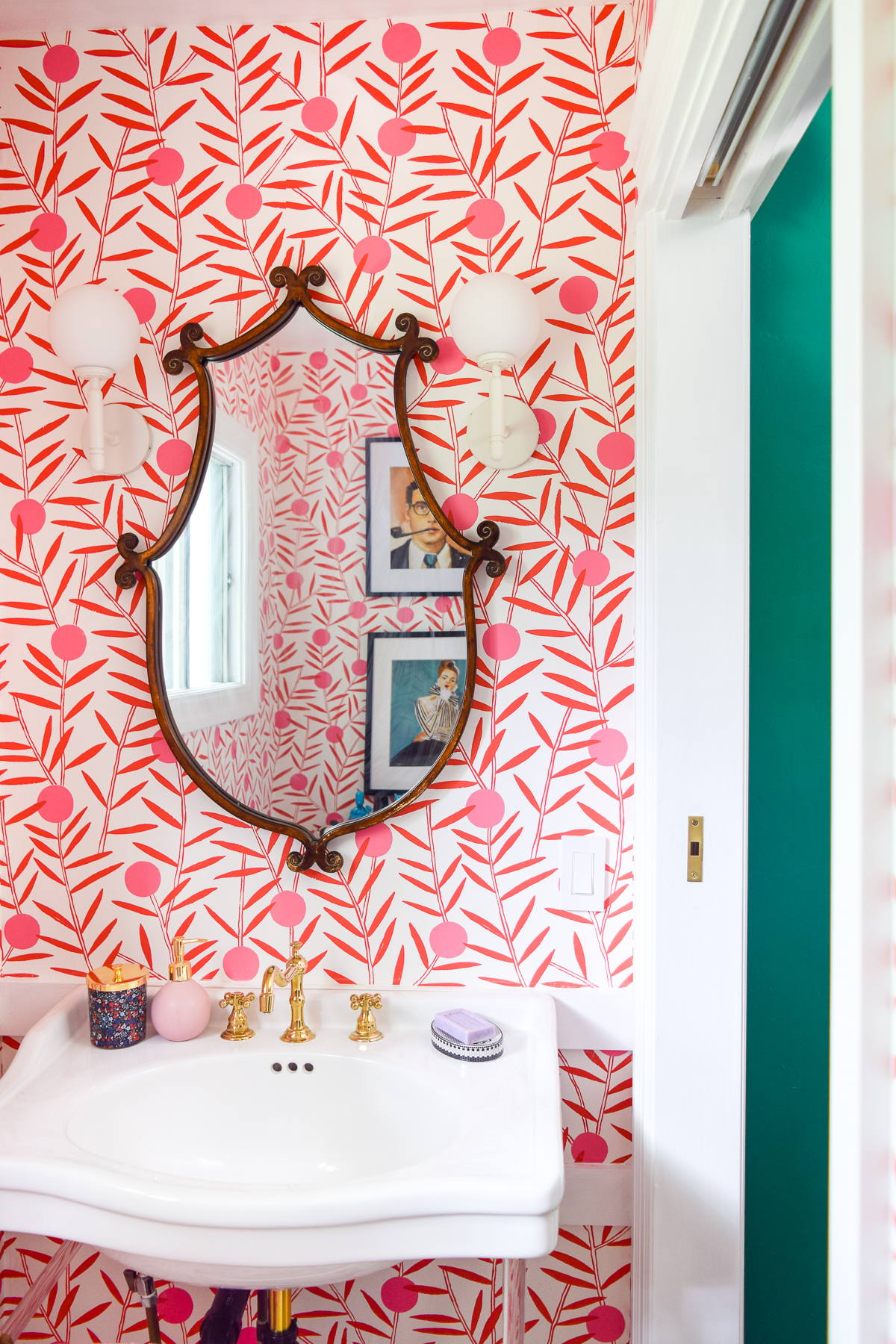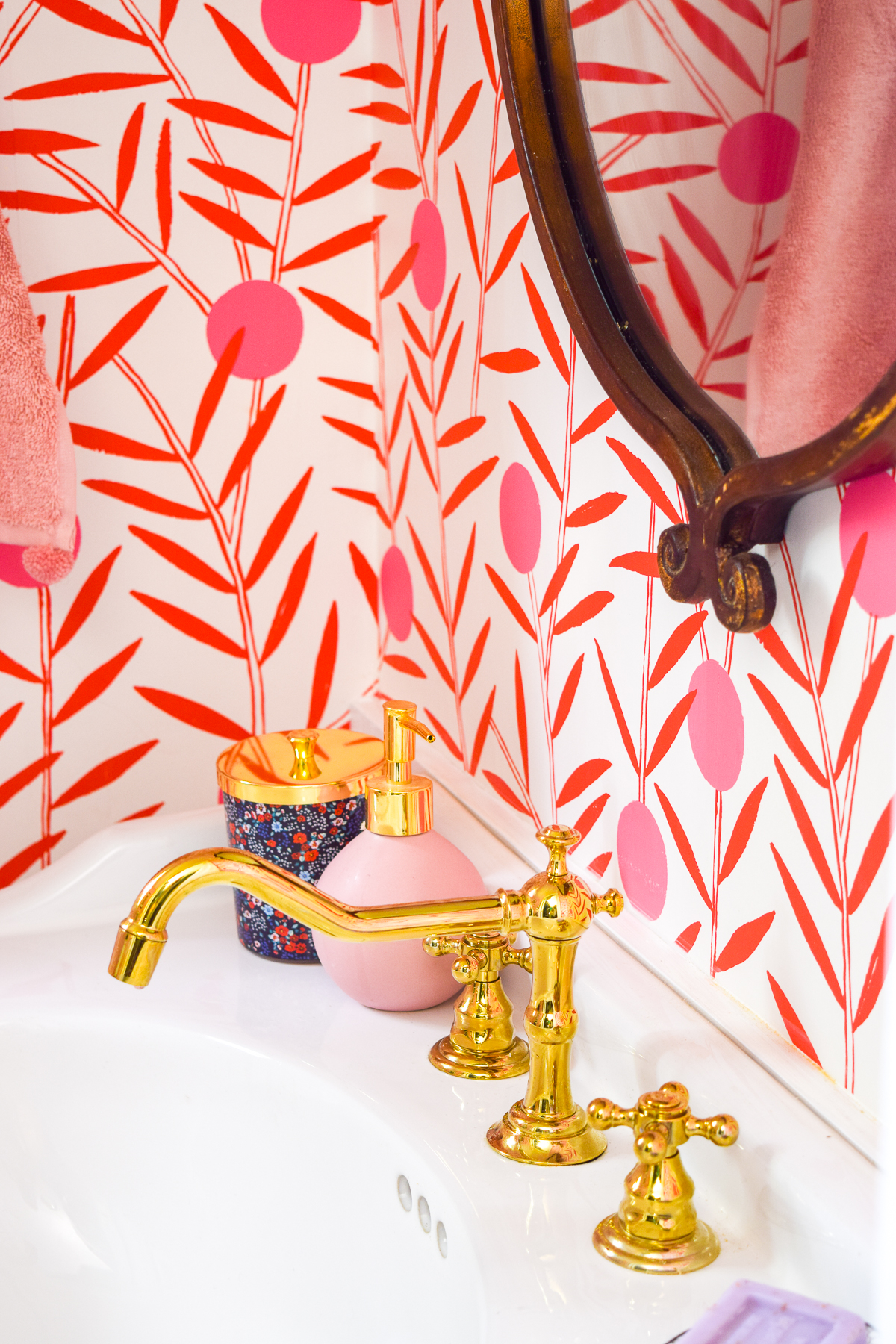 I'm still loving our brass faucet oh-so-much, especially because it provides such a lovely stream of water. Not a gush, not a trickle, but a good flow.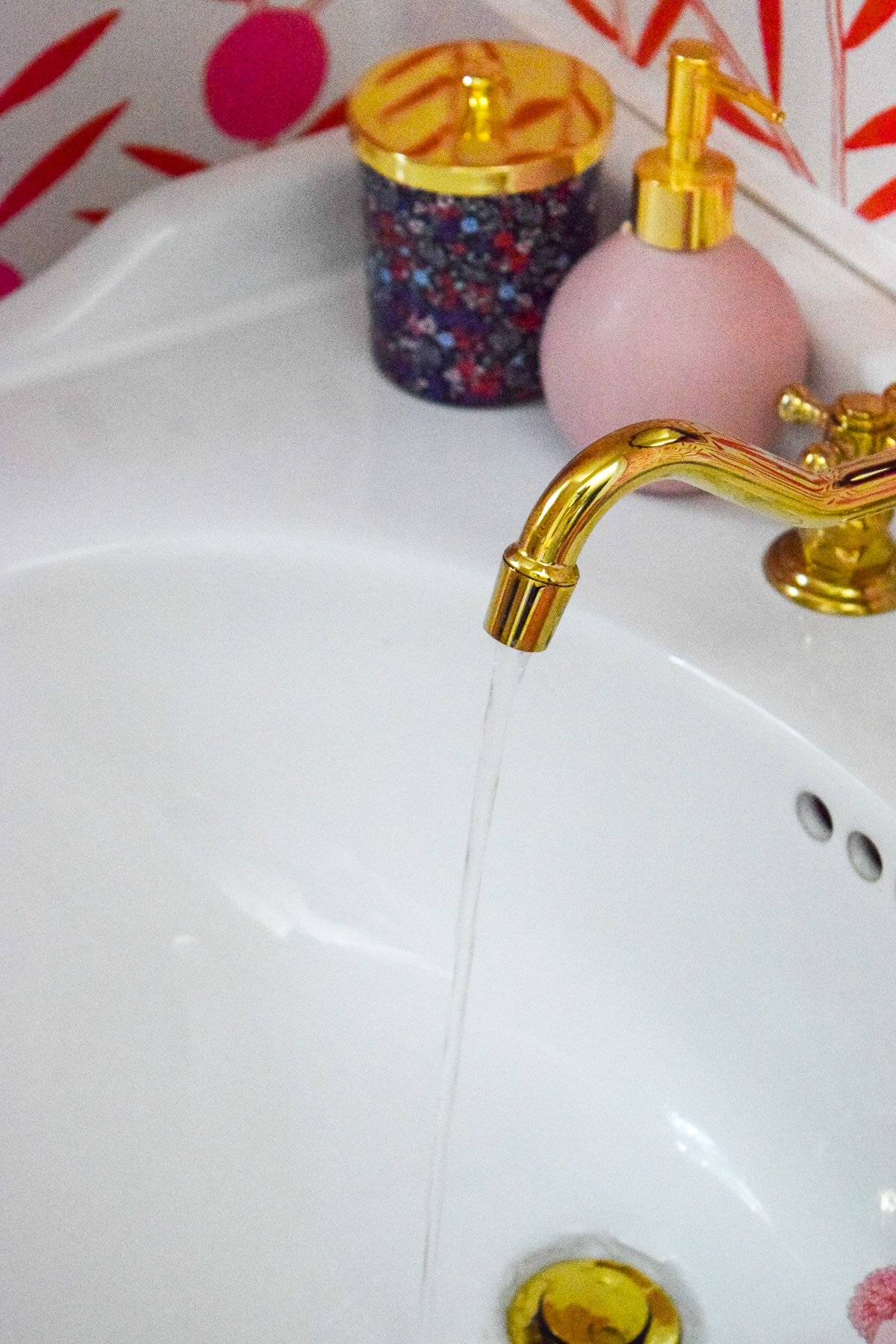 To hide the TP and extra hand-towels I added a basket under the sink. Works for me!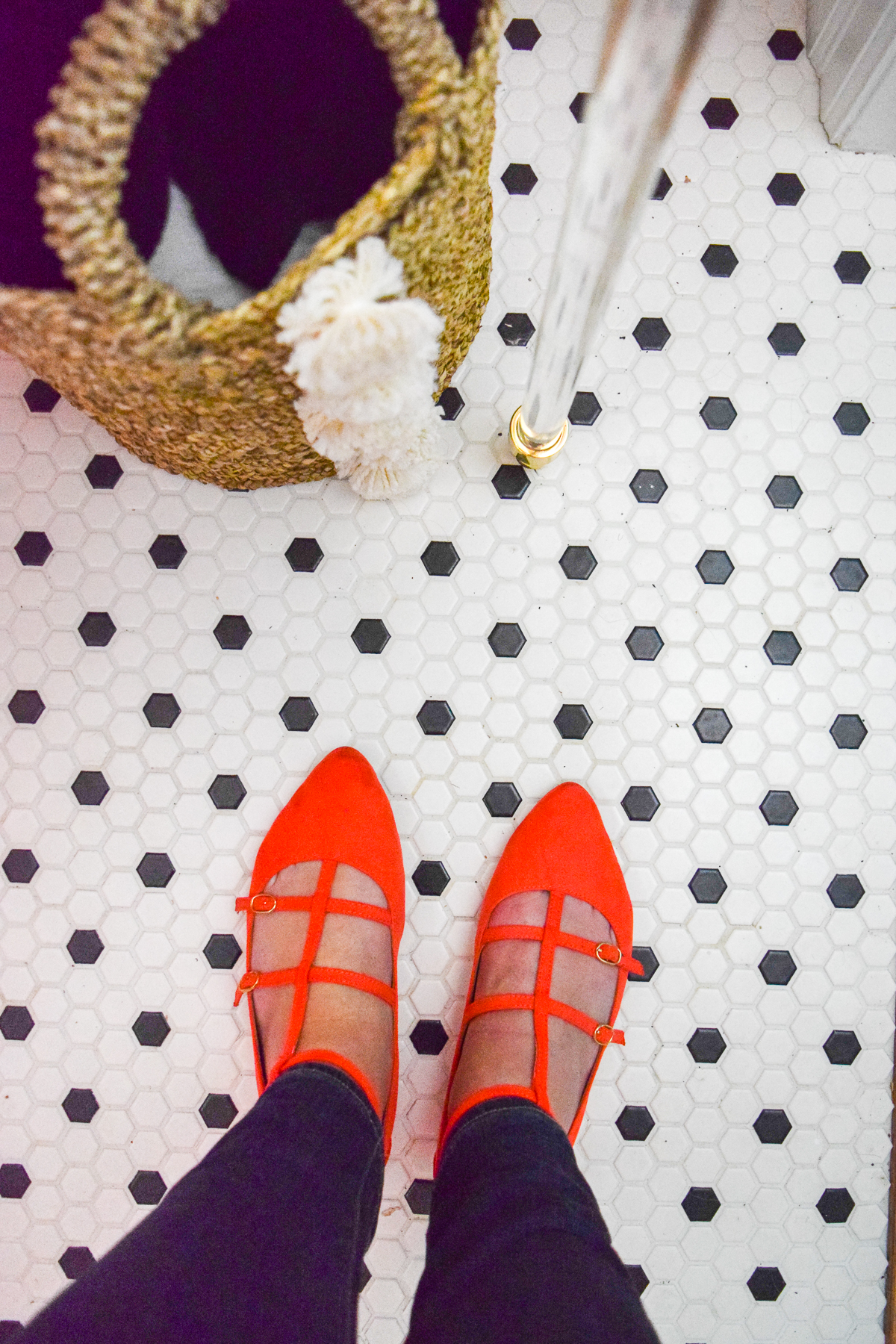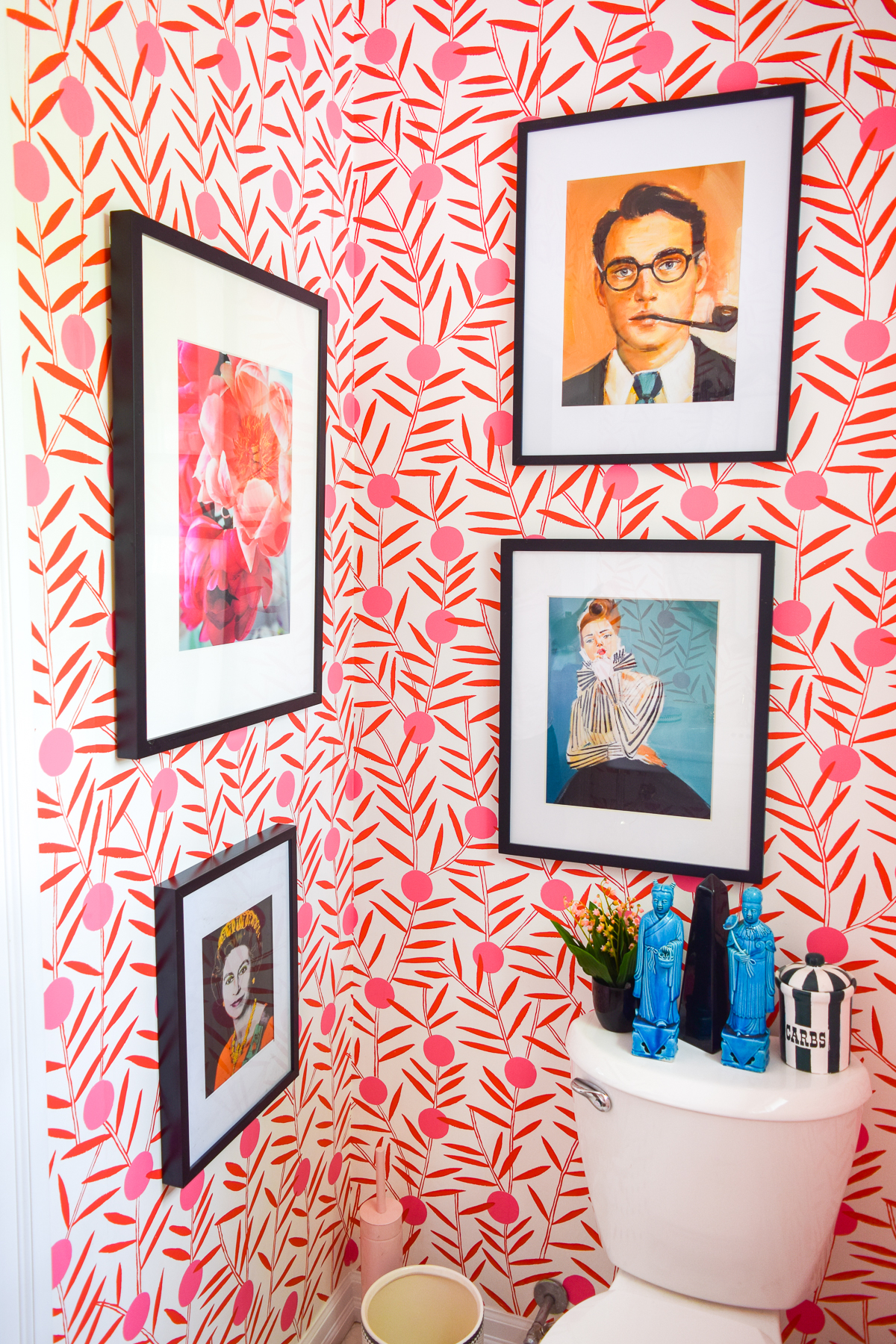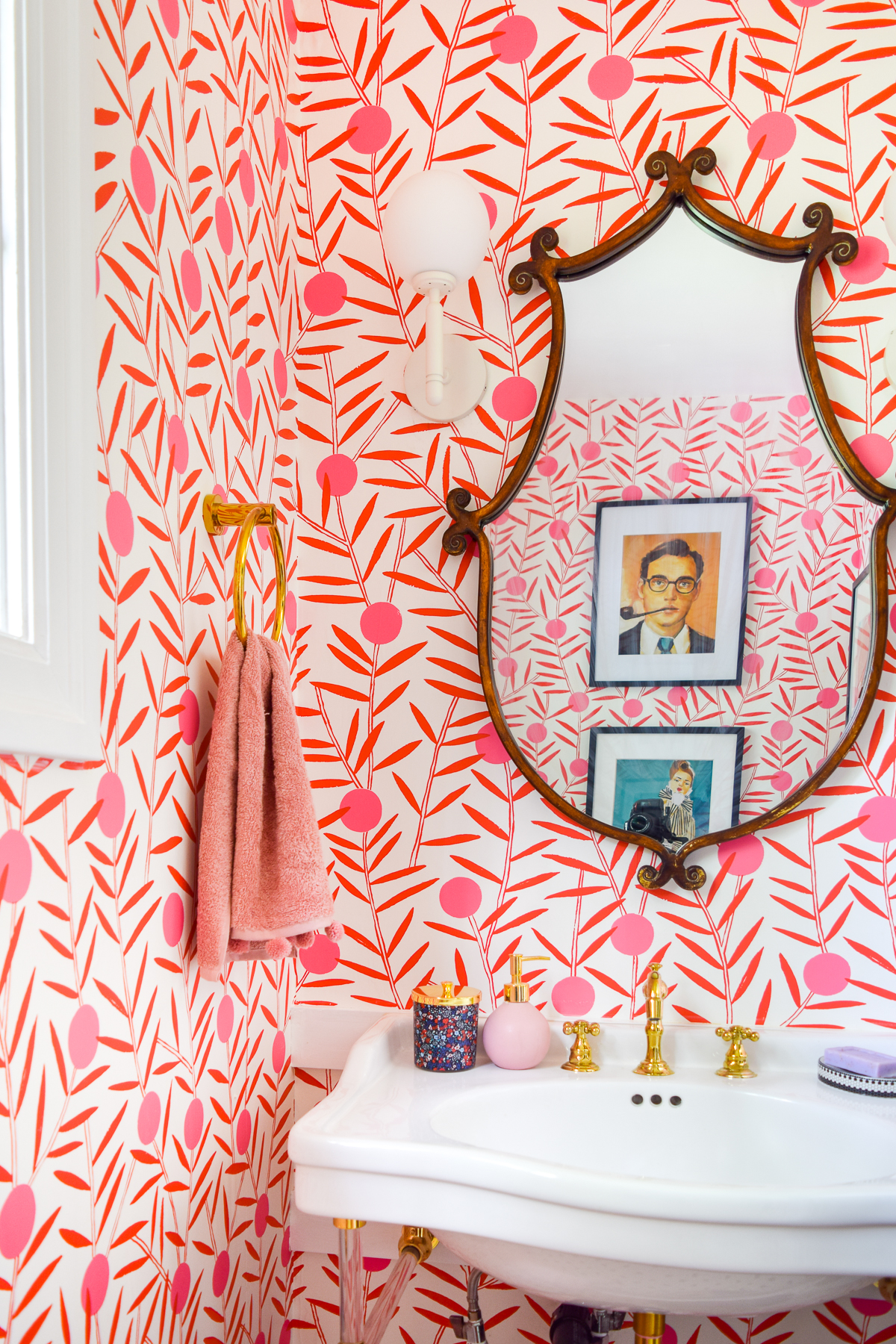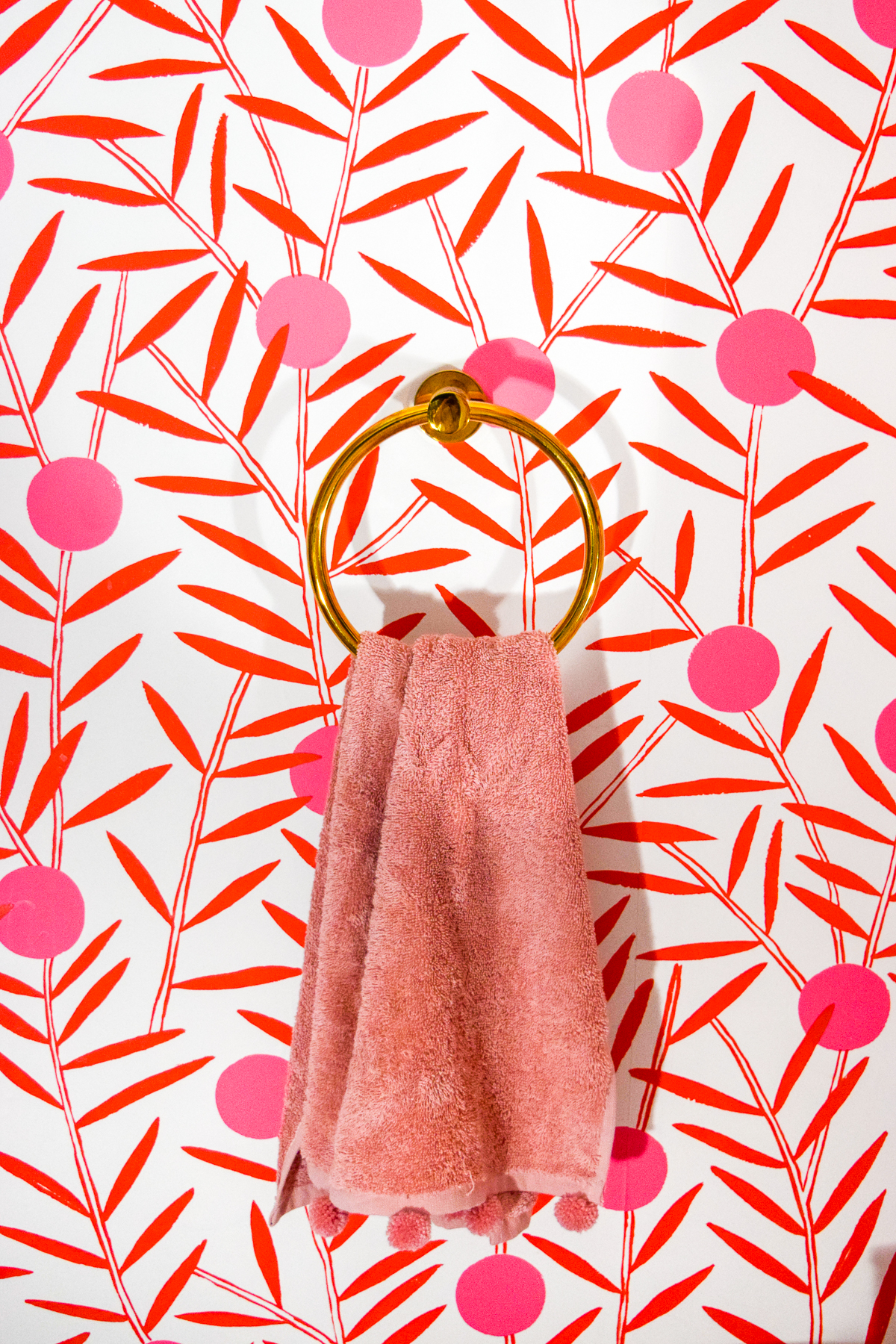 Colorful Powder Room Sources
Wallpaper: Bloom print (in Poppy) from the Emily Isabella x. Hygge & West Collaboration
Wall Sconces: Mitzi's Mina wall sconce
Mirror: Ablenay Mirror from Build.com
Towel Ring: Ceeley 7-1/2″ Wall Mounted Towel Ring
Toilet Paper Holder: Ceeley Single Post Tissue Holder
Door Hardware: Pocket Door Mortise – Modern Rectangular
Console Sink: 30″ CIERRA CONSOLE SINK WITH ACRYLIC STAND
Faucet:  BARBOUR WIDESPREAD BATHROOM FAUCET
Wall Art: William Cleary Of The San Francisco Clearys….Art Print
Jeweled Interiors | PMQ for Two | House Homemade | Rain on a Tin Roof | Effortless Style Blog | Haneen's Haven | Kaleidoscope Living